Welcome to the world of Conversion Rate Optimization or CRO for short. If you've ever wondered how to get more of your website visitors to take action, whether that's buying a product, signing up for a newsletter, or filling out a contact form, then you're in the right place. CRO is all about making the most of the traffic you already have. Think of it like this: instead of pouring water (visitors) into a leaky bucket (your website) and watching it spill out, CRO helps you patch up those holes to keep more water inside.
🌟 Ready to dive deeper? Discover the ins and outs of "Conversion rate optimization for beginners" with our comprehensive guide. Dive in and turn your website into a conversion powerhouse! 🌟
What is the Conversion Rate?
Conversion rate is a critical metric in digital marketing. It's the ratio of total conversions to the total number of visitors, expressed as a percentage. For instance, if 1,000 people visit your online store in a month and 50 make a purchase, your conversion rate is 5%.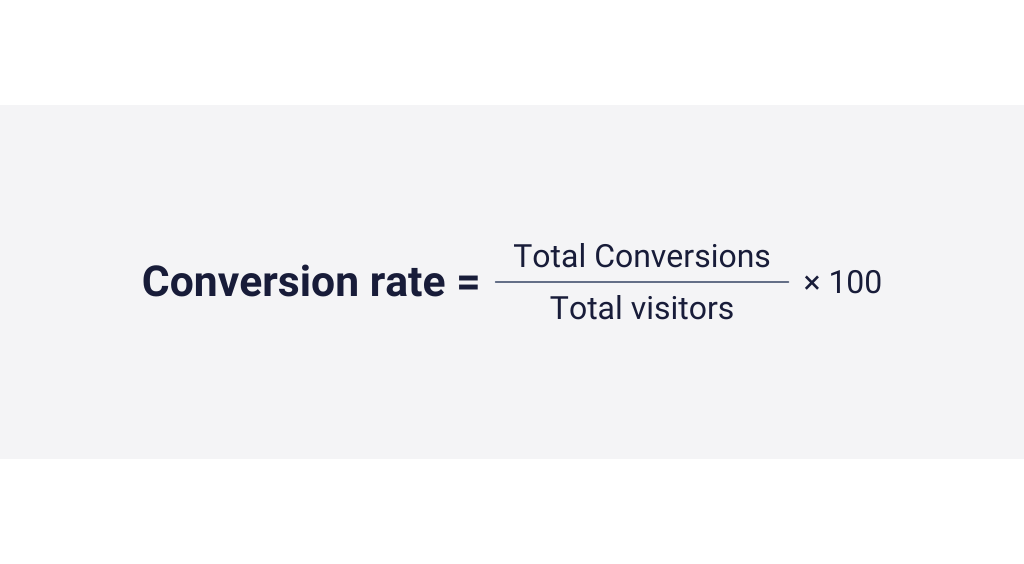 But why is this metric so crucial?
Firstly, it's a direct reflection of your website's effectiveness and user-friendliness. A high conversion rate indicates that your website's user experience is smooth, and visitors can easily find what they're looking for. Conversely, a low conversion rate might suggest that users are encountering obstacles or that the website doesn't meet their expectations. A high conversion rate means your website is doing its job well. It's like a salesperson who consistently closes deals.
Secondly, by understanding your conversion rate, you can gauge the ROI on your advertising spend. If you're driving a lot of traffic but have a low conversion rate, you're essentially wasting money on attracting visitors who don't convert. More conversions without spending more on ads? That's a win!
Why is Conversion Rate Optimization Essential?
While it might seem obvious to want to increase conversions, the implications of conversion rate optimization go beyond just boosting numbers.
Here's why CRO is indispensable: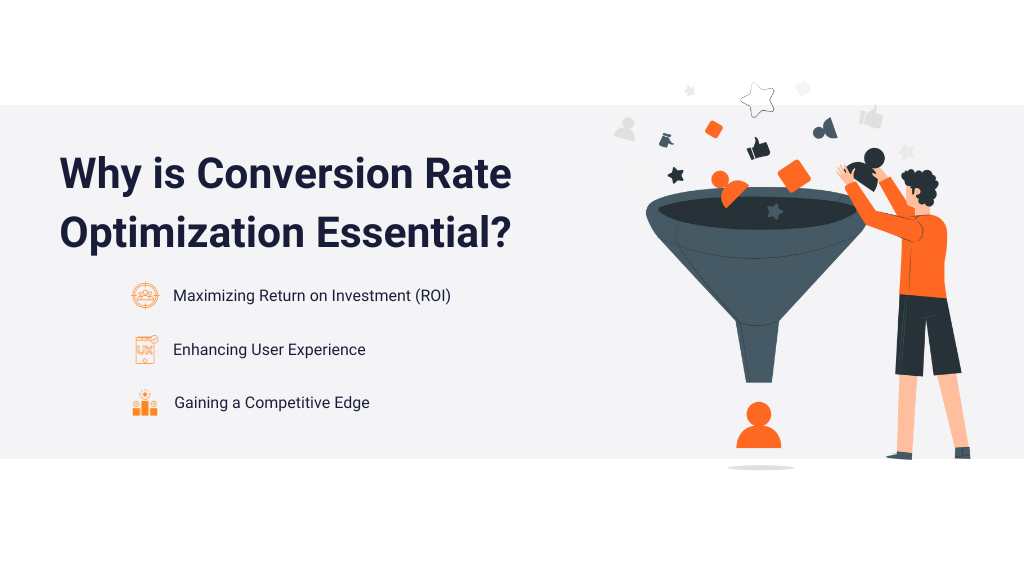 Maximizing Return on Investment (ROI)
If you're spending money on advertising, a higher conversion rate means you're getting more bang for your buck. More conversions without spending more on ads? That's great! Instead of spending more on advertising to attract visitors, you're making better use of your existing traffic. CRO ensures that this investment doesn't go to waste. By optimizing the conversion rate, businesses can get more value (sales, sign-ups, etc.) from the existing traffic without spending additional money on acquisition. In essence, CRO helps in getting a better ROI from every dollar spent.
Enhancing User Experience
A website that's easy to navigate and intuitive? That's a win for everyone! When visitors enjoy their time on your site, they're not only more likely to take action but also to come back for more. And let's be honest, we all love websites that make things simple and clear for us. Not to mention that happy visitors are more likely to become loyal customers and even refer others. In contrast, a poor UX can deter potential customers, leading to lost opportunities.
Gaining a Competitive Edge
In a saturated digital market, having a website that converts at a higher rate than your competitors can be a significant advantage. Websites that prioritize conversion rate optimization often outperform competitors in terms of conversions and customer satisfaction. It means you're getting more value from your visitors. By understanding and catering to user needs better than competitors, businesses can capture a larger market share and establish themselves as industry leaders. It's like having the fastest car in a race, ensuring you reach the finish line (or in this case, your business goals) ahead of others.
The Psychology Behind Conversions
At the heart of Conversion Rate Optimization (CRO) lies a profound understanding of human psychology. Recognizing the mental triggers that drive users to take action can be the difference between a passive visitor and a converted customer.
Let's explore some of the key psychological principles that play a pivotal role in influencing online behavior:
Trust
In the vast expanse of the digital world, trust is a currency. Users are constantly on the lookout for signs that a website is genuine and that their data will be handled with care.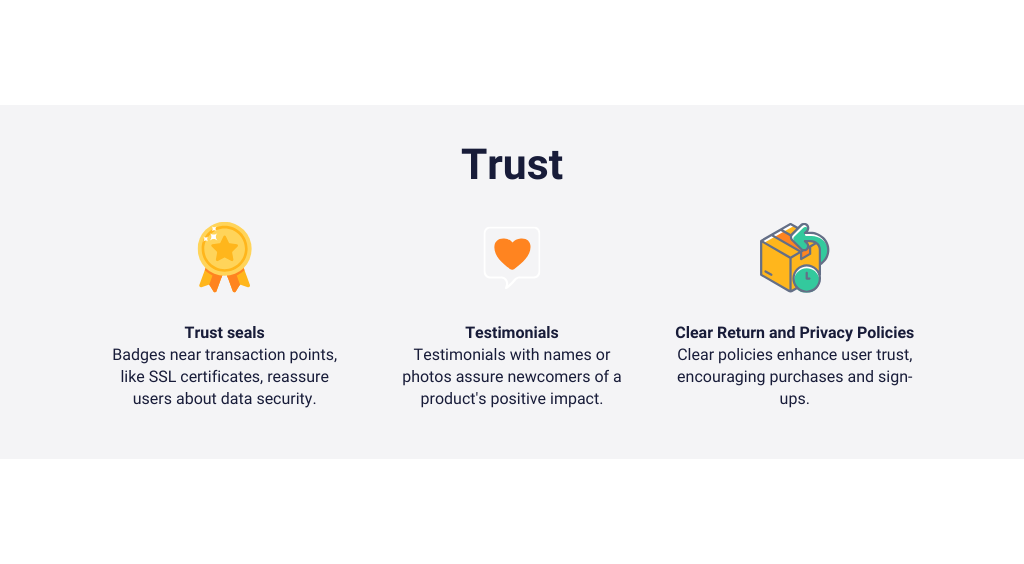 Trust Seals: These are badges or logos, often placed near transaction points, that indicate a site is secure. They might represent SSL certificates or memberships with reputable organizations. When users see these seals, they feel reassured about the safety of their personal and financial information.
Testimonials: Hearing from real people who have used a product or service can be incredibly reassuring. Genuine testimonials, especially when accompanied by names or photos, provide a human touch, showing newcomers that others have had positive experiences.
Clear Return and Privacy Policies: Transparency is key. When users know they can easily return a product or that their data won't be misused, they're more likely to take the leap and make a purchase or sign up.
Scarcity
The principle of scarcity is rooted in the fear of missing out. When something is in short supply or available for a limited time, it suddenly becomes more desirable.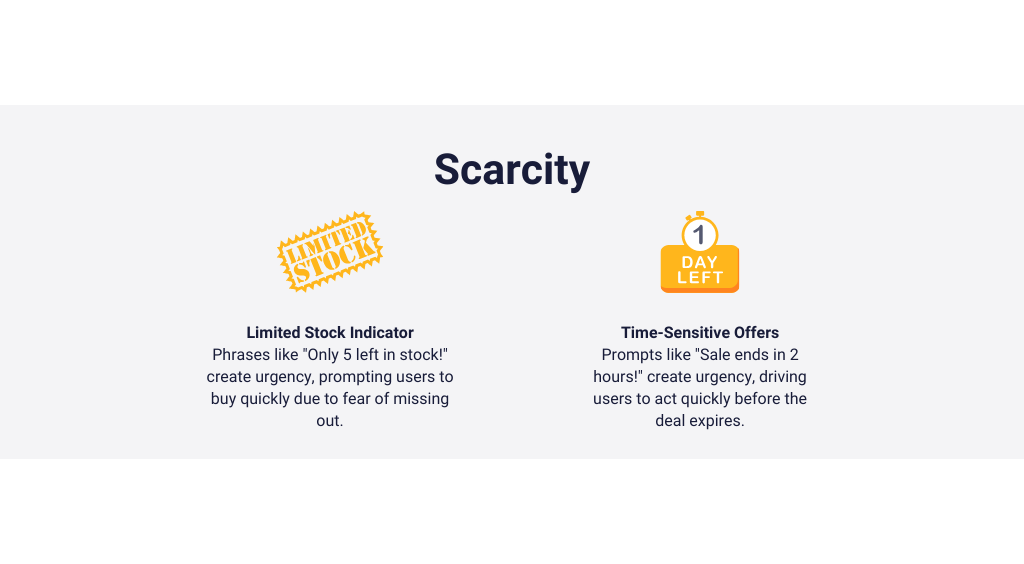 Limited Stock Indicators: Phrases like "Only 5 left in stock!" can drive users to act. The idea of missing out on a product they desire can push them to purchase more quickly than they might have otherwise.
Time-Sensitive Offers: Countdown timers or statements like "Sale ends in 2 hours!" create a sense of urgency. Users feel compelled to act swiftly to take advantage of the deal before it's gone.
Social Proof
Humans are inherently social creatures. We often look to others when making decisions, seeking validation in the choices of our peers.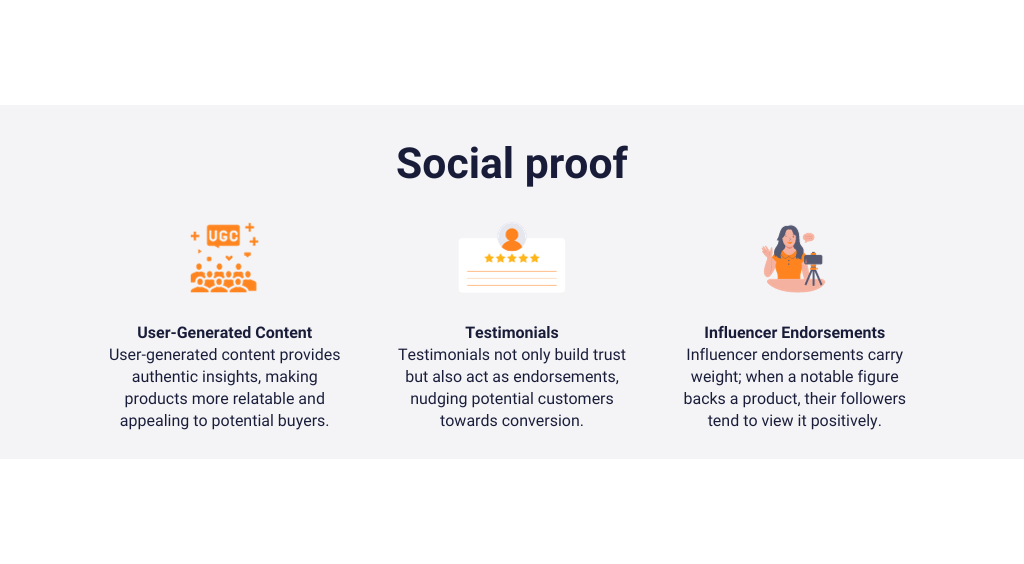 User-Generated Content (UGC): UGC such as photos, videos, or posts shared by customers, offers authentic insights into real-world use of a product or service. When potential customers see others like them using and enjoying a product, it paints a relatable picture, making the product more appealing. UGC acts as a visual testament to the product's value and quality, often encouraging others to explore and purchase.
Testimonials (again): Beyond building trust, testimonials serve as endorsements. When potential customers see others praising a product or service, it acts as a recommendation, nudging them towards conversion.
Influencer Endorsements: In today's digital age, influencers hold significant sway. If a respected figure in an industry or a popular influencer endorses a product, their followers are more likely to view it favorably.
By tapping into these psychological principles, businesses can craft a more compelling online experience, resonating with users on a deeper level and driving conversions. Understanding the human mind is a powerful tool in the world of CRO, turning passive browsing into active engagement.
Basic Principles of Conversion Rate Optimization
CRO isn't about random tweaks; it's a systematic process grounded in understanding user behavior. Here are some foundational principles:
While CRO might come across as a jargon-filled concept, at its heart, it's all about understanding and catering to people. It's about making your website a welcoming space where visitors feel understood and valued. Let's break down some of the core principles that guide effective CRO: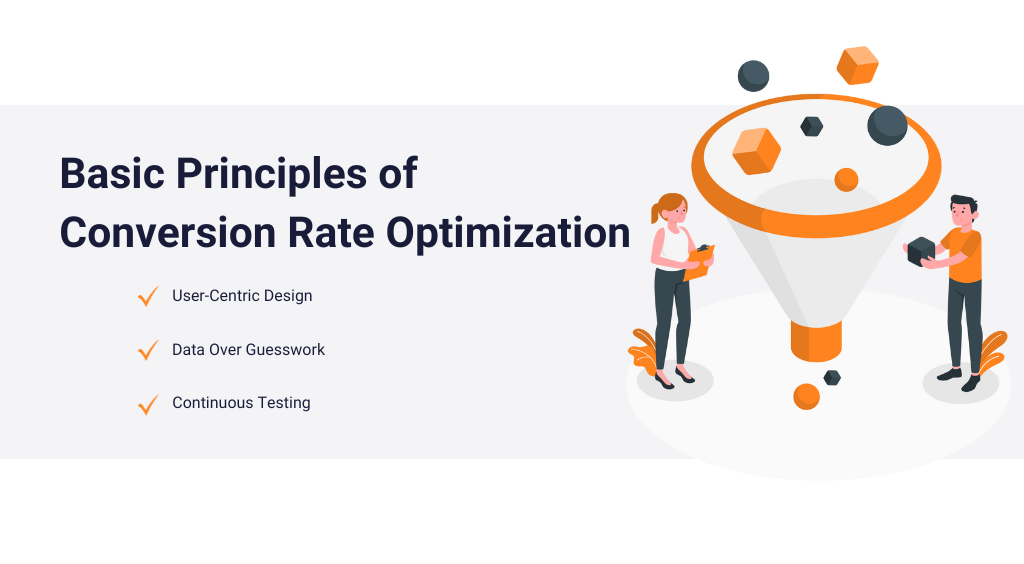 User-Centric Design
Imagine walking into a store where everything is neatly arranged, and you can effortlessly find what you're looking for. That's the essence of a user-centric design in the digital realm. Your website should be like a well-organized store, where visitors can easily find their way around. Clear signposts, or what we call 'Call-to-Actions' (CTAs), should guide them, nudging them gently towards the action you'd like them to take, be it making a purchase, signing up, or any other engagement.
Data Over Guesswork
In the world of CRO, data is your best friend. While it might be tempting to make changes based on a gut feeling or a trend you've noticed elsewhere, it's essential to rely on concrete data. Think of it as the difference between shooting in the dark and taking a well-aimed shot with a spotlight guiding you. By analyzing user behavior, conducting tests, and gathering feedback, you can make informed decisions that genuinely resonate with your audience.
Continuous Testing
The digital landscape is akin to shifting sands – what's relevant and effective today might not be tomorrow. As user behaviors, technologies, and trends evolve, it's crucial to keep your finger on the pulse. Regular testing allows you to adapt and refine your strategies, ensuring your website remains a top-performer. It's like giving your website a regular health check-up, ensuring it's always in tip-top shape.
Steps to Start with Conversion Rate Optimization
Embarking on a CRO journey involves a systematic approach: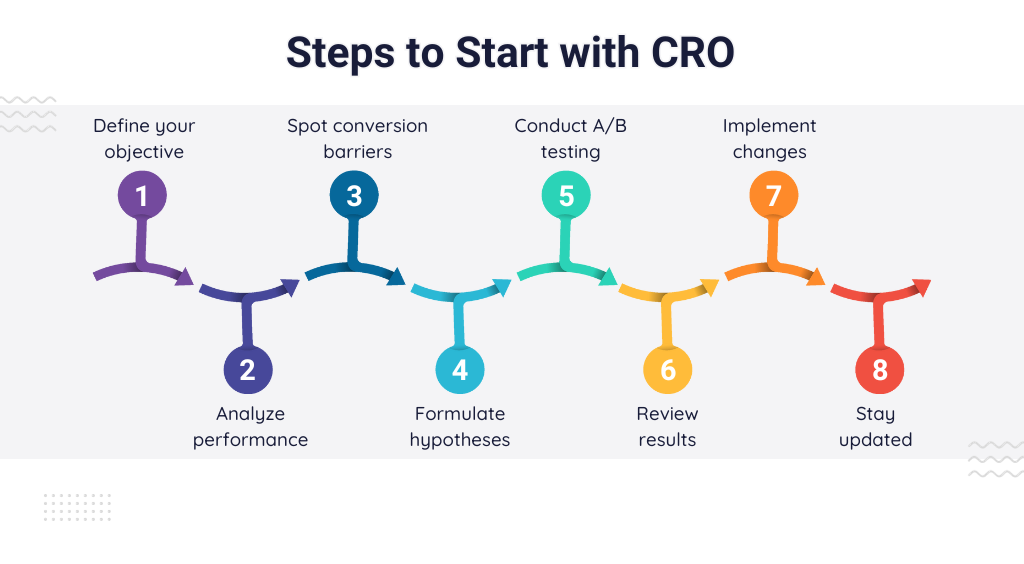 Setting Clear Objectives: Before diving into conversion rate optimization, it's essential to have a clear understanding of what 'conversion' means for your business. Is it a sale, a newsletter sign-up, a downloaded resource, or perhaps a filled-out contact form? By defining this, you can tailor your optimization strategies more effectively.
Analyzing Current Performance: Utilize tools like Capturly to gain insights into your website performance. Which pages have the highest bounce rates? Where do users typically drop off in the conversion funnel? This step is about gathering as much data as possible to understand the current state of your website.
Identifying Barriers to Conversion: This involves a deep dive into the user experience. Are there technical issues, like slow page load times? Perhaps the navigation is confusing, or key information is buried. Survey tools can also be invaluable here, providing direct feedback from users about their experience.
Developing Hypotheses: Based on your analysis, develop hypotheses about what changes could improve conversions. For instance, if users are abandoning their shopping carts, perhaps offering free shipping or a streamlined checkout process could help.
A/B Testing: This is the heart of CRO. Create two versions of a page (A and B) and compare their performance. Tools like Optimizely can help set up these tests. It's crucial to only change one element at a time (e.g., the color of a call-to-action button) to ensure that any differences in performance can be attributed to that change.
Analyzing Results: After a set period, review the data. Which version had a higher conversion rate? More importantly, why? Dive deep into the analytics to understand user behavior on each version.
Implementing Changes: Once you've identified a winning design or strategy, roll it out.
Continuous Monitoring: The digital landscape is always evolving. User behaviors and preferences change, new technologies emerge, and market dynamics shift. Regularly review and adjust your strategies to stay ahead.
Tools and Resources for CRO
Navigating the world of CRO becomes a lot smoother when you have the right tools in your toolkit. Let's explore some of the game-changers that can amplify your CRO journey:
A/B Testing Tools
Imagine being able to compare two versions of a webpage to see which one your audience prefers. That's the power of A/B testing. Platforms like Optimizely and VWO are like your digital laboratories. They allow you to set up these tests effortlessly, collect results, and dive into the data. Wondering if a green button works better than a blue one? Or if a new headline might be more engaging? These tools let you test these hypotheses in real-time. With their intuitive visual editors, even those without a coding background can make changes and set up tests. The results can then guide you on which version resonates more with your audience.
Heatmaps
Ever wished you could see your website through your visitors' eyes? Capturly make this possible. Heatmaps paint a picture of user activity, showing where they click, scroll, and hover. By highlighting popular areas on your site and pinpointing sections that might be getting overlooked with heat maps, you can refine your design and content strategy. It's like having a bird's-eye view of user engagement, helping you make design and content decisions.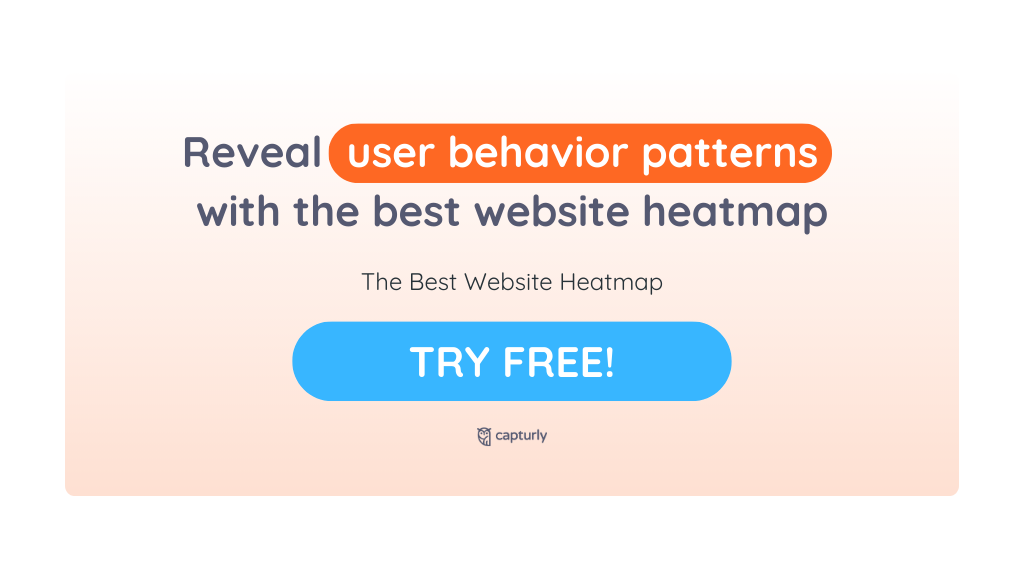 Surveys and Feedback Tools
Sometimes, the best way to understand your users is simply to ask them. Surveys and feedback tools help you tap into user thoughts and feelings. Whether you're curious about why users are abandoning their shopping carts or what features they'd like to see next, these tools provide direct insights from the source. It's a way to bridge the gap between you and your audience, ensuring their voice is heard in your optimization efforts.
Did you know? Capturly has rolled out a new survey feature that enables you to collect feedback and watch user's session in one place!
Analytics Platforms
Data is the backbone of CRO, and Google Analytics is like the dashboard of your car, providing vital stats and performance metrics. It offers a deep dive into how users interact with your site, where they come from, and where they might be dropping off. By diving into this data, you can pinpoint areas for improvement and strategize your next CRO moves.
Conversion Funnels
Imagine a funnel: wide at the top and narrow at the bottom. In conversion rate optimization, this funnel represents the journey users take, from first visiting your site to taking a desired action, like making a purchase. At each stage of the funnel, some users might drop off, and understanding these stages can help pinpoint areas for optimization. Tools like Capturly's conversion funnel analysis feature allow you to set up and monitor conversion funnels, giving you a clear picture of user flow and highlighting potential barriers to conversion.
Pop-ups
Love them or hate them, pop-ups, when used correctly, can be a powerful tool for CRO. They can capture email addresses, offer discounts, or highlight special promotions. However, it's crucial to strike a balance. Overwhelming users with pop-ups can be counterproductive. There are some tools out there that provide customizable pop-ups, allowing you to control when and how they appear, ensuring they enhance rather than hinder the user experience.
Good news! Capturly is fine-tuning a game-changing popup feature, blending user engagement with seamless design. Designed for optimal impact without disruption, it's the next big thing in CRO. Stay tuned!
Common Mistakes in CRO
The potential benefits are vast, from increased sales to enhanced user satisfaction. However, like any journey, there are potential pitfalls along the way. Let's delve deeper into some common missteps to watch out for: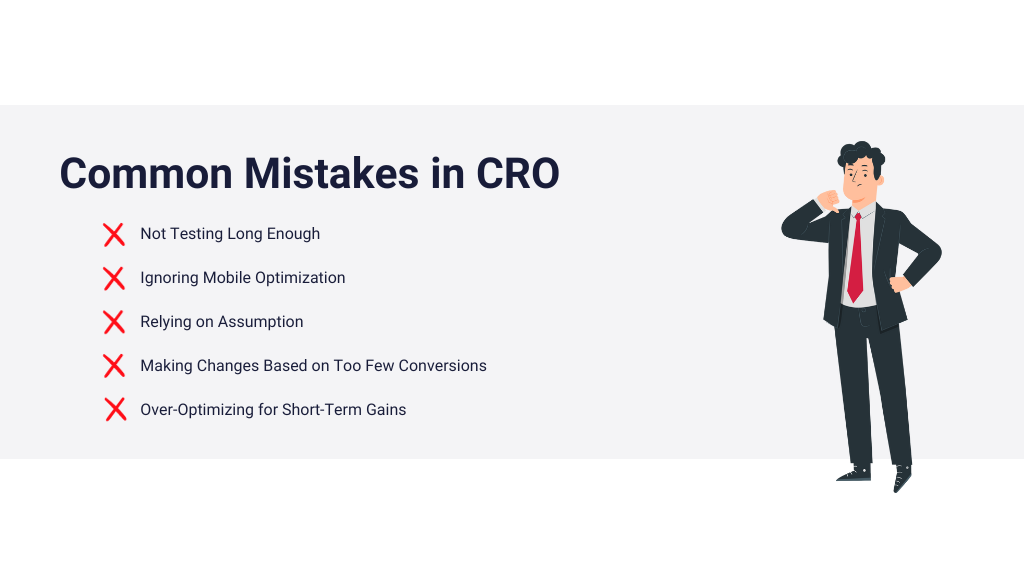 Not Testing Long Enough
It's crucial to gather enough data to make informed decisions. Testing for too short a period can lead to misleading results. Ensure your tests run long enough to account for variables like weekdays vs. weekends or any seasonal variations.
Ignoring Mobile Optimization
With a significant portion of web traffic coming from mobile devices, it's a big mistake to overlook mobile optimization. It's crucial to ensure that your site is responsive and offers a seamless experience across all devices.
Relying on Assumption
While there's a place for intuition in decision-making, CRO isn't a game of guesswork. It's a science. Making changes based on mere assumptions can lead you astray. Instead, approach CRO with a researcher's mindset: formulate hypotheses, test them rigorously, and let data guide your decisions.
Making Changes Based on Too Few Conversions
It's like judging a book by its first chapter. Making decisions based on a limited number of conversions can give a skewed perspective. Before drawing any conclusions or making changes, ensure you have a statistically significant sample size. This ensures that your decisions are based on a broader user behavior pattern and not just a momentary spike or dip.
Over-Optimizing for Short-Term Gains
CRO is a marathon, not a sprint. While it might be tempting to implement changes that show immediate results, it's crucial to think long-term. Ask yourself: Will this change benefit the brand in the long run? Is it in line with our core values? Prioritize sustainable growth and customer trust over fleeting gains.
By being aware of these common mistakes and approaching CRO with a strategic, data-driven mindset, you're well on your way to harnessing its full potential.
Conclusion
As we wrap up this CRO journey, let's take a moment to appreciate the adventure we've been on. Think of CRO as your friendly guide in the bustling city of the internet. It's all about understanding your website's visitors, giving them a virtual high-five, and making their experience a delightful one. Remember, it's not just about numbers and charts; it's about people.
As you dive into the world of CRO, keep that spark of curiosity alive, have fun experimenting, and always put your users first. Because at the end of the day, a happy visitor is the best kind of visitor. Cheers to making the digital world a friendlier place, one optimization at a time! 🌟🎉
Further Reading & Resources
For those keen to delve deeper into CRO, several resources stand out. Books like "Don't Make Me Think" by Steve Krug offer invaluable insights. Online platforms like Coursera or Udemy have comprehensive courses on CRO, catering to both beginners and experts.