Building social proof is a significant marketing strategy every expert marketer should consider for their business goals. This marketing tactic helps you to influence your audience and increase the conversion rate of your website. Social proof is a necessary element that gives credibility to your website.
Nowadays, customers have changed their attitude toward online shopping. They no longer click on a product to buy it on the spot. Instead, they rather search through the ratings, reviews, and the experience of other customers to see whether the satisfaction rate is convincing to them in general. Here is where the importance of social proof comes to light. 
On the other hand, social proof also necessitates your products and services to have a quality of reasonable standards. The reason is that if you want your customers to be satisfied and leave positive feedback for your other customers, you have to work on the quality of your products and services. 
Here in this article, you will read about ways to increase web conversions by building social proof. So keep on reading!
14 Tips to Increase Web Conversions by Building Social Proof
Increasing web conversion is no easy task. There are many factors involved and you need to make a lot of efforts to increase your conversion rate. However, one way to do this is by building social proof on your website. This way, you can assure your website visitors that your products or services are worth buying and trusting you would not harm them in any way. Here, we will discuss 14 tips to increase web conversion by building social proof. 
1. Ratings and Reviews
Ratings and reviews of your products and services are significant elements of social proof for your business. As mentioned before, people have a tendency to explore ratings and reviews of your customers before buying a particular product or service. In other words, people can judge your product or services based on the ratings and reviews. Therefore, ratings and reviews can increase your conversion rate increasingly given that they show the satisfaction of your customers. 
The best example which we can analyze to check the ratings and reviews impact is Amazon. There are a lot of ratings and reviews for almost every product on Amazon that one can read before buying the product. Knowing the advantages and disadvantages, it gets easier for us to decide whether to buy the product or not. It also keeps customers away from strange surprises after receiving the package.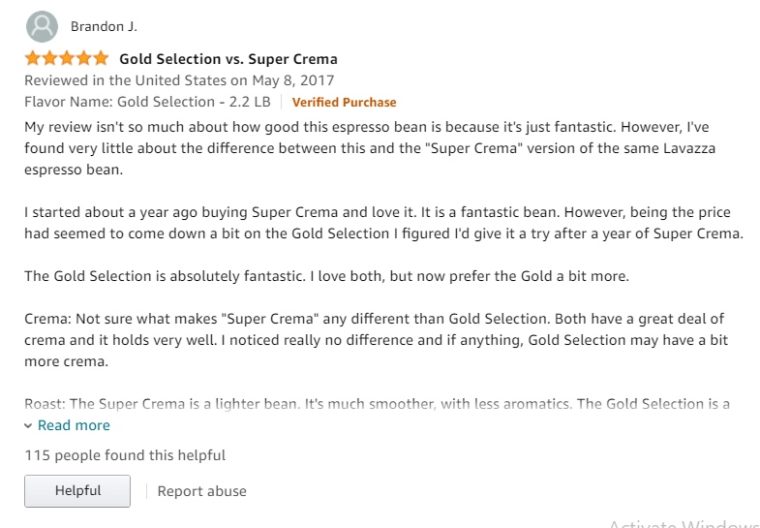 2. FOMO Strategy
FOMO (Fear of Missing Out) strategy is a marketing technique that remarks that people would get a fear of missing out on your products or services if they do not take action toward your promotions and offers. So, they convert as soon as possible in order not to miss out on your offers. But how to adopt the FOMO strategy on your website?
Adding the numbers of remaining products and sold products is the way you can create this fear in your prospects. Here is an example by eBay regarding Apple iPhones: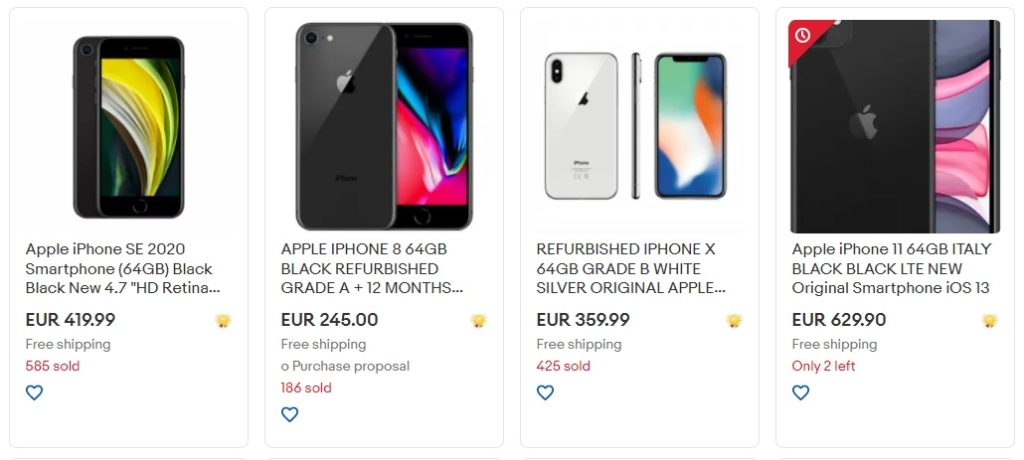 3. Trust Seals
Adding trust seals is another way you can build social proof and increase your conversion rate. Trust seals make it easier for your leads to trust your brand and purchase from you. In addition, they feel more secure to share their personal information with your website. But what are trust seals?
Trust seals are granted to a website for the purpose of showing the customers that the website is secure. Trust seals are countless but the most famous ones are Norton, MacAfee, Hacker Safe, etc. Here are some more trust seals: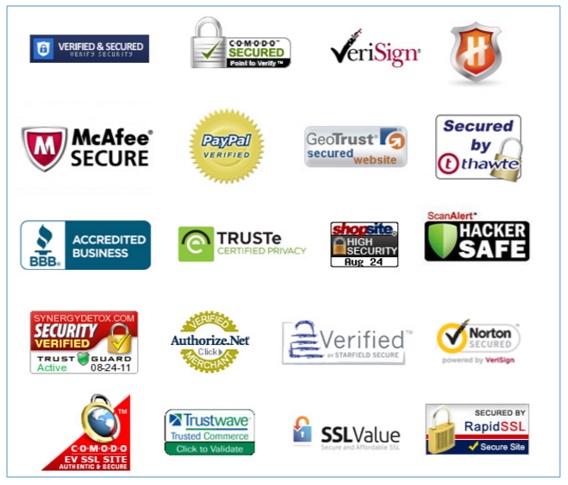 4. Customer Testimonial
Customer testimonials ensure your customers-to-be about the positive experience of your customers. In other words, they make your new customers feel that they are not the first people who pay for your products or services and try them. Without customer testimonials, you may lose your prospect just at the end of your conversion funnel due to a lack of trust. Is that not a great loss?!
All of us prefer to try something that has been used before and has good reviews. Therefore, by nature, we prefer to see satisfied people first and then go for buying a product or service online on a website. Statistics show the same thing too. 70% of people consider the recommendation of someone whom they do not even know. Here is the reason why you should use customer testimonials on your website. 
But what is a customer testimonial? Well, a customer testimonial is a quotation from one or several of your customers who have had a positive experience with you. Remember that adding fake quotations are easy to notice and they would degrade your website and business instead of adding value to them. Customer testimonials should be real, relevant, and to-the-point. 
Now, here is a sample of customer testimonial on the homepage of our website: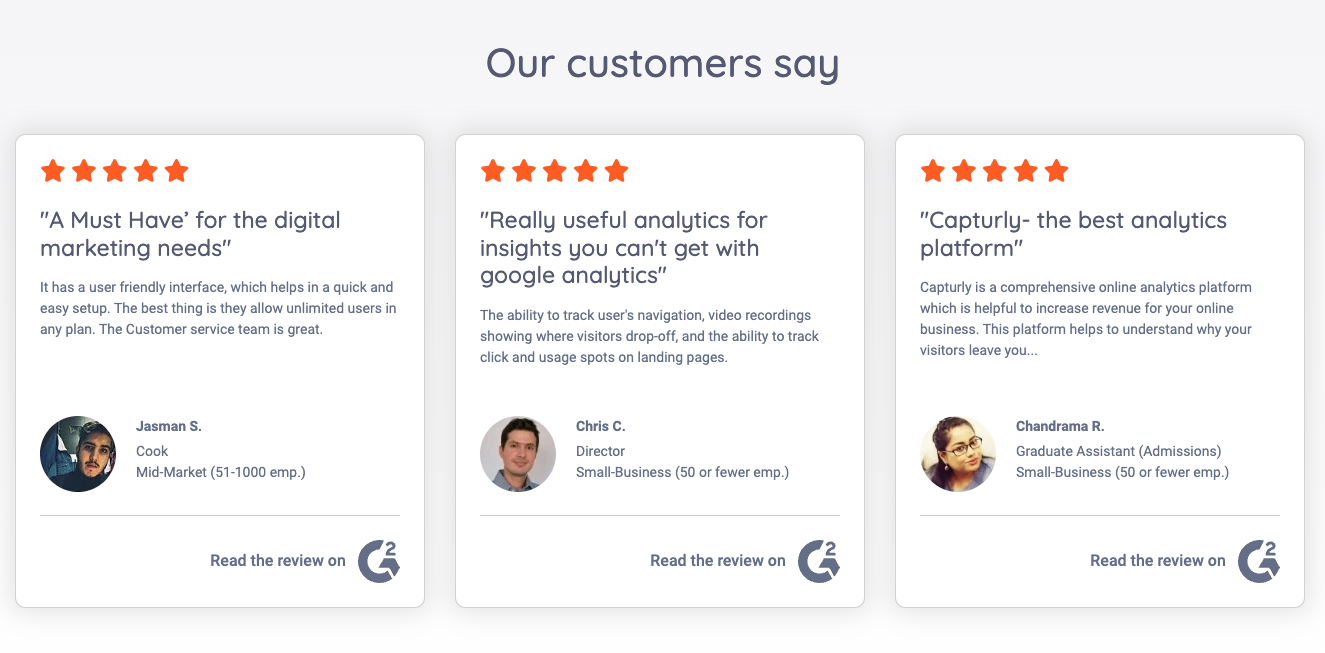 5. Case Studies
To define case studies we can say the proof that your products and services are helping customers or users and facilitating their daily lives. Adding case studies to your website on the way to building social proof can signify that there are also other people who are using your products and services. In addition, they also give your audience a clue about how to use a particular product or service. 
The thing that you should be careful about is that the data that you provide should be actual. Moreover, you should make your case studies visually captivating by using amazing graphics. They should also be explanatory by including informative data.
6. Influencers 
Thanks to the partnerships between influencers and businesses, influencing consumer behavior has been made far easier. If you make a partnership with an influencer, there will be a great return on investment (ROI). In addition, you are giving your business a credit by doing so.
The reason is that influencers have a number of followers who trust them a lot. These followers are highly likely to try something that is recommended to them by these influencers due to the trust they have in them. In other words, they rather see these influencers try your products or services and then step into your website for purchase. As a result, you can enjoy the flow of their followers into your conversion funnel and at the same time be proud of the more credible brand image you have just created. 
The influencer that you choose to invest in does not have to be Kim Kardashian or other celebrities. You can look for micro or macro influencers in your niche or industry regarding the amount of your budget. If the influencer is not relevant to your business, the results may turn out the other way round because lack of relevance leads to distrust. 
Here is how Lancome influences its customers to buy its new Lash Idole mascara using its partnership with Zendaya: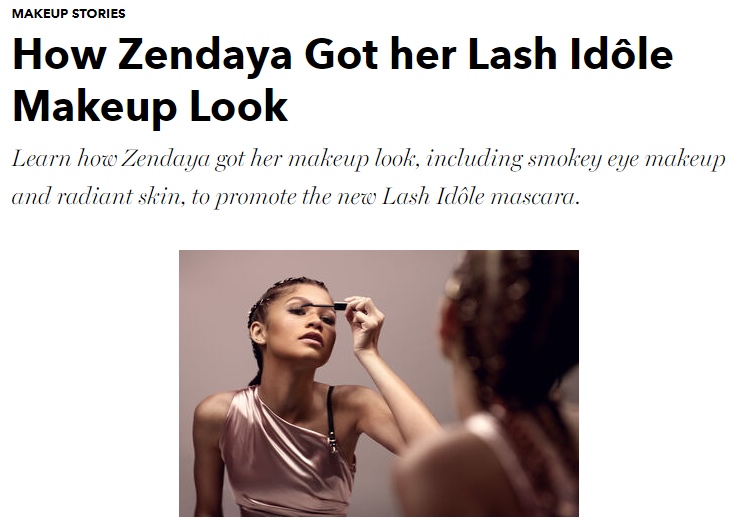 7. Media Mentions
If you have ever appeared in the media or press, you should really share such achievement with your audience and customers on your website. It can greatly influence your credibility which would make it easier for your audience to trust you and buy from you. 
Generally speaking, we would rather buy from a brand that has been mentioned in different media channels and press instead of buying from a much lesser-known brand. So, it is undoubtedly important that the brand has been already featured somewhere. 
Being featured on media of any kind is indeed an achievement and you should not regard it as an unimportant or ordinary issue.
8. Social Media Performance
Another way to build social proof is to add social sharing buttons that display your number of followers, etc. that are considered important by your audience. If you do not have a large follower base, you can use the AI tools to get organic ones. For instance, you can use a 1000 free Instagram followers trial to grow your Instagram followers. Insta stories is a great way to promote products, they go viral in speed as compared to post. If you don't know how to make appeal Instagram story then use the online Instagram story maker tool to create a beautiful Instagram story and grab the audience's attention easily.
Adding social sharing buttons to your website has a dual effect. Firstly, it fascinates your website visitors because they see that you already have a lot of fans, followers, and perhaps customers. So, they get encouraged to become a member of your social media to get in touch with your social media performance. Secondly, seeing all the crowd makes them think that you have enough standards for them to buy from you. So, they easily convert and purchase from you. 
Therefore, you not only help your social media to get more followers, but you also increase your conversion rate and revenues accordingly. However, remember not to add these buttons if you do not have many followers. Make sure you use the tools to get enough organic followers and then add your buttons. 
9. Number of Users
As already mentioned in the FOMO strategy section, if you add the number of customers who have purchased a particular product or have downloaded a particular service, your other website visitors will get encouraged to buy from you or download your service. The number of your customer base is proof to others that they can trust you.
Here is how Hubspot has added its number of users worldwide: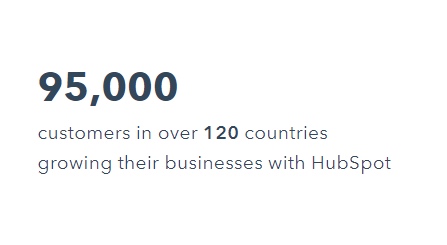 10. Logos of Partners
You should also add the logos of your partners to your website if you have made partnerships with them before or you have affiliate partners. It is not just about your customers but also about your B2B customers who can trust to collaborate with you by seeing that others have chosen to make partnerships with you. 
Therefore, if you have not yet had a large customer base due to being a startup, you can have partnerships and add the brands' logos to your website to gain the trust of your customers-to-be. 
If you don't know how to develop a company logo, you can utilize the best online logo maker tools or a free logo maker app on your phone to create a professional logo for your business.
So, the same story happens: people see that big companies and brands have worked with you and they think to themselves that why should they not buy from you or download your product or service? This is how you give credit to your brand and business. Here is how we have added the logos of our partners on our website:

11. Certificates and Awards
In case your business has ever received a certificate or award from a credible organization, you should make sure to add it to your website if you want to build social proof. Such certificates and awards give your brand and business as well as your website a credit that makes it easier for your website visitors to trust you. They would believe that you are able to meet their needs the best way possible because you have the guarantee of a credible organization. 
12. Higher Rank in Search Engines
Generally speaking, when we need to read about something, watch a troubleshooting video, buy something online, download a file or program, etc. we usually get what we want from the first few search results. In other words, it hardly ever happens that we go to the second page of the search results. But what is the reason that can justify such behavior?
Regardless of your niche and industry, it is a great advantage for your website to have a high rank in search engines. Such a high rank is very important when it comes to building social proof. There are a lot of concepts behind a high rank in search engines.
For instance, it shows that you have a professional IT infrastructure and an expert content marketing team who knows Search Engine Optimization (SEO) strategies very well and produces SEO content. In addition, it may also signify that your business has enough credit and trust to have gained a high-rank position in search engines. Furthermore, it means that you have been trying hard for your business for a long time.
Therefore, your website visitors will trust you and your social proof building strategy will definitely work. This is how it is: the higher your rank in search engines, the more website traffic you can get. More website traffic also leads to a higher conversion rate accordingly. This is the main reason why businesses compete with each other to get a higher rank in search engines. 
Here is the search result when you search for Eurostar Hotel in Rome: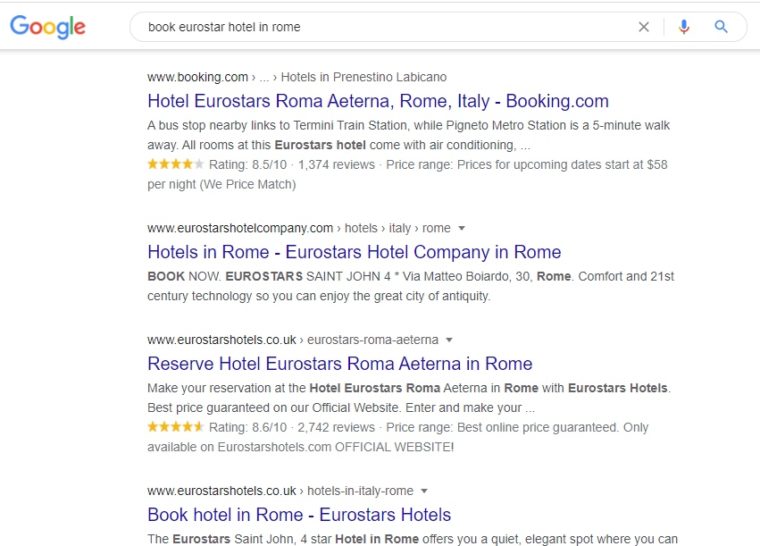 You would definitely choose one of these websites to book your room as the high rank itself is a guarantee that your booking will be secure and real. 
13. Discretional Cues
Using discretional cues is another way of building social proof on your website. But what is the discretional proof? Well, discretional cues are all those elements that can capture the attention of your website visitor. For instance, Call-to-Action or CTA buttons are one type of discretional cues. Another example can be the image of a celebrity who is using your product or service, etc. 
Discretional cues can guide your website visitors to go the way you want in your conversion funnel. Therefore, they tell your visitors to take any action, actually that particular action that you want. 
14. Recommendations
It has happened to all of us to have bought the same thing that our friends or relatives have recommended to us. The reason is that we trust them more than the TV advertisements, social media paid advertisements and business claims in other media. According to statistics, 84% of people have entire trust in the recommendations from their friends or relatives. 
But how to control this and use it for your own benefit? Well, you can use referral strategies and ask for referrals. Remember that you should also consider a kind of incentive to encourage others to act as your referrals. Think of giving some months of free trial to your customers in exchange for inviting three friends to your platform, for instance. 
Conclusion
We have fully discovered the most effective social proof building ideas that you can apply to your website and gain more conversions. The thing you should always keep in mind is that the more you add credit and value to your website, the more traffic you will get. As a direct result of this, you will also get more conversions during your conversion funnel and so you will have more sales and revenues. In other words, the goals of your business will be achieved. 
Therefore, by keeping up with these ideas and carrying them out on your website, you can enjoy the success you will gain and grow your business in many aspects. On the other hand, your customers will take great advantage of your products and services and will become your lifelong customers. So, both parties will find pleasant satisfaction which leads to continuous creative productions and from-the-bottom-of-the-heart purchases. Wish you the best of luck!
Author Bio: I am Parichehr Parsi, a born writer, and a freelance copywriter in the fields of travel, fashion, and Instagram marketing. I currently write for SocialPros, Realtormate, Aischedul, and online magazines in Italy and I love reading, writing, and researching. Find me on LinkedIn!