Heatmaps
Learn how your users behave on your site!
With heatmap you can visualizes user interactions such as clicks, taps and scrolls on a website. Heatmaps use a cold-to-hot temperature scale to properly present which parts of the webpage attract the most or the least amount of attention of the users.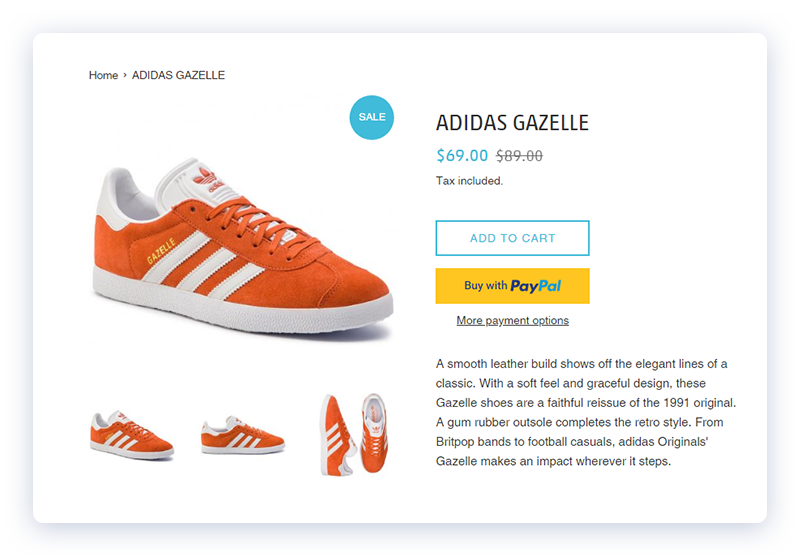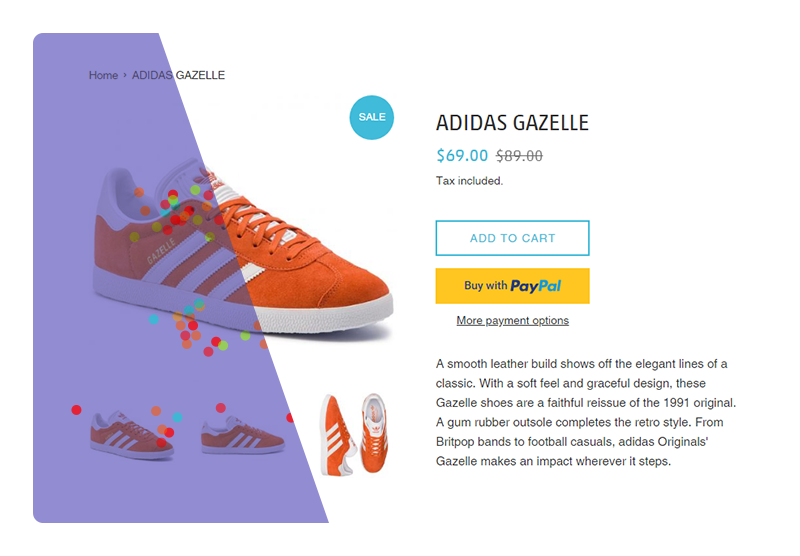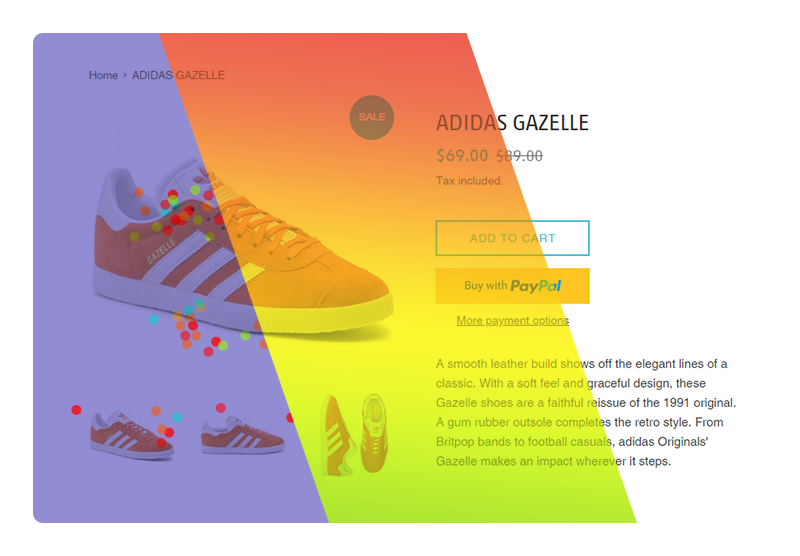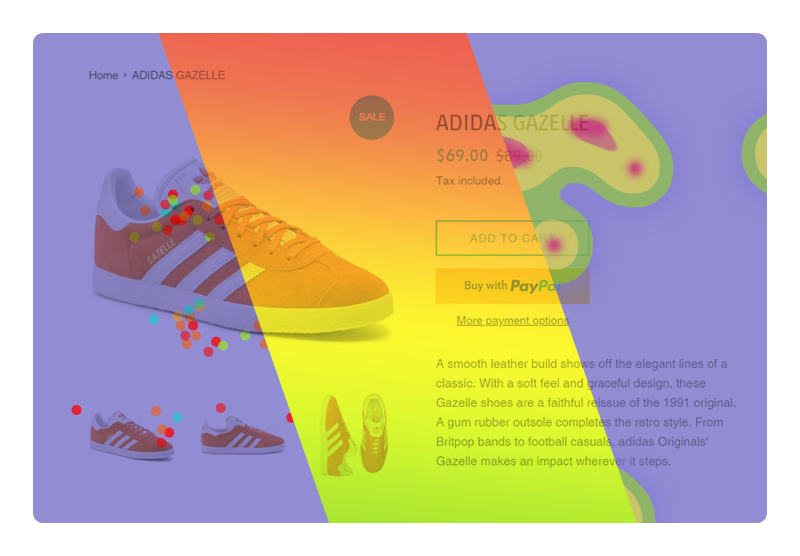 If You Want to Know...
What are the hotspots of your site?
Heatmaps are the best way to measure user awarness and help understand how you should create and arrange website content in favor of high conversion.
Why are your CTA-s not efficient?
Learn what attracts visitors attention, what elements they ignore, or how far they scroll down on a page. With heatmaps you can turn your visitors into testers in seconds.
Why don't your visitors convert?
Reveal the painpoints of your checkout page and create a flawless payment process and a high-converting site based on real user interactions.
Capturly Heatmap types
Click heatmap
Do they click on every button on your page?
Clicking is a powerful indicator of interest. With click heatmaps, you can reveal what motivates your visitors. Capturly's click heatmaps show the exact click positions, so you will get accurate data regardless of the page layout. Find out which elements of your website are the most popular, what should be clickable and what shouldn't.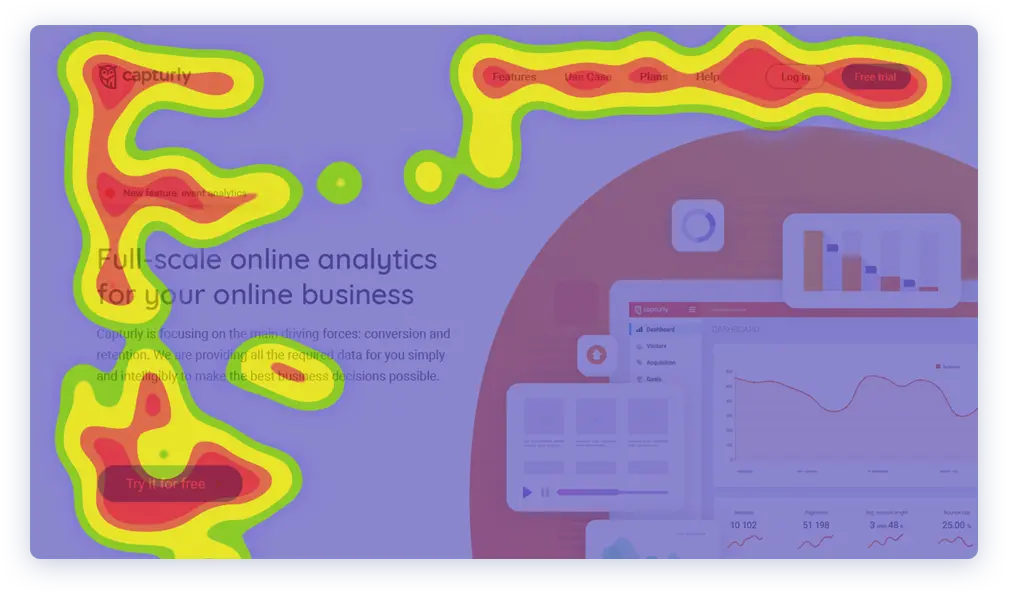 Scroll heatmap
Do you want to know how far your visitors scroll on your website?
With scroll heatmaps, you can see how far your visitors scroll down, and what percentage of them leave the page without performing a desired action. Just like with the click heatmap feature, when it comes to scroll heatmaps, the warmer the color means that the more visitors glanced at it. So the data shows where to place a call to action (CTA) or other important information. The change in colors indicates where visitors lose their interest.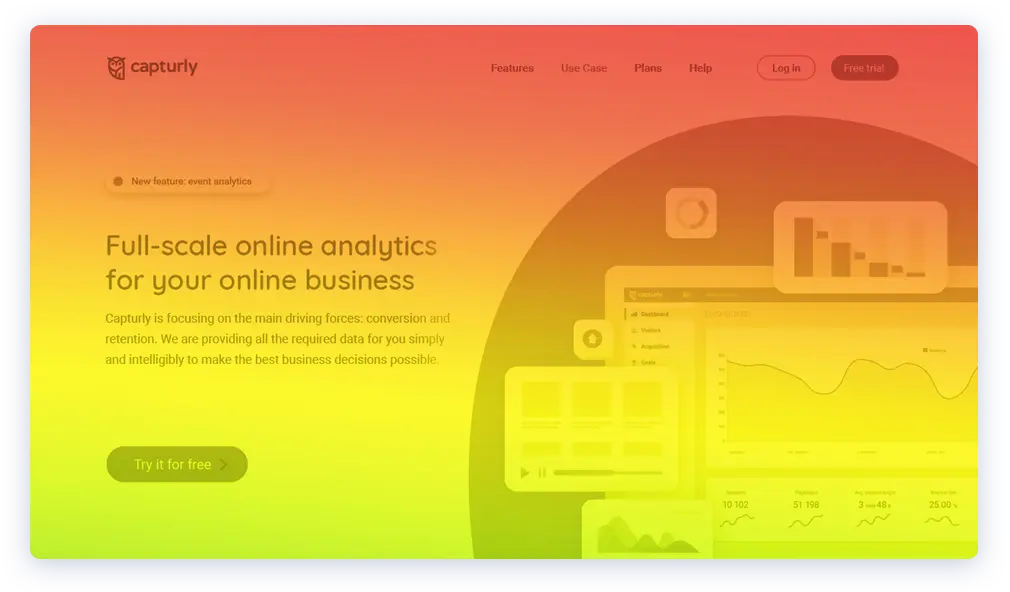 Segment heatmap
Do you know which referrers bring the most active visitors to your site?
Capturly allows you to filter data in a convenient way. You can select the data you're interested in by checking or unchecking the right segments. Every segment has its own color for easy distinction. Check the source of the traffic in maximum detail. With the segment heatmap feature, you can focus on a specific operating system, device, browser, or webpage and gather first-hand information about your visitors.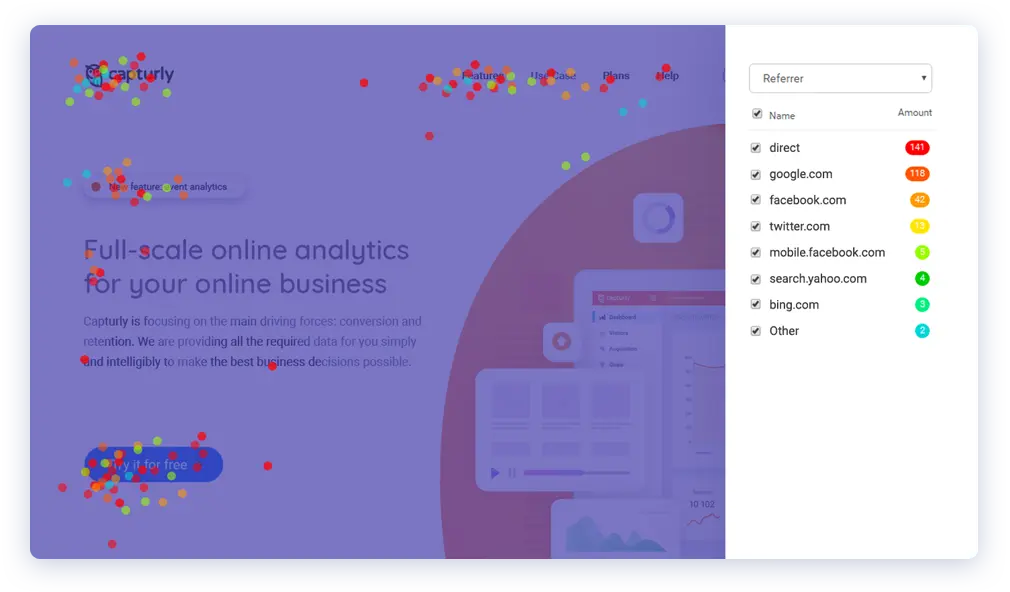 Experts' tip
Define the research question and the aim of your heatmap analysis, and filter for relevant pages in Capturly. You can narrow down your research to specific URLs, traffic from different device types, referrals, OSs, and browsers based on your goals. Always test your ideas and retake the heatmap analysis from time to time.
Unlimited heatmaps in every plan
Would you like to check where your users click and what they miss on every page of your website? No worries! We don't limit the number of the available heatmaps in our plans.
3-in-1 heatmap package
Capturly offers 3 different heatmaps for the ultimate website analysis! Use them to detect unexpected clicks, check how far visitors scroll on your pages or investigate how different traffic sources use your website - and many more other opportunities!
No manual setups needed
To make your job easier, you will find all of your heatmaps in one place! You don't have to set up anything manually.
Unlimited heatmaps
Automatic data collection
No manual setups
GDPR- & CCPA-compliant
User Story
Frequently asked questions
A website heatmap (or heat map) is a visual representation of user behavior on a website based on interactions such as clicks, taps, and scrolls.
Heatmaps are used to understand user behavior, which can help you provide a better user experience, increase conversion rates, improve content strategy, and conduct A/B testing.
With Capturly, you don't have to worry about creating heatmaps! We will do the work for you. We automatically generate a heatmap for every URL you have.
Yes! We track (and show) every user's clicks, scrolls, and taps on heatmaps, without any data sampling.
Yes, we generate heatmaps for each page you have, without any limitations on the number of URLs.
We provide real-time data updates, so you will always see the most recent clicks on heatmaps.
It depends on your preference. By default, Capturly will show you the heatmap for each tracked URL. However, you can turn off the default setting, and we will ignore the parameters when generating heatmaps.
Use filters to narrow down the results. Check your most important pages, such as landing pages or the checkout page. Compare heatmap results on mobile and desktop, as user behavior may differ depending on the device type.
Yes, you can! Every tap is counted as a click on the heatmap.