Conversion rate optimization is a crucial process for every website starting from lead generation to increasing the number of users who make a purchase i.e. through the whole conversion funnel. Optimization is a never-ending story since user behavior is constantly changing, and it's always more cost-effective retaining users and converting them into customers than gaining more traffic at the same conversion rate.
What is a conversion in marketing?
A conversion in marketing refers to the act of getting a potential customer to take a desired action, such as making a purchase or filling out a form. It is one of the most important indicators in marketing. When your website visitor takes actions that are relevant to your business goals, such as subscribing to your newsletter, downloading a freebie, or an e-book, a conversion is made.
Try to think of conversions as responses of the consumers to your marketing, lead generation, and branding activities. If you don't get sufficient replies, you should feel the urge to change something.
Note: keep in mind that nowadays customers are quite well-informed due to the fast-developing digital technology. So, you've got to define what type of conversions would be the key factor to your business aims, otherwise, you'll be overtaken by your competitors.
Moreover, describing what those elements are isn't enough! You also need to determine how many customer actions would be sufficient to generate an outstanding income for your business.
And this is when conversion rates come into play!
What is conversion rate?
Conversion rate is the number of conversions divided by the total number of visitors.
For example: when you have 100 followers and they complete 10 desired conversions, then your conversion rate is 10%. It's one of the most preferred indicators that can tell you a few things about the performance of your business.
CR = Number of goals achieved / number of visits x 100
The conversion rate among the average accounts is 2.35%, but the top 25% can brag with 5% or even more. Yet, you don't have to be disappointed if your rate is low, because your overall success isn't going to be sealed by just one number. It's all okay to have smaller conversion percentages if you have expensive products or services, that will surely pay off even if less is bought.
However, we do suggest optimizing your conversion rates! In this guide, we're also going to dive into the topics of improving your rates. For now, though, we'd like you to understand that there are different types of conversions.
What are micro-conversions?
Micro-conversions are minor actions made by the customerthat are actually relevant to your business goals. Imagine that customer actions depict a pyramid in which several small events will lead up to the big one, which is going to be your main business goal. So that's why micro-conversions are just as relevant as their 'macro mates'.
As you might have guessed it by now, you cannot turn a blind eye to the importance of minor customer actions, either. Those micro-steps are your visitors getting in touch with you for the very first time. And at those very moments, you think that they're extremely far from your aims. Yet, they are just about to discover your solutions to their problems which is going to pay off in the long run.
In other words, think of micro-conversions as investment assets that make you realize great revenues if you're willing to spend time and money on turning your visitors' small steps into big leaps. 
It is also extremely important not to forget that macro conversions don't exist without micro ones. The two go hand in hand!
So before trying to be salesy, pay attention to smaller goals, such as a visitor clicking an opt-in link, adding an item to their cart, creating an account, watching a video, liking a post, or subscribing to a newsletter among others.
Some customer events could be both micro and macro actions. It depends on how crucial that specific conversion is in your customer journey. For example, subscribing to the free plan of a service can be a macro-conversion when our aim is exactly that, however, it counts as a micro-conversion when we'd like to convert free users to a paid plan.
What is a macro-conversion?
Macro-conversions are micro-conversions' big brothers, so you might have a clue what they are by now. A macro-conversion is a completed final business goal, typically it happens when your visitors become customers by purchasing on your website.
These actions are deep inside your customer journey. The way people go through several levels of your funnel, the fewer of them are going to do these highly-desired macro conversions. No need to worry though, because these actions will soon have a more positive effect on your income.
You can also consider signing up for a newsletter, requesting the demo version of a paid product, subscribing to a software, clicking through a referral link, and many more as macro conversions.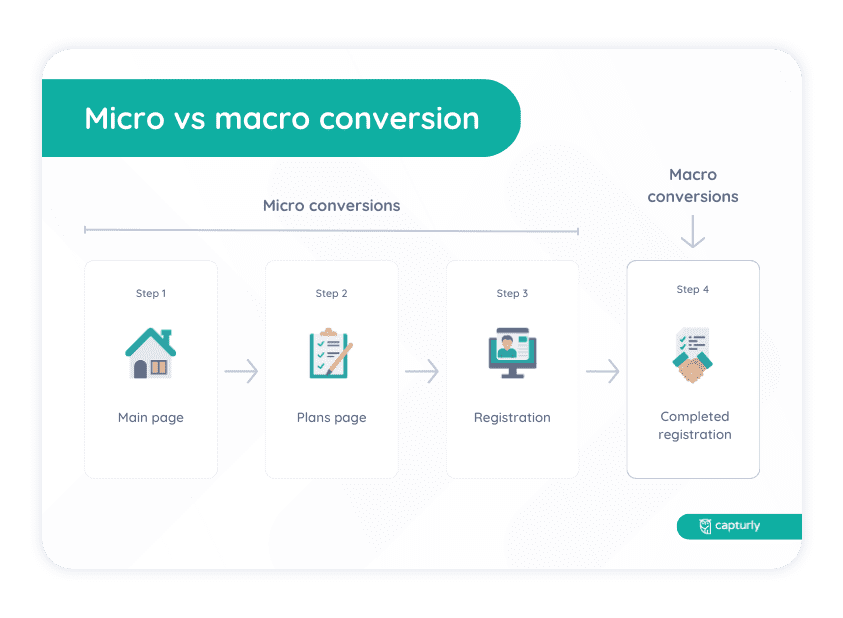 How to measure conversion rate?
If you would like to measure conversion rate, follow these steps:
 STEP 1 

 Define what specific events have a relevant impact on your conversion funnel.
For example: as a restaurant owner with an online reservation system, you have to pay attention to table reservations. When this event is triggered, a conversion happens. A conversion event is a kind of metric that is used to measure your users' activity. But how do you keep track of their actions?
 STEP 2 

Set up a full-scale website analytics tool that can follow up on conversions.
 STEP 3 

Adjust conversion tracking events.
For example: in the case of an e-commerce store, you can measure conversions by URLs if, say, the thank you page is set to load after a purchase. You can also set up custom events to measure clicks on specific buttons. You can read more about events here: What does an event exactly mean?
 STEP 4 

Analyze the metrics you receive in the long run.
 STEP 5

 

Improve your conversion rates so that you can obtain greater revenue.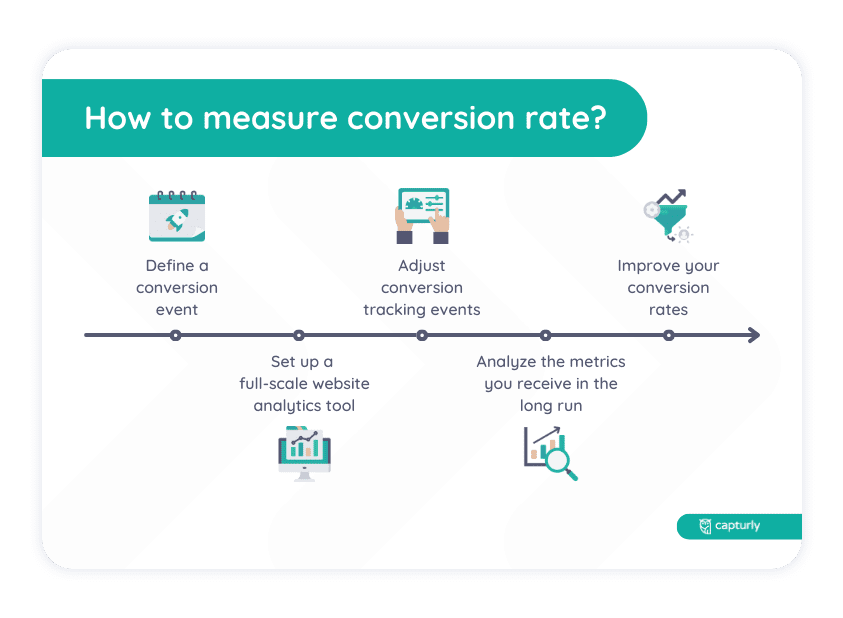 Why is measuring conversion rate important?
When measuring conversion rate, first you need to mark all the events that are significant to your business aims, then you have to keep track of them. Otherwise, you wouldn't be able to understand the reason why your conversion rate might be low.
So it's really important to keep an eye on it unless you want to fall out of favor with your customers. But if you optimize your conversion, you can increase the number of customers, and therefore increase your income! 
Don't overlook the fact that it's cost-effective either, unlike paid advertisements. Not to mention that the slightest change on your website can have immediate effects on conversion rates. You're not likely going to throw money out the window when it comes to marketing improvements. Why? Because it shows you where the problem might be instead of trying to come up with other ideas that might not work!
Free Conversion Funnel Tool

Boost your website with our free conversion funnel optimization tool. Identify customer drop-off points to maximize revenue.
What is conversion rate optimization (CRO)?
Conversion rate optimization (CRO) is used to increase the percentage of visitors who convert into customers by collecting easy-to-apply suggestions and ideas. It's the right method to both understand your customers' behavior patterns and the motives behind their actions.
When you want to earn even more of your leads' attention and curiosity later, you have to define what, where and who you want to optimize your conversion rate for. So just like before, planning is crucial if you'd like to become a well-known market participant. Don't overthink it though! As Eisenhower said long ago, 'Plans are useless, but planning is indispensable.'
To sum up, what we meant to say with this is that you should just try things out and then decide how to move forward. There are actually tons of methods that might seem to be useful.
Conversion rate optimization is essential if you'd like to improve your overall marketing strategies. Even the slightest change within CRO can result in great progress! So don't hesitate when something needs to be done!
Why can the conversion rate be low?
When the conversion is low, you not only need to set up different technical settings, but also think of a much newer and better strategy. If you believe that it takes a lot of time, then you've got to ask yourself: what am I doing all the time? When you're up to build your business and want to scale up, all you need to do is finance it with the people you provide your services to. To make it happen, you'll need to receive more conversions. As long as you keep in mind that your business is nothing without your customers, instead of being worried, you'll be eager to improve conversion rates. Even if it takes a lot of time.
Generally speaking, there can be many reasons for a low conversion rate. Yet, with the proper use of an analytics tool, you'll see the ups and downs in your funnel. Using heatmap guide link will show the hotspots and the colder areas of your site so that you'll be convinced where you should improve your overall performance. If you run a lot of session replays, you can see why your visitors drop off. With Capturly, you can completely revise your large-scale user experience. You can also monitor your key metrics in real-time. Its feature of event analytics allows you to pinpoint the most relevant retention leading actions and conversions on your site. Not only will you understand why you lose customers or why your conversion rate is low, but at the same time, you'll know exactly what to do next, to achieve higher rates.
Nevertheless, asking why your conversions are low isn't enough. After analyzing your metrics, you have to come up with a new plan that has to go under a lot of changes. And when you build a new strategy, the real question remains how can I increase my conversion rate? This proactive attitude is the key for a business owner.