Worried about low conversion rates or struggling to find the right tools to make a real difference? Conversion Rate Optimization (CRO) is an evergreen topic as the main purpose of businesses is to increase their conversions. It depends on many factors such as usability, design and much more on your website, so optimizing it is a complex process.
In addition, the average conversion rate varies widely across industries.
There are many areas of your website that you can improve to get higher conversions, but I'm pretty sure without the right tools you'll struggle. However, by choosing the right ones, you can improve the user experience, better understand user behavior and ultimately increase sales.
I hope that I have convinced you how important it is to pay attention to this topic. In this article, I will introduce you to 10 effective and useful CRO tools that will definitely help you boost your conversions.
Why having CRO tools is important
Whether you are a marketer, website owner, designer, or UX/UI expert, you can save time and energy with the right tools. These features typically allow you to analyze your site, gather feedback through surveys, or perform testing and optimization. Even if you think you know your business and your customers perfectly, it is simply impossible to analyze all your data without help.
No matter how well-designed and built your website is, there is always room for improvement. But not to worry, these tools are here to provide you with the perfect solution.
Websites are home to many different actions, such as clicks, form fills, subscriptions, and many other events. First of all, you always have to decide what you mean by conversion. For example, it could be a purchase, a phone call, or an email subscription. The second step is to set up clear and achievable goals.
💡 Note: Don't forget about micro conversions either, they also matter!
How to choose the right CRO tool
There are many factors to consider when choosing the right CRO tools. Obviously, you need to consider what area you are trying to improve and implement the tools that will best serve your purpose. On the other hand, there are some expectations that a CRO tool must meet. I will highlight the 3 most important ones.
Price
I guess I don't have to explain it in detail, but price is an important factor, especially if your company is still in the start-up or growth phase. The financial aspect has the greatest influence on any decision, and the prices of CRO tools range widely. Fortunately, many of the following tools have free or low-cost versions.
Security
Okay, maybe price is not the only important metric we need to monitor. If a feature is not reliable, don't even think about implementing it on your site. Make sure the supporting CRO tool is safe and secure to use. To give just one example, multi-step logins can significantly increase the security of a feature.
Integrations
Before investing in any tool, make sure it is compatible with the website software you are currently using. Typically, the most popular and widely used tools are compatible with WordPress, Shopify, WooCommerce, and many more, but I still encourage you to check first.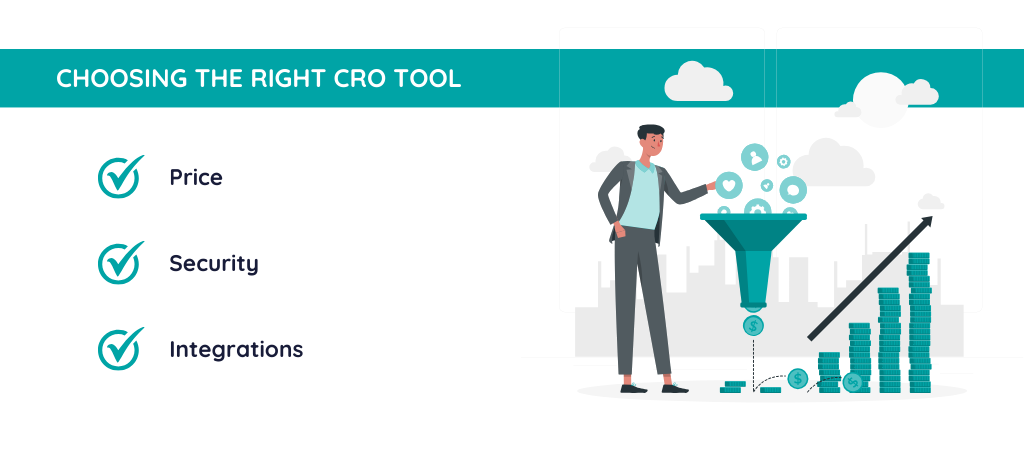 CRO tools
Here are 10 CRO tools that I consider essential. You will find a wide variety of features that provide solutions in different ways. Conversion optimization is not just about getting more sales and making more money. Again, business is about customers, and we want to perform better for them. This is why most of these tools focus on improving UX and increasing consumer engagement.
Capturly
Capturly is an advanced all-in-one analytics tool that serves your business in many ways. It offers you heatmaps, session records, analytics, conversion funnels and surveys to get a clear picture of customer behavior. Conversion Rate Optimization is a complex process, you can't choose just one good tool to help you, but you can choose a tool that has many useful features.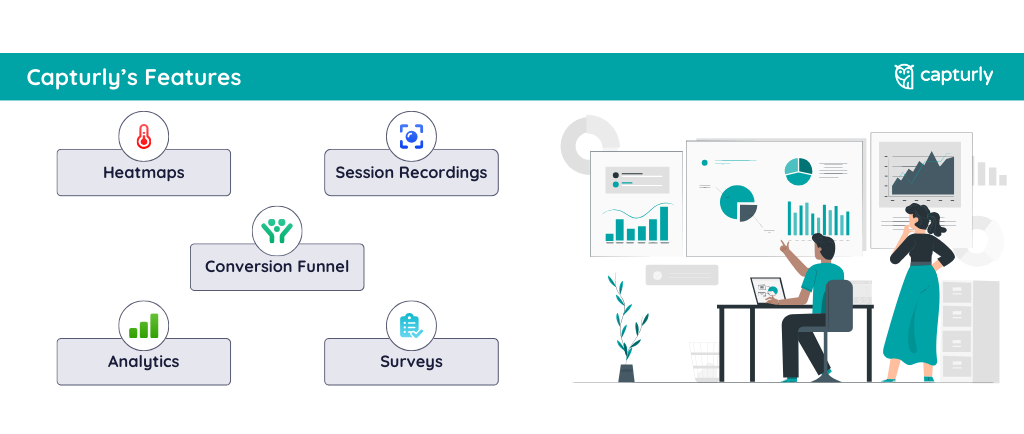 Let's take a closer look at Capturly's features one by one.
Heatmaps
Capturly has 3 different types of heatmaps to help you perfectly understand what captures your users' attention and what is invisible to them.
Click heatmaps highlight the most and least clicked areas of your pages, allowing you to better understand what users are focusing on.
Scroll heatmaps show you how far readers scroll, allowing you to make smart decisions about where to place CTAs and relevant, eye-catching information.
Segment heatmaps allow you to analyze your audience based on different aspects, such as the device they are using or even by country.
Heatmaps track visitor attention, and that is helpful for us because we can benefit from it. There are many areas of your website that you can improve by using heatmaps. It plays a big role in deciding where to place important CTAs, how to organize your navigation, and so on. Heatmaps are also often used for A/B testing too, which is a great way to decide between two versions.
Session Replays
Ever wondered what your users are seeing on your site? Well, take a look. Session Recording monitors and stores all clicks, taps, and mouse movements of your visitors. Use this tool to uncover bugs, understand where users get stuck, or what makes them confused. By understanding their behavior, you can easily redesign your site for better performance.
Analytics platform
We should never underestimate the importance of traditional analytics; it collects and stores all the data you need. Of course, the features mentioned above give you a deeper insight into understanding the reasons beyond the data, but first, you need data. Capturly provides all your important metrics and parameters on one page. You can also easily set up segmentations to understand the behavior of each group.
Conversion Funnel
See where people drop off, where they lose interest, and how many of them convert. Conversion Funnel shows the performance of all your pages and provides you with an analysis. You can easily pinpoint the problematic pages of your site and put more effort into improving those exact pages. The first step to increasing conversions is to understand the path to the final step of the customer journey.
Survey
I guess I'm not telling you any big secrets when I say that communication is the key to understanding customers. Why waste time guessing what is on their minds when you can ask them? Based on the answers, you can improve the performance of your website to achieve higher conversions. It also strengthens customer loyalty, so it is a win-win situation. Capturly gives you this opportunity.
Fortunately, Capturly offers you a free version with 1000 recordings stored for 1 month. Besides, if you plan to invest in one of Capturly's paid plans, you can also try a 14-day free trial.
Google Analytics
There is probably no need to introduce Google Analytics, as it is the most popular analytics tool, with over 33 million websites using it. There's tons of data that GA collects, so I'd be surprised if there's data you want to analyze that Google doesn't store in its database. On the other hand, Google is famous for its automatic data collection. Also, there are several metrics and parameters you can add to create personalized analytics. Best of all, this tool is completely free for everyone and is invisibly integrated with Google Ads, Looker Studio and Google Marketing Services.
Of course, this tool should not be used alone, it's better to accompany it with other useful tools. I'm not saying that Google Analytics is not enough, but clear data is not always enough to give a clear picture of the situation of your business.
Optimonk
Optimonk is an AI-powered CRO tool that mainly serves you with website personalization, popups and A/B testing features. Its main advantage is AI assistance. It speeds up many processes, allowing marketers to focus on other tasks. Let's take a closer look at Optimonk's 3 main features.
Popups: You can choose from many popup templates with many purposes. You can create welcome popups, conversational popups, lucky wheel popups, and countdown popups. These are just a few examples.
Personalization: You can easily personalize your landing pages without writing a single line of code. You can also create segments of your users and set up the hierarchy of them on your site with Optimonk.
A/B testing: With just a few clicks, you can run A/B tests on your landing pages and popups, or you can simply create different variations of them with this tool.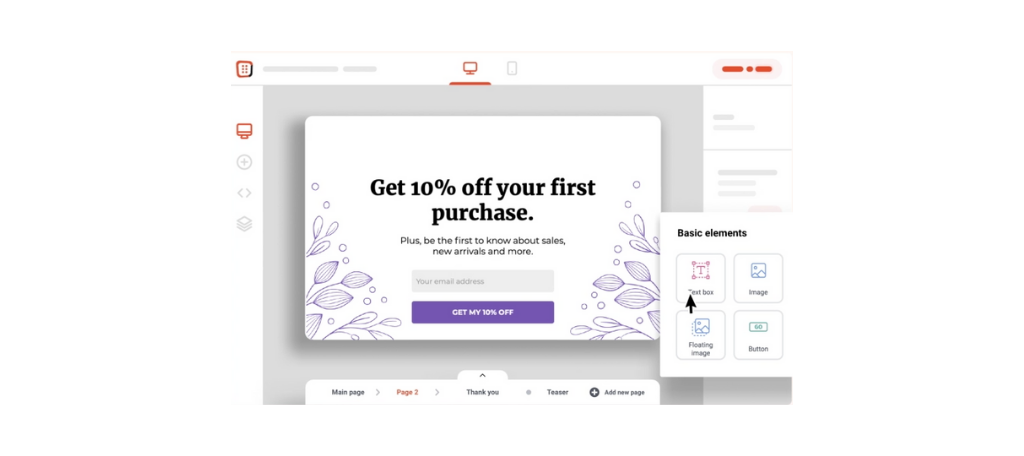 I would also like to point out that Optimonk has a drag-and-drop editor, which makes the design process much faster. Also, you can get recommendations about your target audience, which can be quite useful.
This tool also has a free version to make your decision easier by letting you test its features.
VWO
Let me come up with another enterprise testing tool. VWO has many features such as A/B testing, multivariate testing, and many analysis options. It allows you to decide what device you're going to test on. There are tests for computers, for mobile phones, and if you need to, you can run them on software as well.
Now let's look at its analytics capabilities. You can dig deeper into user behavior with heatmaps, session recordings, analytics platforms, and surveys.
VWO also offers a free plan to users, you can track 5000 visitors monthly by using the free version.
Survey monkey
If you want to create surveys for your customers and need a tool that gives you lots of options and templates, Survey Monkey is the tool for you. It is one of the most popular survey tools in e-commerce today. Its main advantage is that you can choose from about 200 survey templates based on many factors. There are different ones based on your target audience, such as employee surveys or customer surveys. There are also many templates focused on different purposes.
I list a few types of their surveys:
Customer feedback
Market research
Education
Product testing
Customer experience and satisfaction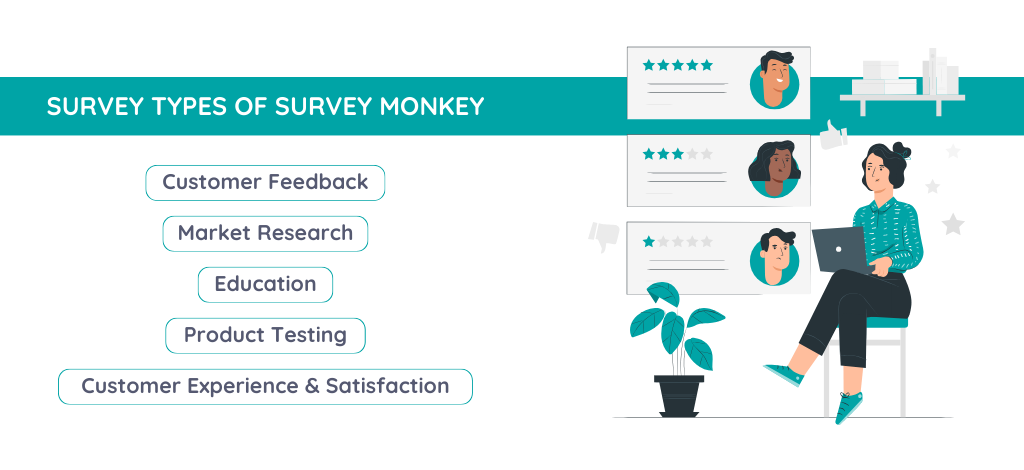 Any kind of survey you have in mind, this tool can help you realize it. On the other hand, this is one of those CRO tools that doesn't have a free limited version. Its price starts at 30 USD per month (paid annually).
AB tasty
A/B testing is a popular way to gain insight into what your audience likes most. It basically means creating an A and B version of your pages and testing which one performs better. The good thing is that you can do as many A/B tests as you want. The bad thing is that it takes a lot of time to create so many versions.
💡 Pro tip: To save time and effort, you should first create a hypothesis and then perform the tests associated with that hypothesis.
That's where testing tools come in. AB Tasty offers you several testing options, besides A/B testing it also offers multivariate testing with an infinite number of options and predictive testing.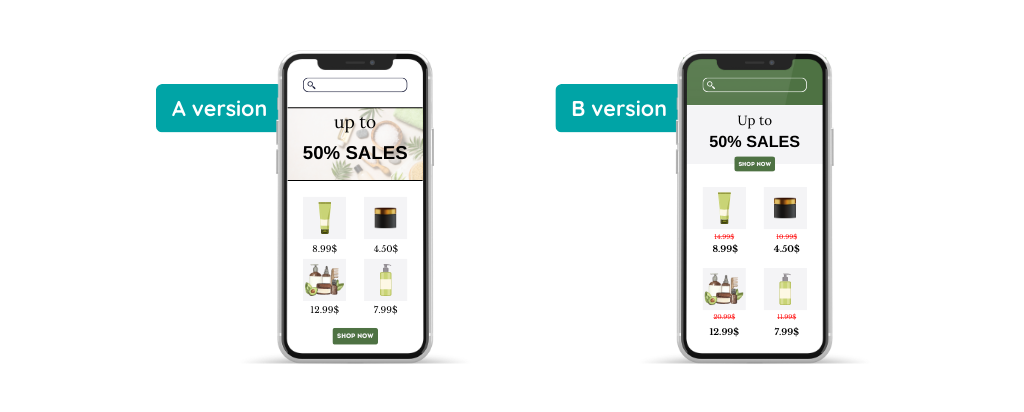 Personalization is also a key to success, and this tool helps you do just that with a segment builder, standard targeting options, and AI-based targeting.
💡 Did you know? 91% of consumers say they're more likely to purchase at businesses that provide relevant offers and recommendations for them.
Unfortunately, you will have to contact them to get information about their prices.
Intercom
Intercom is another gem of AI assistance. It offers 24/7 live chat for customers and is fully powered by artificial intelligence. In addition to live chat, it allows you to set up automated messaging options and send targeted emails to users. It also guards a help center that allows customers to choose between different options to explain their problems. One of the features I like most about this tool is that during live chat you can choose between 'languages' to communicate with customers.
It can be:
professional
friendly
or simply can be written again if you are not satisfied with it.

Intercom is also one of those features that doesn't have a free version, but for 74 USD per month, you can enjoy most of its useful features. For smaller businesses, it might be a bit pricey, but if you have some extra for it, I honestly recommend you give this customer service tool a try.
Unbounce
Create beautiful and high-performing landing pages with Unbounce. If you don't want to spend a lot of time organizing the hierarchy and design of your landing pages, this tool will be your best friend. It is also AI-powered, which means that many of the originally long processes are shortened.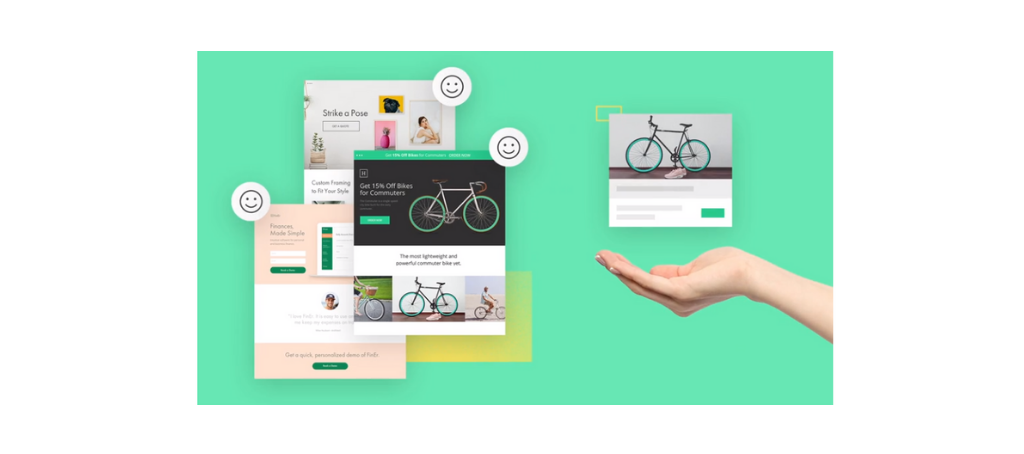 Unbounce shines in landing pages, but here are some other features it offers:
popups and sticky bars
AI copywriting
Templates
I have to admit that it is a professional CRO tool with billions of satisfied users, but nothing comes for free. Unfortunately, this is not one of the cheap tools, its basic plan starts at 99 USD per month.
Yieldify
Yieldify can be useful for any business, but I highly recommend it for new businesses. Most of Yieldify's features initially support websites to perform well. The audience segmentation feature helps businesses create different customer segments to later target each group differently.
It also has an A/B testing feature, which is typically used before the website is made available to users. Of course, A/B testing is always beneficial when you are about to change something on your website. This feature also measures the impact of your changes and analyzes how it has affected the conversion rate. You can also use this tool to create personalized campaigns.
Here are some of them:
Browse abandonment
Website navigation
UPS banners
The bad news is that there is no pricing plan available for this tool, you'll have to contact them for more information.
Smaply
With Smaply you can easily track your customers' journey. Every user behaves differently, they have different experiences with your product or service. With this tool, you can map their journey step by step to better understand their experience. You can also use this tool to create buyer personas to better define your target audience. Creating buyer personas is essential to gain deeper insights into how your customers feel, what their pain points are, and what their expectations are.

This tool is not only available to map your customer journey, but also your stakeholder journey. I find this feature very useful because it allows you to visualize your relationship with all your stakeholders. You can also create segments of them, from the most important to the least important, and set up a 'relationship status' with them.
Smaply also offers a free version, providing you with 3 personas, 3 journey maps and 1 project to monitor.
Conclusion
I really hope that I could serve you with the above information and you found this article helpful. On the other hand, I have to admit that there is no best conversion rate optimization practice, it always depends on the company's and user's needs. But it's worth considering because CRO starts with finding and using the right tools. In addition to the time they can save you, your company won't have to spend too much on paid advertising. Creating a well-performing website that generates leads is always beneficial.
Don't forget, sharing is caring! 🙂