Nowadays the majority of businesses have an online presence regardless of the field of industry. This fact alone has already taken the competition to the next level. Even if you do not sell anything online,
an attractive website with all its features can be a game-changer.
It can convert your visitors into customers. For that to happen, though, you need to know your CRO. Conversion Rate Optimization is strongly needed for website owners. It plays a major role in business growth and revenue increase. The more visitors you turn into customers, the higher your sales can go. You don't even need more traffic than you already have!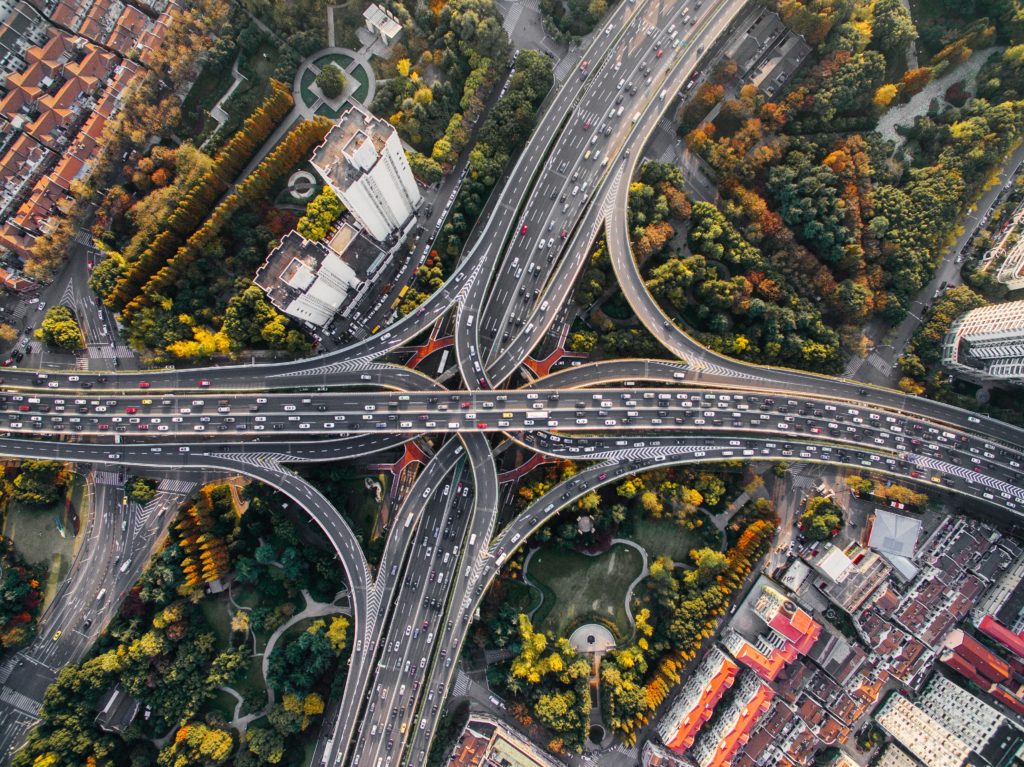 To make your conversion process successful, you need to have an eye for details and have patience (or resource) for the analytics. To analyze the conversion process and identify issues that hurt your sales graph requires a lot of expertise, tons of data and results through various tests and experiments.
There are several conversion rate optimization best practices to use. Get some serious insights into CRO while reading through the following methods that sell!
1. Set vivid conversion goals
When we talk about business strategy, marketing plan or organizing the next year's activities, the first thing that comes up is setting your goals. The same thing applies to conversion. It is crucial to sit down and create conversion targets to hit.
It can be a good idea to determine a conversion roadmap for your upcoming campaign as well. Also, make sure you understand your technical requirements. The higher you climb, the harder you fall if you don't have the required tech for your aims.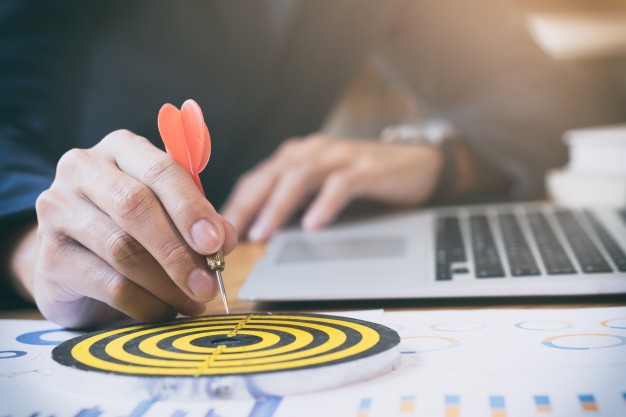 When setting your conversion goals, first ask yourself THE question: What do I want? The answer is dependent on your business aspirations.
That can be multiplying your annual profit, strengthening your customer base, or building a slow but consistent stream of income.
All these goals and more can be achieved with a neat conversion strategy.
2. Analyze your conversion rate
Keeping up with your customer flow is essential. It is natural to lose visitors on the way to the checkout, but it isn't necessary to lose them all. By tracking your conversion rate, you can comprehend the visitor drop-offs through the user journey.
For measuring your conversion rate, you need a conversion funnel. A conversion funnel can tell you where you start losing significant traffic.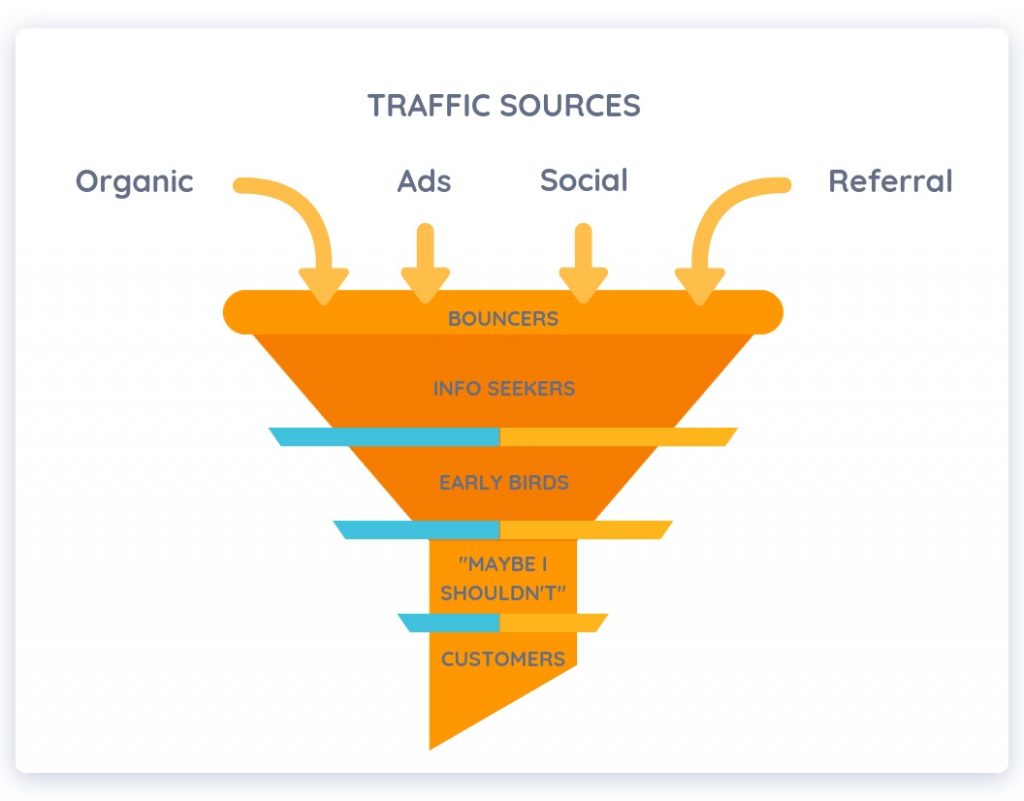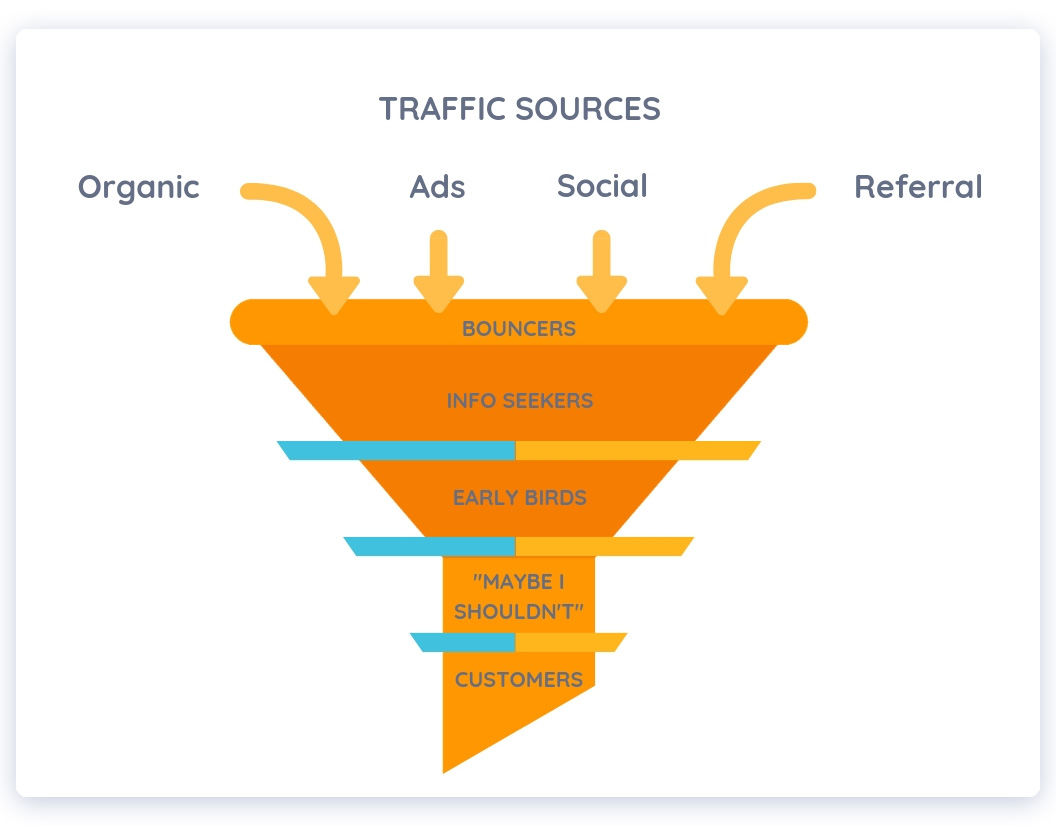 Once you identify the source of the problem, you can start investigating with the help of click heatmaps, scroll heatmaps, segment heatmaps, or session replays.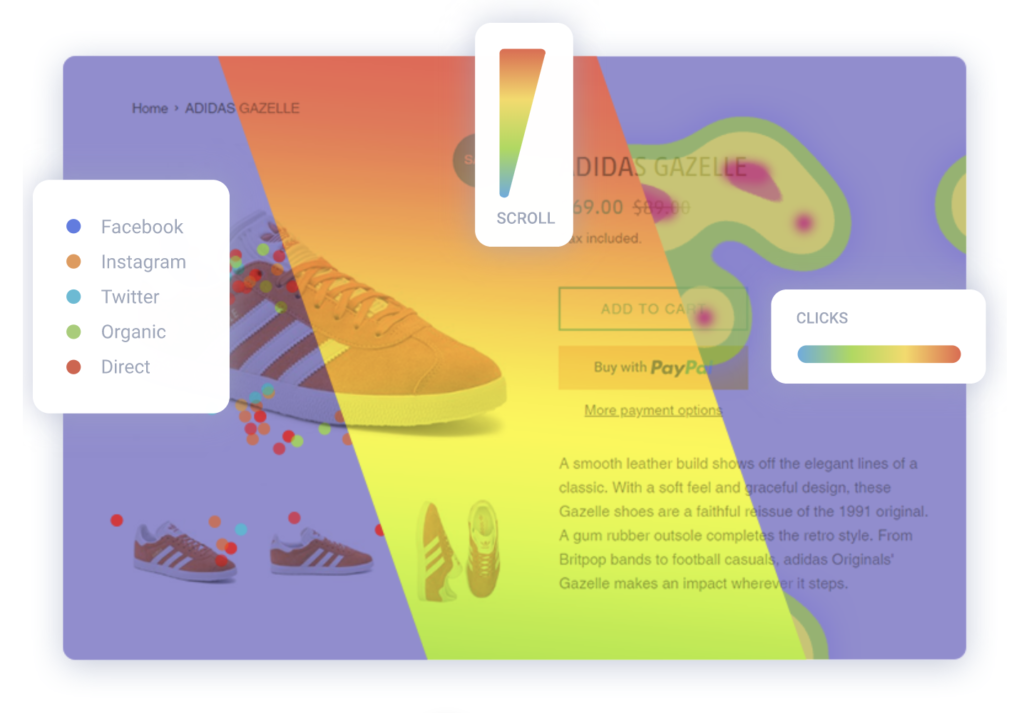 Two identical websites don't exist, therefore the reason why people leave your shopping cart can vary. Probably you already know that, but you must pay attention to details. When you see a significant drop at a certain interaction such as "Add to Cart", you may want to review the Call-to-Action options there.
Analyzing the conversion rate also includes checking customer trends. On a regular basis. Always keep in mind the preferences of your target audience. If you have an up to date website that suits your visitors' needs, you can't fail.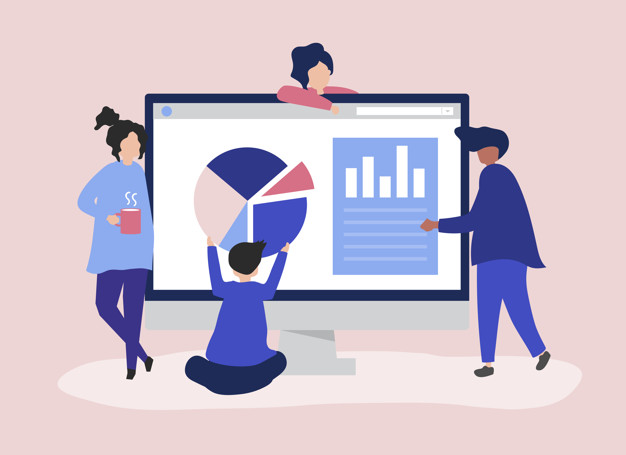 3. Make a slick homepage and landing pages
The very first thing that your visitors see (after your ad) is your landing page. Let alone what your business is about, you must think of this as a top priority. Try to approach the matter with your customers' eyes from time to time. If you are satisfied with the landing page of your business from that point of view, you are on the right path.
Focus on simplicity and attraction, don't overwhelm your visitors with too much information.
Find the balance between the number of pictures, videos, and text content.
Another important step you can take towards the perfect site is optimization. That includes speed and responsivity. Customers nowadays don't have the patience to wait for 4-5 seconds (given an appropriate network connection) for any page to load. So a slow-loading website can hurt your conversion rate. 
The competition is larger than ever, customers can easily find another website that offers similar products.
They can choose this site over yours, just because it is optimized better. About 90% of customers use multiple devices for online activities, while 40% say they use their mobile devices to conduct research before making a purchase. At the moment 44.7% of the e-commerce traffic is being generated through mobile devices.
It is easy to realize: if you want to stay in the race, you must have your website optimized for smart devices. The constant high-quality performance will provide your brand a well-deserved recognition by your customers.
4. Take your headlines and CTA-s to the next level!
Once on the website, you can grab your customers' attention with well-targeted call-to-action (CTA) options. The headline of choice is important on every platform your visitors see. CTAs are always key conversion elements to get your consumers or visitors to perform a certain action.
You need to use attractive colors, font, and call to action text that works the best. Sometimes you need an expert with more experience to get this done but you will be grateful for the results. Make sure that your CTAs are above the fold. Visitors sometimes just don't read through all the text and get lost before making it to the important part.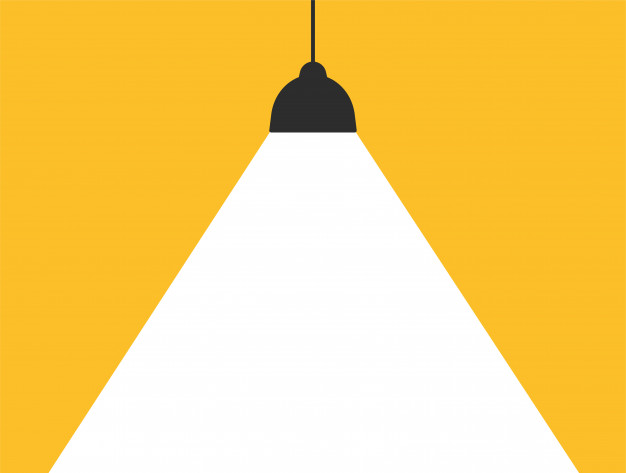 You also need to be careful with your "Sign Up" sheets. Not only the design but the feeling of security will get you those customers signed up.
So make sure that they feel safe on your website.
Let them know that they are in the right hands, they can cancel at any time and their data is safe.
5. Optimize the checkout process
We know you have been there. You browse for a product, choose the one that suits you the best, put it in your cart, get to the checkout, then simply close the page. All those efforts you made are lost for nothing. Most of these cases are because of a complex checkout process. We guess you don't want the same thing to happen to your customers.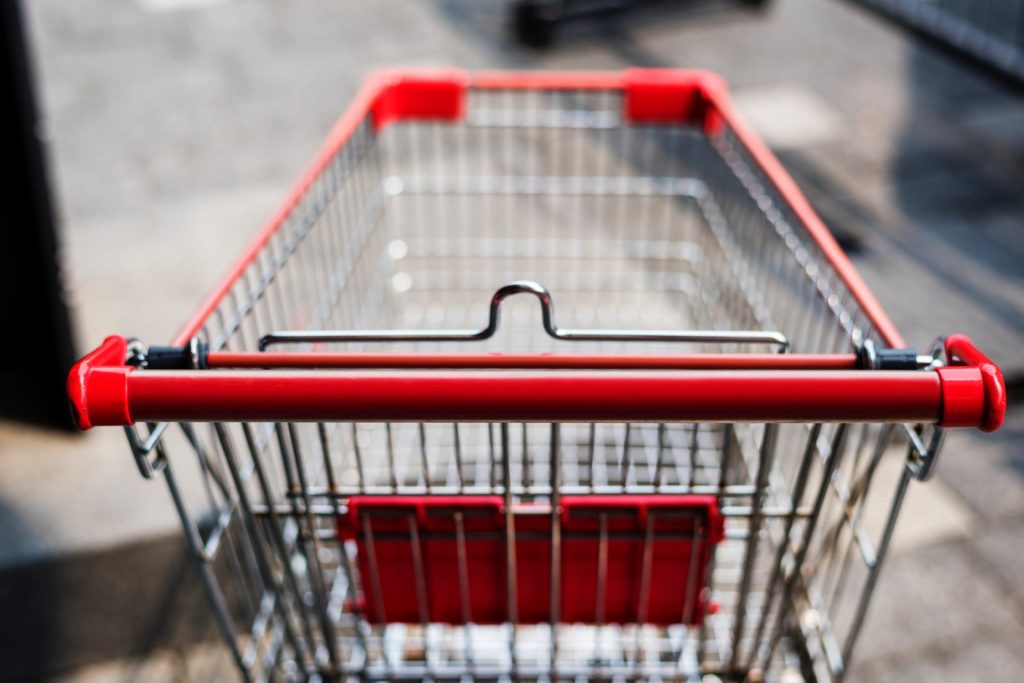 guest registration: Allow them to shop this way, so more customers will proceed to payment.
pros of registering: Make them feel like it's a good option, and let them know it's their choice without any pressure.
highlight the "Add to Cart" button: This option (or even a cart logo) can follow the customer when scrolling through the page. It is easier to check your cart without going back to the top of the page.
have a "To the Top" button: It is simply more comfortable for your customers.
show similar products: If your customer is not sure about what to buy through the process, this field will help her/him to make a decision.
Wrapping Up
Knowing the proper and up to date techniques is a necessity for every step you take in your business. Implementing a granular approach to conversion tracking makes you more advanced in understanding your success rate. Make sure that you constantly check the conversion rates and analyze the results. This will help you not only keeping track of your progress but optimizing your website. The whole idea is to find the loopholes in your conversion process that you often fail to recognize and perform an analysis to determine which landing pages, UI elements perform the best. 
Remember to always check, analyze, test and focus on simplicity. Keeping this in mind will get your conversion rates just as you want them.