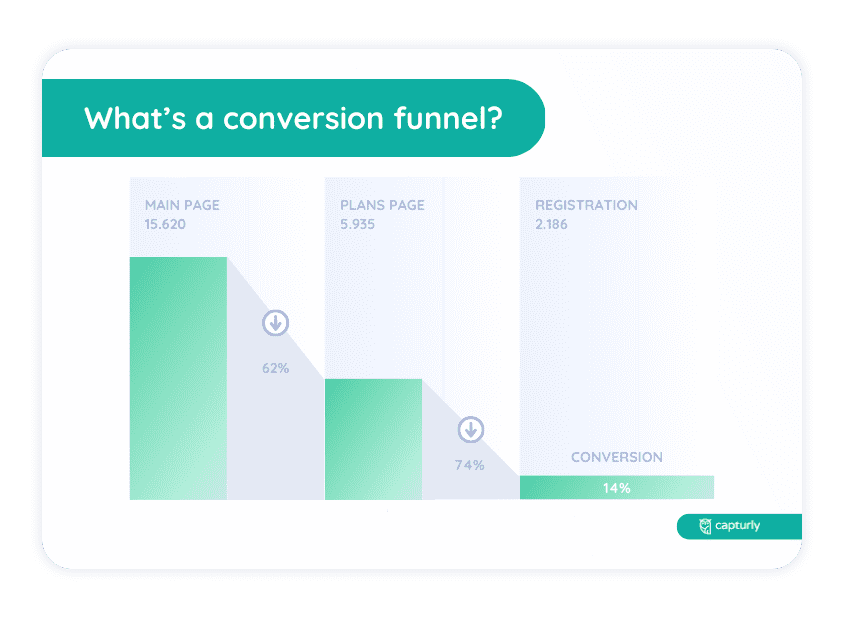 Measuring and optimizing the final conversion rate is great, however, it isn't adequate. To make the most of it, you should determine every step in the customer's journey and optimize every one of them which leads to the macro-conversion.
What's a conversion funnel?
The conversion funnel is a customer's journey from awareness to taking action in the end. A conversion funnel describes the different stages of a buyer's journey. At the level of awareness, at the top of the funnel, a lot of people will attend your site just to look around. As they go down this journey, a decent number of them will likely lose interest. This is natural since you cannot sell your product to everyone. So the lower they go down the funnel, the lesser will fulfill your desired action.
Also, conversion funnels can be customized based on what type of business plan you have in mind. For example, if you have an online coaching program, you might want to navigate your social media followers to a landing page where they can sign up for your newsletter. In this sequence of letters, you talk about how your service can help their lives. At the end of your campaign, some will probably subscribe to your paid coaching program. 
Yet, even if fewer people complete the journey, you should still improve your conversion funnel to secure your future income.
What's a conversion funnel used for?
The conversion funnel is a vital concept to see where your customers vanish or move farther down your funnel. It helps you decide what marketing tactics should be followed at a certain point. Here are some examples of how it could be used:
Understanding customer behavior
By analyzing data from each stage of the funnel, businesses can gain insights into how potential customers are interacting with their marketing efforts and identify areas where they might be losing potential customers.
Identifying areas for improvement
With the insights gained from analyzing the conversion funnel, businesses can identify specific areas where they can improve their marketing efforts, sales process, or product offerings to better meet the needs of their target audience.
Optimizing marketing campaigns
By understanding which marketing channels and messages are most effective at each stage of the funnel, businesses can optimize their marketing campaigns to increase conversion rates and ROI.
Increasing customer acquisition
By improving the conversion rate at each stage of the funnel, businesses can increase the number of customers they acquire.
Boosting revenue
With a more efficient conversion funnel, businesses can increase their revenue by converting more potential customers into paying customers and retaining loyal customers.
Testing and experimentation
Conversion funnels can be used to test and experiment with different marketing tactics, messaging, and product offerings to see what works best for different segments of the target audience.
Creating a data-driven approach
Conversion funnels allow businesses to take a data-driven approach to their marketing and sales strategies, rather than relying on intuition or guesswork.
Overall, a conversion funnel is a valuable tool for businesses to understand their customers' behavior and optimize their marketing and sales strategies to increase revenue and customer satisfaction.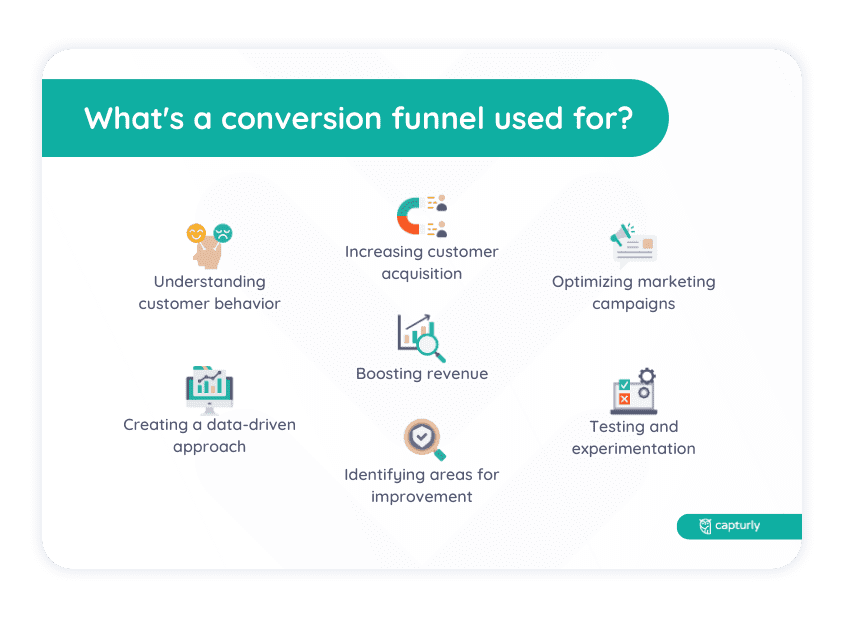 What is the purpose of a  conversion funnel?
The conversion funnel's initial purpose is to have more people pass through different stages and take each step until the ultimate action.
It's used to improve your conversion rate, also to achieve higher, longer-lasting customer lifetime value.
Free Conversion Funnel Tool

Boost your website with our free conversion funnel optimization tool. Identify customer drop-off points to maximize revenue.
What can conversion funnels show?
Conversion funnels show where you should improve your conversion rate. It draws your attention to the touchpoints and all those opportunities that you were missing out on before.
Here are some examples of what you can check:
Where visitors leave your page




What percentage of them drop-off at each step




Where you lose potential income

Which step of the customer journey works well

And which step needs repair
So turn analyzing conversion funnels to your advantage instead of thinking it's a boring process. As long as you want to make it big, you should listen to what those data might refer to. Testing your ongoing projects is just as important as planning the next move.
Beyond all these, conversion funnels can show you the behavior patterns of your customers. It does tell you a lot about the motives and intentions behind a specific action. It can show you why people keep getting stuck at some of the touchpoints and why others go along.
Based on all this, you can see where your conversion funnel needs to be optimized for profit maximization.
Pro tip: If you want to level up your website we can help you. Here at Capturly, by clicking on individual steps of conversion funnels or churn, you can see the related session replays, where you can further analyze user behavior, thereby better understanding the reasons behind the actions.
How to create a conversion funnel
It's very easy to set up a conversion funnel with Capturly. All you've got to do is register and then insert your tracking code. Afterward, you'll be able to set up your conversion funnel step by step. You can do it based on URLs and/or events. Then you can go advanced and create custom events to track.
After you've set up a conversion funnel, you can check the related session recordings for every conversion and drop-off at each step. The interface of Capturly's platform is very user-friendly so you would have no problems using our software. And if you still have any difficulties, we'll be there for you!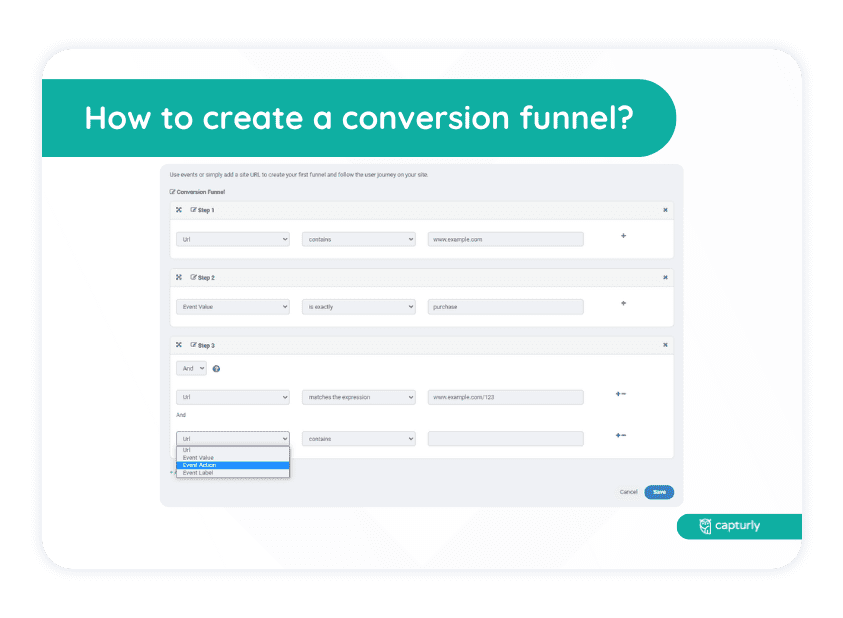 How do conversion funnels work?
A well-instructed conversion funnel draws the attention of the visitors, turns it into curiosity or interest, then makes your lead desire your solution, and finally makes them take action. As you might've assumed, conversion funnels represent the path that customers take. With the use of it, you can place yourself in your users' shoes. And since the most expensive thing in your business is nothing else but getting new customers, conversion funnels are necessary.
How to analyze conversion funnels
Analyzing conversion funnels and determining what conversion goals could get you closer to your business success' is simpler than you might imagine. But before you start anything, you'll need to know how to measure those events. So here is a step-by-step guide on how to achieve your goals by analyzing your conversion funnel:
 STEP 1 

 Identify the conversion goal
Here are some questions for easier goal setting:
What is the purpose of the website?
What are the business objectives for the website?
Who is the target audience?
What actions do users need to take for the desired outcome?
What behaviors are associated with the desired outcome?
What pages/actions are commonly associated with conversions?
How can the goal align with business objectives and user needs?
 STEP 2 

 Map the conversion funnel
Let's define the user journey! Outline the steps visitors take to interact with your website. If you are unsure of how visitors behave there, use analytics tools to study user behavior.
 STEP 3 

 Measure traffic with relevant metrics
Here are some examples of the most important key performance indicators:
Cost per acquisition
Bounce rate
Customer lifetime value (CLV)
Conversion rate
 STEP 4 

 Identify drop-off points
Losing potential customers can be caused by several things. Here are some examples:
Slow page load time
Confusing navigation
Lack of clear call-to-actions
Unclear messaging
 STEP 5 

 Analyze user behavior
Use analytics tools (like heatmaps or session recordings) to track user behavior at each step of the funnel. This can help you identify patterns and make changes to improve the user experience.
 STEP 6 

 Fix the possible issues on your website
Use your acquired knowledge to develop and optimize your website. This could include changes to the website or product, or changes to the marketing strategy.
 STEP 7 

 Test and iterate
Continuously test and iterate on the funnel to make further improvements. This could involve A/B testing different variations to see which performs best.
 STEP 8 

 Monitor results
Continuously monitor the performance of the funnel to see how it is impacting conversion rates and other key metrics. Use this information to make further improvements and optimizations.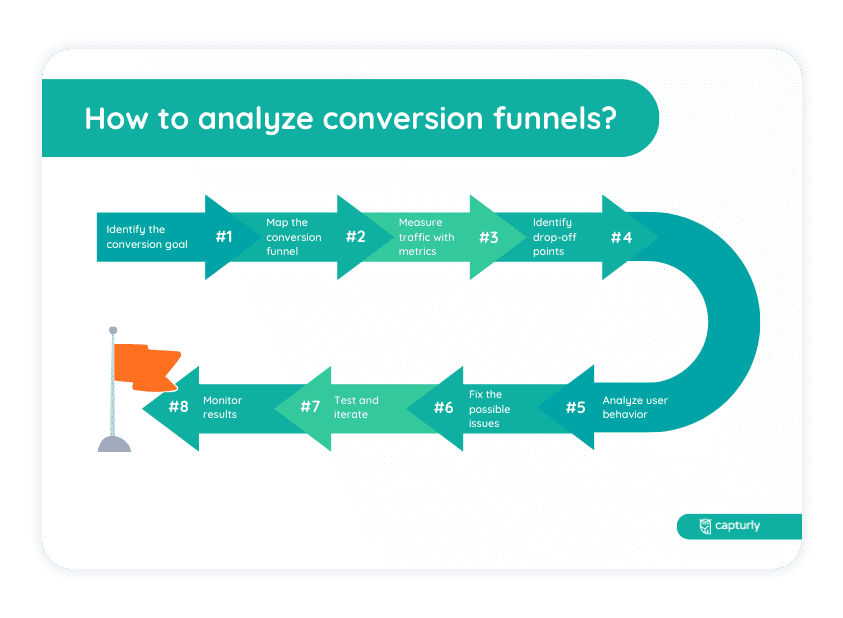 What are the benefits of using a conversion funnel?
With a conversion funnel, you can build up a whole customer journey from the first cornerstone until the very last brick. Since most of the time nobody wants to buy a product right away, you'll have to convert your customers from being interested into becoming your brand ambassadors. Though it doesn't go within seconds, when you do come up with a good strategy, a great plan, your visitors will stick to your company in the long run. As long as you put some effort into building your conversion funnel, you'll have almost nothing to be afraid of.
It also shows in what way your online presence should be improved, where your conversion funnel has slight issues, and so on.
How to use conversion funnel with session replays
Session replays allow you to track users' behavior patterns. If you run a replay, you'll be able to see their mouse movements, scrolls, clicks, what they have read, and how long they stayed on your site. Isn't it awesome? Moreover, with Capturly, you can replay the relevant recordings of a certain event. Also you'll be able to keep track of why some customers drop out before taking the desired action. 
Here's an example: you have an e-commerce store. You'd like to see why your sales are low. You detect in your conversion funnel that most people back out at the checkout stage so you should think of a new way that solves this issue. You might have to lower your prices, provide free shipping or give the potential buyer extra services.
This way you can follow your users' steps, yet their privacy is still respected. To sum up, session replays help you understand the person behind the numbers.
What are the differences between sales, marketing, and conversion funnels?
Sales, marketing and conversion funnels do sound similar, though there are slight differences among them. As said earlier, the conversion funnel illustrates different stages of a customer along your customer journey. This funnel shows the path from awareness up until the last, highly-desired action.
A marketing funnel aims to increase brand awareness and general visibility. It helps with the prospects of consumers getting to know your business. It also has other goals such as lead generation and lead nurturing. These two provide that people go along your customer journey until they are converted into hot leads.
At this stage, sales funnels are in control. It guides the hot lead to taking the desired action. So you can assume that both funnels work the same way, yet their main goals are different. Sales are about giving returning value to the customer to make them purchase in the end. Whereas marketing's objective is to raise brand awareness, build interest and convert cold leads into hot ones. Tough, these definitions can be combined sometimes, the point is that none of them works without each other.