The latest data shows that Google processes 8.5 billion searches a day and 39.8% clicks (CTR) on the ranked 1 organic searches. Click through rate (CTR) of ad results is only between 1.2 – 2.1%.
This means more than 97% of people don't click on ads on Google, and over 50% of the total number of searchers leave Google without clicking on anything.
That precious 40% of traffic (if you're good enough to rank in 1st position of Google search) who visits you have very few chances of conversion (by doing any action go to the final stage of purchase, sign up, booking, etc.) if you can't articulate the intent of those visitors.
To understand a prospect's true pattern, you need to have a more profound knowledge of their desire and problem. This is where conversion rate optimization strategies come as a savior to fuel the marketing funnel.
CRO strategy aligned with your visitors' journey helps you to turn visitors into real clients and drive return on investment.
Let's dig deeper!
What is conversion rate optimization?
Optimizing landing pages or websites or both aiming to improve performance and user experience (UX), which triggers visitors to complete an action – generating a desired profit and achieving business goals – is known as conversion rate optimization.
Every visitor has a goal to fulfill whenever they land on your website, which may not align with your goals. Whether they are looking for information or looking for an effective solution to their problem – intent could be anything – but your ultimate goal would be to turn visitors into clients through any means. That's the real conversion your business would be interested in.
Conversion rate optimization strategies are the perfect ingredients to season your data-driven marketing strategy. Understanding and analyzing every aspect of a visitor's journey on your pages and what persuades them to take action will help you achieve business goals efficiently. It has the power to lead your traffic – all types of traffic irrespective of channels – to the conversion stage, where your business can witness an increasing growth rate.
But how do you measure the conversion rate? Here's the formula for you:
The rate of conversion (%) = (Total lead generated/total traffic)*100
Important Note: Lead generation can be counted whenever visitors take a specific action on landing pages or websites – such as sign-up completion, filling out a form, live chat, calling, etc. However, your long-term ROI will be measured on 'closed deals' when a visitor ultimately reaches the end of the sales funnel.
Why is optimization in conversion important for your business?
As explained earlier, a purpose always works behind every search on Google that makes it through to your website. By the same token, every marketer has targets to attain through website visits.
However, a sharp shift has been observed that marketers chiefly aim at generating more traffic rather than thinking of true conversion. Finding a potential prospect who is actually interested in your service or product is challenging. And when a massive amount of traffic bounces off from the webpage without finding relevancy, impacts your business intensely.
It's always commendable to achieve short-term goals – in this case, generating traffic through multiple channels. But if that traffic either bounces off or doesn't show enough potential to convert, it shows no effect on an overall marketing campaign. Conversion rate optimization strategies play a significant role in assessing those gaps in short-term goals and creating a proper funnel where visitors make their final decision.
Stages of buyer's journey
Micro conversion goals are curated to meet short-term objectives before going ahead with the marketing campaign to cater to long-term goals. Micro strategies are meant for measuring prospects' journeys throughout the marketing funnel from different stages – awareness, and consideration. For each stage, the goal setting is different, leading to the multiple aspects to measure conversion for a particular campaign.
The moment people show an interest in the product or the service that they are searching for, they enter the awareness stage. The first move to the awareness stage could happen through paid ads, banners, SEO, social media marketing, etc. In this stage, people try to find the relevance of the business with their desired goal.
The consideration stage awakens when visitors explore more about the business and ultimately take action by downloading a guide or infographic, signing up for an event, subscribing to a newsletter, etc. After reading several blogs and gated content, they re-analyze whether a product or service can help them get what they want.
And then, finally, the prospect makes a decision to go ahead where actual conversion happens.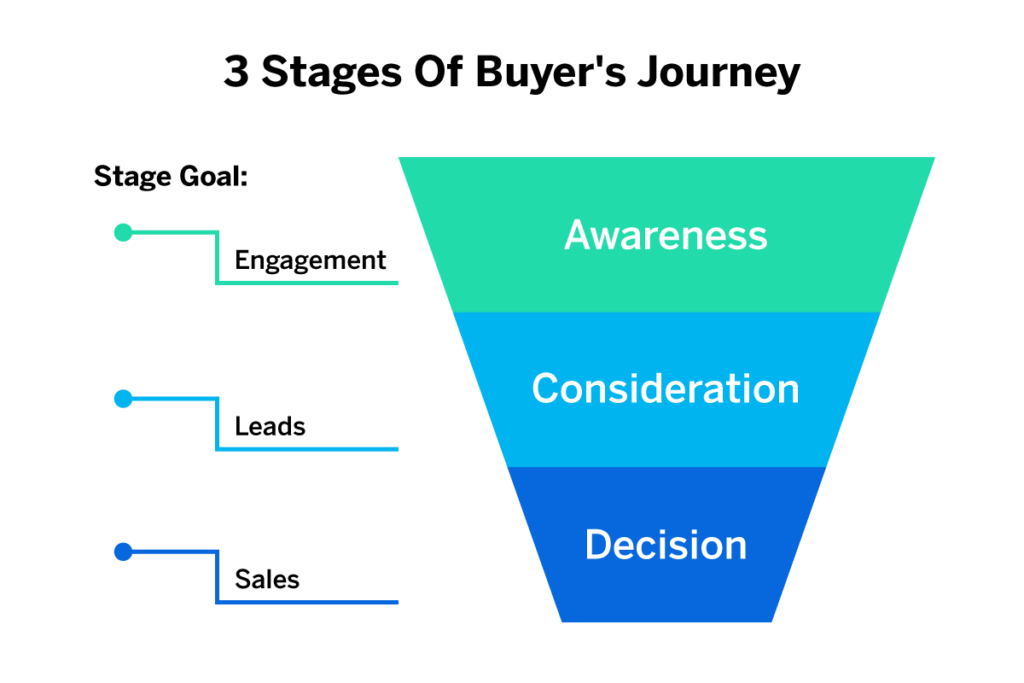 In every stage, if properly optimized, have the potential to show a major impact on your return on investment and grow the conversion rate. Conversion rate optimization strategies help map every stage of the prospect journey and influence the conversion rate.
What is the natural process of optimizing the conversion rate?
CRO always has a diverse approach depending on the objectives set to improve the conversion rate. This could be analyzing elements to add to landing pages or removing specific content from the page. But whatever the path you take, it should increase the conversion rate for the business. To optimize the conversion rate, you should have a thorough understanding of the business.
Answer the following question before drafting any strategy:
What is the long-term goal?
What are the short-term goals?
What are the results you're aiming to meet?
What is your target market?
What are your ideal prospects look like?
Where do your business website or landing pages perform better or worse compared to other competitors?
When you assess all your doubts, you can easily proceed with conversion rate optimization strategies. As already mentioned, CRO plan varies from business to business; here is a common approach that every marketer starts with: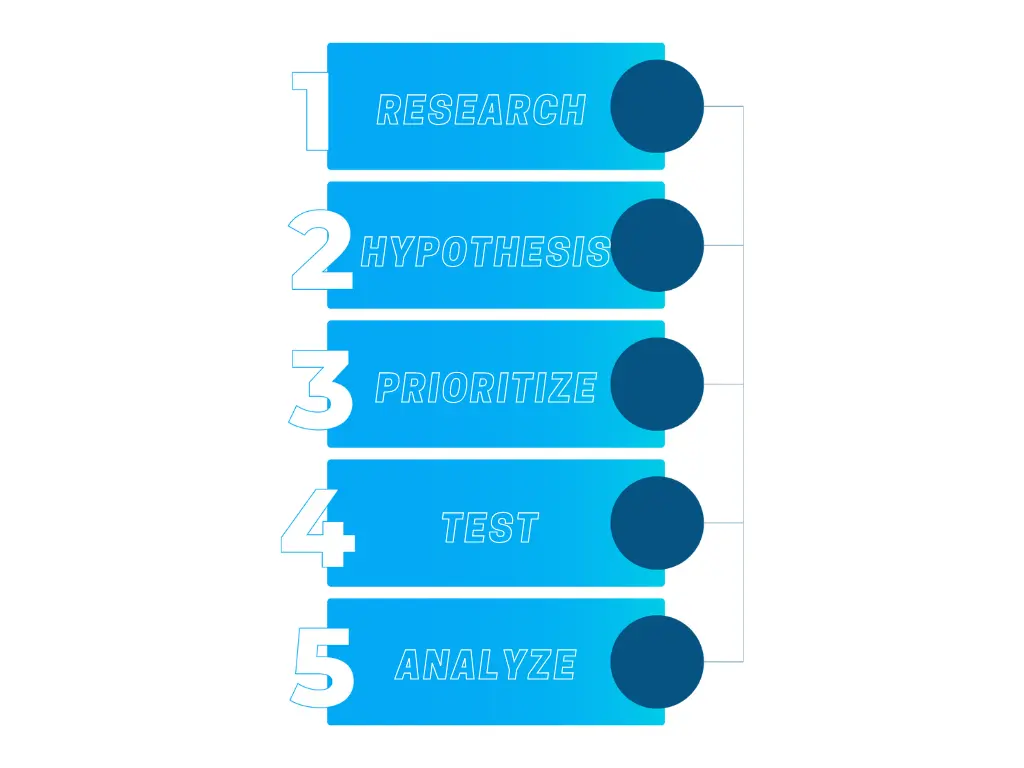 Research
This is where you begin the conversion rate optimization journey. Through primary data collection methods, you can easily identify the gaps in the conversion funnel.
Hypothesis
Based on the qualitative and quantitative data, you need to frame a realistic hypothesis. A good hypothesis always focuses on the business's primary objective – here, it's the overall growth of the conversion rate.
Prioritize
There would be tens of ideas juggling inside your brain. But you need to focus on ideas having the potential to show impact based on goals, target prospects, and other factors of marketing.
Test
When the test idea is finalized, you can run the test. Through A/B testing, split testing, or multivariate testing, you can draw the conclusion of the research. Choose the test process that is best suited for your goal.
Analyze
Learn from the gathered information from the test. Make the changes accordingly to find the best possible approach toward conversion rate.
Where to implement the strategies?
It takes a consistent approach to regulate your CRO practices to get the best out of it. Whenever optimizing a conversion generation campaign, it would make or break a deal for you. Before drafting a strategy to improve conversion, you need to be sure where you can actually implement them.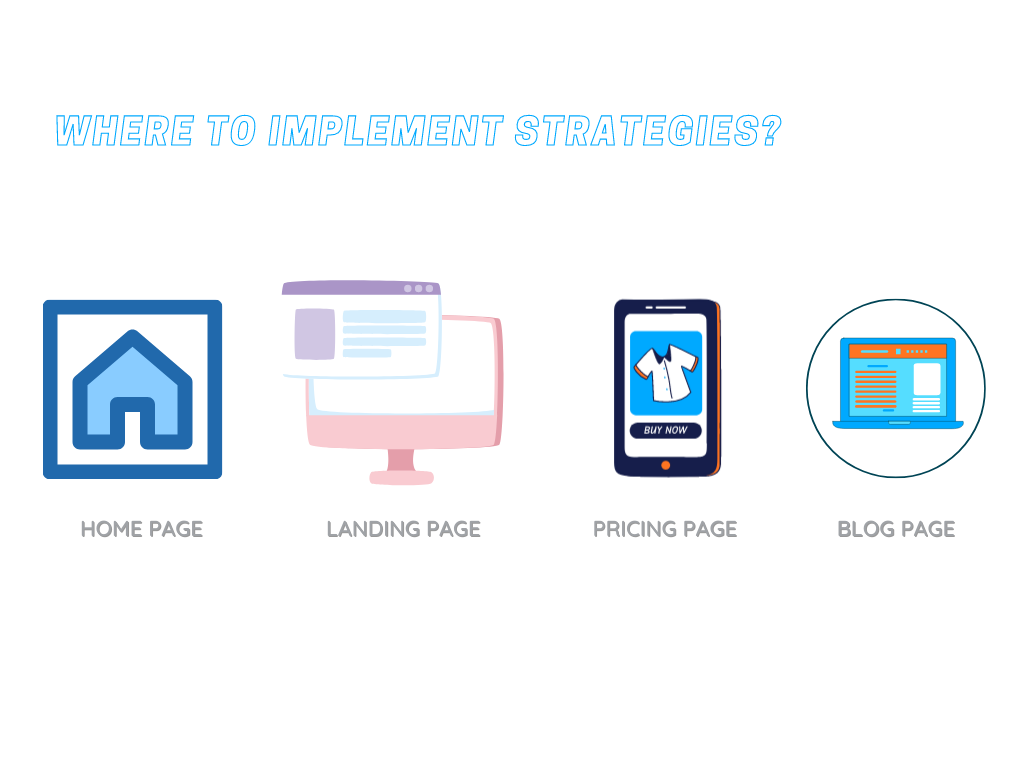 Homepage
The most important page where conversion rate optimization strategies can show impressive results – is the homepage of the website. The first impression you can ever make with your possible prospect is through the homepage.
If the elements of the website function correctly, (which you can check with the help of various behavior analytics tools) then the homepage can retain and lead the prospect to their desired goal. This page needs more attention than others, where you are actually convincing your prospect to become a lead. Implementing conversion rate optimization strategies can assist you in engaging your visitors and leaving a lasting impact.
Landing page
According to industry research, landing pages are recognized as the most effective signup forms for procuring high conversion rates, averaging 23%. This is due to their targeted approach, which prompts users to take specific actions.
For example, incorporating a demo video of a SaaS product (as you can see on the example of Capturly's session replay's demo below) encourage visitors to show interest in the product – to know more. Similarly, a landing page that offers a free resource can be enhanced by providing a preview of its contents, thus increasing the likelihood of visitors downloading it.

Pricing page
Even the slightest alteration can yield a considerable effect on conversion rate within online platforms. Implementing a simple pop-up form helped Hotjar in generating 400 fresh leads from its pricing page. That's the power of optimization.
A website's pricing page is as important as other pages. So, conversion rate optimization strategies can help you create an impact on conversion campaigns. The optimization can be done by adding pop-ups, clear and crisp content, explaining and comparing product/service features or benefits, adding forms to get a quote, etc.
Blog page
A blog page holds immense potential to convert the reader into possible leads. It can also generate traffic for the website through SEO best practices; alongside, it helps you to connect with your searcher directly through content marketing.
Implementing a strong CTA on the page can lead visitors to convert into possible leads. Blog page conversion rate optimization strategy helps in leading the way from the awareness stage to the conversion stage and provides enough materials to power up the consideration stage.
Individuals seeking to deepen their knowledge on a particular topic may opt to provide their email address in exchange for a downloadable resource, such as an ebook, industry report, or guide. This approach helps to understand and access information easily.
What are the most effective conversion rate optimization strategies?
After learning about the areas where you can improve conversions, you might be curious about the appropriate time to initiate the optimization process for your business. Now you have reached almost the end of the blog, where you will be introduced to the most effective conversion rate optimization strategies for your organization.
CTAs work best
While you're in a dilemma about what can be done to optimize the conversion rate, CTA could be your long-term friend to drive your intent to effective results. But the format of the CTA plays a key role in generating leads.
Hubspot tested text-based CTA and end banner CTAs at the same time frame, where text-based CTA's were limited to 10 blogs. The impact was unbelievable. Only 93% of the leads came from blogs having anchor texts on them.
Here is what a text-based CTA looks like: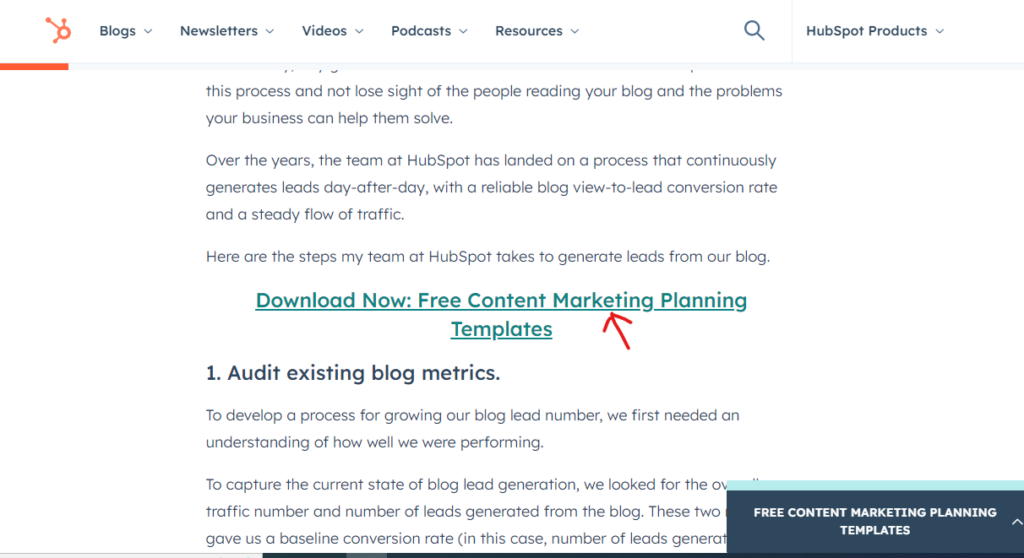 Lead flows on blogs
Another popular CRO strategy is to incorporate attention-grabbing high-converting pop-ups, known as lead flow. The design, content, and other elements of lead flow depend on the goal of the conversion rate optimization strategies. You can choose a slide-in box, drop-down banner, or pop-up box, depending on your goals.
In 2016, HubSpot experimented with the slide-in box, which produced a 192% greater CTR and 27% more submissions than a conventional CTA.
Let's have a look at the lead flow pop-up structure: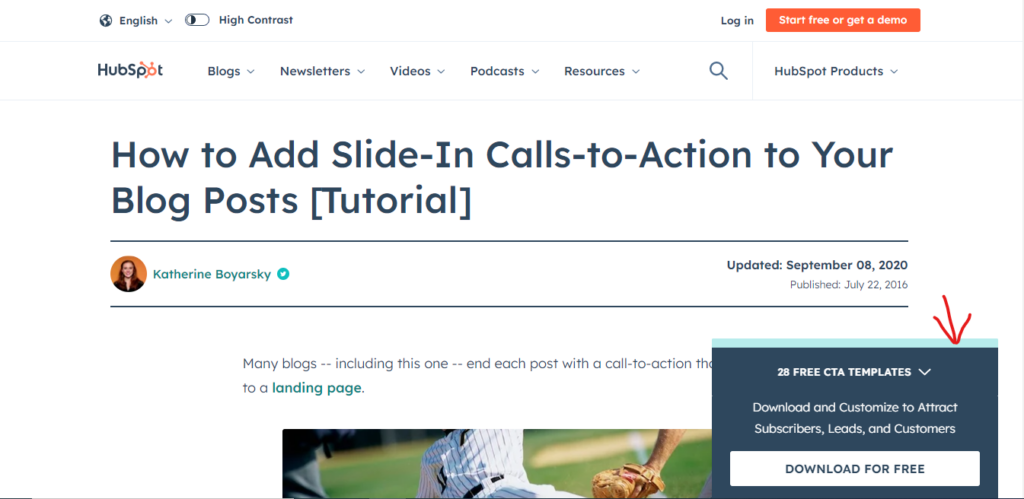 A/B testing on the landing page
Having a landing page is crucial for optimizing conversion rates because it can help convert website visitors into leads and keep existing customers engaged. When proceeding with landing page optimization, A/B testing is the best-suited path to assess the impact of the design elements and content features.
Performable, now acquired by HubSpot, changed the CTA button color from green to red, and the CTR increased by 21%. Also, China Expat Health experienced an impressive 79% increase in their lead conversion rate, thanks to the power of A/B testing.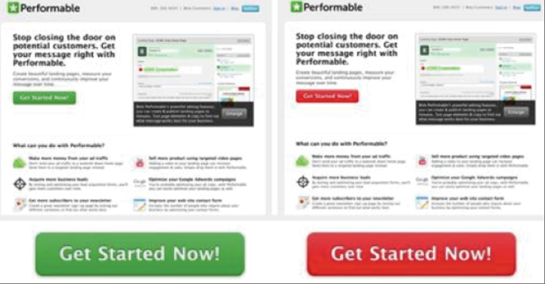 Conversion path optimization
Sometimes visitors have high intent to turn into leads where a typical buyer's journey won't work. They need direct communication with sales representatives skipping all the chaos in between. By designing web pages with clear and compelling copy, using smart CTAs, and encouraging visitors to book demos or meetings with sales reps, you can turn them into sales-qualified leads. It's important to test what generates the most customers and make the sales process frictionless based on products, services, and sales processes.
Add automation tools
When you're working on conversion rate optimization strategies, it's not just about the website, copy, design, or test – it also involves the marketing and sales team workflow. The proper automation tool can enable sending automated emails to possible prospects and getting engaged with a chatbot before talking to a representative. This way, one can quickly identify the intent of the visitor and the possibility of becoming the lead.
Add a live chat option
Conversion rate optimization strategies are incomplete without the integration of new tools. Live chat support is extremely powerful for your website to bring visitors into the sales funnel. Adding immediate assistance not only resolves the doubts of the visitors but also helps in increasing conversion.
But not the pages required live chat support. Identify the pages where performance is high and optimize the support pop-up with time spent and other aspects of a visitor's journey. Always try a test before implementing any changes on the website to improve the rate of conversion.
Here is an image of a live chat tool on the website: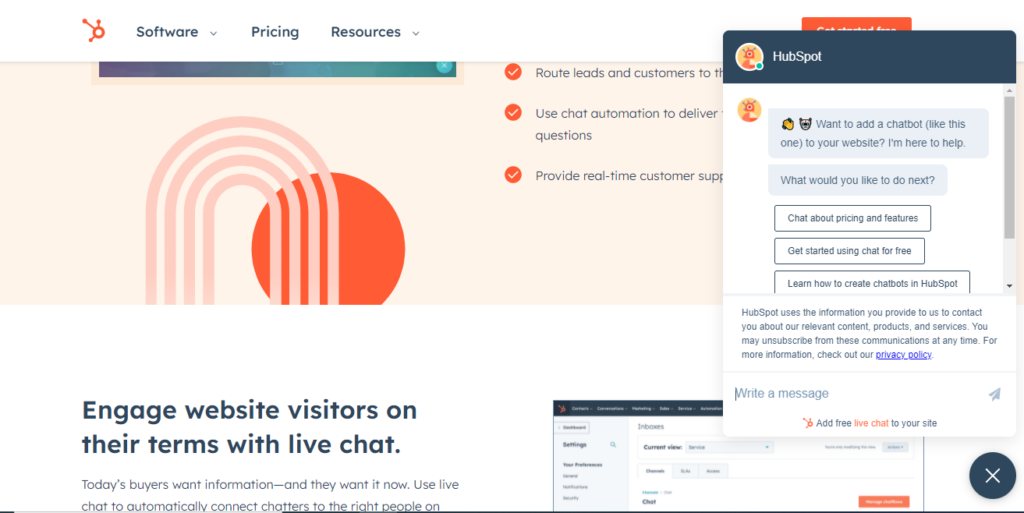 Blog post optimization
If you're looking to get more quality leads, then this is one of the best conversion rate optimization strategies for you. Publishing blog articles can lead to increased conversions, especially if you optimize your existing content. Identify posts with high traffic but low conversions and address possible issues with SEO, content offers, or CTAs. Consider adding relevant offers to improve conversion rates. Also, optimizing and updating posts with fresh data and new information helps improve traffic conversion rates to attract more qualified traffic.
In one instance, HubSpot witnessed an increase in conversion rate by 240% by adding an inbound press release template offer to a blog post.
Have a look at the template position on the blog post:
Retargeting for conversion
Retargeting or remarketing can become one of the significant marketing tactics to improve the conversion rate. With well-crafted copy, an appealing visual, and an irresistible offer can turn your prospects into qualified leads through a retargeting campaign. Retargeting on platforms can re-engage people who left your website without performing any significant action. By tracking visitors and serving them online ads as they visit other sites, you can target those who visited your highest-converting web pages.
For example, Watch finder retargeted 20 groups of people who showed intent to purchase and increased 1300% ROI through the remarketing campaign.
Wrapping up
All the mentioned strategies have worked out for many organizations. However, you need to understand that marketing is an ever-changing landscape. So, before applying any strategy that you might think will work, adopt a test-first approach to assess the impact. It mitigates the intense effect on the overall conversion rate and provides space for major or minor changes to fuel the conversion rate. Remember, experimenting with new ideas is one of the most effective conversion rate optimization strategies to grow a business.
Author Bio: Clara Beck is a Business Manager with 12 years of experience at Thomson Data based out of Plano, Texas. She helps SMBs and Enterprise firms take full advantage of the latest marketing tools to scale up their business. She blogs about Small businesses, Marketing, CX, Entrepreneurship, Big Data, and other technological innovations. Connect with Clara on LinkedIn and Twitter to learn how to win more leads.