In the ever-evolving landscape of data analytics, two pioneering companies have emerged as beacons of innovation and excellence.
Introducing Capturly, a dynamic newcomer that burst onto the scene in 2016, and Inspectlet, a seasoned veteran that has been shaping the industry since 2011. 
Capturly is a data analytics company established in 2016. Through the last couple of years, the company has earned some publicity and started to be used by many enterprises like Uber, Jooble, and Movistar.
Inspectlet is also strong in the world of data analysis. Founded in 2011, it boasts a legacy of excellence and an impressive client list that is necessary to be one of the best in the market. 
EBay, Shopify, Mediafire and a staggering 90,000 other companies have all been awarded for Inspectlet's data analytics capabilities.
What do Capturly and Inspectlet provide?
In the dynamic world of data analytics, Capturly and Inspectlet are two great players, each offering a set of tools designed to transform your understanding of user behavior. Let's dive into what they have to offer: 
Capturly has a heatmap, session replay, conversion funnel, analytics platform, event analytics, and a survey function.
Inspectlet also sells a heatmap, session replay, and a survey function. 
Currently, they don't have a conversion funnel analysis and event analytics function, but I will mention these later.
While both platforms excel at heatmaps, session replay and surveys, Inspectlet offers robust A/B testing and error logging capabilities. Capturly will soon implement advanced error logging.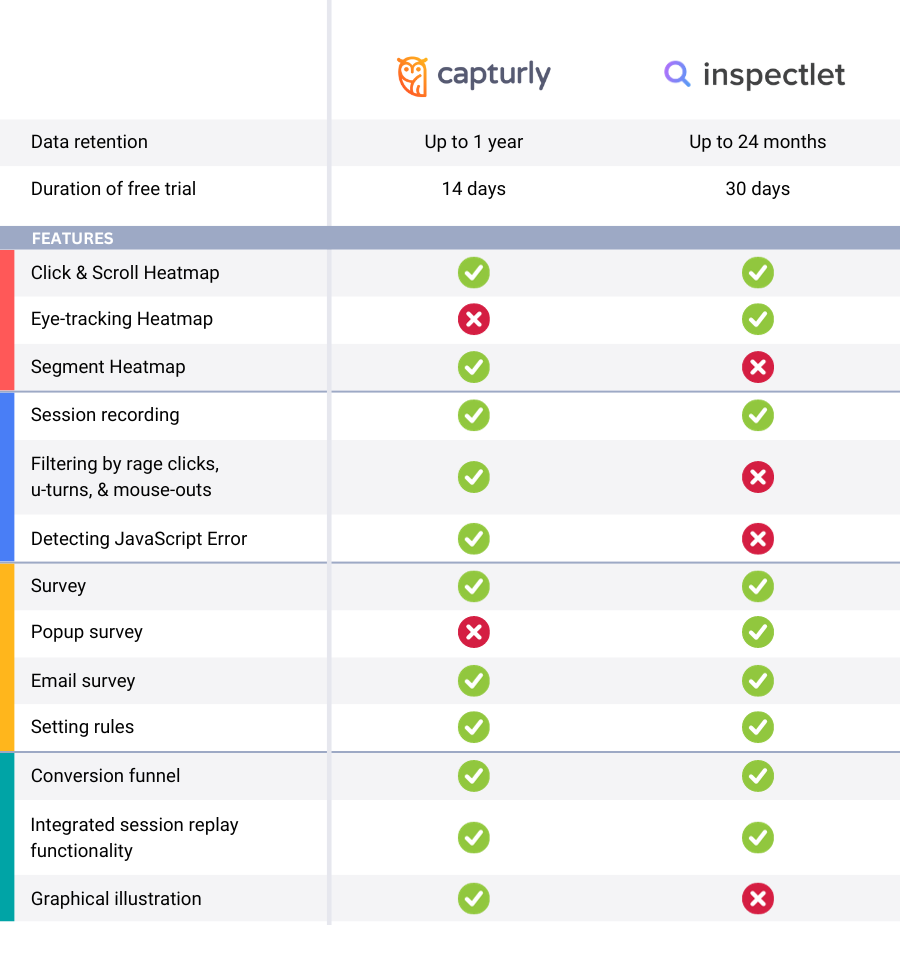 The update factor
Here we find one of the major disadvantages of using the Inspectlet tool.
For this comparison, I carefully researched how often both companies provide updates to their users and how well they adapt to customer wishes and market demands.
Change is constant in Capturly's corner. Only in 2023, we revamped our homepage to ensure our customers can find what they are looking for effortlessly. Through careful analysis of heatmaps and session recordings, we cut away the unimportant parts, leaving only the important panels intact. We understand that the digital landscape is evolving rapidly, and so is our platform.
In contrast, Inspectlet's home page has remained unchanged since March 2016. That's seven years of stagnant activity in a dynamic industry where standing still is a risk.
In terms of Capturly, staying relevant is one of our biggest requirements. This means that we are always working on something new. We released our beta survey function in the last couple of weeks, and in the meantime, while we are fixing the reported bugs, we are also preparing to introduce some other major updates.
In the last couple of years, we have been working on a more stable system, and I can tell you it has finally arrived. Our data analytics tool has become faster and more optimized to reduce the slow loading times.
But, what's the situation with the other company?
The last update that Inspectlet brought out was from June 2021. According to their own site, they haven't added any new features since then. It is two years from now. 
How convenient are their tools to use?
In the dynamic world of data analysis, the true test of software's value is its convenience and ease of use. It's not just about finding mistakes or figuring out the "why";
It's about providing an accessible experience for everyone. In this section, we explore how Capturly and Inspectlet perform in this critical aspect.
The existence of blog contents
Data analysis can be complex and users may not always have the know-how to use these tools effectively. A data analytics company must not only provide tools, but also educate its users so that they can navigate complex challenges themselves.
This is where the blog content archive comes in.
For nearly 8 years, Capturly has been diligently creating blog posts that showcase our knowledge, share tips, provide methods for solving problems with Capturly's tools, and explore various related topics. We believe in empowering our users with information, reducing their dependency and sharing resources more efficiently. 
On the other hand, while Inspectlet once had a blog that served these needs, it is now inactive, devoid of valuable user insights and guidance.
The data retention time
Capturly's data retention time sets the gold standard in the industry and offers unparalleled convenience to users.
Even with their free plan, they offer a large data retention period of one month. This means you can access and analyze your data throughout the month to gain deeper insights and make informed decisions.
In contrast, Inspectlet's free plan offers only one week of data retention. Although they may offer longer data retention in their more expensive packages, the costs associated with these plans can be prohibitive for small and medium-sized businesses.
Capturly's approach to data storage is not only user-friendly, but also budget-friendly. We offer significant data retention time also on their paid plan, ensuring that businesses of all sizes can benefit from expanded data analytics without breaking the bank. 
The difference between their tools' dashboards
In the field of data analysis, the dashboard is the compass that guides your journey through the maze of knowledge. It's the first stop, a homepage that brings together information from session recordings, funnels and heatmaps in a digestible format. The importance of a support panel cannot be overstated; this is the cabin from which you direct your course.
Capturly understands this importance and our dashboard has been a labor of love since day one. Today, it is a testament to our commitment to providing you with a seamless and comprehensive experience. Capturly's dashboard puts a wealth of information at your fingertips. It's a daily hub where you can effortlessly track key metrics like daily sessions, bounce rates and average session time. 
But that's not all.
Scroll down and you will see the same statistics for each carefully defined page. This means you can immediately spot any discrepancies or issues with your subpages and ensure you stay on top of the digital landscape. 
And there is more to come.
Capturly's dashboard has an elegant pie chart that shows the percentage of devices your customers are using. It's a quick and clear view of your audience's preferences.
Inspectlet, on the other hand, paints a different picture. Although their dashboard is full of hyperlinks, it lacks the instant insight and clarity that Capturly offers. 
Analyzing the Inspectlet dashboard alone will not give you critical information about the pages or subpages you measured. It's a maze that requires multiple clicks to find each update. 
Furthermore, there are no distinguishing elements, or visual aids to guide your understanding. The Inspectlet dashboard cannot provide the immediate and comprehensive insight essential in the fast-paced world of data analysis.
Differences between their heatmap services
Let's start with common ground.
Clickable and scrollable heatmaps have become a standard requirement for data analytics companies, and both Capturly and Inspectlet excel in offering these features. It is the foundation upon which deeper understandings are built. 
But they don't stop there. Both platforms offer a variety of filtering options that allow you to separate data by device, browser or operating system. This flexibility allows you to tailor analysis to specific criteria, providing a more accurate understanding of user behavior.
Segment heatmap, that one only Capturly provides
This is where Capturly makes a clear leap forward.
Sometimes it is very important to compare the behavior of users arriving at your website through different channels. For example, how do those who land directly on your site differ from those who are referred from other sources? Capturly's segmentation heatmap comes into play, enabling you to distinguish the behavior patterns of different user groups.
You can distinguish users coming from different directions by visualizing their activities in different colors. This allows you to identify unique trends and make informed decisions about user engagement strategies. Unfortunately, this type of heatmap is a Capturly only feature and is not available in Inspectlet.
Inspectlet's unique heatmap
Inspectlet brings its own unique offering to the table: an eye tracking heat map. 
While conventional click tracking can provide information about user interactions, it often fails to understand what users are actually reading on a page. Researchers have increasingly discovered that users tend to move the mouse cursor to the same place they are reading. This behavior can be a data analytics gold mine.
Inspectlet's eye tracking heatmap allows you to track mouse cursor movement during a session and illuminate what users are likely to read before taking action. It is a powerful tool for measuring user engagement with specific content. Unfortunately, this feature is currently only available in Inspectlet and is not available in Capturly.
Which one is more useful?
While the segment heatmap can compare almost infinitely different variables, and it can certificate hypotheses, the eye-tracking heatmap has its limitations.
This behavior (when people move their cursor to the same place that they read) only valid for a certain percentage of the population, so its efficiency is certainly lower.
Comparing their session recording tools
Session recordings open a window into the minds of users and provide insight that goes beyond the surface.
Session recording capabilities have expanded in recent years, allowing analysts to track, measure and analyze more aspects of user behavior than ever before. This evolving landscape has created unique differences between data analytics companies, including Capturly and Inspectlet.
Filtering and the necessary options come with this technique
One key element of a robust session logging tool is an effective filtering system. It's the difference between going through all the sessions and finding the most valuable sessions.
Both Capturly and Inspectlet recognize the importance of filtering and offer options such as filtering by device, date and browser. 
However, Capturly takes it a step further. With Capturly, you can filter sessions by duration, operating systems and number of pages visited. These additional filtering options provide a more granular view of user behavior, allowing you to tailor your analysis precisely to your needs. These are only available in our packages. 
Inspectlet, on the other hand, provides the unique ability to filter by traffic source, which can be useful when you want to focus on specific types of traffic, such as direct, search engine, or referred traffic. This is an advantage not found in Capturly's tool.
The ability to download sessions
The ability to download sessions is a feature that can be useful in certain scenarios. Although this is not often required, there are cases where it can be useful:
Information sharing: Downloading sessions can be useful for sharing with colleagues. However, many data analytics companies offer a session sharing function, where you can show the chosen files to your colleagues inside the tool. It also saves some time, and you don't have to fill your computer with unnecessary files.
Offline Analysis: Sometimes you may want to do an in-depth offline analysis of your sessions. Although less common, the ability to load sessions can be valuable in rare cases where deep-dive analysis is required.
Data backup: For those who want local data storage, download sessions can act as a backup. However, with reliable online platforms such as Capturly and Inspectlet, the risk of data loss is minimal.
Inspectlet offers the ability to download sessions, but this feature has limited utility. Although this particular option is not available, Capturly offers a robust online environment that eliminates the need for download sessions in most cases.
The differences in session recording capabilities between Capturly and Inspectlet can be significant depending on your analytics needs. Both tools have their strengths, but the choice ultimately depends on your specific requirements and preferences for filtering and uploading options.
What are the differences between their survey functions?
In data analytics, the voice of your customers is a treasure trove of knowledge waiting to be discovered. Surveys are a bridge that connects you to their thoughts, preferences and experiences.
Both Capturly and Inspectlet understand the value of this bridge, but there are important differences between their query functions.
Let's see them:
The maximum number of questions
Are just a few questions enough to gather valuable information from your customers?
Let's consider a simple scenario: you want to measure the satisfaction of your customers during their shopping journey on your website. A survey will appear on a scale of 1-10, with 10 being absolute joy and 1 being total disappointment.
Although it provides quantitative analysis, it lacks the "why". 
Sometimes you need more than just a few questions to go deeper. Capturly recognizes this need and allows you to create an infinite number of survey questions. In contrast, Inspectlet sets a limit of two questions.
However, out of those two questions, only one can be an additional one. On Capturly, there is no restriction in this specific area. 
Language barriers
In a diverse world, language can be a barrier to effective communication.
Capturly understands this and offers surveys in 10 different languages, ensuring that your customers can comfortably answer in their native language. 
Inspectlet, on the other hand, only offers surveys in English.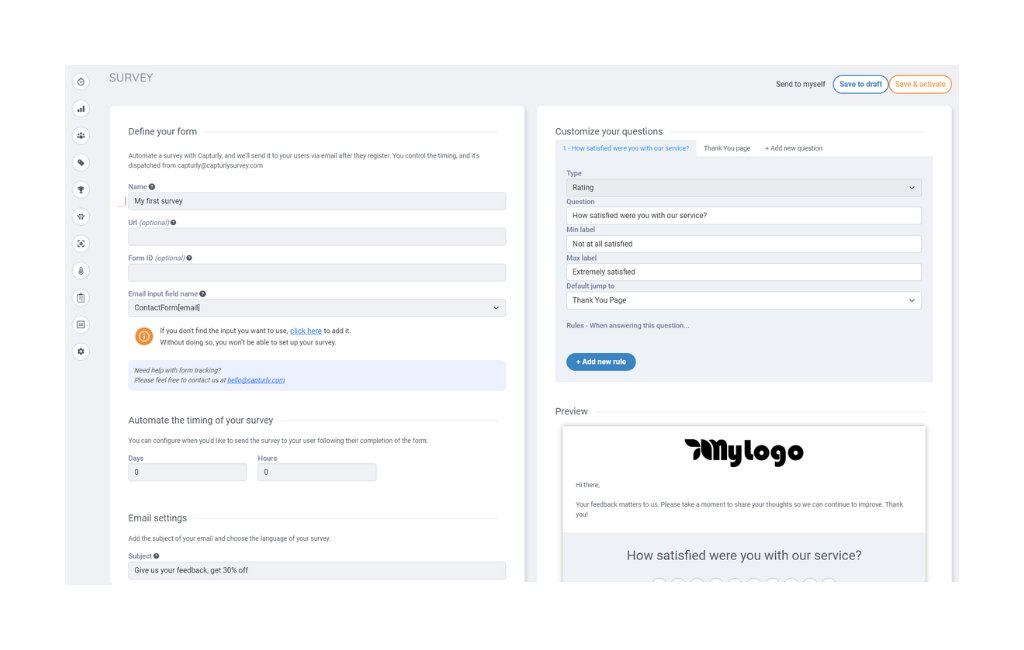 The maximum number of people who can fill the survey out
There is another difference between the two tools. Capturly's maximum always depends on your chosen plan's offered maximum number of session recordings. Since, we connect every survey filling, with a recorded session.
On Inspectlet's tool, if you only want to complete the survey with a chosen amount of people you can set it easily. 
The issue is, that in the world of data analytics, the more data you get, the more efficient your result will be. If we accept this, there is no sense of wishing for less data.
Conversion funnel analysis
Results funnel analysis is the cornerstone for understanding user behavior and optimizing the path to results. It consists of two important parts: the funnel creator and the statistics screen.
Both Capturly and Inspectlet are great at these things, but Capturly's goal is to provide deeper analysis. 
Creating a conversion funnel requires simplicity and flexibility. Capturly and Inspectlet meet these requirements with user-friendly funnel creation tools. You can easily create a possible buyer's journey on both platforms. 
Solid statistical evidence is very important when analyzing funnel performance. Both tools provide important statistics, including bounce rates at each stage, completion rates and the number of users progressing from step to step. 
More filtering capabilities
Capturly takes the lead with advanced filtering options.
You can filter by multiple criteria such as returning visitor status, device model, country, campaign keyword and more. 
For example, you can determine which country has the highest conversion rates or examine bounce rates at each stage.
These features are unique to Capturly and offer a deeper level of analysis than Inspectlet. 
The number of conversion funnels of both companies' free packages
One notable aspect of Capturly's approach is the inclusion of a conversion channel even in their free plan.
Yes, you read that right. Capturly extends conversion funnel analysis capabilities to its free users, albeit with some limitations. This level of engagement is rare in the world of data analytics tools and sets Capturly apart as a user-centric solution.
On the other hand, Inspectlet's free plan doesn't even give you access to a single funnel. To use Inspectlet's conversion funnel analysis features, you must choose their "Startup" plan, which costs $79 per month. This means that users of the free plan miss out on a core feature that is crucial to understanding user behavior and optimizing results.
The two companies' prices
In the world of data analysis, pricing is a key factor that often changes the choice of the right tool.
Both Capturly and Inspectlet offer different plans to suit different needs and budgets. Let's take a look at their pricing structures.
Capturly
In addition to the free offering, Capturly features three different plans, each designed to meet different requirements.
Lite Plan ($29 per month): Ideal for small businesses, the Lite plan offers 5,000 recorded sessions per month, access to three channels, unlimited heatmaps and a generous six months of data retention. Other benefits include email labels and custom label features.
Pro Plan ($79 per month): Recommended for medium to large businesses, the Pro plan offers a major upgrade. It offers up to 15,000 recorded sessions per month, a full year of data retention, unlimited heatmaps, and tons of extra features like rule configuration and advanced overlay settings.
Business Plan: For those with unique needs, Capturly offers a fully customizable business plan with pricing tailored to your needs. You have the flexibility to create a plan that fits your needs.
Inspectlet
Now, let's move on to Inspectlet's offers and prices. 
Inspectlet has a whopping nine different packages that offer versatility for businesses of all sizes and shapes. We focus on plans that closely match Capturly's offerings in terms of cost benefit.
Micro Plan ($39 per month): The Micro Plan offers 10,000 recorded sessions per month, two months of data storage, and A/B testing capabilities for 10,000 visitors. This is a cost-effective entry point.
Starter plan ($79 per month): Comparable to the Capturly Pro plan, the Starter plan offers 25,000 session replays per month, 3 months of data storage and revenue funnel analysis. A unique strength is the ability to use it on three different sites at the same time, a feature not available in the Capturly Pro plan.
Enterprise Plans: While Inspectlet offers specific plans for specific needs, it's worth noting that their top plan, which covers a wide range of requirements, costs a whopping $1,799 per month.

Conclusion
Ten years ago, Inspectlet was a household name in data analysis. But over time, they seemed to lose interest in keeping up with the changing demands of the industry. The world of data analysis requires constant and precise care, and Capturly has become a torchbearer for progress.
Why should you choose Capturly over Inspectlet? Here are some convincing answers:
✅ Capturly is more up-to-date: Capturly remains at the forefront of the ever-evolving data analytics landscape. Our tool covers the latest trends and technologies, ensuring you stay ahead of the curve. Inspectlet, on the other hand, seems to be lagging behind due to its lack of recent features.
✅ Comprehensive Dashboard: Capturly's dashboard is a masterpiece that provides a centralized hub where important information is easily accessible. You can track your achievements without having to scroll through multiple subpages. Inspectlet has a dashboard feature, but it feels more like an ad center with hyperlinks than a progress tracker. 
✅ Extensive filtering options: Capturly's heatmap, session recording and conversion funnel analyzers offer a variety of filtering options. These options allow you to find answers to your questions and accurately confirm your hypotheses. While Inspectlet offers some filtering features, it can't compare because it lacks some important options.
✅ Capturly offers more than just great prices; We offer a free package that includes all of our available products. That's right, even our free users can get a taste of all our powerful features. We don't limit access based on your budget or the size of your business, because we believe that statistics should be accessible to everyone. What sets us apart is that all our plans offer better value for your money than Inspectlet's plans. We have carefully designed our packages to ensure you get the most out of your investment. With Capturly, you don't just subscribe to a service; you will embark on a journey of growth and success driven by data-driven insights.