Have you ever wondered how you could find out more about what your website visitors experience on your website? I'm sure your answer to that is YES if you clicked on this article! In this article, you will learn why a session replay tool is essential for the effective maintenance of your website performance, as well as the top tools offering a session replay feature currently on the market. 
Hopefully, after reading it you'll have a comprehensive understanding of session replay tools, their importance to your business, and the key factors to consider when choosing the best session replay tool for you and for your business.
Why is the usage of a session replay tool essential? 
Are you wondering why you should use a session replay tool? If yes there could be several scenarios:
You may be new to the world of behavioral analytics and interested in exploring this area, or you may already be familiar with using heatmap tools or any other behavioral analytics tools and want to extend your analytics capabilities to include session replays.
Alternatively, you may be looking to confirm that the session replay tool you are currently using is the best option available, or you may be considering switching to a new one.
Regardless of which group you belong to, using a session replay tool is essential for optimizing your website let us give you some convincing or even confirmation of why and for what purpose you should use a session replay tool.
What are session replay tools used for?
Session replays are utilized to track users' interactions during their browsing sessions on a website. They provide valuable insights into how individual users engage with your site. By utilizing session replay tools, you can uncover unique issues that may only affect a subset of your users. It's not surprising to find that these bugs are particularly challenging to detect.
However, session replay tools offer you the opportunity to view your website through the eyes of your visitors. They go beyond providing an aggregated overview like heatmaps or presenting mere figures and numbers like traditional analytics. Instead, they offer an inside look into the actions of each individual user, allowing you to gain a deeper understanding and a behind-the-scenes look at their experiences.
Let's see what specific uses session replays have!
Revealing UX and technical problems
Usability testing
Understanding visitor engagement
Overcoming browsing barriers
Boosting website performance
Finding patterns
Discovering user frustration
Identifying the typical user journey
Checking mobile-friendliness
Testing new features
Supporting web development proposals
Helping your customer service
If you are eager to learn more about how to do these tasks with session replays or if you want to delve deeper into the topic check out Capturly's guide. It also provides valuable insights and practical tips on maximizing the potential of session replays.
What are the essential features for a session replay tool to be comprehensive?
Session replay tools encompass various features and characteristics that are vital for different purposes and use cases. One thing remains certain: having a tool that offers extensive capabilities is advantageous, as it eliminates the need to switch or adapt to a new tool when you want to expand its usage for different purposes. 
But let's see what are these attributes and what we really mean by them!
Filtering
Filters allow you to narrow down your search. And why is it good for you? Think about it, who would want to search through hundreds or thousands of replays and recordings to find what they really interested in? That's why the more filter options a session replay tool offers, the better it is for you – the easier it makes your job!
With filters, you can view your recordings from a specific period of time, source, or even from a specific Google campaign. This functionality is immensely valuable in detecting issues that may only affect certain users, as well as comparing the behavior of users who arrived at your page through organic search versus those who came via paid advertisements.

Filtering options on Capturly's interface
Detecting user frustration
Detecting user frustration is crucial for optimization processes. There are some indicators of user frustration like rage clicks that signal an annoying or even serious issue on your site. The ability to define these elements gives you the chance to fix them as fast as possible and to ensure the best user experience possible.
Indicating the completion of an event or goal
Some tools exactly show you where an event happened or a goal was completed. This feature allows you to quickly assess the success of a visit by providing a visual representation of the number of events and goals completed.

Recorded session with user frustration and goal tags on Capturly's interface.
Adjusting replay speed
Being able to change the playback speed can make your work much easier, as it can speed up the process. Sometimes users make long visits to your site and it can be time-consuming to watch them back.
Ability to skip pauses
Some session replay tools enable you to skip pauses during a session. Watching and observing recordings can be really time-consuming, especially if long visits happened and you are not able to skip pauses during rewatching the session.

Adjusting replay speed and ability to skip pauses on Capturly's interface
Custom tags
Custom tags refer to labels defined by you that are applied to specific session recordings within the analytics system. It's useful to be able to mark the ones that are most important to you out of the many recordings. So you can pull up these recordings whenever you need them later.
Rule settings
The rule settings feature allows you to instruct a tool when and how to create recordings. This means you have the flexibility to choose from various tracking options: track by default, avoid tracking altogether, or track everything. If you opt to track everything, you can specify the number of sessions you want to record. Once that number is met, the tool will stop tracking.
For instance, let's say you're running a summer launch marketing campaign and you're keen on measuring its results. You could temporarily switch off tracking on your site before the campaign starts, preserving all session replays for the campaign period. This will allow you to focus on measuring the campaign's outcomes. When the campaign begins, simply adjust the settings to track everything. This way, you'll have access to all the vital information from the campaign.
Privacy, GDPR compliance
When it's about behavioral analytics, privacy is a huge worry for most users. But you need not worry as the best behavioral analytics tools selected are guaranteed to put privacy as a top priority. Moreover, all of the selected tools are GDPR compliant.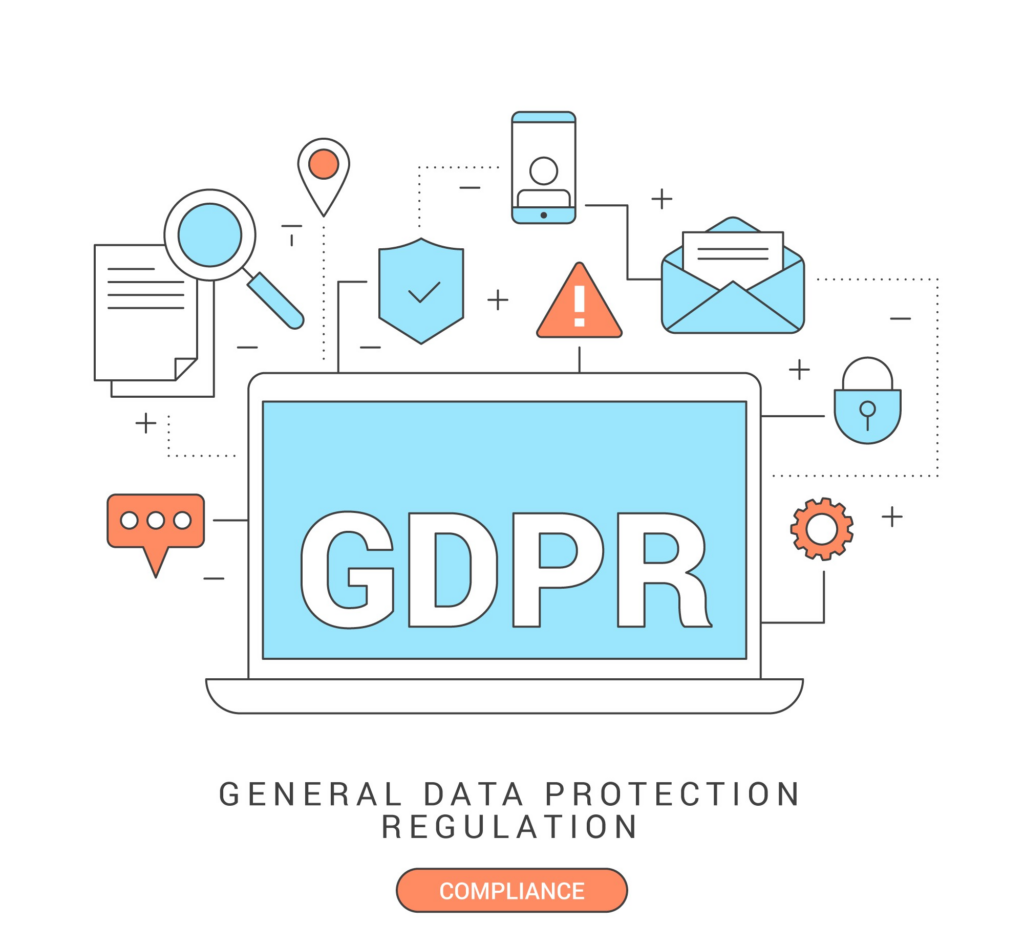 How to choose the best session replay tool for you?
Like any other decision, the key factor to consider when selecting the best session replay tool is to assess your specific needs and intended use for the tool.
Session replays are commonly used for the following purposes:
UI & UX
If you utilize a session replay tool for UI and UX purposes, your primary objective is to comprehend customer interactions with your web page's interface. To achieve this goal, simply watching a few replays will not suffice. You will likely require a larger number of recordings compared to the average user's needs, which may necessitate selecting a session replay tool and a plan that offers an increased recording capacity. 
It is also good if the chosen tool has a function to detect user frustration as these are indicators that tell you a lot about the user experience of your visitors.
Customer support
Session replays can be highly beneficial for customer service as well. They enable customer service representatives to pinpoint problems more accurately, reducing the need for extensive explanations from the user.
In the context of customer service, a smaller number of session recordings is usually adequate. However, data retention and custom tagging play a crucial role. Saving customer complaints for future reference and tagging them with relevant information can prove to be immensely useful. The ability to skip pauses is also crucial in this case, as this can streamline support processes.
Optimization
Session replays serve as a valuable tool for optimization purposes as well. Session recordings allow you to observe how users navigate through your site and address any errors or obstacles they encounter along their path. 
Considering that you are examining a large image, it is likely that you will require a greater number of recordings and a longer storage time to capture the complete picture. Moreover, having a filter option can be highly beneficial, as it enables you to segment your users and optimize your website accordingly. 
In optimization, it could be also useful if the chosen tool's session replays feature enables you to indicate when a goal is completed or an event happened on your website.
Overview of the 5+1 best session replay tool's free plan
Before we delve into the specifics of each session replay tool, let's take a look at this comparison table we've made for you. It offers a swift overview of something everyone is eager to know – Yes, you guessed it right! We're talking about the free plans!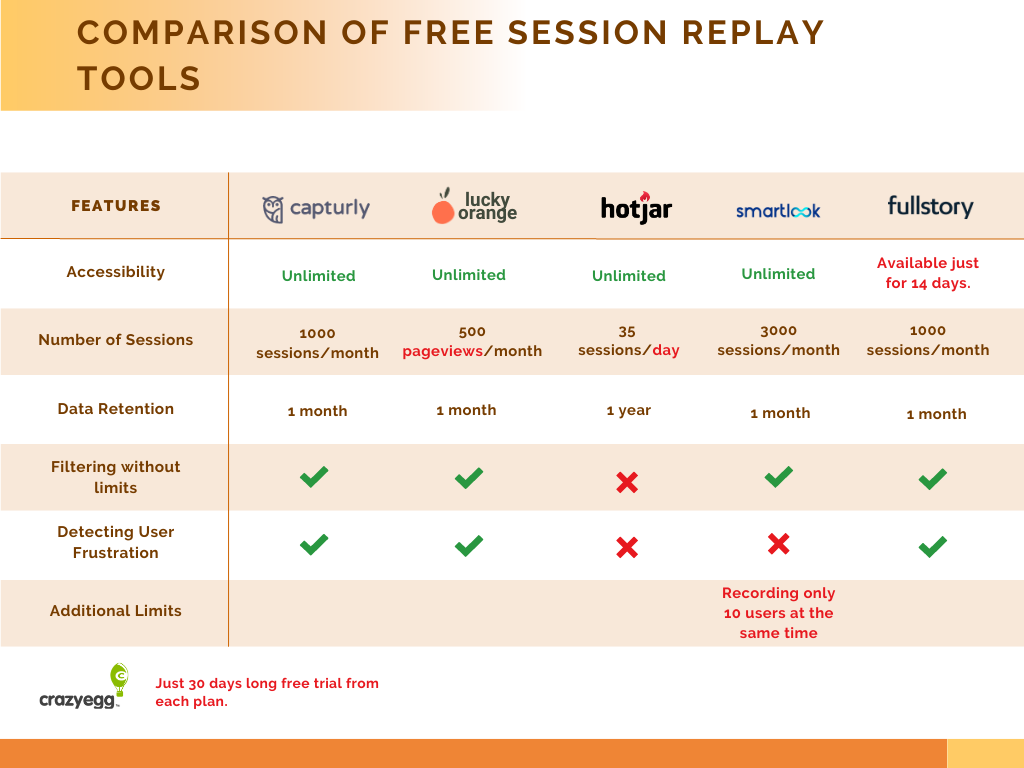 Once you have viewed the overview, don't stop here as you can read more about not only the paid plans but also the free plans. We'll also explain what exactly the sections highlighted in red mean.    
What the 5+1 best session replay tools can offer you overall?
Let's look at what the best session replay tools have to offer you, both in their free and the most popular paid options.
Capturly
Capturly is a powerful behavioral analytics tool designed to help businesses gain valuable insights into their website's performance. It offers a wide range of features and functionalities to track, analyze, and optimize your online presence. Next to session replays, you can find heatmaps, conversion funnels, and traditional analytics in Capturly's offer.
What filtering options Capturly's session replay tool has?
Capturly offers a wide range of filtering options to enhance your experience on the interface. When it comes to session replays, you have the following filtering choices:
Path Filtering: You can filter sessions based on the path your visitors took, including the specific page(s) they visited, landed on, or exited from. Additionally, you have the option to hide bounce visits, ensuring a more focused analysis.
User Attribute Filtering: Capturly allows you to filter sessions based on user attributes such as the country from which the user is browsing your page. This helps you gain insights specific to different geographic regions.
Session Attribute Filtering: You can filter sessions based on session duration, the number of pages visited, and visitor type, allowing you to distinguish between new and returning visitors.
Behavioral Filtering: Capturly enables you to filter by events and user behavior. This way you can easily choose recordings where specific events or user behavior patterns happened, like rage clicks or u-turns.
Technological Attribute Filtering: Filtering by technological attributes is also available. You can choose between several device types, browsers, and operating systems to narrow down your analysis.
Moreover, filtering is also available in each of the recordings. You can select to see:
Clicks
Rage clicks
U-turns
Mouse outs
You can also indicate the exact place where:
A goal was completed.
An event happened.
JavaScript error occurred.
What do you get in Capturly's free plan?
In the free plan of Capturly, you gain access to a range of valuable features. With its free plan, you can benefit from 1000 recorded sessions, allowing you to analyze user interactions and behaviors on your website. You can retain your data for a period of 1 month, enabling you to assess trends and make informed decisions.
An essential aspect of the free version of Capturly is the inclusion of the filtering option. Unlike other session replay tools that limit access to filtering features, Capturly offers this functionality without any restrictions even in its free version. 
This means you can efficiently search through your recorded sessions using various filters, including advanced options such as behavior-based filtering. This way you can effortlessly locate recordings that involve rage clicks or mouse outs and find the bugs on your website. This functionality enhances your ability to understand user frustrations and identify areas for improvement, thereby optimizing the user experience on your website.
What do you get in the most popular paid plan of Capturly?
Capturly's most popular paid plan is its Growth plan. This plan is available for 63$ per month if you decide on an annual payment. In this plan, you can get 15.000 session recordings per month which are also upgradable to up to 500.000 recordings. With the Growth plan, you can retain your data for a year.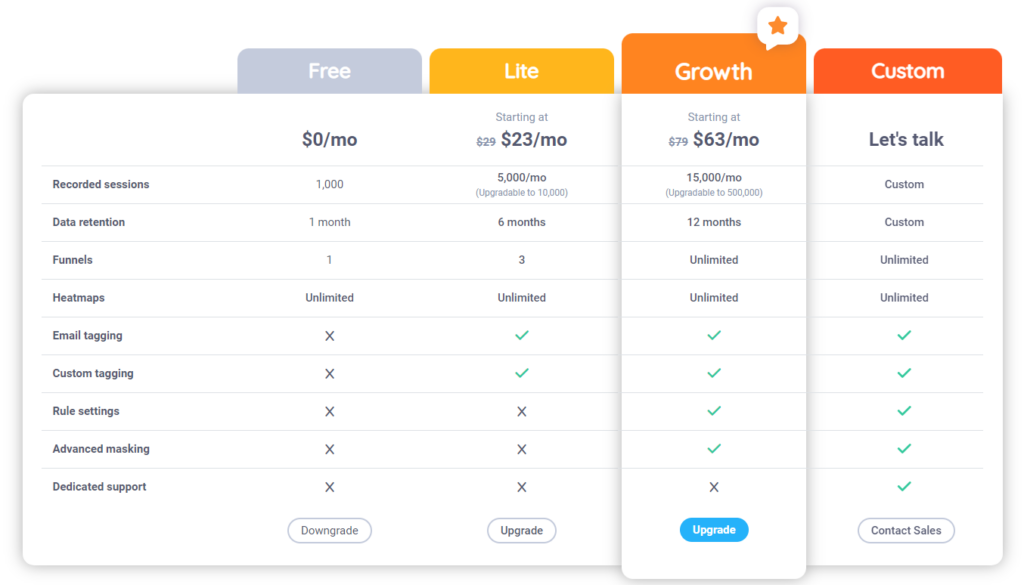 Additionally, the Growth plan includes advanced features such as rule settings and custom tagging. With rule settings, you can define specific criteria to filter and segment your data effectively, enabling precise analysis based on your unique requirements.
Custom tagging allows you to label and categorize session recordings and events, providing enhanced organization and easier retrieval of specific data points.
Crazy Egg
Crazy Egg is a powerful and intuitive behavior analytics tool designed to optimize website performance. With its user-friendly interface, it enables you to visualize user behavior and improve conversions.
What filtering options Crazy Egg has?
With CrazyEgg you can filter by:
Visitor information: including country, device type, operating system, new vs. returning visitors
Session information: including session duration, tags, date range, day of the week, recording status, recording I.D.
Path: including visited page, number of pages viewed, referral
Ad campaigns
What do you get in Crazy Egg's free version?
Crazy Egg offers a 30-day long free trial for all of its plans. So it is hard to talk about which plan and what can offer you, as all of them would be available just for a limited time frame. And at the end of the month, if you want to continue your work with this tool, payment is a must.
What do you get in the most popular paid plan of CrazyEgg?
But let's see what they have to offer to you in their most popular Plus plan for a monthly 99$. In this plan, you can get monthly 1000 session recordings from 150.000 tracked pageviews. Recording storage lasts 2 years.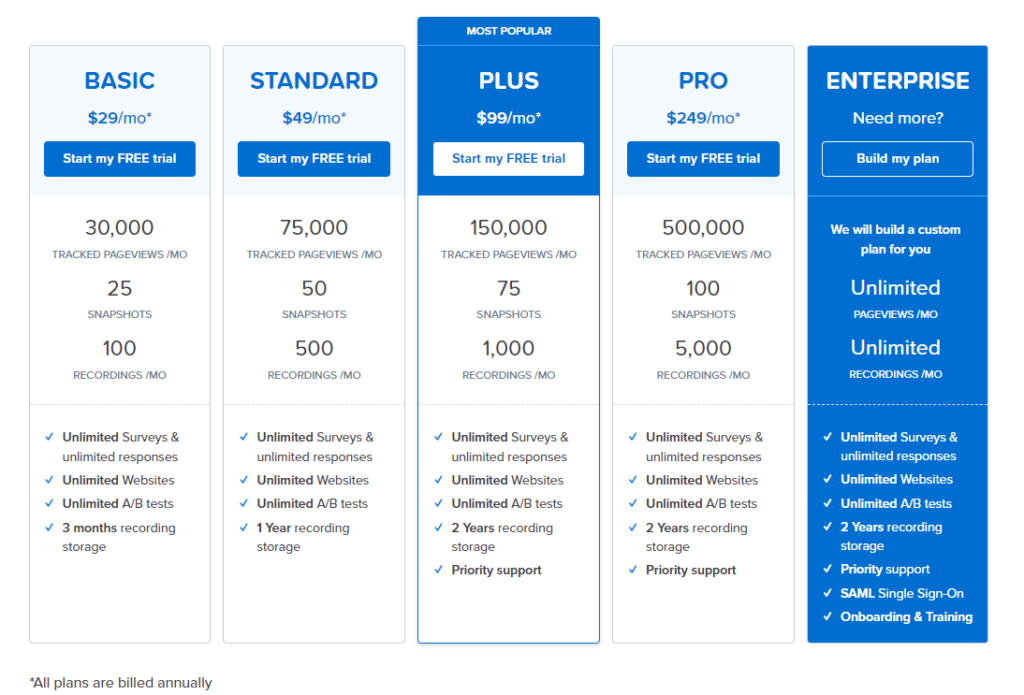 Hotjar
Hotjar is an advanced web analytics tool that empowers businesses to unlock valuable insights about their website's performance and user behavior. Packed with a diverse set of features and functionalities, Hotjar provides comprehensive tracking, analysis, and optimization capabilities.
What filtering options Hotjar' session replay tool has?
With Hotjar you can filter your session recordings by:
The path of your visitors, which page(s) users visited, landed on, or exited from.
Sessions, you can select returning users, country, and session duration.
User behavior: specific events users triggered (or not), clicks, rage clicks, u-turns, and even errors.
User attributes.
Technological attributes like device type, browser, OS, and more.
Feedback, NPS Score and Google Optimize experiments.
What do you get in Hotjar's free plan?
In the free plan of Hotjar, you can have up to 35 session recordings per day. If you do the math is just a little bit over 1000 recordings (about 1050 actually) but if you think about it, daily limiting can be a huge restriction for you. What if there are days with a higher volume of visits or periods that you are particularly curious about and wish to investigate?
Data retention is 1 year in the free plan, but filter and segment data are not available there. Also filtering by rage clicks, u-turns, & clicked elements are not available in the free-of-charge plan.
What do you get in the most popular paid plan of Hotjar?
The most popular plan of Hotjar is the Business plan which is available for monthly 80$ if you choose annual payment. In this plan, you get 500 daily sessions which are upgradable for an extra charge. In this plan filter (by user behavior as well) and segment data are available.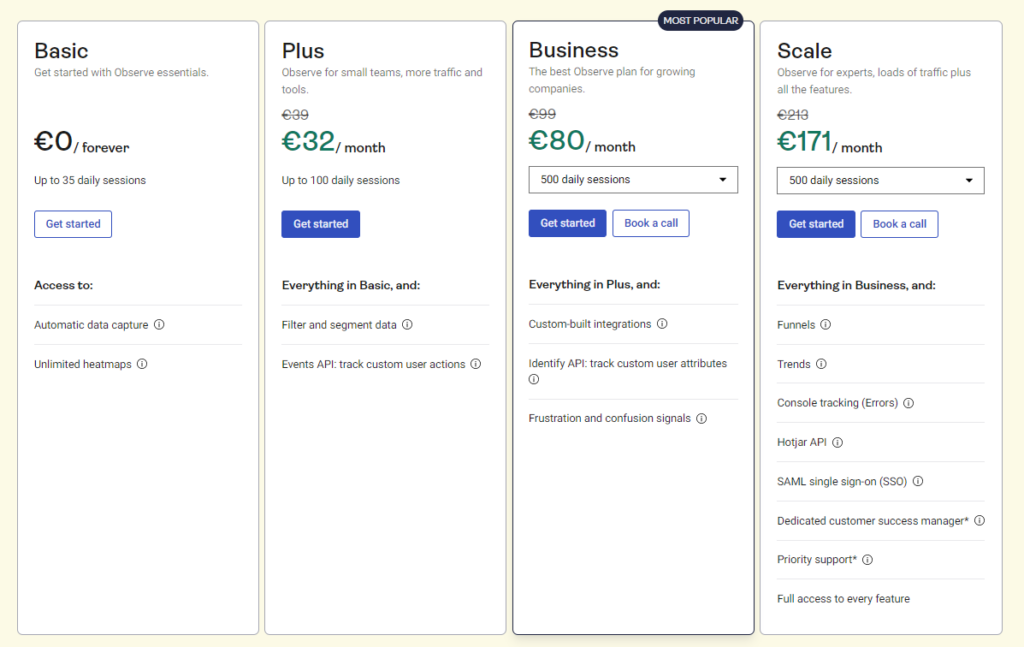 Fullstory
Fullstory is a comprehensive digital experience platform that simplifies the process of understanding visitor interactions on your website, providing a level of insight equivalent to what brick-and-mortar retail store owners have when observing how customers navigate their physical shops.
What filtering options Fullstory' session recordings has?
With Fullstory you can filter by:
Events
Users
Date & time constraints
Clicked elements
URLs
Time
Location
CSS (pinpointing specific elements on a webpage to focus on)
What do you get in the free plan of Fullstory?
FullStory's free trial is available for 14 days. This free time period (which is based on the business plan) comes with 1,000 sessions per month and 1 month of session replay data retention. In Fullstory's free plan, you can detect user frustration and JavaScript errors as well.
What do you get in the most popular paid version?
Fullstory has 3 paid plans, out of which is hard to decide which one is the most popular. The Enterprise plan offers the most the Business is the least and the Advanced plan offers a half-way solution.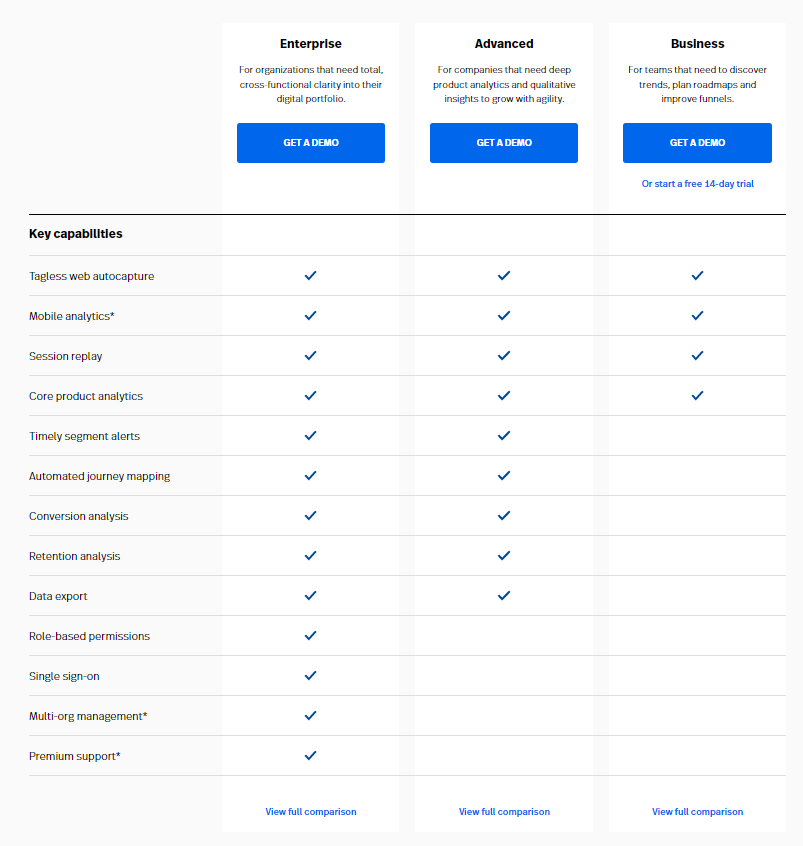 As we don't know which one is the most popular let's see the attributes of the Advanced plan. In the Advanced plan, you can retain your session recordings for 1 month. In this plan, you can also note your sessions to say something to your team about your session replays. You can also detect customer frustration in this plan.
Smartlook
Smartlook is a versatile and powerful user behavior analytics tool that provides valuable insights into website and app performance. With its advanced tracking capabilities, Smartlook records and replays user sessions, allowing you to visually analyze their interactions and understand their behavior.
What filtering options Smartlook's session replay tool has?
Smartlook makes a difference between 4 kinds of filters, which are:
Recording-related filters, like visited URL and duration.
Location-based filters, like country and IP.
Technology-related filters, like devices and operating systems.
Event-based filters, like add-to-cart clicks and page scrolls.
What do you get in Smartlook's free plan?
In the free plan of Smartlook 3000 session recordings are available with a 1 month long data retention. But important is that with the free plan, you can only record 10 users at the same time. Filters are also available in this plan. Also important is that – as their product page indicates – recordings are only available with low quality in the free plan.
What do you get in the most popular paid version of Smartlook?
Their paid plan, the Pro plan has an offer of 5,000 monthly sessions (which is upgradable) for 55€ per month. You can retain your data for 90 days which is also upgradable.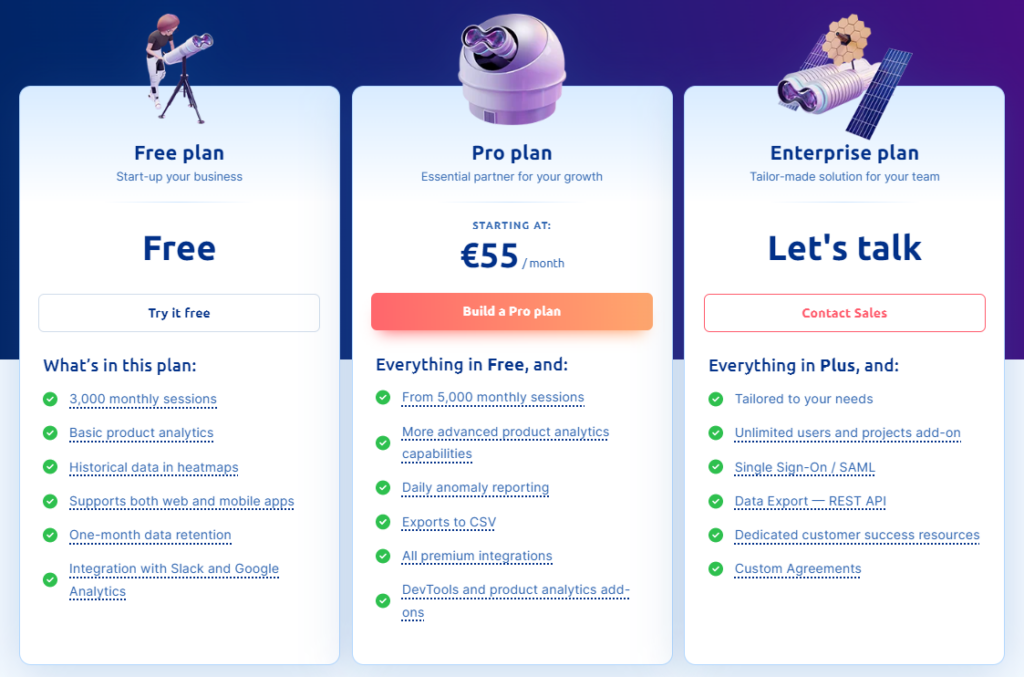 It is crucial to understand that when using Smartlook, you get a sampling technique, which means you do not have access to the complete dataset, instead, you receive a representative sample or subset of the data. You can only decide on the number of sessions actually recorded in the enterprise plan, which is based on a dedicated discussion with Smartlook's sales team.
Lucky Orange
Lucky Orange offers features such as session recordings, heatmaps, live chat, and conversion funnels. With LuckyOrange, you can gain a deeper understanding of how users interact with your website, identify areas for improvement, and engage with visitors in real time through the live chat feature.
What filtering options Lucky Orange's session replay feature has?
With the help of Lucky Orange you can filter by:
Technical attributes, like device types and browser, operating system, referrer
Custom data
Exit page and landing page, total pages, total visits
Location
What do you get in the free plan of Lucky Orange?
You can try the plans of Lucky Orange for free for 7 days. Additionally, they also have a free plan, which includes 30-day storage for session recordings and 500 pageviews/ month. Important is that pageviews are different from sessions. A session can include multiple pageviews which means if the tool limits pageviews this significantly reduces the number of sessions available.
What do you get in the most popular paid plan of Lucky Orange?
The most popular paid plan of Lucky Orange is the Grow plan for monthly 28$ if you choose an annual payment. In this plan, you can get 40.000 pageviews/month and 60 days of storage for recordings. It's important that you can upgrade from the default storage to 60, 90, 180, or 365 days of storage for an extra amount of money.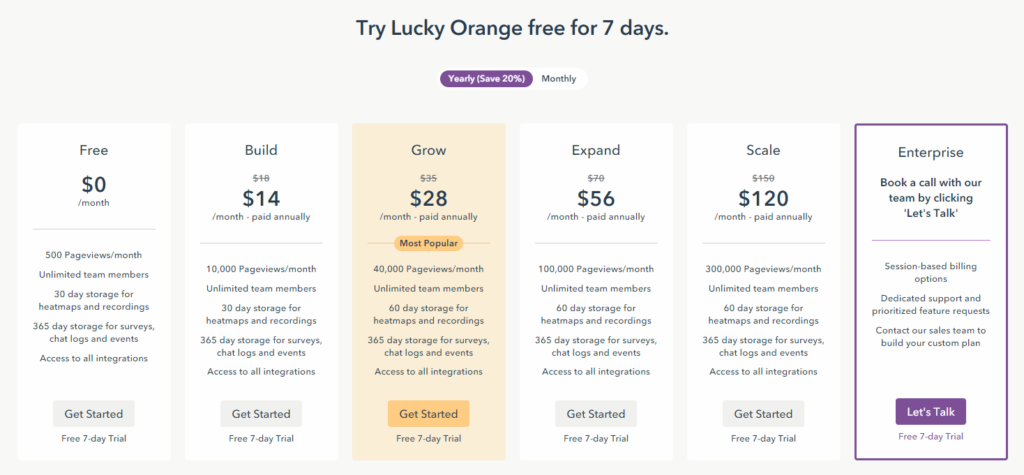 Final thoughts
All in all, in this article we tried to showcase to you all the important attributes each session replay tool has. We really hope that we could give you a comprehensive analysis and now you have a clearer picture in your mind of the most important features a session replay software can have.
With the selection of these top 5+1 best session replay tools, we hope that you will be able to find the one that best aligns with your needs and requirements. It's important to remember that there is no one-size-fits-all solution, and you should prioritize the features that are essential to your specific needs while considering those that may not be worth the cost.
Ultimately, the decision rests in your hands. However, we strongly recommend incorporating a session replay tool into your workflow, considering the increasing significance of personalization and meeting customer needs. Having such a session replay tool at your disposal can greatly enhance your ability to understand user behavior and optimize the user experience, ensuring your business stays competitive in today's landscape.
For a similar comparison of the best heatmaps tools, be sure to check out this article too: 5+1 Best Website Heatmap Tools (with Free Heatmap Tools)
FAQ
What types of user interactions can session replay tools capture?
Session replay tools can capture a wide range of user interactions, including mouse movements, clicks, scrolls, form submissions, page transitions, and more. They offer a comprehensive view of user behavior during a session, providing valuable insights into how users engage with your website.
Are there any privacy concerns associated with using session replay tools?
Privacy is an important consideration when using session replay tools. Reputable tools prioritize user privacy by anonymizing and aggregating data, ensuring that personally identifiable information is not recorded or accessed. It's important to choose a session replay tool that complies with privacy regulations and offers transparent data handling practices.
How do session replay tools differ from other analytics tools?
Session replay tools focus on capturing and visualizing user interactions in a comprehensive and visual manner. While traditional analytics tools provide aggregated data and metrics, session replay tools offer a more granular and user-centric view of individual sessions. They complement other analytics tools by providing insights into user behavior and aiding in usability improvements.
Are session replay softwares resource-intensive and impact website performance?
Session replay tools typically have minimal impact on website performance. They are designed to run efficiently and have optimized data collection processes.
Are session replay tools compliant with data protection regulations?
Reputable session replay softwares prioritize data protection and comply with relevant data protection regulations such as GDPR or CCPA. They implement measures to ensure user privacy, anonymize data, and offer data handling practices that align with legal requirements. It's important to choose a session replay tool that demonstrates a commitment to data protection and compliance.