Session recordings (or replays) are basically video recordings of user interactions on your site. With them, you can get an insight into user behavior, and by analyzing them you can optimize your conversion rate and focus on user retention.
In this article, we'll guide you through everything you need to know from the fundamentals to the advanced applications of session replays.
What is a session?
A session is a period devoted to a particular activity – according to the definition found in the Oxford Languages Dictionary. In the case of session recordings, we define a session as one user's browsing activity on a chosen website in a given timeframe. The majority of analytical tools, like Capturly, offer a limited time for recordings that are usually 30 minutes long.
Example: Your potential visitor looks up a query on Google, and on the Search Engine Result Page (SERP) there is a result that directs traffic to your site. The page session starts when a user arrives at your website – in this case, she or he clicked on the result pointing to our page – and a potential visitor becomes an actual visitor. The website user reads some texts and clicks on some links, so interacts with the website. After 30 minutes – and the first session – expired, the visitor becomes active again (e.g. browses more content, purchases a product). This will count as a second session.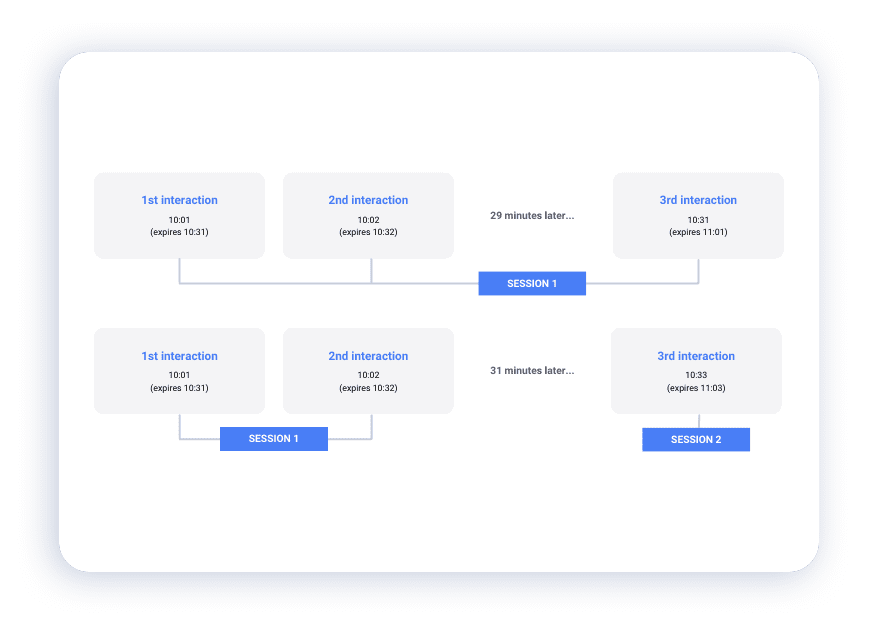 What is a session recording (or a session replay)?
Session recording, which is often called session replay, is a method of analytics that helps with the study of user behavior on a website. It doesn't only record the clicks of the users, it also shows their mouse movements. All in all, it records every single action on your website, so it's like a video-recorded version of the user journey. It's like sitting behind the user and observing how they behave, and what they look for.
With this tool, you can track the whole browsing session of each user separately. In this way, you can learn more about user behavior on your website. Session replay reveals the strengths and weaknesses from the perspective of user-friendliness and is able to track the changes on your website after implementing a new feature. You can also filter the data by URLs, browsers, device types, dates, or events among others. Last but not least, session recording is completely anonymous and corresponds to the GDPR rules.
Free Session Recording Tool

See your visitors' activity on your website with our free session recording software. Discover rage clicks, u-turns, and JavaScript errors.
What are session recordings used for?
Session recordings are used for tracking the users' interactions during their browsing sessions on a website. They are good great for capturing all the mouse movements of individual users. By doing so, you can gain insights into the reasons behind your website's performance and statistics including:
Tracking user interactions:

Capture individual users' mouse movements during browsing sessions on your website, helping you analyze website performance and statistics.

Revealing UX problems:

Identify and address user experience issues by finding the best solutions based on real user behavior.

Understanding visitor engagement:

Learn how your visitors interact with your online products and discover which areas of your website may need improvement to capture users' attention more effectively.

Overcoming browsing barriers:

Uncover barriers that users encounter while browsing, preventing them from accessing critical information.
Boosting website performance: Utilize session recordings to help reduce abandoned shopping carts, optimize conversion rates, and identify and fix bugs.
Practical tip: If you notice a decrease in the number of newly registered users, it's a good idea to watch some session recordings about the onboarding process. If there are any bugs or issues, the session replays will certainly help you identify them.
In summary, by using session replays, you can gain in-depth information about user behavior, enabling you to address common issues and enhance your website's overall effectiveness.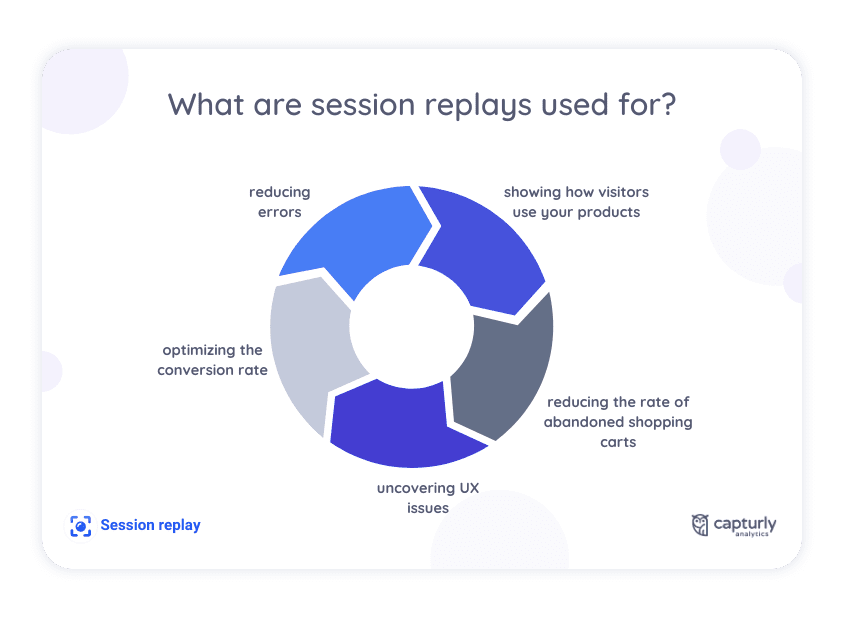 What can session recordings show?
Session recordings show all the interactions on a website, like mouse movements, clicks, scrolls, and keyboard strokes. Altogether, it shows all the interactions that give you further information about user behavior. You can narrow down your research to specific URLs, events, operating systems, or browsers by using filtering options.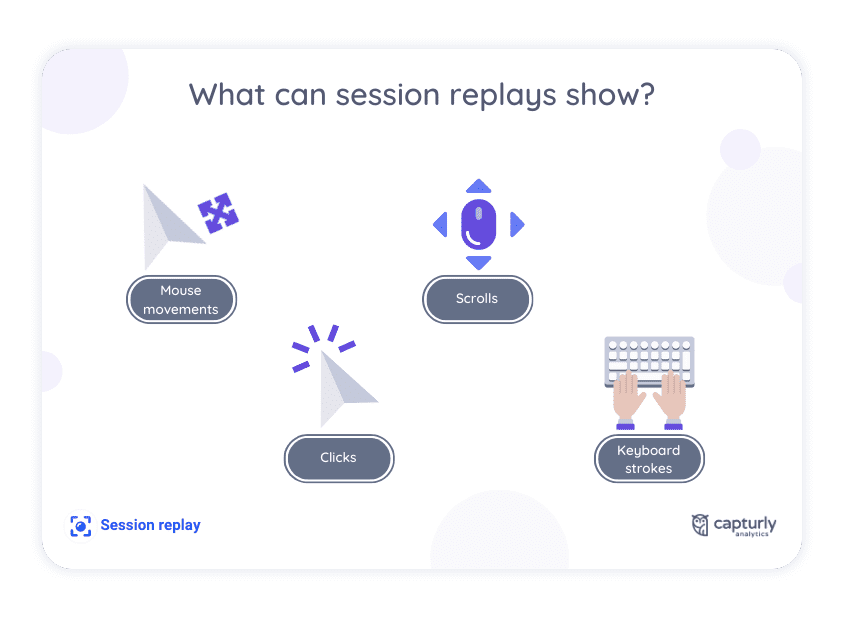 How do session replays work?
Session replays capture every action, or 'event,' that users perform on your website. With session replays, you can answer questions like:
How long do users stay on the website?
What did they click on?
Do users encounter any difficulties when filling out forms?
Are there any broken links or non-functional elements on the site?
How do users interact with multimedia content, such as videos or image galleries?
How effective are the website's layout and design in guiding users to complete desired actions?
What is the user's journey before making a purchase or submitting a form?
How do users navigate between different pages on the website?
Imagine sitting next to your user and observing all their browsing sessions on your website – session replays provide that same level of insight.
To start using Capturly session recordings, choose a subscription plan with a monthly recording limit. Once you add the tracking code, Capturly will automatically record sessions by sampling your website's traffic. Some subscription plans cover 100% of the traffic, allowing you to record every interaction. Other plans offer flexible extensions to the number of session replays.
What are the purposes of session recordings?
Session replays serve various purposes, helping you:
Uncover reasons for statistical data: If a call-to-action doesn't receive enough clicks, session recordings can help you analyze user movements to determine what distracts their attention.
Identify user experience (UX) issues: Discover where users get stuck or encounter problems on your website.
Evaluating website elements: Ensure that all parts of your website are clear and user-friendly.
Detect bugs and technical issues: Identify and resolve issues specific to certain devices, browsers, or user segments by reviewing session recordings.
Session recordings are valuable not only for IT developers but also for customer support teams, providing insights that can improve the overall user experience on your website.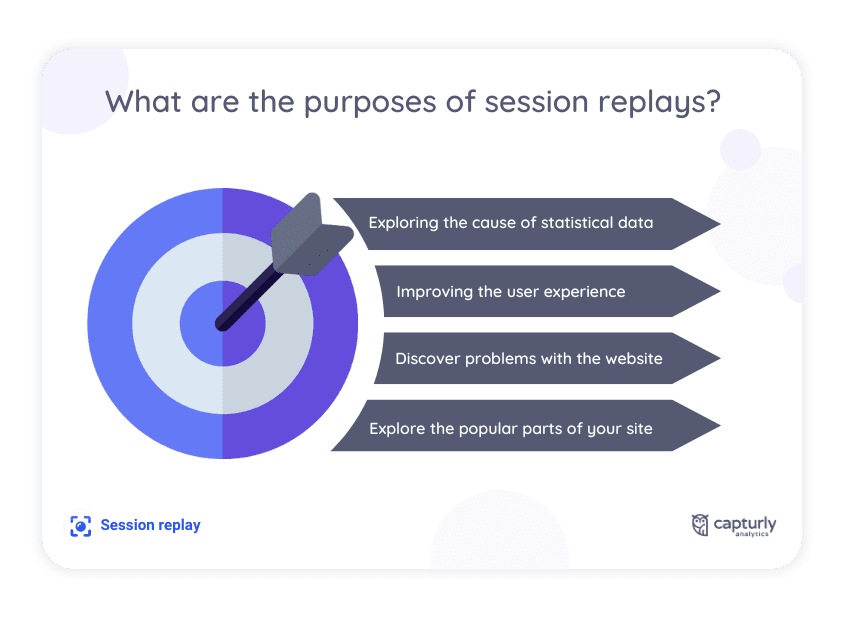 Practical tip: If you run a customer support service on your website, it's useful to study when users look for help during their browsing session. Session replays show you exactly where users get stuck and which support page they visit to find a solution to their problem. If you discover a behavior pattern in visiting the support pages, think about adding some help features right where users get stuck.
Can I use session recordings on e-commerce stores?
Since user-friendliness is a key to success for e-commerce stores, session recordings are welcomed and highly recommended for the study of them. As in the case of regular websites, session replays can reveal technical and UX issues during the analytics of e-commerce websites too. You'll be able to understand the 'Why?' behind the numbers.
For example, if sales are decreasing, with session replays you can confirm whether all the related functions work well or not. Check the scrolls to learn whether the users are comfortable with the page lengths or not. If you notice that they don't scroll through the whole page on the webshop, it's better to separate products into more tabs. You can also use session replays for improving customer support. If session recordings show that users get stuck at some point in the purchasing session, insert some additional instructions. 
Are session replays also for small businesses?
Session replays are recommended for each type of business that runs a website. It doesn't depend on what's the profile of the business or how big it is, it's useful to learn the habits of the users. By getting to know the users' behavior, you can rearrange your website to meet your customers' needs. It's crucial to adapt your website according to the wishes of your target group since in this way their user experience gets better.
In the case of small businesses, it's easier to identify a target group. Since the product range is not too wide, it determines the group of customers and session replays help you to serve your target groups' needs. Other than that, it's also important for small businesses too, to reveal the bugs and UX issues that might disturb the users and limit their experience. Constant monitoring allows you to react swiftly to the special requests of the users.
Are you running a small business? Here are some questions to answer by session replays:

– How do customers navigate through your product listings?
– Are they able to easily find the information they need, such as product descriptions, sizing, and shipping details?
– Are there any specific points where customers abandon their shopping carts or leave the website?