E-commerce business is a growing landscape. By 2026, the global E-commerce market will reach over 8.1 trillion USD, with 24% of retail sales expected to occur online.
If you wish to scale your business, this might be the right time to take it online. But how to start an E-commerce business?
You can opt for a code-free website builder to help launch your online store just like Rubik's did. When Rubik's decided to expand their business online, it sought an E-commerce platform to scale its business and witnessed a 150% increase in its sales. Today, Rubik's is the no.1 selling puzzle game globally.
The E-commerce world is sprouting new opportunities each day. To make the most of it, this blog will take you through the fundamentals of starting an E-commerce business.
Determine a Business Structure
An E-commerce business starts with an idea. To implement it successfully, you need a business structure and a business model.
Determine if you want to be the sole owner of your E-commerce business or partner with someone. Are you a corporation or a non-profit? Defining your business structure will allow you to explore some significant aspects, like liabilities, the tax status of your business, and management strategies.
Once you have a business structure, you can brainstorm an E-commerce business model suitable for your business. The three standard business models include –
Business to Business (B2B)
A B2B model will be appropriate if you are willing to sell your products directly to other businesses. These businesses can be your end user or resell your products to consumers.
Business to Consumer (B2C)
You operate on a B2C model when you sell products to your customers like an offline retailer. These products can be of a particular brand or multiple brands.
Direct to Consumer (D2C)
You will need a D2C model if you wish to sell your brand products directly to the consumer bypassing any wholesaler or reseller.
With this figured out, you can pen down an E-commerce business plan that will be your map to establishing a successful E-commerce business. Remember, your business plan must answer questions like –
How much investment do you need to set up your business?
What permits or licenses do you need to get started?
What is your plan for distributing your products to your customers?
Choose What to Sell
When considering the question 'How to start a successful E-commerce business?' The initial step involves identifying a lucrative business concept by conducting research and careful consideration.
You can look for trending products online or analyze what products will suit your niche. Hostinger conducted research to identify some of the top-selling products in 2023, including wellness products, fashion items, smartwatches, baby and child care products, pet care products, and home décor.
Besides, you can use these tips to identify the product you would like to sell –
Use a Survey tool to analyze the needs of your customers and try to sell a product or service that offers a solution to their requirements.
Utilize tools like Google Trends to identify the top-selling products in your niche. For example, if you want to start selling health supplements, look for search trends in the vitamin industry, including searches like "best biotin supplements" or "top probiotics."
Pick products that align with your interests. For instance, if you like gardening, you can start by selling gardening equipment, plant supplements, and planters.
Consider the profit you can generate from your product. A breakdown of all factors associated with procurement and sales will help you identify how much you can earn. For instance, if you sell a physical product, it will include procurement charges, shipping charges, etc., which will not be included if you opt for a digital product, meaning you can save more.
Create a Product Procurement Plan
Once you have decided what you will sell on your E-commerce store, how will you procure that product?
If you have picked a digital product, you need not worry about acquiring the product or any shipment process, as everything will take place on the digital front. However, you will need an appropriate procurement procedure for a physical product.
Here are some of the common product-sourcing methods you can opt for –
Manufacturing on your own
This method is preferable for businesses that can easily acquire raw materials, such as candle-making or pottery. Manufacturing your product is cost-efficient and reliable. While starting, you can manufacture small batches with low margins, but you can have total control over the costs, and risk management will be easier.
Partner with a manufacturer
If you do not have the equipment or expertise to make the product, you can directly connect with a manufacturer. However, this method will be suitable if you intend to sell extensively and have the budget, as most manufacturers accept only bulk orders.
Approach a wholesaler or reseller
With this option, you will buy a commercial version of your desired product with a profit margin. But getting products from a wholesaler does not offer much control over the pricing since the price is pre-decided by the wholesaler, and the margins must be according to market standards.
Dropship your product
This method involves partnering with another company to deliver the product when someone places an order. You will list the product and take orders while your drop-shipping partner fulfills it.
Drop-shipping helps downsize overhead costs. However, it needs excellent management as the inventory and shipping are not under your command.
Select a Business Name and Design a Logo
Another significant consideration arises when you think about how to start an online business – your E-commerce company name.
Choosing E-commerce business names requires strategic speculation. The brand name is your brand's identity, hence, crucial to the success of your E-commerce business. The name should be something that people will remember.
While it is unique, it should also convey what your product is. You can research for names associated with your niche or try to alter the spellings to make them special.
You will also need to check if the same domain name, social media handle, and legal name are accessible or not. Additionally, if you strive for global expansion, ensure the name transcends cultural boundaries.
Alongside the brand name, you also need a creative logo that will be present everywhere, from packaging to website design, marketing materials, and more. You can design a logo or hire professional designers who translate your brand values into attractive visuals.
Set Up Your E-Commerce Site
You now have a concrete E-commerce business model, a product to sell, and a brand name with a logo. You can now create an online store using an E-commerce platform.
By opting for an E-commerce platform, you get –
Free and customizable website templates
A safe infrastructure to launch your website
A compatible website for all devices.
Options to track your progress
Ways to simplify inventory management, marketing, etc.
Shopify, Squarespace, WooCommerce, and Magento are some popular E-commerce platforms you can explore.
Once you have picked a platform, here are some tips you can use to design and build an online store –
Be clear about your product. Use high-quality images and creative copy to make your product perceivable to the customers.
Follow the best practices of E-commerce SEO to rank your product pages on SERPs.
Use direct calls-to-action to simplify the user experience
Structure your store properly for easy navigation
Utilize customer reviews and feedback to build trust and improve conversions
Ensure there is a payment gateway in your online store to facilitate transactions
When you are ready to start your store, conduct a trial order to ensure the process is glitch-free for the customer. Try to make the process as simple as possible and only ask for the necessary information to optimize the checkout process.
Create a Shipping Plan
As you approach the end of solving how to start an E-commerce business, you must prepare for shipping and delivery of your order. Fulfilling your order means delivering your customer's purchase to them, and you need a proper shipping strategy for that.
Your E-commerce platform will help you print shipping labels and add shipping charges according to the customer's cart during checkout. However, you must research and calculate shipping costs if you plan to handle shipping independently. You can also explore platforms that offer shipping software services, such as Shippo, ShipStation, or ShipHero.
Remember that most E-commerce platforms can connect you to a global consumer base. However, if you are unwilling to ship to certain places, your E-commerce store must mention where your products can reach.
Additionally, ensure there is always a plan B to fulfill your orders seamlessly if something goes wrong during shipment.
Furthermore, if you do not wish to overlook order fulfillment, there are fulfillment centers where you can outsource the task. For instance, Amazon offers fulfillment service with charges that depend on your package size and number, distance of delivery destination, and other factors.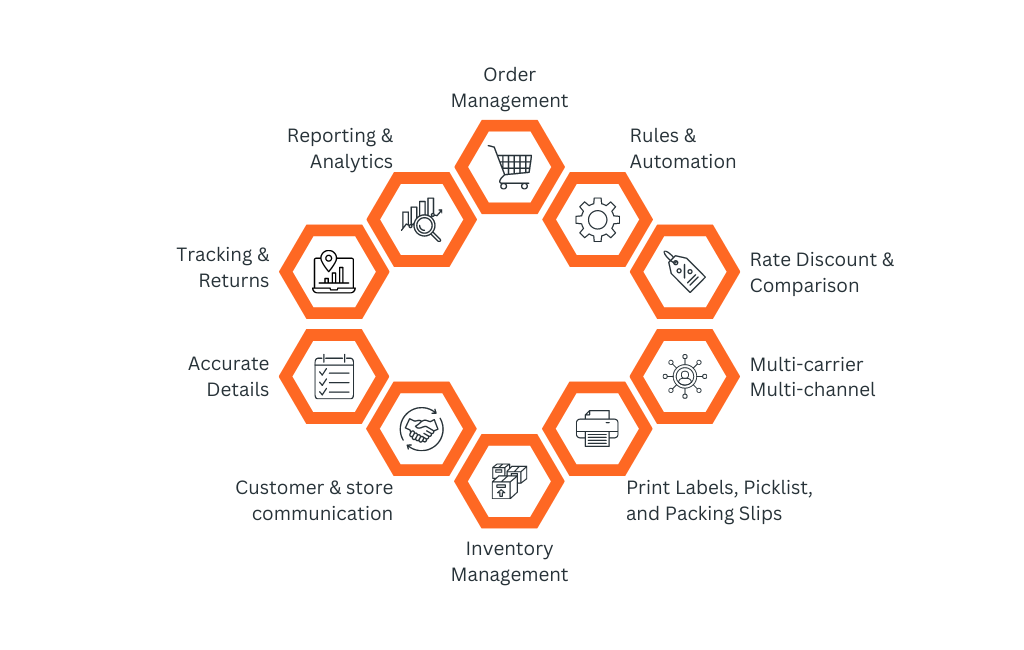 Develop a Marketing Strategy
Now that you've figured out the essentials for starting an E-commerce business and are ready to start taking orders, you must find ways to market your products and attract customers. Finding the right channels to promote your business and polish your marketing skills is key.
You can explore various methods for your E-commerce marketing strategy, such as email campaigns, influencer marketing, and social media marketing. Whichever method you choose, consider the following tips –
Keep experimenting. If social media promotion is not working, you might need to optimize your site or try content marketing. Experiment with various approaches and determine what yields results suitable for your situation
Identify your ideal customers and select the appropriate channels to reach them or develop marketing content to attract them.
Although difficult during the initial months, it is essential to track your profits. It will help you determine a profit margin, including your marketing investments.
Learn what customers say about the brand. Their positive feedback will help you increase your brand reputation, improve your SEO ranking, and increase traffic.
Try selling your products on multiple channels apart from your online store. Using a multi-channel strategy, you can leverage social media, third-party marketplaces, etc., to reach a wider audience.
Improve your website design for better usability. For instance, you can simplify the checkout processes to improve user experience. Most customers prefer a user-friendly E-commerce site that they can explore easily.
Use personalization in your marketing pitches to retain your customers. People are most likely to buy from an online business that considers their preferences to provide customized suggestions and offers.
If your budget allows it, invest in a custom relationship management platform to optimize your marketing efforts.
Build an email list to keep track of your customer base and nurture relationships by sending regular emails with new offers, discount coupons, etc.
Wrapping Up
We hope this blog offered some clarity on how to start an E-commerce business. You can start by creating an E-commerce business model and identifying a product to sell. When you have finalized your business name and logo, use a reliable website builder to create an online store and start selling your products. Focus on marketing your products with the tips discussed to gain the highest returns for your E-commerce business.
_________________________________
Author Bio
Angelina Smith, Senior Content Editor with eSalesData, has 12 years of experience executing rewarding marketing strategies and specializes in curating effective marketing content. She currently leads the marketing team of eSalesData LLC, an established database company based in Fremont, California.
How much money do I need to start an ecommerce business?
The initial investment required to start an ecommerce business can vary widely depending on factors like the type of products you're selling, your chosen business model, website development costs, marketing budget, and more.
What legal permits or licenses do I need to operate an online store?
The permits and licenses needed for your ecommerce business depend on your location, the products you sell, and local regulations. Research the specific requirements in your jurisdiction to ensure legal compliance.
How can I identify a profitable product to sell?
Research trends, use social listening to understand customer needs, explore tools like Google Trends, and consider your own interests. Analyze potential profit margins, including factors like procurement and shipping costs. If you have an email list you can use Capturly's Survey to get  first-hand insights into customer needs.
How can I effectively market my ecommerce products?
Develop a marketing strategy that includes methods like email campaigns, influencer marketing, and social media promotion. Identify your target audience, experiment with different approaches, and track your results.
How can I improve user experience on my ecommerce website?
Use high-quality images and clear product descriptions, simplify checkout processes, incorporate customer reviews, and ensure your website is mobile-friendly and easy to navigate. You can easily analyze your website's performance with Capturly's Analytics Tool.