To connect with customers effectively, you need to understand them better. While customer data is useful for understanding existing users, attracting new businesses or partners can be challenging. You have to know if they are aware of your products or wish to buy from you. 
Simply put, all B2B marketers must know at which stage their target audience is currently at. This is exactly where a B2B sales funnel will come into play. It helps marketers analyze customers' mindsets and send them the appropriate marketing messages. 
However, businesses must create an accurate B2B sales funnel aligned with their target audience and marketing objectives. This post will explore various steps in creating the funnel and its benefits. 
But first, let's start with the basics. 
What is a B2B sales funnel? 
A B2B sales funnel is a structure depicting the stages a customer goes through while buying a product. Marketers also call it a sales pipeline. It explains how a customer or prospect is moving through the buyer journey. 
Based on the stage, they can offer appropriate information that leads to a sale.
So, the primary objective of creating a B2B sales funnel is to guide businesses throughout their buying journey. Companies use the funnel to communicate with potential partners and ask the right questions to enhance sales strategies.
Using the derived information, they send targeted messages to convert them into customers. Let's explore the different stages of a B2B sales funnel.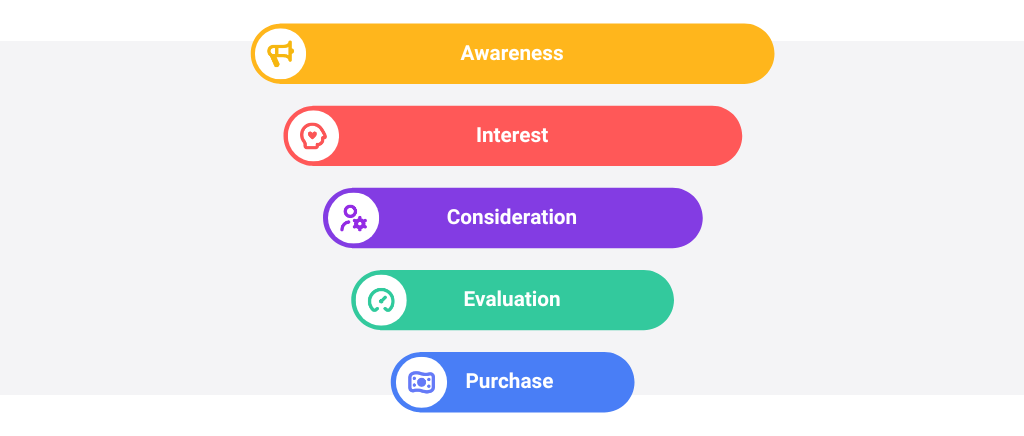 Awareness
This is where businesses explore possible solutions to their challenges and aren't familiar with your brand. They might be identifying their pain points at this stage. 
Interest
In this stage, businesses explore products to address their challenges. They may list down key features of the product or service they are seeking.
Consideration
This is where businesses begin searching for brands that provide solutions. They explore online stores and e-commerce marketplaces to identify the ideal brands or products.
Evaluation
After exploring company brochures and product information, businesses begin shortlisting brands. This is where you provide actionable information to convince them that your brand is the ideal choice.
Purchase
This is the final stage of the funnel, where businesses select your brand to obtain solutions for their challenges. Personalized and targeted messages are key at this juncture.
The essential steps to create a B2B sales funnel
Most sales teams aim to build better connections with potential partners to boost conversions. This will be possible with a well-defined sales funnel that helps track every prospect move – from awareness to purchase.
Leveraging a sales funnel aims to offer the right information and make your brand stand out. Below are the various steps to build a B2B sales funnel that fetches more leads.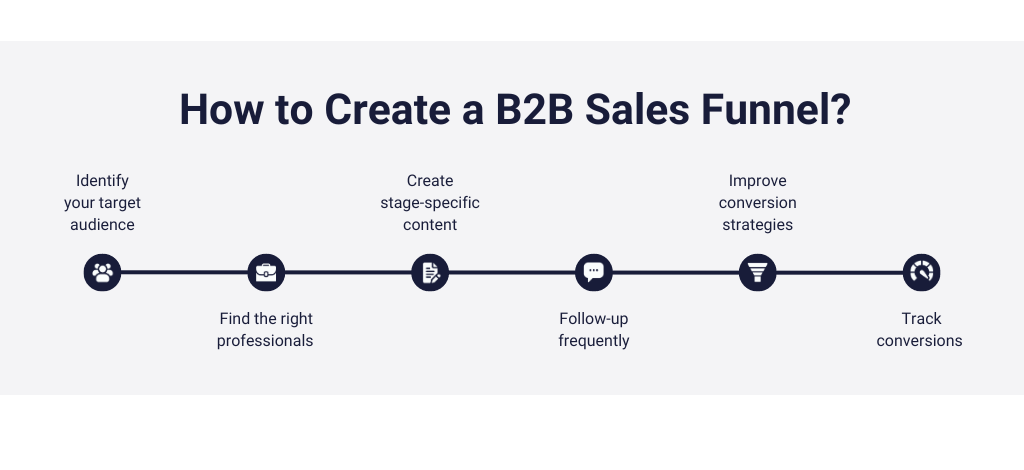 1. Identify your target audience
Before you begin marketing your products, it's essential to understand who you're marketing to. As not every business is your target, refine your approach by creating an ideal persona or profile. For this, focus on your products and their key features/benefits first. 
💡 For example, an online cloud storage service can help business owners and working professionals. However, established businesses might be interested if you provide high-tech features with a slightly expensive price range. Also, professionals with technical skills might prefer the platform. 
As a result, your target audience might be technical professionals and seasoned businesses who can afford the software. Similarly, you can determine your target customers by asking the right questions –
What are the main pain points your customers have?
How can your product or service solve it?
What is the ideal income range of the customers?
What demography, profession, and industry do they belong to?
Are the ideal customers key decision-makers?
Answering these questions will help you provide appropriate guidance and information to your potential partners during their buyer's journey. These strategies will apply to the initial stages of the funnel – awareness and interest.  
2. Find the right professionals for each stage
Just like the strategies change according to the funnel stages, the professional responsibilities also vary. You'll need to employ different teams and professionals to handle the activities of each stage.
💡 For example, at the awareness stage, you can ask social media marketers to promote your brand on multiple platforms. SEO analysts can execute SEO and Google ad campaigns to improve brand visibility during the interest stage. 
Further, experienced sales professionals must handle deal closing and post-sale activities. New sales and SEO professionals may not be ideal for engaging with prospects at the later stages. Assigning responsibilities this way can maximize your resource utilization and team management. You can track customer interactions better and optimize strategies accordingly.
This can help in researching customers efficiently. As top B2B sellers spend approximately 6 hours weekly on prospect research, you can also do it by collecting professional data. The structured approach will enable you to hire the right professionals and organize the best team to enhance sales performance.
3. Create stage-specific content for your audience
Almost 37% of seasoned B2B marketers create sales enablement content for the target audience.
Why?
Creating valuable content for each stage of the B2B sales funnel is the best way to assist customers. As buyers prefer brands offering actionable information, the content pieces will simplify the buying process. It automatically improves your brand credibility and strengthens your connection with potential partners.
Here are the different types of content you must create for each stage.
Awareness – Informative articles can highlight product benefits, industry trends, and related topics.
Interest – Case studies, video tutorials, and webinars can demonstrate how your product solves customer problems.
Consideration – Detailed comparison guides or comparative articles can help businesses compare your products with alternatives. E-books and whitepapers can also improve their decision-making.  
Evaluation – Customer reviews and testimonials aid prospects in analyzing your brand and gathering feedback. Tools like EMI calculators can also help them determine your services' expected results or returns.
Purchase – Customer success stories and case studies will effectively depict how your services have added value to people's lives. It builds the prospect's confidence in your brand.
Sending various content pieces also allows you to examine audience engagement, deriving more insights.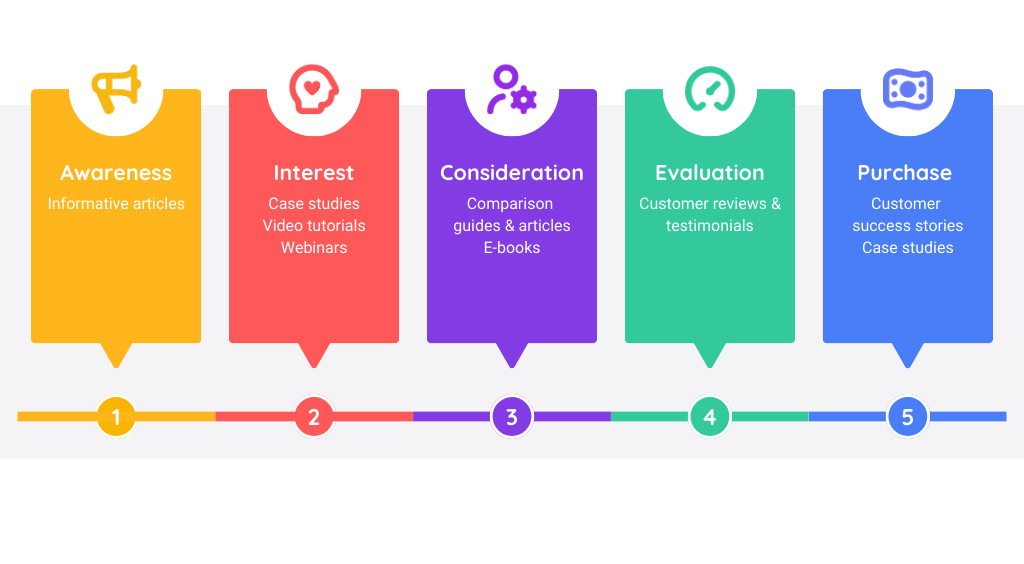 4. Follow up frequently 
After providing useful content to the prospects and grabbing their attention, you'll be left with two scenarios. First, the prospect purchases your product or service and becomes a customer.
Second, the prospect doesn't buy your products but engages with your content frequently.
In both cases, you need to follow up with the prospect to stay connected. You can do this via email, text messages, or call. Start by sending personalized emails with product-related content and information about related topics. Keep them engaging and descriptive.
You can send a customer feedback form to ask about their user experience through these emails. If they haven't used your products, ask them about the solutions they require. Send 2 to 3 emails per week to stay in touch, but don't crowd their inboxes.
If you have obtained the prospect's phone number, call them once every two weeks along with the emails. Keep the call brief and ask about their preferences and problems. Instead of being too salesy, be genuine and try establishing a connection with the prospect.
Follow-up tactics will also be applicable for the consideration and evaluation stages.
5. Improve conversion strategies
You have done the hard work to create a solid B2B sales funnel and attract customers. You may have already started receiving conversions for your efforts. However, you must take it to the next level by hooking customers through multiple offers.
Use the following strategies for maximizing the final stage – purchase.
Free trials 
Start by offering a free demo or trial of your product or service. The prospects must be able to access limited features of the product for a specified time. It will give them a basic idea of your solution and its advantages.
After the trial period, ask them if they want to upgrade to the full version with multiple features. Send emails promoting the full version just before the trial ends. Always keep the email copywriting actionable with catchy headlines and CTAs. 
Personalized offers 
Next, craft personalized discounts for potential partners and existing customers. More than 63% of marketers invest in personalization as it reaps benefits. 
So, for new prospects, send limited-time offers and attractive discounts that create a sense of urgency. Flash sales can also be effective in converting potential partners into customers. For existing customers, send curated discounts and gift vouchers based on their previous purchases. 
Modify the email content to send these offers while engaging the reader naturally.
6. Track conversions 
These tactics are useful after you have converted leads and are at the end of the funnel. It is important to track conversion rates to see if the B2B sales funnel is working efficiently. 
Besides gathering valuable user insights, you'll know which aspects of the strategy need improvement. Start by tracking the conversion rate from your landing page using this formula – 

Analyze the data from marketing channels, social media platforms, CRMs, and Capturly Analytics. Also, focus on the conversions from landing pages, product pages, and text messages. If you execute telemarketing campaigns, track those results too.  
Evaluate the following sales funnel metrics along with conversion rates –
Cost per lead
Customer acquisition cost
Customer lifetime value
Email open rates
Customer retention rate
In addition, try understanding the speed of conversions. This means looking at the number of stages associated with the conversion or understanding how the prospect navigated the buyer journey. It will provide valuable data about strategies' effectiveness at every stage.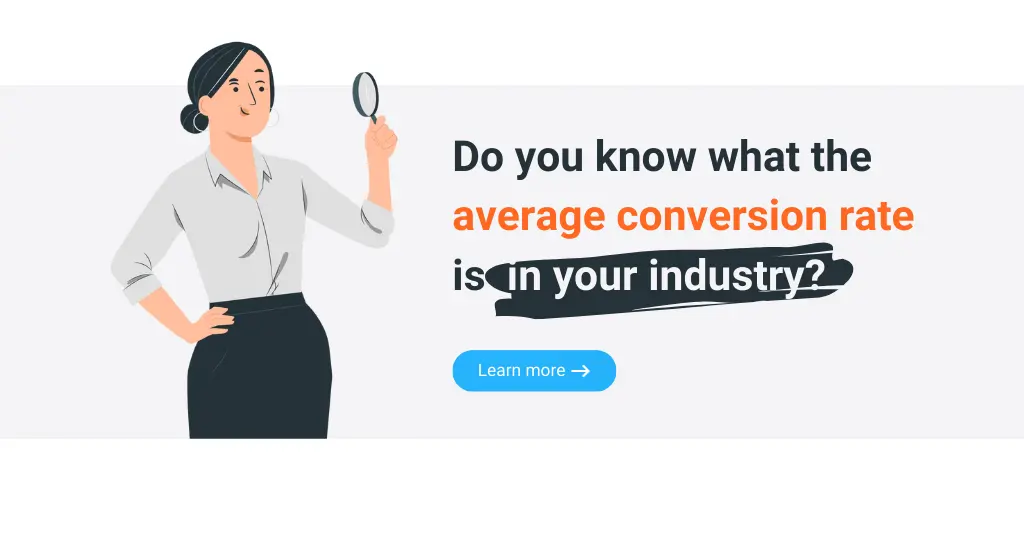 Best practices to manage a B2B sales funnel 
After understanding the fundamentals of building a B2B sales funnel, it's time to know the best management practices. You must focus on various aspects like marketing goals, SEO, and lead movement. 
At the end of the day, an effective sales funnel must improve lead generation. Here are the best practices or strategies you need to keep in mind. 
1. Set clear marketing objectives   
You have to set clear objectives and know the desired outcomes from the sales funnel. It will enable you to optimize strategies and execute them efficiently. Ask yourself or your sales team these questions –
What is our target lead generation amount?
Do we need to market to a specific set of customers?
Will the funnel be used for enhancing brand awareness?
Is customer retention our primary objective?
Is product promotion our main goal?
You can manage the funnel systematically when you are clear about your objectives. Clear objectives also help sales and marketing teams to work better.
2. Focus on SEO
As content is an important part of the sales strategy, it needs to be search engine optimized for better visibility. Firstly, see if your website is seamless and easily navigable. Then, check how much time it takes to load. It must load within a couple of seconds to keep visitors engaged.
Responsiveness is another factor to consider. The landing pages, emails, e-books, case studies, and other content must read well on all devices. It will automatically boost engagement and interest. 
Other tips to follow –
Spend sufficient time on keyword research and include them in your content
Link content pieces to service pages and category pages
Keep the content interesting yet authoritative
3. Evaluate lead movement 
You need to be attentive to note where your leads are in the sales funnel. CRM software or marketing software can provide you with the latest information on lead movement. Tracking your prospect or lead movement can tell you when they become customers.
You can focus on the activities at different stages of the funnel and guide them accordingly. It will also help you offer appropriate content to assist customers with decision-making.
In addition, these lead data can notify you about the sales cycles. Measuring the approximate time taken to close a lead becomes convenient via lead tracking. Eventually, it enables you to reduce sales cycles and maximize your lead generation efforts.
4. Target high-value leads 
You can identify the most high-value potential partners by evaluating leads at every stage. These leads will engage with your content the most and likely purchase your products. You can visit the CRM or marketing software sales dashboard to check the lead activity. 
Based on the businesses' activities, send them free resources, trial versions, and personalized content. Invite them to live webinars and virtual events to establish a deeper connection with them. 
Focusing your resources and energy on these high-value leads will improve customer loyalty and brand awareness. It will significantly speed up the sales cycle and help you judge the efficiency of the strategies. You can maximize the lead expenditure and get valuable referrals for more business opportunities.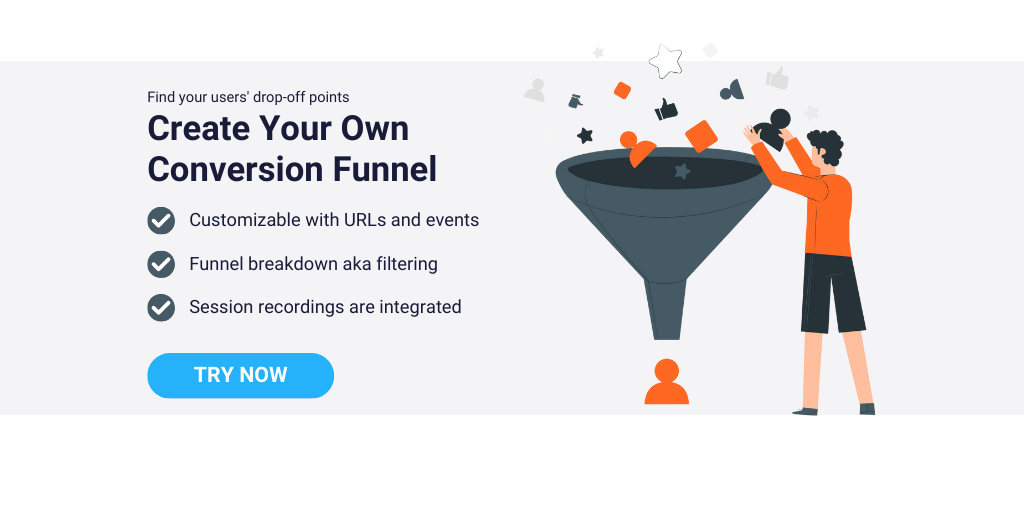 5. Keep customer-facing teams connected     
It's important to keep your organizational departments connected to maximize strategy outcomes. Focusing on the customer-facing teams like marketing and customer success will tell you about their achievements. You'll know more about their new ideas and strategy implementation.
So, you can build a cross-functional team comprising employees from multiple departments. It will keep everybody on the same page and provide more insights into the sales funnel performance.
Moreover, it will align the processes, workflows, and outcomes of different departments.
Such a collaborative effort will allow you to find profitable partners and areas of improvement. You can remove or modify any strategy by understanding the opinions of the cross-functional team. 
6. Update your stage-specific content 
You might have offered high-quality content to businesses and converted them. But is that enough for the long run? 
You need to keep the content updated to continue adding value and assisting decision-making. This way, new leads entering the funnel can access fresh content to learn about your services. So, start updating blog posts, case studies, e-books, and other stage-specific content.
If you have won business awards and added more products to the catalog, highlight them in the content when possible. Offering value-packed content enhances your brand image and can boost conversions significantly. 
Summing up 
Managing a B2B sales funnel can be a time-consuming process and will comprise efforts of multiple departments. However, tracking your progress at each stage makes improving and solving issues easier. 
Sending survey forms to businesses can offer you a lot of charity on the strategies. Track their activities and send relevant content that might be useful. Conduct frequent meetings with team members to improve content quality. 
Remember not to waste time and resources on dead leads who don't engage with your content. Instead of trying to attract everyone, stay focused on the loyal partners and nurture them.
———————
Author bio
Diana Morris is a Marketing Professional with over eight years of experience. She is interested in blogging and helps small businesses with innovative ideas that keep pulling in newness and creativity. Currently, she heads the marketing team at BizInfor, a b2b database solution firm providing various services like data cleansing, data appending, lead generation email lists, etc.