Both Shopify and WordPress are top-of-the-class platforms. Many experts and top E-commerce development companies use them to empower online stores for top-tier brands. In addition to their popularity and reliability, their wide range of offerings has helped build a strong community for both platforms.
From the perspective of your project, picking a platform is a huge decision to make. But you can't go in blindly. Top-rated E-commerce development services providers recommend that you do a little research and weigh WordPress vs Shopify against industry parameters to see which one stands at the top and which one can benefit your E-commerce business the most.
Keeping that in mind, in this article, we are providing a side-by-side comparison of Shopify and WordPress against standard industry parameters.
1. Web Hosting
If you are going to build a website then you will need reliable hosting services as well. 
Shopify
Shopify offers hosting services. It has capabilities for storing all the files on your website. This way you don't have to waste time after finding a suitable hosting service provider. But it's a sort of a give-and-take situation.
While you have the convenience of getting a web hosting service, it trades off your control over the server environment and configuration. This happens when you don't have the option to choose your host.
💡 For example, you can't fix bugs and issues without access to server logs, which is a consequence of losing configuration. Some developers are okay with it as they don't do it themselves. But many developers want the kind of control over their code where they can configure it appropriately.
WordPress
In the case of WordPress, you have to find the web hosting services provider on your own. This gives you more control over your server environment. But it would also mean that you have to pay hosting fees. The hosting plans mostly vary depending on various factors like the size of the site and the traffic it receives.
2. Platform Design and UX
Both Shopify and WordPress come with simple and user-friendly interfaces. These platforms are easy to manage and navigate.
Shopify
Shopify comes with a setup guide for your online store.

Shopify Setup
It helps you pick a template, add products, and configure everything else so that you can start selling your products as soon as possible.
How to add products to your Shopify store?
You can fill out all the necessary information like product title, description, price, and more, and then click save to add the product.
Or you can add products in bulk by uploading a CSV file.

Shopify Add New Product
WordPress
Setting up your online store with WordPress is not as easy as Shopify because it isn't an E-commerce development platform. It's a CMS and a website builder.
Of course, if you hire a top-rated E-commerce development company to guide you through then you could easily achieve your objective. But here with WordPress, you will need an E-commerce plugin to create an online store and sell your products.
Some of the most famous WordPress E-commerce plugins include Easy Digital Downloads, WP EasyCart, and WooCommerce. The last one is the most popular and widely used E-commerce plugin for WordPress.
How to add products to your WordPress website?
STEP 1
Search for WooCommerce on the Add Plugin page and select the original plugin, then click Install Now button.

WooCommerce WordPress Plugin
STEP 2
WooCommerce will guide you on how to build an E-commerce store in easy seven steps. 

WooCommerce setup
STEP 3
Uploading products here is similar to Shopify.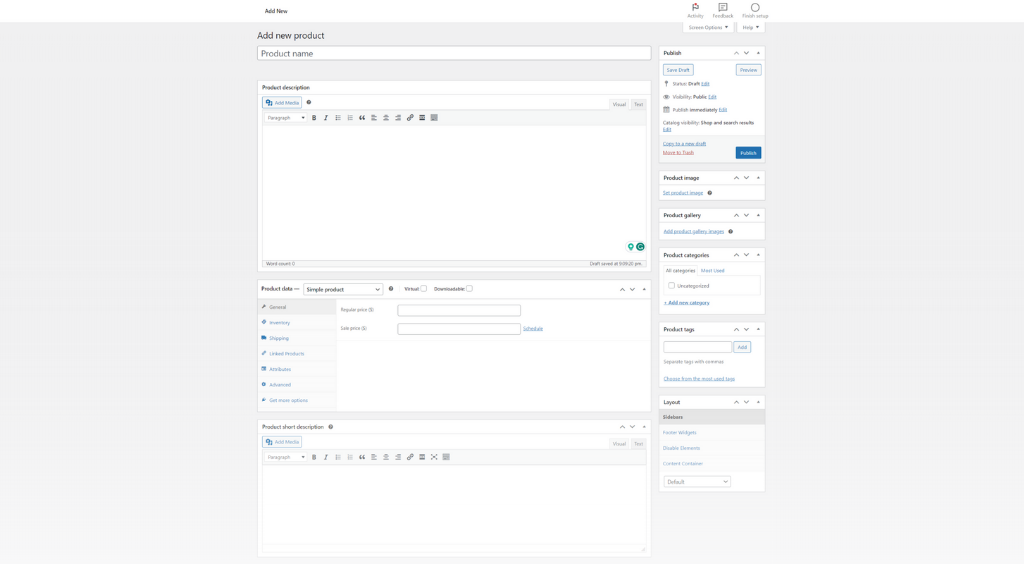 WooCommerce Add New Product
Summary
Overall, in terms of user experience, Shopify takes the win because it comes with a comprehensive setup guide. But if you know what you are doing or have experience with these platforms then you won't need these guides. Then UX will be pretty much the same for both platforms.
3. Storefront Design
Both platforms provide users with the option of picking a ready-made theme or creating a customized store.
Shopify
Shopify renders over 140 themes. Every single one of these themes is ready to install. You just have to change the text and update it accordingly to reflect your brand. Of course, it's not as easy as it is with end-to-end E-commerce development services, but you can do it yourself in just a few hours. Read more about the best Shopify development trends.

Shopify Themes
WordPress
WordPress on the other hand, offers thousands of free themes and many more with premium prices. You can filter these themes by using E-commerce to pick a suitable one for your store.
WordPress is flexible so you can customize the E-commerce site to meet your needs. But it may take more time and effort from your side. It can take a few weeks, or months to finalize the customizations. Especially if you are new to web design.

WordPress Themes
4. E-commerce Functionalities
Let's first see what E-commerce functionalities Shopify and WordPress have in common.
Both offer functionalities to:
Connect your online store with a POS system for a physical location
Sell both digital and physical products
Increase your sales using upsell and cross-sell functionalities
Customized shipping charges
Integrate your store with print-on-demand and dropshipping platforms
Adding product personalization capabilities
Provide options to generate tax rates manually and automatically.
Schedule and run promotions and discounts
Create and accept gift cards
Setting up secure payment gateways
Shopify
Because Shopify is a dedicated E-commerce platform, it offers everything you need from designing to scaling your E-commerce store. Moreover, you can fulfill your E-commerce site requirements by using free and paid applications from the Shopify App Store.

Shopify App Store
WordPress
There are over 1000 plugins in WordPress related to E-commerce functionalities. But in WordPress, you have to sort through pages to find a necessary plugin whereas Shopify makes it easy to search them through categories.

WordPress Plugins
5. Multi-Channel Commerce
E-commerce development platforms allow you to sell your products beyond your online store. It's called multi-channel commerce.
It allows you to connect to:
Various social media platforms
Different online marketplaces
Pop-up shops, and
Real brick-and-mortar stores.
In multichannel commerce, your store will sync with other platforms to keep track of all orders and inventory.
Shopify
Shopify allows you to connect with Instagram, Facebook, and Handshake to sell your products. Still, if you use some extra apps from Shopify's App Store, you can also sell products on Walmart, Amazon, eBay, Etsy, and TikTok.
With Shopify, you can also connect with a physical shop to sell the products in person with the help of a POS system. It shows the locations of all the physical shops you added on the map to the visitors.

Shopify online marketplaces
WordPress
WordPress can also connect your E-commerce store with multiple channels such as Google, Amazon, and eBay.
However, not being a dedicated E-commerce platform, WordPress has to mostly depend on plugins to provide E-commerce functionalities. For E-commerce development services, you have to download and use WooCommerce. And to set up multi-channel commerce, you have to download some more plugins to connect with those channels.
💡 For example, a free plugin called 'Facebook for WooCommerce' allows you to connect with Facebook and sell your products there. Similarly, you will need another plugin for POS integration. But there is one good thing amidst all, WordPress's library mostly offers free plugins to use. So there are hardly any additional costs here.
6. Search Engine Optimization Capabilities
SEO practices are implemented to improve your search rankings and WordPress is pretty good at it. SEO helps bring more traffic which results in more sales and revenue.
💡 Let's say you are selling knitted cardigans. Now you want your store to appear on the first page when someone searches for knitted cardigans. SEO helps you make that happen.
There is a wide range of E-commerce SEO best practices but all of them can be divided into two categories; technical SEO and On-page SEO.
Technical SEO
WordPress gives its users total control over their technical SEO. This includes submitting the sitemap to search engines like Google, creating a logical web structure, and improving the speed of the website.
Users are allowed to pick the hosting providers of their choice. They also have access to edit their configuration files and write custom code that can increase the speed of their site.
Such options aren't available in Shopify. So, to make up for it, the platform uses a tool called Yoast that can help users manage both technical and on-page SEO.
On-Page SEO
On-page SEO optimizes each web page on the site. In terms of on-page capabilities, both Shopify and WordPress are subpar.
Some of the on-page SEO practices are as mentioned below:
Writing Title tags and meta descriptions for every web page.
Optimizing the content on the website with relevant keywords
Managing internal links
Adding alt texts to the images
Customizing the URL slugs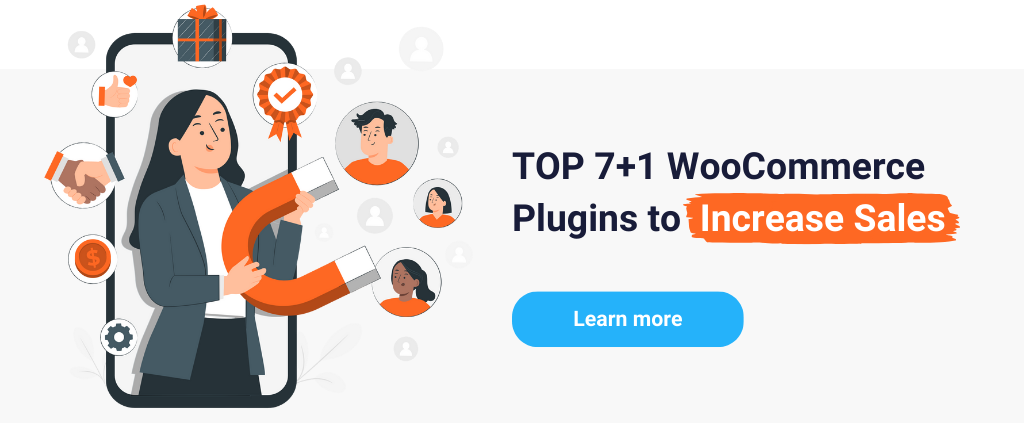 7. GDPR Compliance
E-commerce companies have to comply with the General Data Protection Regulation for the protection of the privacy rights and data of individuals in the EU. compliance with these regulations includes:
Notifying the user when their data is leaked
Displaying the banner for cookie consent
Providing an option to the users to delete their data whenever they want
Allowing the users to opt out of the data collection.
To comply with these rules, the users have to download Privacy and Compliance apps in Shopify and relevant plugins in WordPress.
8. Multilingual Sites
Although both platforms consist of multilingual capabilities. WordPress offers to translate your web content into more languages and provides more currency options than Shopify. Having separate web pages that use the language of a particular region and its currency provides a better user experience.
You have to use plugins in WordPress to create multilingual sites with different currencies. Although there isn't any limit as to how many languages you can add to your E-commerce site, adding too many can affect your SEO performance and your site may also slow down.
Shopify offers an app called Translate and Adapt that can add up to 20 different languages to your online store. So, you don't have to recreate each version from scratch.
9. Website Analytics
Using a website analytics tool is essential for any online store. You can use simple Google Analytics, or if you want to gain deeper insights into your site and user behavior, then Capturly is your best partner to boost your sales. Both Shopify, WordPress and even WooCommerce are compatible with both website analytics software.
If you decide to go with Capturly, here's a simple step-by-step guide to installing Capturly in your Shopify store. However, if you decide to use WordPress, you can easily install Capturly WordPress plugin on your website just like WooCommerce in a few simple steps.
10. Multiple Sites
Using WordPress, users can create multiple stores in a single account but Shopify does not support this.
💡 Let's say you are selling fashion items online and it's going well but now you want to open an online store dedicated to artwork only. Then you will need to create a new site and set up a new store for your new online business.
Shopify
As Shopify doesn't allow you to make more than one site in one account, you have to open another account to create a new site for your art store. Managing two sites through two different accounts can be very difficult. You will have different admin panels, usernames, and passwords.
WordPress
Meanwhile, WordPress supports multisite features that allow you to go back and forth between different sites in a single account only. To enable teh multisite feature in WordPress, you just have to add a single line of code in your your wp-config.php file:
define('WP_ALLOW_MULTISITE', true);
After that, just log into your website, go to tools, and then to Network Setup. There you can configure your multisite network.
11. Mobile Apps for Shop Owners
For website owners, it's not always possible to stay against the desktop 24/7. Having a mobile application allows the owners to manage their E-commerce business remotely. From the app, the owner can manage the orders, product inventory, and marketing campaigns and can also communicate with the customers directly.
Shopify app is available for all devices and operating systems. And in the case of WordPress, you have to download the Woocommerce app. These apps also enable users to track stats, create new products, and print labels.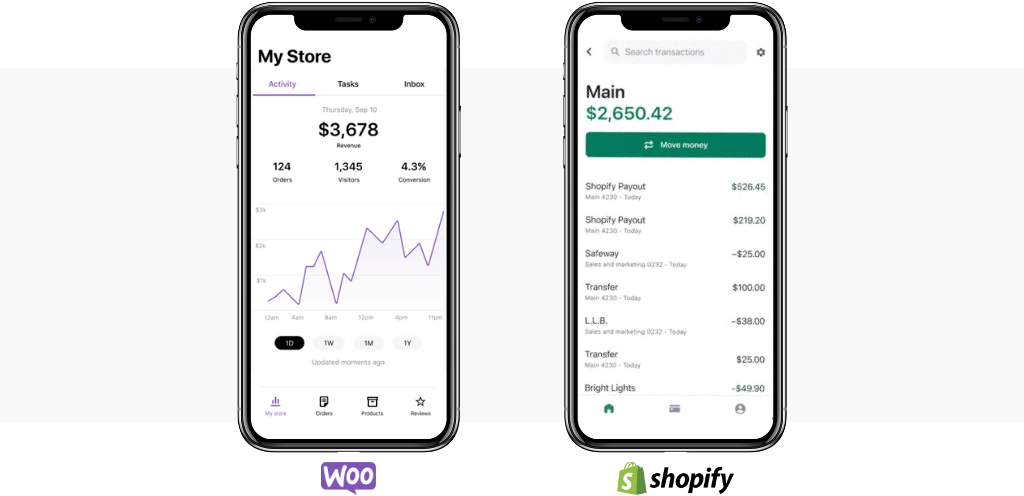 WooCommerce and Shopify Apps
12. Mobile Shopping Experience for Customers
Most of the E-commerce purchases are made using mobile phones. So, it is high time that along with a website, E-commerce store owners launch a mobile app too. If it fits your budget, launch a mobile application where customers can log into their accounts, browse through products, save them in the cart, make purchases using E-commerce payment gateways, track their orders, and more.
You can also avail a web app for mobile phone users that they can use in their browsers. In that case, you can do the following:
Web design must be mobile responsive allowing users to shop easily from small screens.
Faster loading speed so that your customers don't leave the site before making the purchase
Provide various mobile payment options
Now, let's understand these points from the perspective of both platforms.
Responsive Design
Every single theme in Shopify is responsive for all devices and operating systems. On the other hand, WordPress offers more themes but it's highly unlikely that all of them will be responsive. So, in WordPress, you have to check before applying a theme.
Load Time
In terms of loading speed, both WordPress and Shopify are fast. But you have to remember that the loading speed of the site depends on the themes, apps, plugins, and the size of the files you upload on the website. So if your site is slow, it's time to take out some heavy lifters.
Mobile Payment
You can directly link various mobile payment options like Apple Pay with your Shopify app. On the other hand, WordPress's WooCommerce plugin also allows you to integrate with a variety of mobile payment options.
13. Customer Support
You might face some difficulties while building and managing an online store. To resolve them, you might have to contact customer support
In Shopify, you get direct access to customer support, you can leave a query for them or request them to call back. Additionally, there is also a discussion committee where you can connect with other Shopify users to discuss various topics.
WordPress on the other hand is an open-source platform so there isn't any dedicated support system for users. But you can join the online forum where active volunteers are always ready to answer your queries and help out fellow WordPress community members.
There are even different communities for specific tools and plugins so it will be easier for you to reach out to specific experts of the craft.
14. Pricing
The Shopify plans are as follows:
The basic plan is $39 per month
The Shopify plan is $92 per month, and
The advanced plan is $399 per month if you pay monthly.
It is important to note that a basic plan is more suitable for small businesses and individuals. It allows you to add unlimited products and connect to multiple sales channels to sell your product on the global market. However, you have to purchase a domain for your site through Shopify for $14.95 per year.
Meanwhile, WordPress is free to use. But you have to pay for domain and web hosting services. And if you are using any paid E-commerce plugins then those costs will mount up. The domain charges are around $10 to $20 per year.

Shopify vs WordPress pricing
Conclusion
After reading the entire blog on WordPress vs Shopify, if you are still undecided then allow me to simplify things for you;
If you want a highly customized website and are comfortable with coding or have an affordable budget for hiring someone to code, then WordPress is for you.
If you are looking for an affordable platform where you do not need to code for building a user-friendly E-commerce store then Shopify is the right pick for you.
But you don't need to act on my words, you can analyze the offerings of these platforms against your requirements and decide which one is suitable for your business, by yourself.