In a highly competitive online marketplace, standing out and driving sales requires more than just a basic eCommerce setup. This is where WooCommerce plugins come into play, offering an array of specialized features that can significantly impact a business's bottom line. These plugins empower businesses to customize their online stores according to their unique branding and sales goals.
This blog post has listed the top plugins that offer a range of functionalities that address various aspects of the sales process, ultimately leading to an improved user experience and higher conversion rates. From enabling advanced product displays and intuitive navigation to personalized recommendations and offering discounts, these plugins help create a seamless and engaging shopping journey for customers.
Let's take a look!
Capturly

Capturly is an analytic tool that offers a comprehensive solution to help you understand how users interact with your website. The main purpose of it is to provide you with insights into user behavior, and you can then use these insights to enhance your website's performance and boost conversion rates for improved sales growth.
The tool provides heatmaps that visually display where users click, tap, and scroll on your website, giving you a clear picture of their behavior patterns. It also allows session replay to let you watch individual user browsing sessions and gain a deeper understanding of their experience.
The tool even has a conversion funnel analysis feature that helps you identify the steps users take and areas that might need improvement, thus enhancing the overall conversion process.
In addition to these features, Capturly serves as an analytics platform to track user behavior and monitor website performance. By collecting and analyzing data, you can make informed decisions to optimize your website and sales strategy. The tool also provides event analytics, enabling you to analyze large sets of event data for data-driven decision-making.
Key Features
Provides Heatmaps to show user clicks, taps, and scrolls visually
Offers Session Recording to watch user browsing experiences
Helps understand specific issues faced by different users
Allows Conversion Funnel analysis to improve the conversion process
Tracks various user engagements across the site
Brand-new In-Email Survey – why guess when you can ask?
Related Products for WooCommerce

The Related Products for WooCommerce plugin is a tool designed to help your online store showcase products that are closely connected to what your customers are looking at. It works by displaying items that are related to a specific product, either through categories, tags, or even handpicked selections. When you visit a product's details page, you'll see suggestions for other products that you might find interesting.
This feature has proven effective in boosting sales because it's like having a guide during your shopping journey, making it easier to decide what to buy. Even big online stores like Amazon use this technique to help customers find products they might like. When you see recommendations while shopping, it can make you feel more confident in your choices and save you time by suggesting products that align with your interests.
So, if you're looking for a way to enhance your online store and help customers find products they'll love, the Related Products for WooCommerce plugin is a good option to consider.
Key Features
Allows turning off default-related products in WooCommerce
Enables you to pick your own related products
Sets related products for your whole store (by category, tags)
Got the option to arrange related products for specific items (by category, attributes, tags, or products)
Allows hiding certain categories from related product display
Removes out-of-stock items from related products
Shows related products in a slider
Can personalize how related products appear on your site
Mailchimp

Mailchimp is a widely used marketing automation platform that helps over 17 million customers worldwide enhance their eCommerce marketing strategies. By integrating Mailchimp with WooCommerce, you can effortlessly manage your marketing efforts.
Integrating WooCommerce with MailChimp will automatically sync customer data and purchase information with your MailChimp account. This will enable you to create targeted campaigns, automatically engage customers after purchases, recommend products, recover abandoned carts, re-engage with past customers, and follow up after purchases. The plugin also lets you display personalized product recommendations and segment customers based on their buying history.
The plugin's Dashboard provides valuable insights that would help track your marketing performance. The plugin also helps grow your subscriber base by embedding pop-up forms that convert visitors into subscribers. Additionally, the plugin allows you to include WooCommerce discount codes in your emails and automation using a Promo Code content block.
Key Features
Syncs purchase data with Mailchimp's account
Automatically adds new subscribers to Mailchimp when they sign up
Sets up automation for cart reminders, winning back past customers, and post-purchase follow-ups
Allows displaying product recommendations
Tracks and groups customers based on their buying behavior
Uses Facebook and Instagram ads to attract and connect with customers
Smart Coupons for WooCommerce Coupons

Smart Coupons for WooCommerce Coupons is a tool designed to add more options and flexibility to the regular WooCommerce coupon system. This plugin lets you create dynamic and enticing offers to engage customers and drive sales in your WooCommerce store.
This plugin allows you to create various types of special offers to attract customers. One notable feature is the ability to set up Buy One – Get One (BOGO) deals, where you can offer discounts based on quantities purchased.
This plugin allows you to choose specific products for which the BOGO coupon should apply, and you can even offer free products as part of the deal. You can even apply the BOGO coupon repeatedly, like Buy Two – Get One or Buy Four – Get Two, and the coupon will be automatically applied when the criteria are met in the shopping cart.
Additionally, the Smart Coupons plugin offers new updates for WooCommerce BOGO deals, allowing you to offer different BOGO discounts like Buy Two – Get One for 50% off or Buy Two – Get One for $100 off. You can also schedule specific start and end dates for your BOGO offers and exclude certain products from being eligible for the BOGO deal.
The plugin further allows you to provide full or partial discounts on the second item, whether in terms of a percentage discount or a price reduction, making your promotions even more versatile.
Key Features
Automatically applies coupons when items are added to the cart
Allows customers to see their available coupons in their account area
Applies restrictions on coupons based on products, categories, and user roles
Sets discounts based on product quantities or order subtotals
Provides options to create coupons based on shipping methods, payment methods, and user roles
Allows attaching giveaway products to coupons for special promotions
WPLoyalty

WPLoyalty is a widely used WooCommerce Points and Rewards plugin designed to reward customers and boost loyalty. This plugin makes WooCommerce stores engaging for customers, thus developing relationships and promoting increased sales.
This WooCommerce Points and Rewards plugin allows you to launch points campaigns for different customer actions, track program performance, send notifications for earned and expiring points, and support multi-lingual and multi-currency functionalities. The free version of WPLoyalty enables customers to earn points for purchases, redeem points as coupons, set point expiration dates, customize the rewards page, and receive notifications via email.
The plugin also includes features like displaying potential points on product pages and a rewards panel pop-up widget for easy program access.
The WPLoyalty PRO version expands these functionalities, allowing points to be earned for actions like sign-ups, reviews, referrals, birthdays, social shares, and more. The PRO version also offers various reward types, including discounts, free products, and free shipping, and enables the creation of a VIP program with special rewards for loyal customers.
Key Features
Lets you create a points campaign for purchases, sign-ups, referrals, reviews, logins, special occasions, and more
Offers tiered loyalty programs for VIP customers with bonuses
Allows converting points into coupons and flexible spending rewards
Tracks program performance in terms of rewards, purchases, points, usage, etc.
Notifies customers of earned points and rewards' expiry
Allows multi-lingual and multi-currency support for people around the world
WooCommerce Gift Cards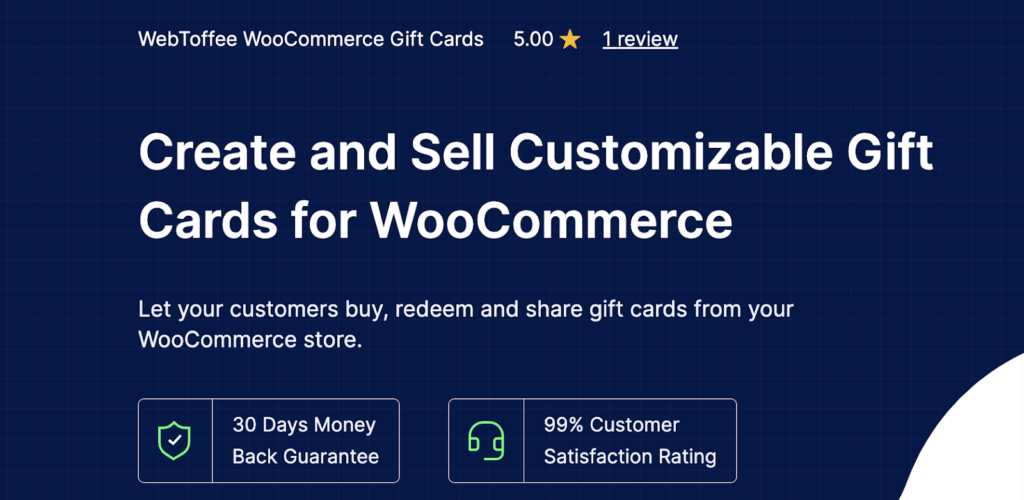 The WebToffee's WooCommerce Gift Cards plugin is designed to help you create and sell personalized gift cards through your WooCommerce online store. These gift cards can be customized to your liking and offered to customers, who can then buy, redeem, and even share them with their friends and family.
With this plugin, you can generate an unlimited number of gift cards on your WooCommerce platform. Customers can receive these gift cards via email, making it easy for them to access and use. They can also send these gift cards to others as presents, even scheduling them for a specific date.
The plugin also offers a range of attractive templates for these gift cards and provides features like allowing customers to print gift cards, issuing refunds as store credit, and setting various usage restrictions on gift card coupons. You can even set fixed or custom amounts for the gift cards, tailoring them to your customers' preferences.
Key Features
Provides the option to email gift cards directly to customers
Have the option to include custom messages and store credit options on gift cards
Allows customers to send gift cards to others or schedule them for specific dates
Allows setting fixed or custom gift card amounts with minimum and maximum limits
Allows managing customer user credit balances from the plugin dashboard
Supports multiple languages and sets advanced usage restrictions for gift card coupons
Customer Reviews for WooCommerce

The Customer Reviews for WooCommerce plugin is intended to boost the success of your online business by using customer reviews. Displaying reviews can increase conversions by 270%, showing potential customers that your products are trustworthy and your business is reliable.
One of the plugin's main features is its ability to automatically or manually send personalized email reminders to customers after their purchases. This makes leaving a review a simple process. In addition to standard WooCommerce reviews, the plugin enhances the review experience with extra features like ratings, images, voting, and filtering options.
The plugin also offers a helpful Q&A section on your product pages, where customers can ask and answer common questions. This can ease any doubts potential buyers might have about your products. Moreover, the option to offer discounts in exchange for reviews can further encourage customers to share their thoughts.
Localized in over 40 languages and used by more than 60,000 stores, the Customer Reviews for WooCommerce plugin is a popular choice for enhancing engagement, loyalty, and SEO, ultimately driving more sales through social proof. It also integrates with an external service, CusRev, which verifies customer reviews for authenticity.
Key Features
Offers automated and manual review reminder emails
Provides manual review reminders via WhatsApp using 'click to chat'
Provides aggregated review forms for quick and easy reviewing
Option to provide enhanced reviews with ratings, images, voting, and filters
Allows discounts to be offered for reviews
Provides Question and Answer feature for customer FAQs
StoreCustomizer

StoreCustomizer is a free plugin designed to simplify the process of customizing your WooCommerce online store without resorting to complex coding or installing multiple plugins. If you're tired of dealing with child themes or adding numerous plugins for customization, this plugin can be your solution.
StoreCustomizer allows you to create various aspects of WooCommerce store and product pages, cart pages, checkout pages, and user account pages. It works alongside your existing WooCommerce templates and themes, enhancing their capabilities without replacing them.
This plugin offers plenty of features like adding login/logout menu items, displaying product sales statistics for admin users, customizing the design and layout of WooCommerce buttons, editing 'On Sale' banners, adjusting font size and colors, modifying user account tabs, and more. You can even fine-tune details like 'Add To Cart' increments and product badges for new items.
StoreCustomizer also has a user-friendly integration with the WordPress Customizer that allows you to visually edit WooCommerce elements in a live environment.
Key Features
Allows customizing WooCommerce Shop and Product Pages
Offers customization for the design of all WooCommerce buttons for Shop & Product pages & Cart/Checkout pages
Allow editing of 'On Sale' banner text and colors for WooCommerce products
Allows auto-updating of WooCommerce Cart when a user edits product amounts
Conclusion
Harnessing the power of WooCommerce plugins can be a game-changer when it comes to boosting your online store's sales. The above listed are some of the hand-picked plugins that offer an array of features designed to enhance the user experience, provide social proof, streamline processes, and optimize various aspects of your WooCommerce site.
By strategically integrating and utilizing these plugins, you can create a shopping environment that attracts customers and converts them into loyal advocates for your brand. Whether you're a new store owner or someone with an established WooCommerce business, exploring and implementing these WooCommerce plugins can pave the way for increased sales, improved customer satisfaction, and long-term success in the competitive world of online retail.