If you ever thought WordPress was just for blogging, it's time to think again. Over the years, WordPress has been a savior for millions of people who want to build their own websites. But here's the exciting part: It's not just about websites; this also applies to marketing! Imagine: every third website you visit is powered by WordPress. That's 33% of the entire Internet!
And guess what? People click on WordPress sites a staggering 20 billion times every month. That is more than twice the current population of the world! If you own a WordPress website, you may be wondering, "How can I use this great platform for marketing?". The answer is easier than you have ever thought of. In this article, we'll explore some great tips for upping your WordPress marketing.
So dive in and discover the wonderful world of WordPress marketing together! 
Brief introduction of WordPress
WordPress is a website builder, established in 2003. That's the world's most popular content management system, due to its open-source software model. However, that was not always the case.
In the first couple of years after its release, it was mainly used for blog creation by individuals. That was not a coincidence, since the creators had dreamed of a platform, where people could share their thoughts and ideas immediately with their audience.
The real breakthrough happened between 2004 and 2005, when the creators added many SEO-friendly updates, and then the themes functionality to WordPress. Later, more and more companies created their site with this software, as new and new features came up.
After 2010, the creator's goal was crystal clear: to build the most versatile website creator software. For the purpose of reaching this target, they added a couple of other functions, to make WordPress more detailed, just as:
image editing function
security features
custom post type
speed improvements
And many more.
The advantages of using WordPress
You might be wondering why WordPress is so incredibly popular. People don't choose WordPress by accident. They choose it because they know it and it's like a treasure chest full of goodies waiting to be opened.
Why are so many people convinced that WordPress is the way to go? Find out!
 It's completely free (mostly): first of all, WordPress is like the best free gift you ever got. You can create an amazing website without spending a single penny! Of course, there are paid versions with extra cool features, but you can do a lot with the free version. 
It's SEO friendly: WordPress works well with Google and other search engines. This means more people will find your website, which is very important if you want to get your message across. 
This is your online bodyguard: WordPress is your website's bodyguard. It takes security very seriously. This means that your website will not be attacked by fraudsters. So you can sleep easy knowing your website is secure. 
Super customizable: you can add all kinds of awesomeness to your website with just a few clicks. Want a great design? You got it right! Need a cool feature? There's a plugin for that! It's like a magic wand that makes your website do exactly what you want it to do. 
WordPress is not just a random choice. It's popular because it's free, Google-friendly, very secure, and incredibly customizable. It's like the Swiss Army Knife of the Internet, ready to help you build the website of your dreams. Now isn't that something to be excited about?
However, as it is the case with anything, your WordPress site can also go out of control. That's why it is important to optimize it, the best as you can.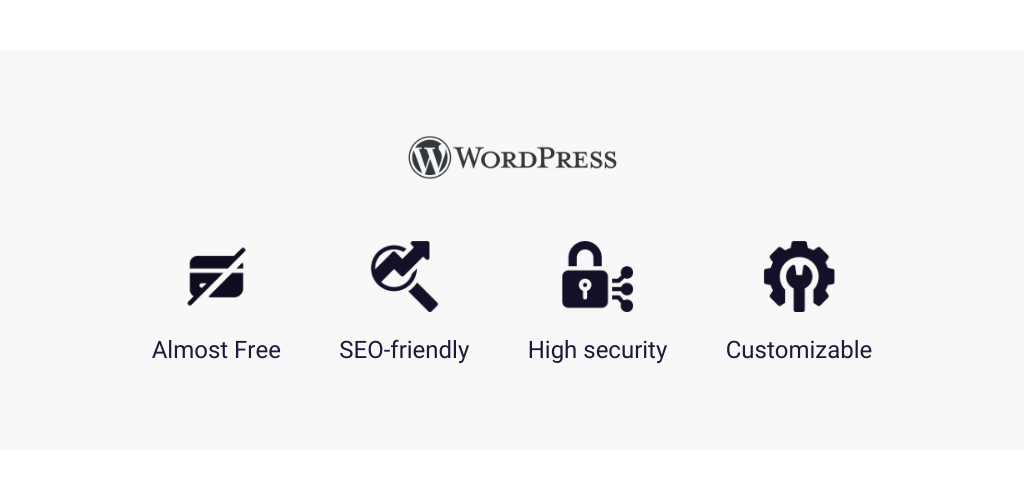 4+1 tips and tricks to make an efficient WordPress marketing
Creating a website was never enough. You need intensive marketing campaigns to search for people in your target groups.
Many of the new marketers have misbeliefs that marketing is all about making visual and written content and spreading it out on all of the company's social media accounts.
Unfortunately, that's just the tip of the iceberg. There are millions of other techniques that are less recognizable, but equally or more crucial than the mentioned one.
Some of these marketing techniques sources are not an external platform, but your website. In terms of these techniques, all website creator software has specific characteristics that make the marketer's tasks a little harder. Since different characteristics require different solutions.
In this article, I will introduce you to the specific jungle of WordPress, learning some of the unique marketing perks that may boost your visibility or reputation.
1. Make your site user-friendly 
Creating a website is great, but you know what's even cooler? Make sure it is very easy for people to use.
It's like inviting your friends to a party and making sure they have a good time. That's what a user-friendly website is all about – it's easy for visitors to find what they need quickly and without hassle. Here, I will bring you to three innovative ideas that lead you to the same strength: developing a user-friendly website.
Use a responsive theme
The features of themes were first introduced in 2005, when the founder of WordPress, Mark Mullenweg described this feature with these words:
"In 1.5 we have created an incredibly flexible theme system that adapts to you rather than expecting you to adapt to it. You can have your entire weblog run through a single file, just like before, or you can have a different template for every single different category."
In conclusion, as Mark said, WordPress themes are graphical elements that help you build a better exterior design for your site.
There are some regular WordPress templates to choose from, or you can set other themes by downloading them from additional WordPress theme manufacturers, or companies' sites.
But, that's just one thing. You have to achieve that the design that you dreamed of should appear the same way in each and every modern gadget. On laptops, PCs, mobiles, tablets, or smart TVs. The thing is, different resolutions may generate different bugs and bad designs.
That's why you must set a responsive layout!
If you have good programming knowledge you can create your own theme with possible responsive settings for all the possible devices. However, If you have not, you don't need to be devastated.
Many theme sellers provide you with at least a responsive mobile theme option, so you don't have to worry about the uncertainty of your mobile traffic.
Standardize the size of your images
Images can make or break your website. Using the wrong sizes can result in images that are all over the place – blurry, out of place, or cause your site to load slower than a sleepy sloth.
But don't worry, WordPress's got your back. It sorts the images into different categories – thumbnail, medium, large, or full size. You can also resize the images in your settings to fit your site perfectly.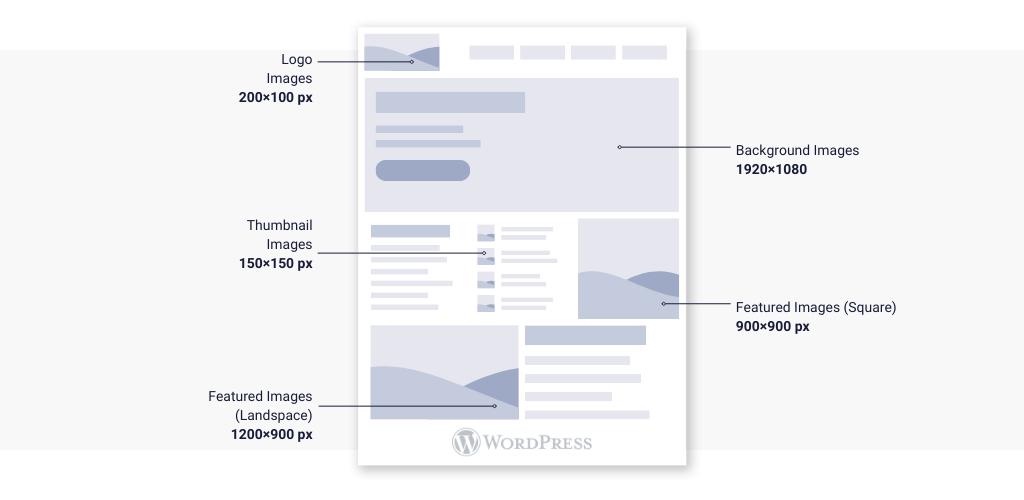 Use SEO Plugins
Okay, let's talk about SEO. What is that, you ask? Well, it's like a secret language understood by search engines like Google and Bing.
There are three types of panels on how you can make efficient marketing campaigns through search engines.
Search Engine Advertising: This is where you pay to have your website seen more often. In exchange for your money, Google will place your site at the top of their search results on certain keywords. 
Search Engine Optimization: This is like a magic spell that makes your website look great in the eyes of search engines. This will help you rank higher in search results. 
Search Engine Marketing: It's a bit of both, hardwork and money to make your website shine in search engines. 
The great thing is that WordPress has tons of SEO plugins, and many of them are free.
But what do these plugins do? You may ask a question like this. Short and simple: various things, for example:
Link Analysis
Provide you with basic statistical data (total clicks, search impressions)
Keyword positioning analysis
This and many other extra features are currently available with the AIOSEO plugin.
All in all, their features will help your site to get higher in search engine result rankings.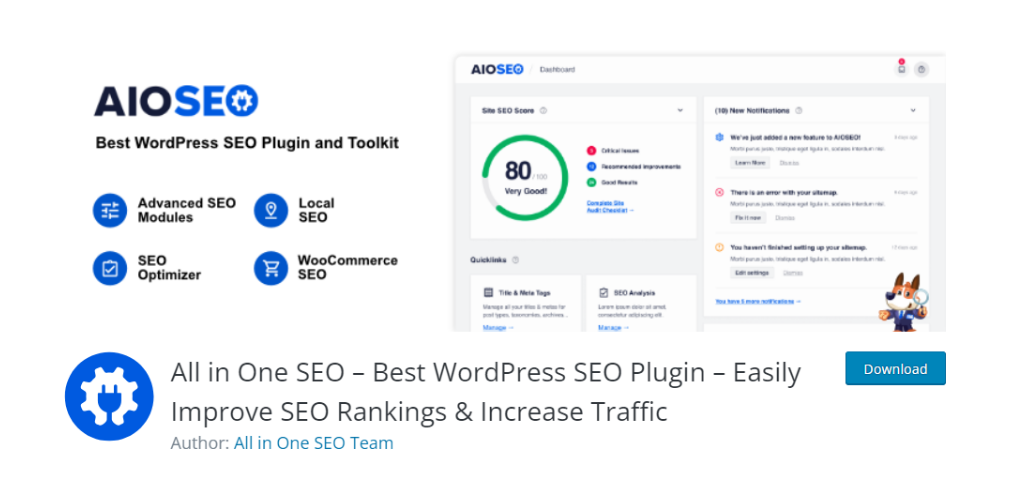 Adding blog content to your site
Your blog is like your website voice. It's where you get to talk to your visitors.
You can share your ideas, projects, and knowledge with them. You can teach them something cool or just have a friendly chat.
The more you talk, or in this case create blog content, the more people you can connect with. And if your content is interesting and useful, you will get even more visitors to your website.
But here's the magic part – blogging isn't just about talking to people. Although, it is not an irrelevant factor as well.
💡 According to one of HubSpot's research, 54% of the people with online presence tend to read at least one blog post every week. Another interesting part of the research is that 35% of the survey respondents believed the quantity of the blog posts they read has increased since the previous year. 
But that's just one-half of the cake. It also makes search engines like Google happy. You see, these search engines have a job: they look at websites and decide how to rank them in search results. So overall, your site can appear higher on search engines, if you have a blog. Although, this boost is unreachable by just introducing this feature. You need to focus on finding suitable keywords, climbing up on different trends, and inserting the connected content via link insertions.
The better you understand what makes search engines tick, the better your website will perform. So blogging is like giving your website a friendly voice that attracts visitors and makes search engines like you.
Empower your site by adding an accurate landing page
You might think that a landing page is only a small part of your website, but guess what? It is like a secret weapon that can make a big difference in a competitive world of work.
Think of the landing page as a joy for both halves. It's like saying, and "Hey, do you want something cool? Just share some information or create an account and you will get great rewards". It's a win-win situation! The visitor gets a free treat and the website owner gets one step closer to convincing them to buy something awesome.
And here's the exciting part: research shows that really great landing pages can convince more than 5% of the people who visit them. It's like turning every 20th visitor into a buyer.
But what makes a landing page effective? Well, it must have some special ingredients:
Unique Selling Proposition (USP): this is like your superpower. It tells people why your offer is special and different from others. 
Cool Graphics: the landing page should look good but not too crowded. Think of it as a fancy poster that grabs your attention. 
A few, but strong words: your headline and a few supporting words should be like a drumbeat before the main event. They must attract attention and make people curious.
Clear and distinctive CTA: a CTA is like a big and friendly button that tells visitors, "Click here to get a reward or buy now!". 
Fortunately, WordPress has a lot of great plugins that make it easy to create landing pages. You don't have to be a coder!
These plugins come with ready-to-use templates, drag-and-drop tools, and even a bunch of cool images.
Now you might be wondering if these plugins cost money. Well, some do, and they usually offer more features. But here's the good news: there are budget-friendly options. For example, you can start using Seedprod's basic plan for just $39.50 per year. It's not too bad for a powerful tool that can supercharge your site.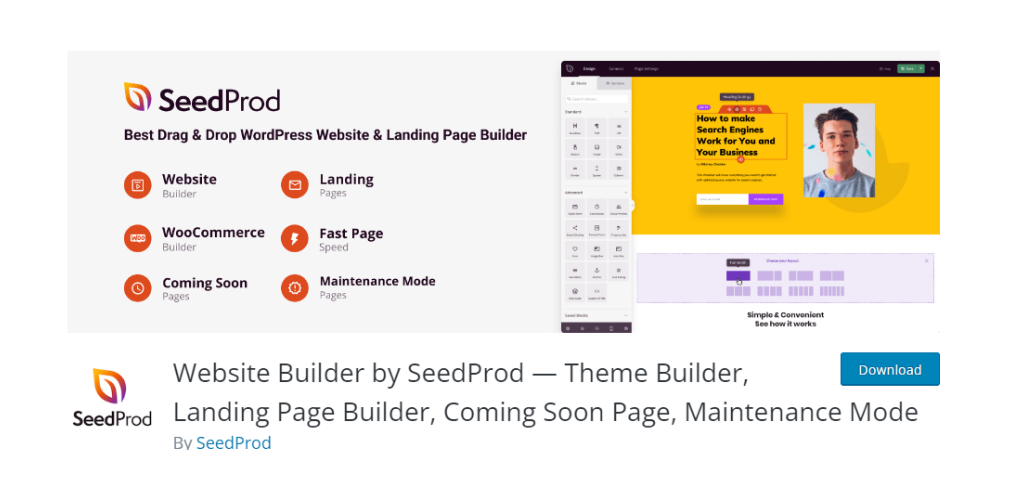 Use the WordPress events calendar feature
Nice, You've done a great job getting people to notice your website. Now is the time to turn them into loyal fans and customers.
But how do you do that? Well, there are tons of great tricks like loyalty programs, collecting customer feedback, social media engagement, and guess what, creating your own events.
I want to tell you a story that shows how powerful event creation can be. It is all about the famous magazine Glamour, which started publishing in 2004 in Hungary. They were all about the latest fashion trends for women. Many young girls had already heard of Glamour, so when they published a Hungarian magazine, many bought it.
But Glamour wanted to do something even cooler. They came up with an event called "Glamour Days". On these specific days, customers can get additional coupons from certain shops. It was a huge success and the "Glamour Days" became a famous event in Hungary.
Now, how do you let your customers know about your upcoming events, and how did Glamour notify its target groups about the upcoming events? One way is to create your own calendar and show people what the exciting future holds.
The good news is that if you use WordPress, you can create your own event calendar with just a few clicks. But the calendar feature is not all about showing your upcoming specific events, it has a bunch of other extra elements.
Seamless integration: it automatically fits into your website and design, so you don't have to worry about it looking weird. 
Easy Import of Events: you can import events from ICalendar or Google Calendar. You don't have to rewrite all the dates! 
Time Zone Support: this great feature displays events according to the local time and your visitor. No more confusion about when things happen.
Maps for Directions: Google Maps integration allows people to click on an event date and see where it's happening. 
All in all, with the WordPress Events Calendar, you can make it easy for your visitors to keep track of upcoming events.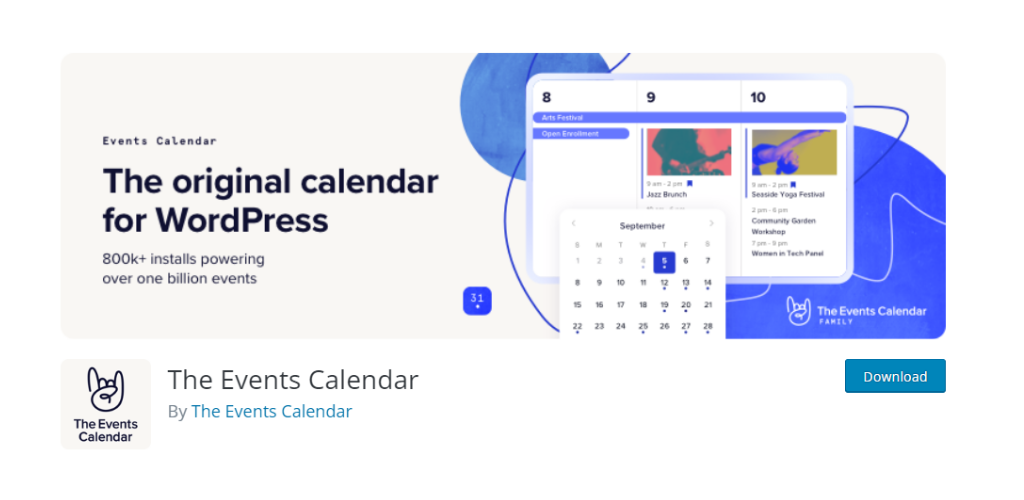 Use analytics plugins
You know, most people think that marketing is all about flashy ads and selling. However, the real secret of marketing is to understand what people want and give it to them. And that's where analytics comes in. Analytics is like a treasure map of your website. This will help you better understand your visitors, find out what they like and don't like, identify trends, and more. 
Fortunately, WordPress is here to make your life easier. They have these cool things called analytics plugins. These plugins are like magic tools to help you understand your customers even better. Choosing the right one can do wonders for your website in the long run.
💡 For example, improving conversion rates, increasing your audience, and more. Of course, you can buy an analytics service and set it up yourself. But let me tell you, it's like trying to give a speech to highly influential people, without any experience in speaking in front of a large audience. It is complex and needs some knowledge. 
On the other hand, WordPress plugins are kind of an easy way out. They are designed specifically for WordPress sites, so you don't have to worry about all the nitty-gritty details.
Some plugins like Capturly's, Crazy Egg's, or Lucky Orange's go beyond the usual analysis. They offer great things like heatmaps to see where people are clicking, session recordings to track how visitors use your site, and even a survey tool to help you better understand your customers' preferences and behaviors.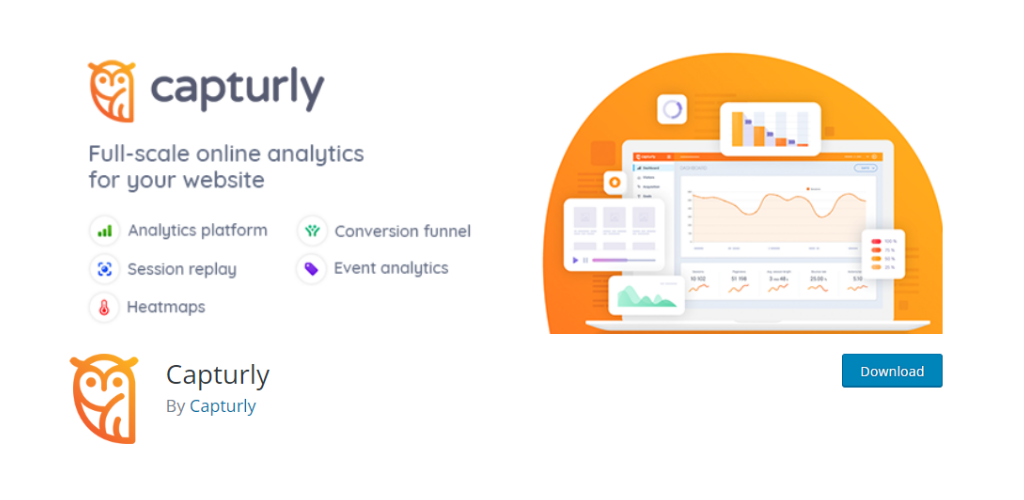 So, if you want to take a look inside your visitor's heads and make your website even better, analytics plugins are the way to go. They are like your secret weapon for understanding your audience and giving them exactly what they want.
Conclusion
You've learned a lot about WordPress and its amazing plugins, and you might feel like a kid in a candy store with tons of options. But wait a bit, before you start the download spree, there are some important things you need to remember. 
First, downloading every plugin you come across is not a good idea. It's like eating too much candy at once – it can make you sick. Too many plugins can slow down your site and we don't want that. 
Also, pay attention to ratings. When people rate a plugin poorly, there's usually a reason. It may not meet their expectations or there may be security issues. So pay attention and read these reviews. 
Finally, updates are your friend. If you see that a plugin hasn't been updated in a while, don't rush to install it. This can cause bugs and issues on your site and it's no fun at all. 
But don't worry! If you follow these rules and carefully choose the plugins and WordPress features most relevant to your needs, you will be on your way to success.
Think of WordPress as a vase and plugins as beautiful flowers placed inside it. With proper maintenance and the right choices, your website will bloom and grow. So take your time, choose the best tools for your website, and watch it flourish like a beautiful garden.