Hey there! Glad to see that you are all set to make a perfect WordPress website for your e-commerce brand. However, your presence here makes it evident that you have not selected the theme yet, but guess what? There's nothing to worry about – we've got you covered!
If you are struggling to choose a perfect WordPress theme for your store, take no stress, as we will be making it easy for you. However, before we proceed to discuss the essentials for your WordPress theme, as an expert, I would like to say something.
Remember that there's a massive variety of WordPress themes available, both paid and unpaid, but you must not become a victim of any scam. There is no guarantee that paid themes are better than free themes; similar is the case with their codes.
Therefore, you have to be very vigilant before you make up your mind. Ensure that the WordPress theme you are planning to select is high in quality, aesthetically pleasing, and includes all the functions your brand demands. Moreover, it must also offer customer support if you are going with a paid one.
To make the selection easier, in this article, we have jotted down 13 essentials that you must pay heed to while choosing the best WordPress theme for your e-commerce store. So, let's not extend our wait any further and jump straight into the traits!
Selecting The Best WordPress Theme For E-Commerce
1) Understand Your Brand Objectives
A common mistake that most brands make while selecting the theme for their WordPress site is they don't pay attention to the requirements of their brand. Before you get your hands on the right theme, first analyze what kind of information you are planning to drop for your e-store. Unless you don't know the primary goal of your WordPress site, you cannot find a perfect theme that aligns with your aim.
There are possibilities that you want to create a business page where your potential clients can find you and know more about you, or you want to set up a blog site where you can drop details about affiliate products, etc.
We conducted a survey and concluded the following results after an interaction with 100+ brands regarding their aims and objectives.
Many experts also build WordPress sites to showcase their creative work, so they can grow a community and later bring them to their e-commerce store. However, most WordPress sites are made to sell products, for which the theme must be integrated with woo commerce.
Therefore, whatever your major goal is, be very clear about it and its requirements. Otherwise, you might have to regret it later.
2) Always Go For A Light Weight Theme
Your theme represents a major fraction of the work for your website, and as such, it has a major impact on the performance and response times of your site. You cannot neglect the page speed in a lightweight theme since it affects everything from user experience to conversion rates to search engine optimization.
In terms of search engine rankings, you'll be heading in the right direction only if the theme of your WordPress website is lightweight and quick to load.
To know if the theme is lightweight or not, run a test using performance testing tools. Go for the ones that are most reliable for WordPress themes. For the free ones, it is recommended to use a throwaway sandbox first.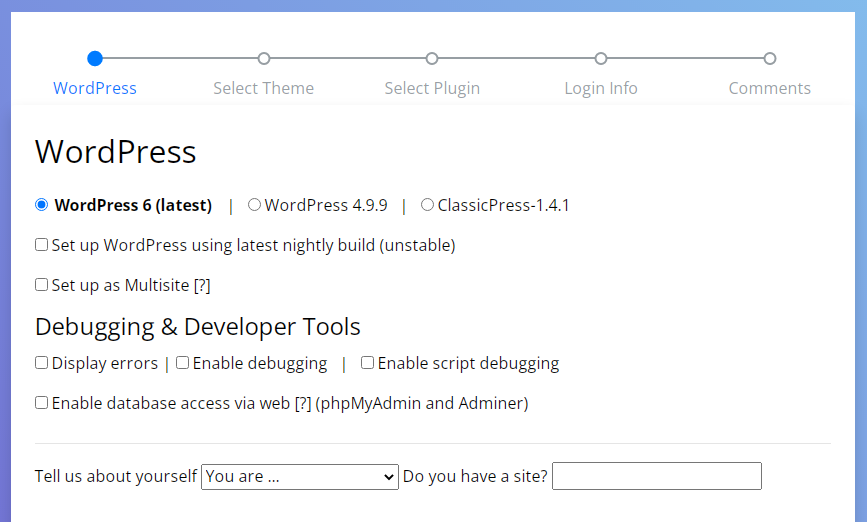 Screenshot Source: WPSandBox
You can install your free WordPress theme there and later run it through the performance testing tool to see how it works. The same goes for premium ones. You can get a decent idea of how optimized your selected theme is.
While doing all this testing, you must not forget that your concern here is only finding a lightweight theme first because it is your step towards better performance and fast loading. Users often end up utilizing a lot of time checking for other comments regarding the theme. So, you should avoid it and look for the speed of the theme only.
3) The Minimalist Will Be The Design, The More Will Be The Traffic
If you have been looking for a WordPress theme for your e-commerce for some time now, you must have seen how complex and colorful some themes are. At the same time, you may like a few of them but remember to go for the one that is simple and easy on your eyes. Never ever settle for a complicated one.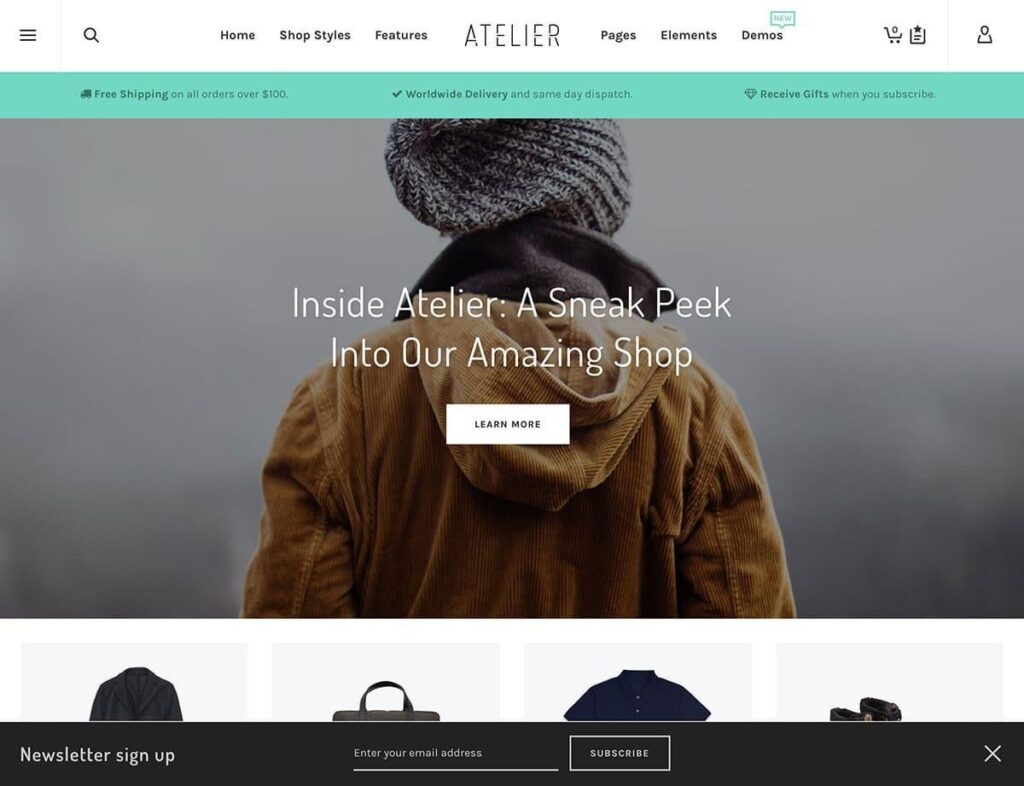 Screenshot Source: ThemeForest
There are a number of themes available that have excellent animations, great layouts and amazing color palettes with fine sliders. Chances are your brand requires you to go extra, but in most cases, you have to remain minimal and grounded because it is true that a clean design is more appreciated.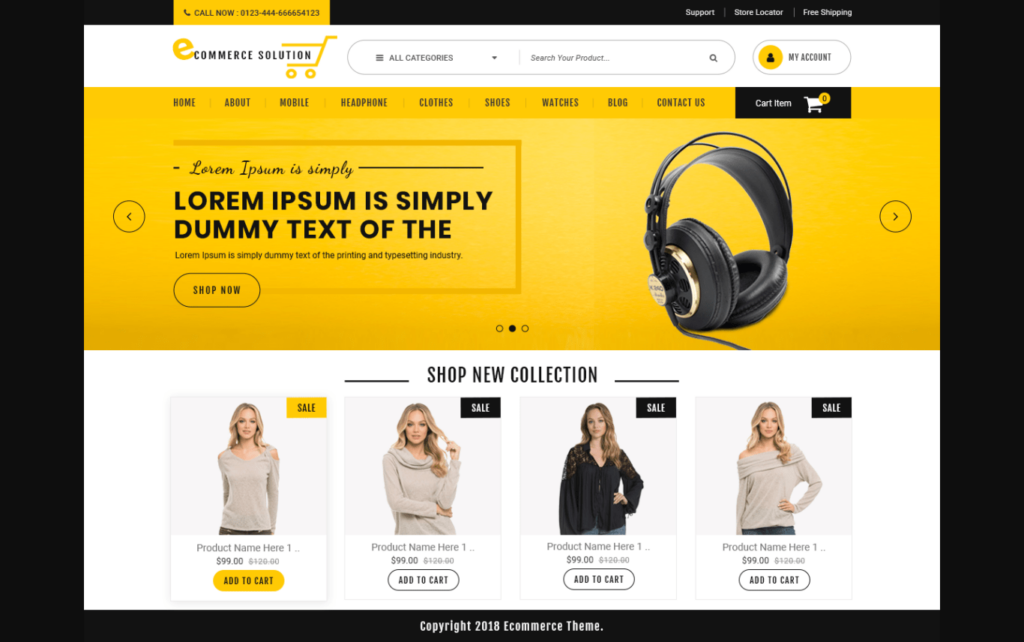 Image Source: WordPress
Therefore, better go for the theme that is less complex, decent and yet competent. Remember, the target of your WordPress site is to help your potential client find their required information as quickly as possible, and it is only possible when your theme is uncomplicated. Otherwise, it can cause pain for your customers, which is not a good sign.
4) Go For A Theme That You Can Customize The Way You Want
Themes that are easy to customize are our favorite. Every time you plan to choose a WordPress theme, make sure to go with the one that can be customized, so you can build your e-commerce site exactly the way you like. I am not saying that you can never get a perfectly made site. No, but there are only a few lucky ones who find exactly what they are looking for. Otherwise, in most cases, editing is required.
Suppose you have found a theme that is pixel-perfect; that's great for you! But the probability of this is pretty rare. I had seen many marketers who end up tweaking their themes, even when the demo theme was exactly according to their plan. Therefore, I always recommend going for a theme that you can customize according to your needs.
Image Credits: WordPress Screenshot
The customization can be done through WordPress theme customizers. However, the theme options panel is also a reliable alternative. A theme that lets you have control over the color scheme, widgets, layout, and font choice is unboundedly the best. However, it's recommended by the Crowd Writer to have sound technical knowledge for it.
5) Getting Your Hands On Responsive Design Is Essential
Amidst all these important points, don't forget that a responsive website and your website looking good on all screen sizes is also essential. According to Oberlo, 52.79% of the traffic comes from mobile devices, as compared to 47.21% coming from desktops. The number may vary for the niche of your WordPress site, but the result will not be very distinct. Therefore, your site must not compromise on how it looks on mobile screens.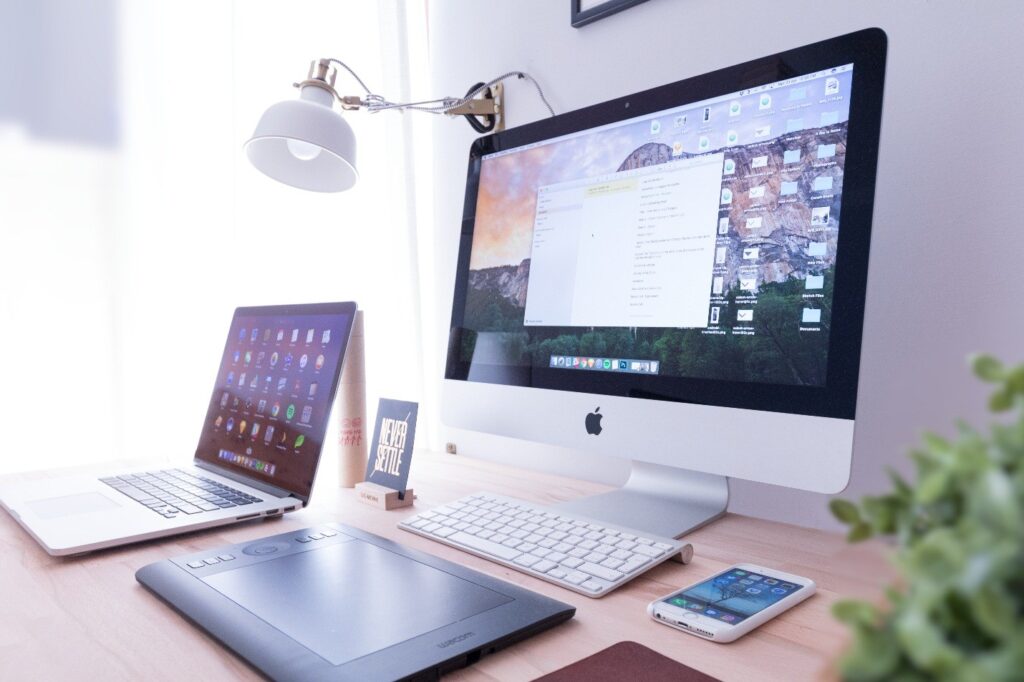 Source: Unsplash
It is said that a good theme adapts to different browsers, screens and devices so that every single visitor visiting the website can have an excellent experience. It is better to preview your WordPress website theme on all screen sizes first, especially smartphone and tablet screens because it is where the majority of your audience will view your website from. The same goes for browsers. Test your theme in different browsers to see if it's working perfectly across browsers as well. 
6) Pick A Theme That's Built To Integrate With A Plugin
Most WordPress plugins are supported by themes. However, if your theme is inadequately coded or if it adds too many features similar to plugins, you may experience a collision and face WordPress issues. Moreover, you might also lose those features if you ever wish to switch themes or modify the design of your website. Because of this, we advise selecting a basic WordPress theme and utilizing plugins to increase functionality.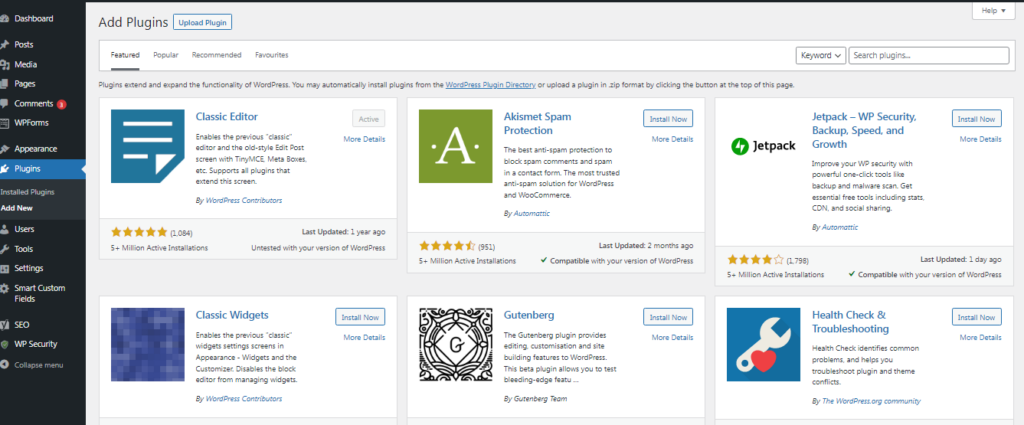 Image Credits: WordPress Screenshot
How well your theme connects with other plugins is the key factor to take into account in this situation. If it's already configured to function, you're off to a fantastic start. Since you are planning to run an e-commerce store, here is a piece of advice. Go for a theme that is built to put together with the Woocommerce plugin. This is especially recommended for e-commerce functionality. 
7) Ensure Your Selected Theme Offers Developer's Support 
Your dream theme is fantastic when it offers developer's support too. If you are a beginner, it is crucial for you to end up with a theme that has a support package.
No matter if you are a pro or a newbie and know much about WordPress, always remember this suggestion to get your hands on the theme that has an active customer support team. There are times when even developers and designers with solid WordPress skills get stuck. At such times, you need some guidance or someone who can offer their help, and at such times, there is no one as helpful as active developers.
If you are going with a free theme, chances are you might not get regular support. However, if you are opting for the paid one, you can avail of the offer for up to 6 to 12 months, and some also offer an option to renew to continue receiving customer support. 
8) Check Out Customer Testimonials Before You Make The Decision
If you are someone who often overlooks the power of customer testimonials, you really need to rethink your decision. We always ask our readers to first check out the reputation of the theme they are planning to buy and then invest their hard-earned money in it. Likewise, we are also suggesting you first have a look at review sites, platforms, etc., or talk to someone who has hands-on experience with the theme of your choice.
This practice can help you save some good money. Once you have read enough good reviews and are content with the decision, then make your purchase. Check out how the performance of the theme is, whether it is hard to use or is it easy, etc. Also, make sure to confirm if the theme is worth spending money on or not.
9) Settle On the Theme That Is Optimized For Search Engines
To rank your posts on Google or any other search engine, content is not the only key! The theme of your website also plays a very critical role here. The same is the case with the WordPress theme for your e-commerce website.
Unless the theme is not SEO friendly, you cannot get your desired traffic. Many people confuse SEO friendliness with a good-looking design, but people, please don't get dodged! There are many chances that your website's template is extremely good-looking but still produces weakly coded HTML. This can significantly impact your website's ranking in search engines. 
This is why during assignment assistance, you must ask the WordPress theme developers if their theme is optimized for SEO or not. According to them, you must look for these nine points while selecting an SEO-friendly WordPress theme.
Check for the responsiveness of the theme.

Prioritize the mobile-first design.

Look for cross-browser compatibility.

Analyze if the theme supports SEO plugins like Perf Matters, etc.

Avoid themes with homepage sliders.

Go for the themes developed especially for SEO.

Seek out schema.org markups.

See if the theme provides user-friendly navigation.

Test for the loading speed of the theme.
Remember, it can get difficult for you to analyze the theme's source code yourself. Therefore, it is absolutely okay to get the query answered beforehand.
Search engine ranking is also one of the main reasons experts recommend having a clean, decent and quick loading theme. If all these traits are in your website and it's lightweight, you are all set to rock the SERPs. Moreover, there are also plugins that you can use to further optimize your website and get more traffic, which eventually means better ranking!
10) Ensure That The Selected Theme Was Updated At least Six Months Ago
Ensure that your desired theme is updated regularly. This practice makes it certain that your theme is up to date. Working with the most recent WordPress releases also helps in keeping the website safe and secure. Whenever you view a theme in the WordPress library, make sure to check when the theme was last updated.
This is an important thing to look for since there are always new versions of WordPress releases. Having a theme that is regularly updated closes the door to poor security and prevents clashes with other plugins on your website.
11) There Is No Guarantee That Premium Theme Is Better Than The Free Theme 
All the newbies and beginners reading this article, please pay attention! You might have this thing in your mind that paid themes are better than the free ones, but here we are, breaking this to you that there is no guarantee for that! Though, there are sites that will say that paid ones are better than free ones. However, in reality, it is not always true and also not always false.
There are chances that premium/paid ones are more secure, they have cleaner codes and are updated regularly, but equal are the chances for the free WordPress themes too. So, be watchful and don't get hung up on this debate.
Remember, both themes are a group of code, and there is always a probability that premium ones are poorly written while the free ones are done excellently. So, don't trust any of such statements. Instead, go for a test check.
12) Choose A Theme That Has Features Your E-Commerce Demands
Most of the themes offer customization options, but it is good to have an already complete theme with the right features that your brand demands. The overall complete theme hits differently when it is aligned with all required features.
Screenshot Source: WordPress
We advise you to match your brand's vitals with a theme's aesthetics and features and then make any decision. If your e-commerce site is for modern and creative products, look for themes that have top-class animations, features, and outstanding image styles to bring an artistic look. Similar is the case for all other requirements that your brand may have.
13) Don't Worry About The Rest; Plugins Are To Your Help!
After all, this, if you are still lacking somewhere, don't worry because you still have plugins at your rescue. For all additional functionality, go for plugins that are highly recommended by experts.
If you are planning to go for a theme that can offer you both; design and functionality, skip this thought right away. Otherwise, you will be locked into looking for that particular theme for life. Be careful with whatever decision you make. Think that there is no way to go back!
Wrapping Up
I hope that all the must-to-consider points you read will come to your help. However, in case of questions or queries, you can always get in touch. All the above essentials that you have read are suggested by experts, and a number of people have benefited from them. Let us know in the comment section how your experience was; we'll wait to hear back from you!
---
Author Bio
Claudia Jeffrey is currently working as an Editor at Crowd Writer and Dissertation Assistance, where she also offers students HND assignments help. Claudia loves to share her knowledge and experience with the readers. She often blogs at Word Count Jet. Claudia travels and explores the beauty of nature whenever she gets time.