What is a session recording software?
Session recording, commonly known as session replay, is an important facility that many expert search companies offer. Its main function is to record a user's journey on a website from their very first action to the last one, enabling a complete and comprehensive assessment.
After the users complete their sessions, whether it's a goal accomplished or a bounce from the site, the recording of the session reveals a wealth of knowledge. You can access valuable facts after customer clicks, scrolls, identify problem areas, or perhaps powerful moments when they achieved their goals.
This method of data analysis is similar to looking into the minds of customers. This allows you to confirm or refute previous assumptions and adjust your website exactly according to the expectations of your customers.
Benefits of using a session recording plugin
Now let's take a closer look at why you should choose a WordPress session recording plugin instead of trying to set up a standalone visitor tracking analytics tool.
What's the use of session recordings?
Imagine this: Google Analytics tells you that there is a problem with your website, such as a drop off results or traffic. This is definitely useful information. However, this is only the tip of the iceberg.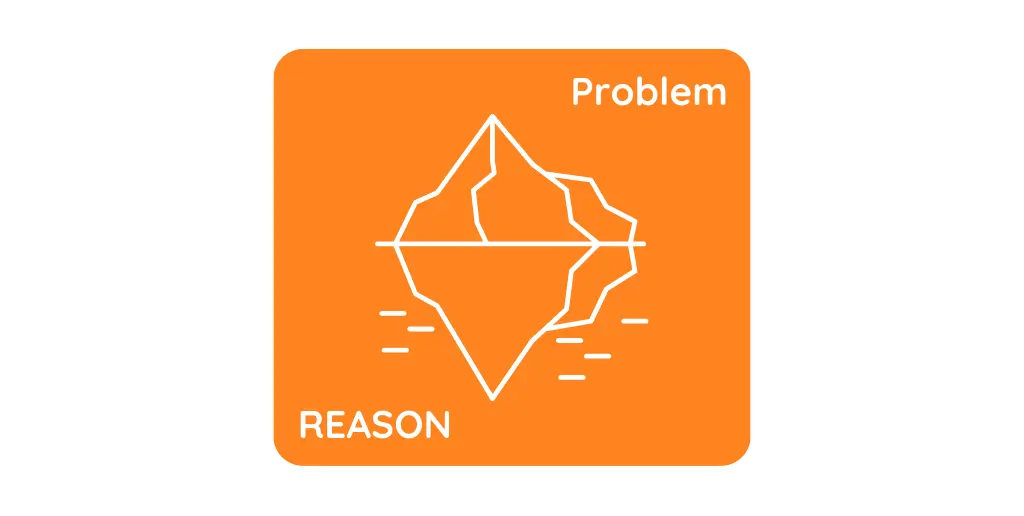 The real question is: "Why does this happen?" This is where session recordings come in handy.
They provide much-needed context as a detective finds clues at a crime scene. It's the difference between realizing something is wrong and understanding the complex web of factors contributing to the problem.
To understand the comparison, consider the disease. Sometimes the symptoms may seem simple and immediate treatment is all that is needed. But in other cases, the disease can have a deeper and more complex origin. It takes a professional psychologist to understand that the problem is not physical but in the soul.
This analogy applies in the field of data analysis. Whether you are aware of the problem or not, understanding its root causes is essential. Session recording tools are your way to uncover these mysteries.
But why do I need WordPress plugins?
Websites come in different shapes and sizes, with different programming languages ​​and unique interior design solutions. Setting up data analytics software without a professional programmer can be challenging, often beyond the reach of marketers or economists.
However, the story of WordPress sites evolves differently. They share a common architecture that makes them remarkably similar under the hood. Although their appearance may vary, their basic software systems remain consistent.
This is exactly why WordPress plugins are the solution. They integrate seamlessly with your website's existing infrastructure, eliminating the need for complex programming.
With just a few simple clicks and following the included instructions, you can harness the power of session recording without breaking a sweat.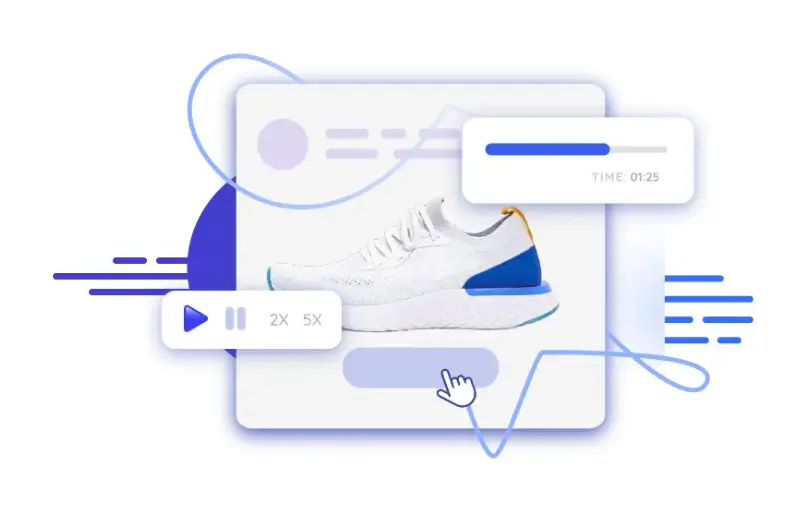 Best session recording plugins for WordPress in 2023
Luckily, in the last couple of years, many data analytics companies have thought about this segment and introduced their tool on this platform. Nowadays, the biggest website analytics companies appear on this platform with their latest updates.
However, as this article is not all about the plugins itself, I have to state two different filtering specifications.
The plugin has to contain session recording software, as this is vital in this introduction
There must be a free part of the tool to be accessible to everyone
Before diving into the top picks, it's important to consider why two popular competitors, MonsterInsights and Crazy Egg, didn't make the list.
Although widely downloaded by WordPress users, MonsterInsights lacks a session recording tool, which makes it unsuitable for our purposes.
Crazy Egg, on the other hand, offers a session recorder but limits its free version to a one-month trial, in which case it doesn't qualify.
Now that we've explained our criteria, let's get down to finding the best session recording tools for WordPress.
Capturly
Capturly was established in 2016, with a small team of expertise. Throughout the years, our team has gotten bigger and bigger due to the great number of clients we earned.
These days we are currently working with many famous companies, like Movistar, Proofhub, or Uber, to help them understand their visitors, and make decisions based on their comments and behavior.
Insight: How to install Capturly's WordPress plugin in under 5 minutes?
There is no easier task in the world than installing our tool to your WordPress account!
First, you have to sign in to your Capturly account or create one. After you end your sign-in, or registration process, you are automatically directed to the welcome page.
Here, you will see a JavaScript snippet that you need to copy as this is your tracking code.
After this, you need to sign in to your WordPress account and go to the "plugins" sub-page.
Then click on the ''add new" button, and type "Capturly" in the search bar.
When Capturly's plugin pops up at the top of your screen, click the "Install now" button.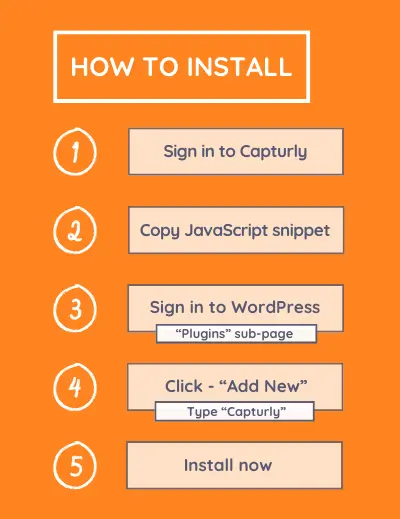 When you download that designated plugin, you are not done yet. You need to activate it from the "Plugins" – "Installed plugins" menu bar.
Then click on the "Settings" menu bar, and insert Capturly's tracking code in the designated rectangle. Do not forget to click the "Save changes" button, after you pasted the code correctly.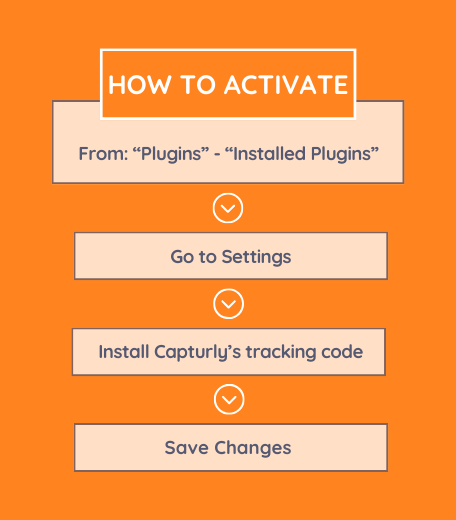 And there you go! You completed the process, and you can finally enjoy your time while using our data analytics tool.
Our tool is not just for recording mouse movements and clicks. It contains so much more! For example, it can record rage clicks, JavaScript errors, U-turns, events, goals, mouse-outs and even surveys.
Filtering options of Capturly's Session Recording Plugin
To save some time, in the meantime, while you examine your user's sessions, filtering options will be your best friend.
As the name stands for itself, these settings will let you segment your searches between the sessions.
Luckily, Capturly ensures tremendous amounts of filtering options. As I cannot list all of them, I am trying to highlight the most important ones. There is an operating system, and browser filtering; behavioral filtering, session attribute filtering, and locational filtering.
These are the basic ones, which happen to have in all of the big data analytics companies.
However, Capturly offers a path-filtering option. Here, you can filter sessions based on the path your visitors took, including the specific page(s) they visited, landed on, or exited from.
If you want to filter by pages or sub-pages, when you are only curious about the selected page's session recordings, there are no limitations to doing that with our tool.
You can simply paste the designated page's URL, and the tool will list all of the passed matches.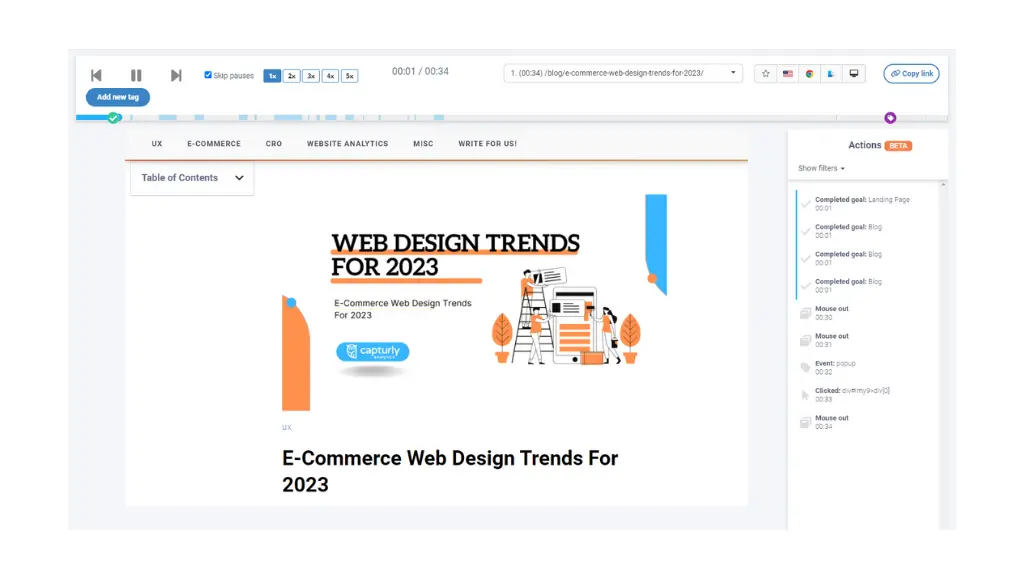 Extras: Live Session Recording
If we are moving to the extra elements of Capturly's session recording plugin, there is one thing that I absolutely need to mention. And that is the live session recording tracker function.
With this great feature, you no longer need to wait a minimum of two hours to get the sessions finished by your users. As those sessions will show up in your system in the meantime of your users' sessions.
This is a very powerful strength.
Just think about it: when one of your clients needs immediate help, because of a very tricky issue, you have to take action as soon as possible.
If you are eligible to gain insight into their current session, you have a great advantage compared to those who have to wait hours to analyze the highlighted session.
If we are going forward to the current state of Capturly's WordPress plugin, we can be satisfied with the situation. As the thing stands, Capturly has been updated with the latest WordPress release, called "Lionel" (6.3 version).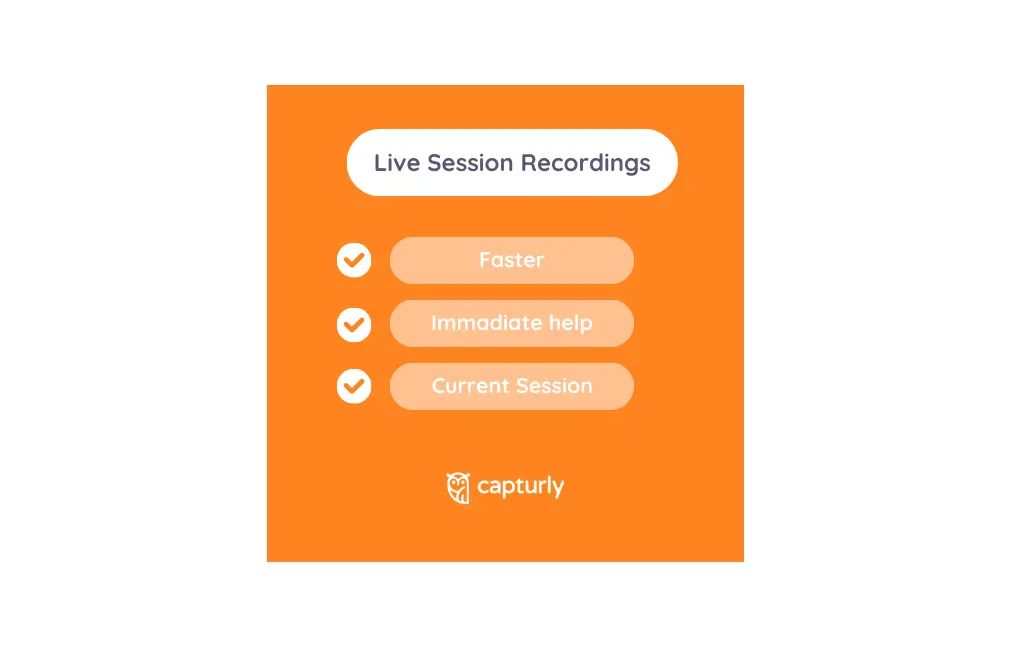 Capturly's free plan
In this article, a crucial aspect is the price factor.
I try to present to you the best session recording plugins for WordPress, which you can use for free as well. All of the five session recording tools that I will show you later give access to some of their features for unlimited time.
But the provided quantity is not the same. Some data analytics companies may think of their free version as a demo, which you can try, but isn't really useful for a longer period.
With Capturly, the situation is a little different. Capturly lets you record up to 1000 different sessions in a single month, without paying a single penny in exchange.
Outside of this, you have 1 month of data retention time, unlimited heatmaps, and one funnel to analyze.
Capturly features
Capturly is not only famous for its well-equipped session recording tool, but we give access to some other tools ensuring to be one of the most in-depth data analytics software.
We have a:
heatmap
✅ conversion funnel
✅ analytics platform
✅ event analytics
✅ surveys features.
Pricing of Capturly
Excluding the free package, Capturly offers 3 different packages to choose from.
Lite Plan: 5000 sessions per month with 6 months of data retention for $29.
Pro Plan: 15000 sessions per month with 12 months of data retention for $79.
Enterprise Plan: tailored to the customer's needs from a later discussion.

Lucky Orange
Founded in 2010, Lucky Orange has become one of the most well-known data analytics companies. It is distinguished by a user-friendly design decorated with colorful elements that facilitate user learning.
Lucky Orange's tool can track rage clicks, JavaScript errors, U-turns, other particular events (clicks, scrolls), and goals.
Filtering options of Lucky Orange's Recordings
Lucky Orange has uncountable filtering possibilities, for example: technological attribute filtering, session attribute filtering, behavioral filtering, path-filtering, and demographic filtering capabilities.
They also provide their customers with some extra functions.
One of these is a trivial, but very effective update. In their tool, profiles and sessions are connected. So, if you click on a profile, you can watch every session connected to that user. This way, you will get a greater picture of user patterns, and you can analyze whether your updates fix the arisen issues.
I am also curious about how well the tool resonates with WordPress. Unfortunately, Lucky Orange hasn't updated their tool to the latest 3 updates of WordPress, so this app is a little outdated.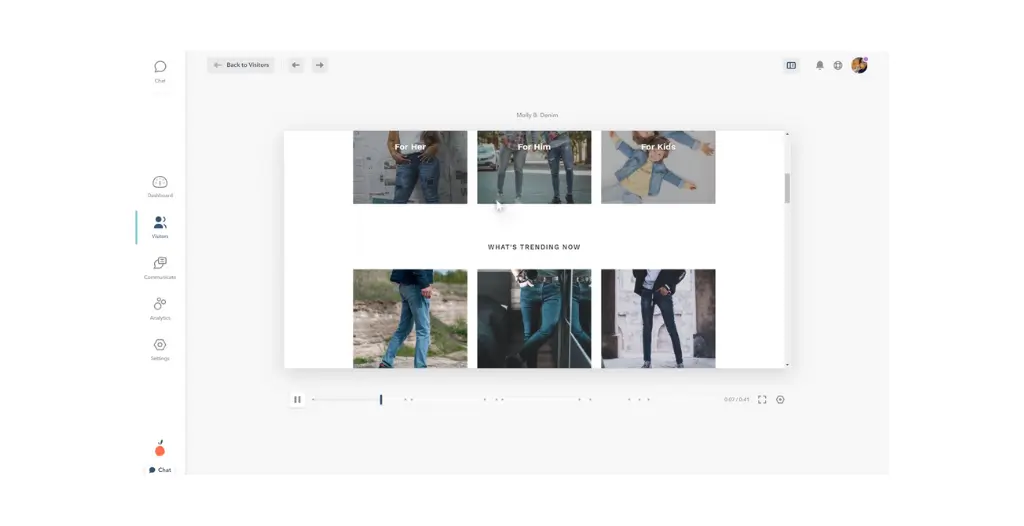 Lucky Orange's free plan
This company enables you to record 100 sessions for a month and store these data for 30 days. Although these numbers are relatively low, a smaller company may use this plan for years.
Outside of their in-depth session recording tool, they also provide you with the following tools:
dynamic heatmaps
conversion funnel
surveys
live chat
dashboard insight
form analytics
visitor profiles
announcements
Pricing of Lucky Orange
For those looking for more comprehensive features, in addition to the free offer, Lucky Orange offers five different packages to suit different needs and budgets:
Build Plan: 5000 sessions per month with 60 days of data retention for $39.
Grow Plan: 15000 sessions per month with 60 days of data retention for $79.
Expand Plan: 45000 sessions per month with 60 days of data retention for $179.
Scale Plan: 300000 sessions per month with 60 days of data retention for $749.
Enterprise Plan: Customized pricing available after a discussion.

Hotjar
Hotjar started its journey in 2014, and very rapidly conquered the whole analytics market, thanks to their very innovative vision, and creative mindset.
More than 1 million websites have worked with them throughout their career, in this comparison, Hotjar has the most experience serving the customer's needs.
But what about their session recording tool? Let's find out!
Filtering options of Hotjar's Session Recordings
Hotjar gives you the ability to delve into user behavior by recording important interactions.
You can study visitor clicks, rolls, pivots, and even identify rage clicks—moments of frustration that can reveal critical pain points.
Additionally, Hotjar introduces a unique dimension with its frustration and engagement point system. This system measures each user's experience extensively and gives you valuable information to improve website performance.
In this list, Hotjar has the most filtering capabilities, since they have more than 20 different options.
Highlighting just a few, there are:
Path filtering
behavioral filtering
User attributes filtering
Technological filtering
And more other ones (duration/country/page count and so on)
They also provide you with some extra functions. These are usually integrated for the user's convenience.
With their tool, you can share your session recordings with your team, you can even export these to your company's Slack group chats.
Unfortunately, they also failed to update their plugin to the 3 latest WordPress versions.
Because of this outdated scenario, many of their customers are complaining about certain functions that aren't working perfectly right now. Whether these are one-time problems or trends, I advise you to wait before they update their plugin.
Definitely, it will come soon!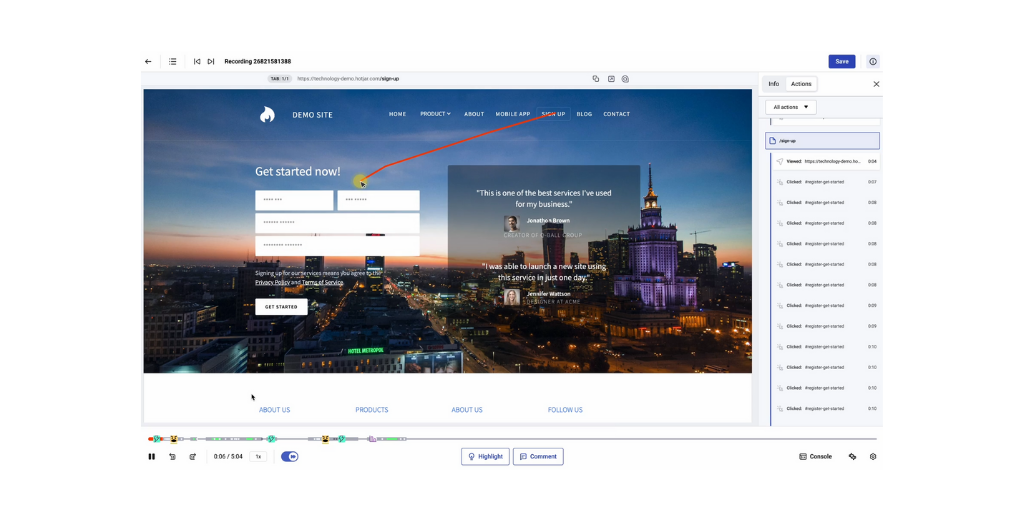 Hotjar's free plan
Hotjar's free plan allows you to record 35 sessions per day. While this may seem limited compared to some competitors, it's important to remember that others set monthly session limits.
What really sets Hotjar apart from the rest is its generous data retention period – you can keep your data for an entire year. This feature is unmatched by their counterparts.
Hotjar offers separate packages for different activities, and the "observation" plan focuses mainly on analyzing sessions.
Pricing of Hotjar
For those seeking to expand their analytics capabilities, Hotjar offers three distinct "observe" plans, each tailored to suit different requirements:
Plus: Priced at $39 per month, it offers a maximum of 100 daily sessions and 365 days of data retention.
Business: At $99 per month, this plan provides a customizable maximum of 500 daily sessions and maintains 365 days of data retention.
Scale: Priced at $213 per month, the Scale plan offers the same customizable 500 daily sessions limit and 365 days of data retention.

Inspectlet
This company was founded in 2011, which makes Inspectlet to be one of the oldest businesses in this industry. Since 2011, they have worked with almost 90 thousand unique businesses, including great names, like eBay, Shopify, and Mediafire.
Filtering options of Inspectlet's Recordings
Inspectlet also offers a great number of filtering options. You can set the number of pages/sessions a customer goes through, or if you want, you can set maximum and minimum values to filter for quick or slow sessions.
Other simple filtering options exist here as well, just as: IP address filtering, country, display name, and filtering between browsers.
They own a so-called navigation-path filtering, the same thing that I mentioned in Capturly's part.
Inspectlet's WordPress client also misses out on the three latest WordPress updates. This means that unexpected bugs may occur during the use of their WordPress tool.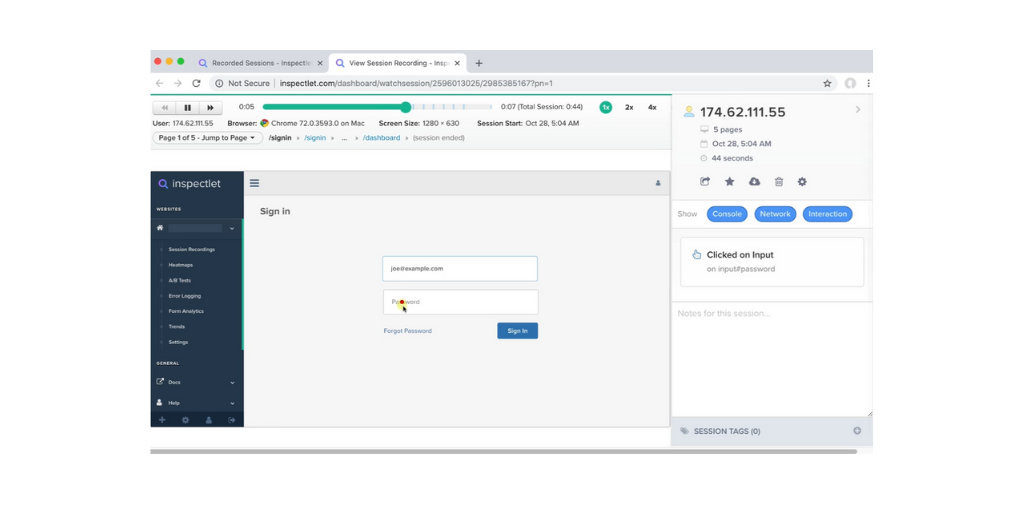 Inspectlet's free plan
They also have a free option, and I am happy to announce it's enough for small businesses, and it can be a good demo for bigger ones.
They let you record 2500 unique sessions for a month, however, they only offer one week of data retention time. If it is crucial for you to store your data for a longer time, you might switch to another tool.
A great number of other tools are available in their services as well, like:
Dynamic heatmap
A/B testing
Feedback surveys
Form analytics
Error logging functions.
Pricing of Inspectlet
In addition to their free packages, you might be curious about their paid plans as well. In this comparison Inspectlet offers the most packages to their customers: they have 9 different options.
Although, five of them are called "Enterprise" plans, as they are very similar to each other.
Because of this reason, I will only mention one of these five.
Micro plan: 10000 sessions per month with 2 months of data retention for $39.
Start-up plan: 25000 sessions per month with 3 months of data retention for $79.
Growth plan: 50000 sessions per month with 6 months of data retention for $149.
Accelerate plan: 125000 sessions per month with 1 year of data retention for $299.
Enterprise plan: Customized pricing available after a discussion.

Twipla
Twipla was founded in 2016 and is located in Germany and Cluj. Based on their own calculations they have more than 2,5 million active users from 190 countries in the world.
They also provide a session recording tool through WordPress, and as things stand, they have one of the most given ratings inside the WordPress plugin's subpage.
Let's move on to their session recording tool.
Twipla's tool tracks clicks, typings, scrolls, resized windows, and changing values separately. However, this software misses out on some extras, like detecting U-turns, for example.
Filtering options of Twipla's Session Recordings
They also offer filtering options, just like: by browser, referrer, screen resolution, operating system, and visitor type (new or returning).
They have already updated their tool to the latest major update of WordPress which is a huge strength, as many of their competitors haven't taken this into account yet.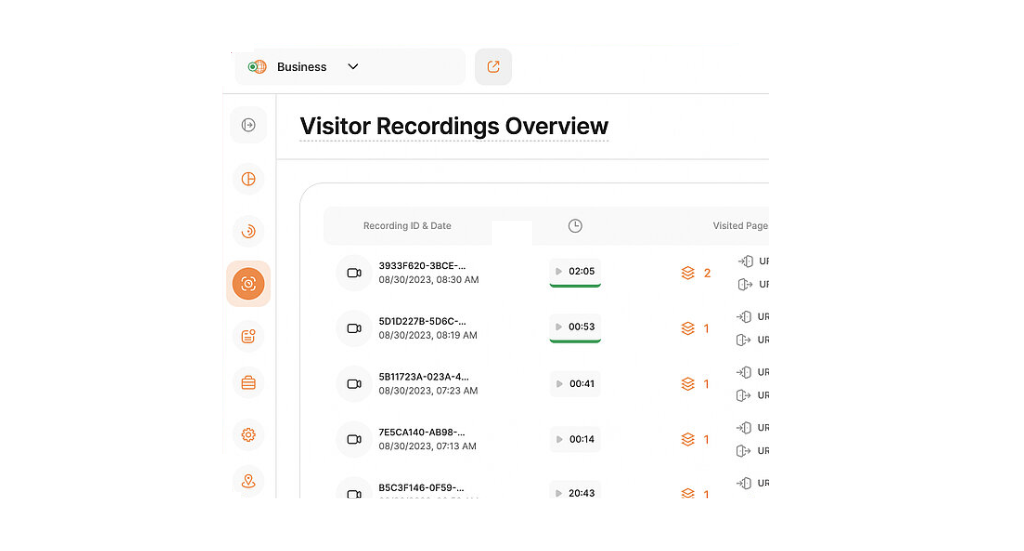 Twipla's free plan
They also included a free option on their data analytics tool, although it is more like a beta version, than a full-value service. Twipla offers 400 sessions for a month, and a not indicated data retention time.
Twipla also offers some other tools, which are included even in their free plan, these are:
custom event tracking
conversion funnel analysis
survey
poll
Moreover, they have a unique company reveal feature that neither of the introduced companies has. However, this is only available in their most expensive packages.
Pricing of Twipla
By the way, plans. They have 4 different options outside the free plan. Let's dive into these specifics:
Basic plan: 10000 sessions per month for $12.99.
Advanced plan: 25000 sessions per month for $24.99.
Pro plan: 50000 sessions per month for $39.99.
Custom Enterprise plan: Customized pricing is available after a discussion.

Conclusion
In the last couple of years, the market need for an accurate and in-depth session recording tool has increased.
Whether you think that your customers decide what they need, and not the company decides what the customers want, or reverse, the trends show that's not what decides between a successful and an unsuccessful company.
The real thing is, and the most relevant one to understand your customer's preferences, and take action before they start complaining.
That's why you need to learn how to use session recording tools!
All of these introduced session recording plugins for WordPress will definitely help you stay close to the path, and they all shine the torch in the darkness.
Making a decision from well-informed data will bring you more success, than anything else.