Retail ecommerce surpassed $4.9 trillion in worldwide sales in 2021. And there's no slowing down in sight.
So how do you capture a slice of this lucrative pie?
It all starts with choosing the proper payment solution for your ecommerce business. After all, if you don't have a payment solution, there's no way for your company to collect money from your customers. A good payment solution can help you grow your business, make it more competitive in the market, avoid customer churn, and improve the customer experience.
On the other hand, choosing the wrong payment solution for your needs could cost you in lost revenue or larger expenses down the road. And the last thing you want is to pass off higher fees to your customers, with 55% of online shoppers already abandoning their cart because extra costs were too high.
To help you avoid this situation, we'll take an in-depth look at what makes a suitable payment solution, the difference between payment gateways and payment processors, and how to select the best solution for your needs.
Let's dive in.
The importance of a payment solution
It's no secret that payments are a massive part of our daily lives. From paying for gas to buying groceries, we're constantly participating in some way, share or form.
The goal of any business is to collect payments from customers in exchange for a product or service. A payment solution is a technology that allows you to engage successfully in this transaction.
Payment solutions are a necessary part of your business success. However, you can't just choose one willy-nilly. You are dealing with money and highly sensitive customer data, two things you never want compromised.
Increased payment security helps build trust with customers and drive conversions. Choosing the proper payment solution from the start helps improve your overall security and compliance with customer data.
If your payment solution isn't quick and easy to use, it could cause customers to abandon their cart. Research shows that 26% of people left their cart during checkout due to a long or complicated checkout process. And 6% abandon due to lack of payment options.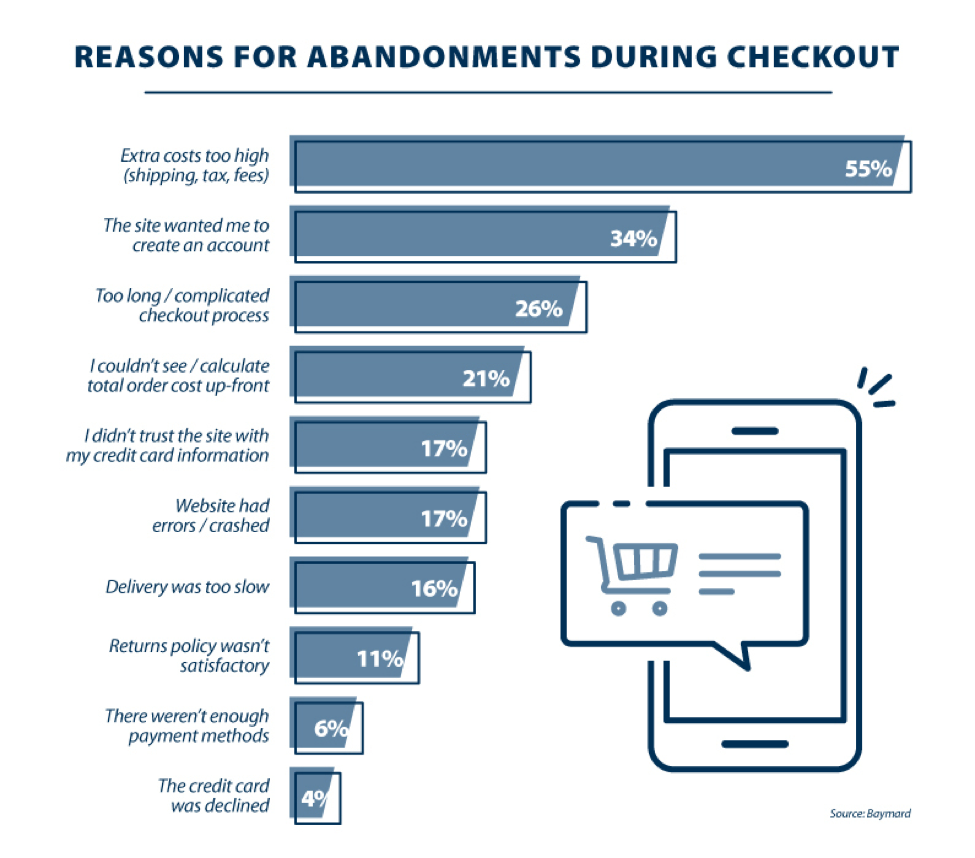 Not all payment solutions are created equal. So let's explore which solutions work best for long-term business success.
Top worldwide online payment options
Before we dive into the meat and potatoes of how payment processing works, let's review some of the most common online payment methods. Since online payments are an essential part of the modern world, there are many different options to choose from.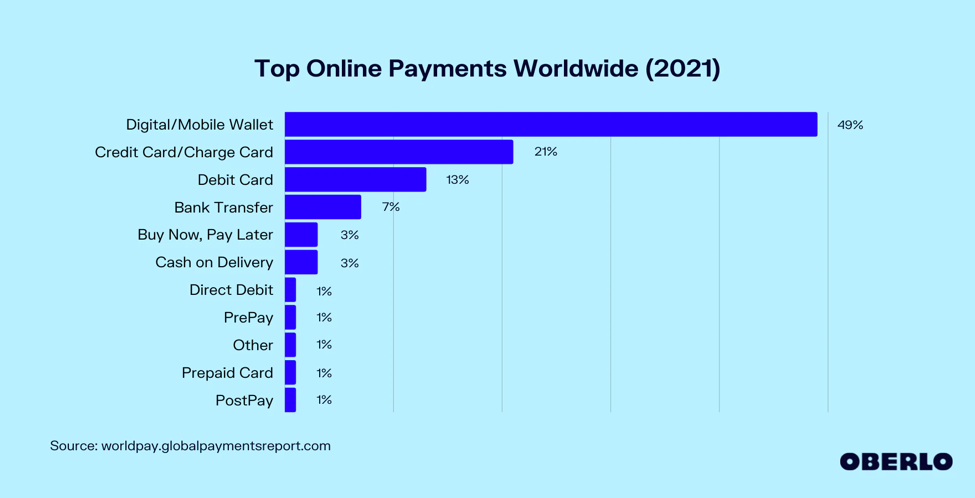 Here's a look at some of the most common online payment methods.
#1. Digital or mobile wallet
You can use a digital or mobile wallet to store your payment information, pay for items online, and avoid entering your credit or debit card details manually. It's convenient because it allows you to pay in one click and keep track of all your purchases in one place.
The most common digital wallets are PayPal, Google Pay, and Apple Pay. Digital wallets accounted for almost 50% of online payments in 2021.
#2. Credit card
Credit cards are the most popular ways to make online payments in North America, but they aren't necessarily the most secure. They're flexible and convenient, but the interest can quickly add up if you don't pay off the monthly balance. Credit cards are an old standby that people use daily at the grocery store, coffee shop, and everywhere else online.
#3. Debit card
Debit cards work the same way as credit cards, but they don't require you to have any credit history. Instead, they draw money directly from your bank account when you make a purchase.
#4. Bank Transfer
If you want to send money from one place to another quickly and securely, bank transfers are the way to go. A transfer involves moving money electronically between two accounts without physically handing over anything tangible.
#5. Buy now, pay later
The buy now, pay later option lets your customers pay for something over time, typically over several months or years. It's great for items like a genuine leather couch or a new computer that can be expensive and challenging to pay for all at once.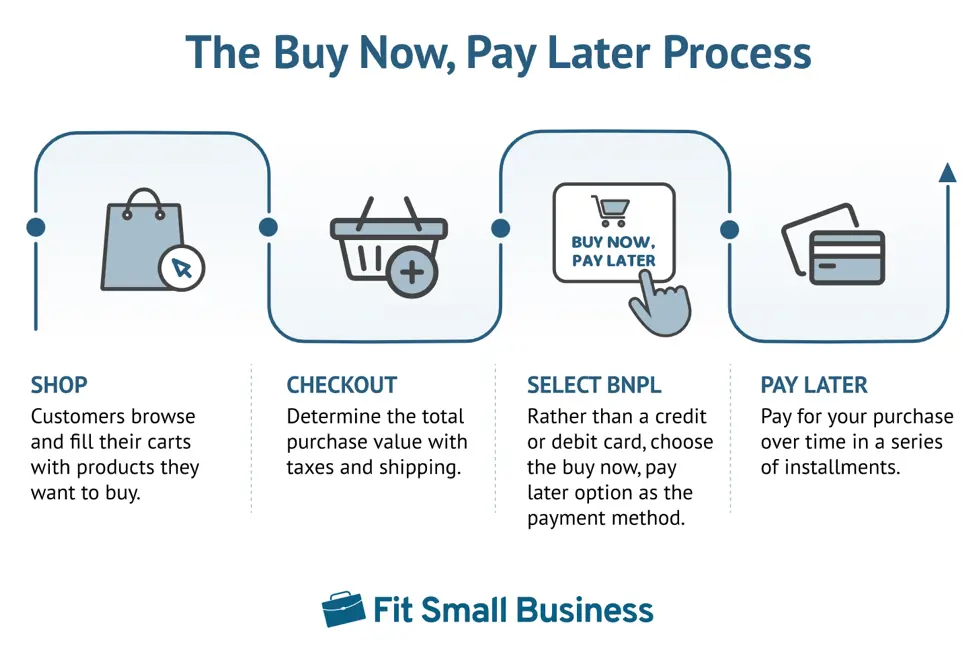 Elements of online payment processing
To understand the right payment solution for your business, you first need to know how it works.
A payment solution is a software that allows customers to make purchases on your website. It integrates with your ecommerce storefront, whether through a plugin or programmatically via an API. Most eCommerce software platforms or website builders come with native integration with the most popular payment solutions.
The payment gateway then processes the transaction made by the customer and sends it to your merchant account as funds become available.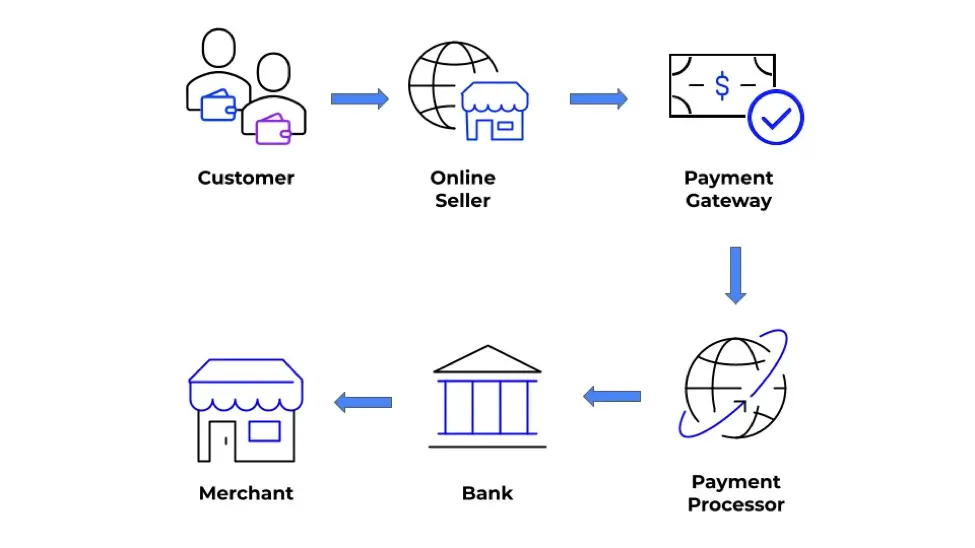 Payment gateways
A payment gateway is a software application that allows you to accept electronic payments (credit card, debit card, ACH, or wire transfer) from your customers. It's the most common way to process payments online by accepting card payments and facilitates the transfer of information between the parties involved.
The payment gateway is an intermediary between you, the merchant, and your customer's credit card company or bank. When someone purchases with their card through your website, they send information about the transaction to the gateway instead of directly to you. The gateway then processes that information through its system before passing it along to a payment process and ultimately into your merchant account.
It's important to note that not all gateways are created equal. Some offer additional features like recurring billing and sales tax collection, while others may have unique integrations with other platforms. Because of this, it's crucial to understand how each type of gateway works to choose one that meets your needs and budget.
Payment gateways are suitable for simple and low-risk transactions, as they handle the basics of processing payments. They generally offer little to no fraud protection and require you to use their payment processor for additional services like refunds or chargebacks.
Payment processors
A payment processor is a third-party service provider that acts as an intermediary between your payment gateway and the bank. It handles all of the processing, security, and fraud prevention associated with accepting credit card payments for your company.
A payment processor is any service that processes payments for merchants, such as PayPal or Stripe. These services take care of everything from accepting card payments to issuing refunds — but they don't provide any kind of gateway technology.
Payment processors help businesses manage their online sales by providing tools like a payment system. This includes fraud prevention, risk management tools, and reporting features so you can see where your business is making money and where it could be losing money due to chargebacks or other issues with orders.
Merchant accounts
A merchant account is a bank account that allows you to accept customer payments.
Typically, merchants who want to accept credit card payments must have a merchant account. The fees associated with opening a merchant account vary depending on your business needs and the company you choose as your payment processor.
However, some businesses may be able to avoid having to set up a merchant account if they use certain types of payment processing platforms that already include this feature.
Payment gateways vs. payment processors
It's very easy to mix up payment gateways and payment processors. Let's review it one more time.
A payment gateway is a payment system that allows you to process credit card transactions, whereas a processor handles authorization, clearing, and settlement for these transactions. In other words, gateways take care of all the technical heavy lifting so your business can focus on its core competencies.
The main differences between gateways and processors include:
The first system integrate into your website or ecommerce store, while the last system aren't typically visible to customers (though they're still necessary to understand).
Gateways tend to charge fees based on transaction volume, while processors typically have monthly fees regardless of how many transactions are processed.
Gateways allow you to accept various types of payments like debit cards or gift cards, while most processors only support one payment method (e.g., credit card).
Selecting the proper payment solution
The first step is deciding on the type of payment solution that best suits your needs. For instance, an online video game store that sells affordable game keys and popular downloadable content like Mario Kart expansion packages or battle royale accessories like the Batman glider will probably require different payment alternatives than an online store that sells luxury designer items. Here are some questions you can ask yourself to help identify the best options for your ecommerce business:
What types of payment options do you want to accept, such as credit cards, PayPal, Apple Pay?
Are your products available for purchase internationally?
Do you need a merchant account?
What is your order volume?
What is your budget for transaction fees?
When looking for a payment solution, there are a few critical things to consider: compliance, security, and of course, those pesky fees.
PCI compliance
Compliance and security features are essential to consider when choosing a payment solution. They can help you meet legal requirements, ensure your business is compliant with the latest regulations, and protect your customers and business from fraud and other threats.

Payment Card Industry Data Security Standard (or PCI DSS) is a set of requirements that merchants must meet to accept credit cards online. The major credit card companies put the guidelines into place to protect consumers and prevent fraud. Here's what they require to remain PCI compliant. Merchants must:
Check their networks for any unauthorized access attempts and regularly patch their software and update device drivers.
Use strong passwords and change them frequently.
Keep track of all transactions made through their websites or apps — including capturing all necessary information about each transaction. This data should be stored within a secure data center infrastructure and segregated from other company data.
Make sure that they don't store full credit card numbers on their computers or networks; instead, they should keep only the last four digits of each number (called the Card Verification Value). This tactic helps prevent hackers from stealing complete credit card numbers from your website or app.
If your payments system fails to follow local regulations, it could have severe implications for your business. Compliance features also include support for multiple currencies and compliance with specific data protection laws such as GDPR (General Data Protection Regulation).
Security features
Security features protect you from fraudsters trying to steal sensitive data from customers or commit identity theft by impersonating them online.
"Phishing" emails are a common threat that mimic real transactions from legitimate merchants. Instead, it leads victims into compromising their login details or credit card information through phishing sites set up by cybercriminals designed for this purpose.
When looking at a provider's security features, it's essential to consider how they work with your overall payment system. For example, use a third-party gateway that handles all of your transactions. The solution should be PCI compliant and meet the Payment Card Industry Data Security Standard (PCI DSS) requirements.
The gateway should also have secure connections between its servers and payment processors — this helps prevent unauthorized access and potential data breaches. If you plan on accepting payments online through a website or mobile app interface, look for services that offer two-factor authentication and HTTPS encryption to safely transmit sensitive data.
Most ecommerce environments have these standard measures, but some providers offer extra features like firewalls or tokenization technology to stop fraudsters who try to steal customer information.
Fees
Knowing what you're getting into before you use an online payment solution is important. Here are some of the fees associated with online payment solutions:
Processing fees: The fee you pay to your payment processor each time you make a sale. The cost varies by processor, but it tends to be around 2% or 3%.
Setup fee: A one-time payment to get up and running, but it can be as high as $200 or more. The setup fee depends on the complexity of your company's needs and how much work it takes for a company to configure its software to work with yours.
Chargeback fee: If someone disputes a charge, the bank will charge you for "covering" those funds until they are returned to you. Chargeback fees typically range from $15-$35 per incident, depending on the product or service (more expensive items usually have higher chargeback fees).
5 best ecommerce payment solutions
Now that we have all of the technical stuff out of the way, let's take a look at our five favorite ecommerce payment solutions to help streamline the checkout process for your ecommerce business.
#1. Stripe
Key features: simplified PCI compliance, embeddable checkout, 135+ currencies, data security and encryption, financial reconciliation and reporting, third-party integrations
Processing fee: 2.90% + 30¢ per successful card charge
Stripe is a cloud-based payment processor that lets you accept credit cards and Apple Pay on your mobile apps and websites. This payment solution acts as a merchant account, payment processor, and gateway rolled into one neat package deal.
Stripe is an excellent option for new businesses — it's easy to set up, reliable, and has tons of great features like automatic tax calculations and fraud protection.
#2. PayPal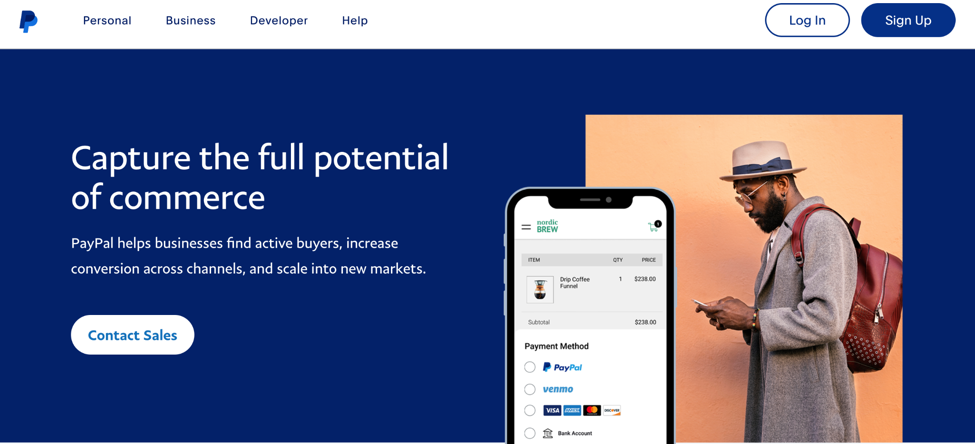 Key features: PCI compliance coverage, global payments with a single integration, access to 200 markets and 100 currencies, used by over 400 million customers worldwide
Processing fee: 2.59% + 49¢ per successful card charge, 3.49% + 49¢ per PayPal Payments transaction
PayPal is another great option if you want your customers to pay with their PayPal account or via credit card. PayPal is a payment aggregator, meaning it doesn't require your business to set up a merchant account. It also has its own payment gateway, Payflow.
It's especially useful if your customers prefer PayPal over other payment options — but keep an eye on the fees as they can add up.
#3. Square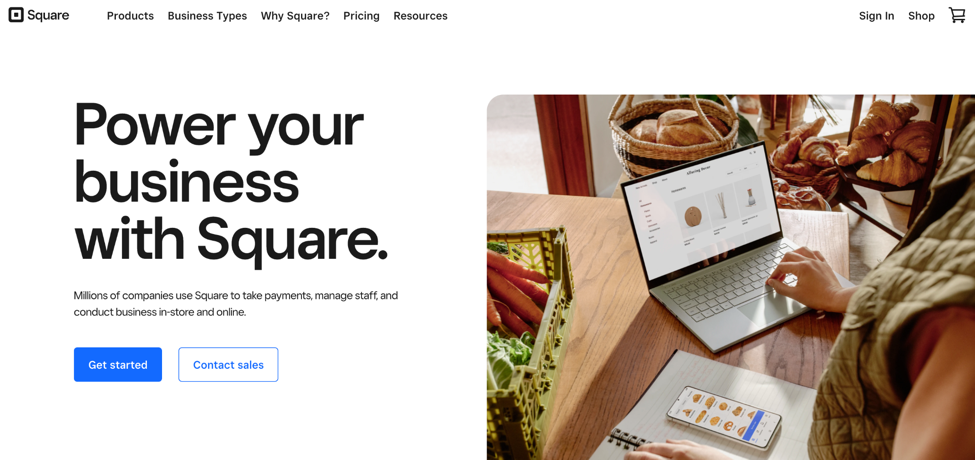 Key features: PCI compliance, free website with SEO tools, sell on Instagram & Facebook, accepts most digital wallets and Afterpay, dispute management, fraud protection
Processing fee: 2.90% + 30¢ per successful card charge
Square is another option for those who want to accept credit cards online. It also offers tools for managing inventory and tracking sales data so you can make smarter business decisions down the road.
Square is best known for its mobile credit card reader that lets small merchants accept credit card payments on their smartphones or tablets. But they also have an online payment processing service. And you don't need a payment gateway with Square.
Square's hardware and services create an end-to-end payment processing system. They get your customers' payment information and work with credit card payment gateways to send the payments to the right place, where they'll deposit the funds into your bank account in two to four business days.
#4. Verifone (formerly 2Checkout)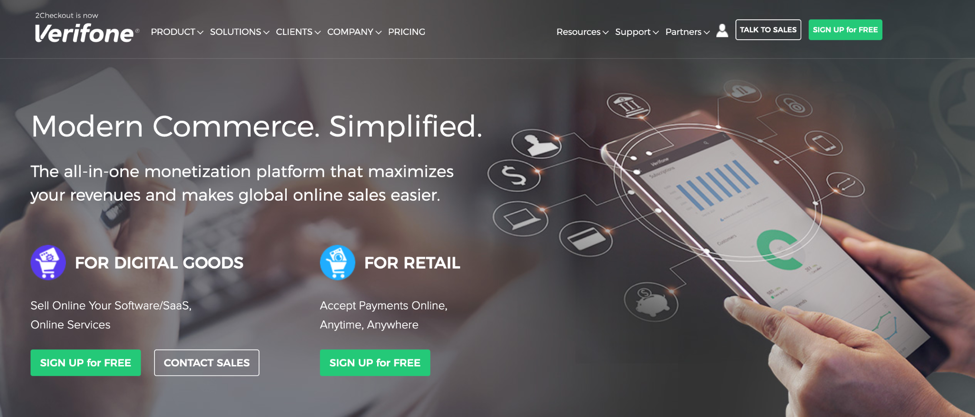 Key features: PCI compliant, available in 200 countries, 45+ payment methods, zero headaches with invoicing, billing, and taxes
Processing fee: 3.5% + 35¢ per successful card charge
2Checkout is an online payment solution that allows you to accept payments from customers in over 200 countries. It's been around since 2000 and has built a reputation for being a secure, reliable, and user-friendly way to process your online transactions. Verifone recently acquired them in 2020.
2Checkout integrates your store with over 120 shopping carts and ecommerce platforms, like WooCommerce, BigCommerce, Magento, Shopify, Squarespace, PrestaShop, Opencart, Etsy, and more.
#5. Authorize.net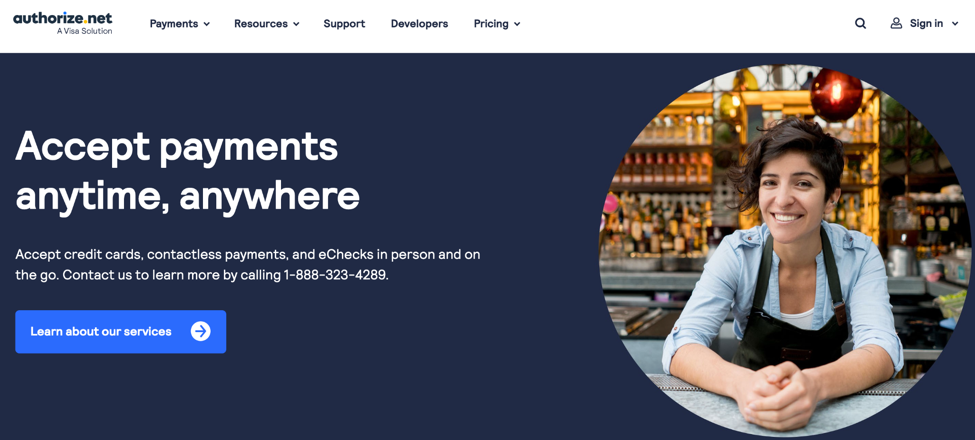 Key features: PCI DSS compliant, no setup fee, advanced fraud detection, eCheck payments, subsidiary of Visa
Processing fee: 10¢ per transaction, 10¢ daily batch fee and $25 monthly gateway fee
Authorize.net is a payment gateway that helps you accept credit cards online. It's one of the most popular options for online payment processing because it allows you to customize how you process payments, letting you set your own rules and workflows.
If you also need a merchant account, they also offer an All-in-One option. Here's what it offers:
It has a more straightforward setup than other providers, so it can get your site up and running faster than other options.
It offers flexible pricing structures so that you can pay only for what you need instead of for features that aren't relevant to your business model.
You can customize the checkout process to fit your brand image or marketing strategy.
Wrapping up
Selecting the right payment solution is essential to the success of your ecommerce business.
The market is full of different options that offer a variety of features and benefits, but it's important to choose one that'll solve your specific problems and will help you grow.
There are many factors to consider when selecting the right online payment solution.
Understand your business needs
Focus on compatibility with the payment options that meet your customer's needs
Choose a payment solution that offers PCI compliance, high-security features, international payments support, and advanced reporting capabilities.
Don't forget about those pesky fees.
Whatever payment solution you choose, make sure it enables easy online transactions for both you and your customers. An easy checkout process is a surefire way to increase sales and boost long-term business growth.
---
About the author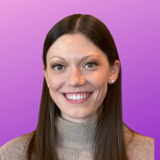 Kelly Moser is the co-founder and editor at Home & Jet, a digital magazine for the modern era. She's also an expert in freelance writing and content marketing for SaaS, Fintech, and ecommerce startups.