Change of the retail landscape as an opportunity for e-commerce
There is no doubt that the COVID-19 crisis and the resulting restrictive measures have changed and will further shape the retail landscape. In contrast to the general economic downfall of many retail stores, the e-commerce sector ostensibly benefited from the virus. This is mainly due to the masses of customers shifting online to shop for goods. This was already an existing trend that was now further accelerated by the ongoing crisis.
Despite this, many online merchants face the challenge of turning traffic into sales. More often than not, the reason for not turning traffic into sales is cart abandonment – a term that every e-commerce entrepreneur learns to dislike. According to studies from 2019, 8 out of 10 people abandon carts when shopping online. Companies lose $4,6 trillion in e-commerce sales per year due to this phenomenon. The number one driver for customers not completing the purchase process is too high shipping costs (50%). The second major reason for people to stop their purchase is high product prices (33%). Moreover, slow shipping (26%), intransparent shipping costs, and limited parcel shipping provider options also play an important role. For that reason, we will show you the top 5 conversion rate killers in the context of e-commerce shipping. Consequently, you can grow your business by improving your conversion rate with competitive shipping.
5 Conversion Rate Killers In E-commerce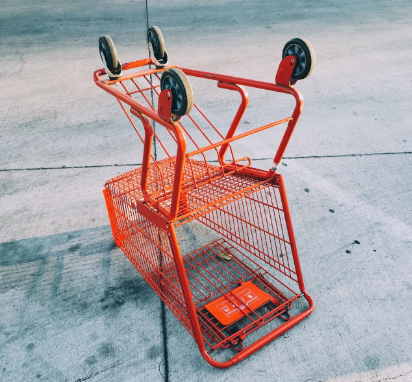 Conversion Rate Killer #1 – Shipping Costs
Customers nowadays are pampered by free shipping offered by large online retailers and companies like Amazon. Therefore, shipping costs are the number one reason for terminating the shopping process with other online retailers.
The vast majority of e-commerce shoppers say that shipping prices influence their shopping choices.
Furthermore, customers tend to buy more often and have bigger basket sizes when shipping is free. That in turn, translates into an increased customer lifetime value. Also, 65% of online shoppers say that they recommended online shops offering free delivery. Of course, it can be hard for online merchants to offer free shipping. However, you should do everything imaginable to retain further shipping costs to a minimum. Instead of offering "percent off" you should offer free shipping as, according to studies, customers find the latter twice as compelling.
Thus, this will render the conversion rate to improve. Offering free shipping above a certain threshold could be an attractive solution for your webshop. That way you can nudge your customers into increasing their average basket sizes. That way you will most probably be able to keep a higher margin. In every circumstance, it is essential to communicate the shipping costs transparently. Unexpected shipping costs will inevitably lead to the frustration of your customers.
Conversion Rate Killer #2 – Slow Shipping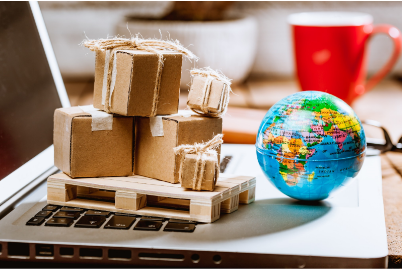 Fast delivery is no longer just an option, it is a must-have. 42% of the shoppers state that they would be more likely to shop online if there was a same-day shipping option, like last mile delivery. Once again, Amazon set the bar high. People are used to receiving their packages two days after they clicked the purchase button. However, the importance of next-day and same-day delivery is growing rapidly. This is particularly true for the younger target group who consider "fast delivery" to mean same-day delivery in 96% of the cases. Online shoppers have high expectations and
make no difference between a billion-dollar company or a medium-sized e-commerce retailer.
This is especially challenging for the latter. That is why it is crucial to work with fulfillment and shipping providers. These experts can help to fulfill the customers' expectations more efficiently.
Conversion Rate Killer #3 – Intransparent shipping costs
Not providing enough information about shipping costs and conditions is a huge turn-off for e-shoppers. 53% of US online shoppers won't purchase a product if they don't know when it will arrive. Not knowing about the costs right away or being surprised by unexpected costs is even worse. The results can and will be bad reviews, complaints, and unfavorable word-of-mouth. For that reason, be sure to always make the information about shipping conditions easily accessible.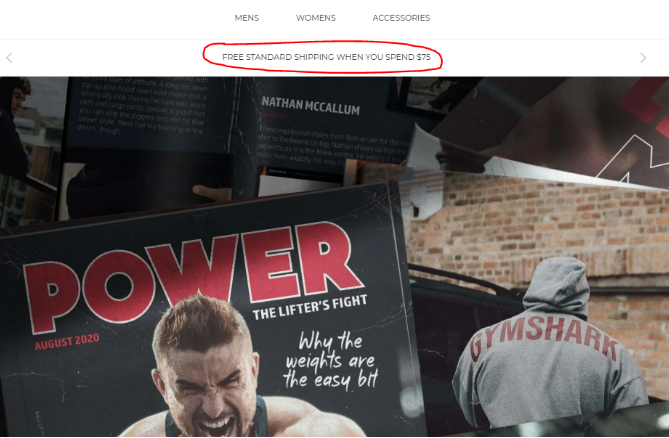 One best-practice example of how to make shipping conditions transparent in a simple way is Gymshark. The rotating banner shows easy to understand information. By doing so, customers know about the key shipping conditions like shipping costs, free returns, free shipping when you spend at least $75. They can also get more information when clicking on it.
Your detailed shipping policy should additionally include information about:
Available

shipping options

(standard, express, overnight, domestic, international, etc.)

Costs

for each of these shipping options

Handling time – duration between order management and shipping
Cut-off time

– specific time before an order must be placed to arrive at a certain time (i.e next day delivery)

Typical delivery time for each shipping method offered at your store

Any

restrictions

– for example, high-risk regions that can't be supplied

Missing or lost shipments

(provide a contact form to help customers in such cases)

Insurance

(in some cases this option gives customers peace of mind)

Any

other information

that is of value for your customers
Do not confuse the shipping policy with the returns policy, which is crucial as well.
The returns policy includes information about:
Refunds/exchanges

The

process to get refunds/exchanges

Who is to

pay the costs for return shipping
Additional fees

(restocking fees etc.)

Non-returnable products
Time limits

(e.g. 3 weeks)
Conversion Rate Killer #4 – Limited parcel shipping provider options
Customers prefer different parcel shipping providers and delivery methods, often depending on countries and regions. For instance, British online shoppers frequently abandon the cart, because their favorite parcel shipping provider is not listed as an option. Dutch shoppers love their domestic carrier, PostNL. However, not only the shipping providers but also the shipping methods can be decisive factors. In France and Sweden, for example, people love pick-up points. They name them as a preferred delivery method, as reported by 45% and 44% percent of respondents respectively. In contrast, in the UK, Germany, Italy, and Spain only around 10% or less favor that method of delivery. These examples show how important regional differences are when it comes to shipping and delivery. Offering the most popular option will result in increased conversion rates.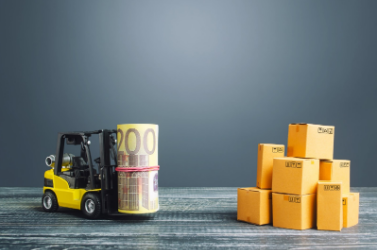 Conversion Rate Killer #5 – Not Offering Climate-Neutral Shipping
Throughout recent years, the term sustainable e-commerce has become increasingly important. This term comprises more than just a sustainable product and green packaging.
Today, not providing an environmentally-friendly and climate-neutral shipping option can be a knockout argument for a big share of online shoppers.
This megatrend is further boosted by generation x getting progressively aware of the devastating consequences of climate change. Moreover, generation y and z, who have been pushing this change in mindsets for many years, are steadily increasing their purchase power. Combining their increased purchase power with their affinity to online shopping makes them arguably the most attractive customer group for e-commerce companies. Therefore, to help preserve the climate and to increase your conversion rates, you should consider providing eco-friendly shipping options to your customers.
Take-Away
To put it in a nutshell, don't underestimate the power of shipping, fulfillment, and the logistics process, in general. They are the main reasons why e-commerce companies let millions of dollars slip through their fingers every day. Now, the good news is that you can change this easily. Having a competitive advantage by optimizing your e-commerce or multi-channel strategy in regards to logistics and fulfillment is both simple and crucial.
Using a fulfillment service and software solution offered by 3PL (third party logistics) companies like Byrd is often an easy solution. It helps to optimize and automate the fulfillment process without a big hassle. As a consequence, delivering a shipping-quality that meets the customer's high expectations is possible. Geographical proximity to your customers through an international network and multiple warehouse locations reduces the shipping costs and shipping time.
This helps you to reduce cart abandonment, increase the conversion rate, and satisfy your customers. Having access to multiple shipping service providers adds flexibility and resilience to your logistics and checkout process. This enables you and your customers to choose between various shipping options, based on regional preferences and needs.
Author Bio: Phillip Pitsch is a young start-up and marketing enthusiast from Vienna. In 2019 he joined Byrd, a European fulfillment company with a network of 10+ fulfillment centers to help to revolutionize logistics for e-commerce companies of all shapes and sizes. When creating content he aims to support e-commerce merchants with actionable and meaningful tips and tricks from his experience with multiple e-commerce companies.