Web design is in charge of the visual layout, color palette, and overall look and feel of a website. Customers increasingly expect to connect with cutting-edge technologies on the websites of their favorite brands.
Adopting these technologies and being creative allows the brand to use e-commerce to address this consumer want from their perspective. We'll look at some of the e-commerce web design ideas in 2023 for some customers, let's start going.
What is web design and why is it important for e-commerce businesses?
If you're deciding to move to e-commerce, let's start with a definition of web design. It relates to the process of designing and developing websites for the internet, as well as how they appear and function for users.
A key difference between web design and graphic design is that the former must address user experience, which includes how users interact with the site. Both should mirror the visual identity mentioned in your branding plan.
When customers purchase online, they want to feel as if they are still getting the in-store experience. However, great site design is also necessary for an e-commerce business to enhance conversion rates, which eventually leads to increased sales.
The advantages of good site design extend beyond transactional aims. Browsing and exploring a usable and responsive e-commerce website will result in a positive overall experience and will aid in the development of long-term client connections.
Components of e-commerce web design
Let's go through the major elements of web design before we get started:
The organization of visual elements such as photos, messages, graphics, and shapes is known as layout.
The color palette and typography are a color scheme and set of fonts that complement your company's branding.
Navigating the internet with a map or directory is similar to finding what you're looking for online.
Important information should be included in the copy and graphics.
Best practices for e-commerce web design trends in 2023
User experience design
Your e-commerce firm must give a one-of-a-kind experience that connects your buyers emotionally to your products. You want clients to see your product in their daily lives and be able to justify their purchasing habits. Attractive photographs and vibrant colors are appealing, but addressing the customer experience has the greatest impact.
A customer-centric design has an organic structure and flow that is consistent and simple for buyers of all demographics to use. Simplify your site navigation and include a sophisticated search option to assist clients in easily finding the product they are looking for.
Brand's identity
A brand-first design strategy guarantees that your store displays a value proposition that connects with leads, generates loyalty, and distinguishes your website from competitors. Furthermore, your brand emphasizes who you are as an online business, defines your corporate culture, and coincides with the quality of your products.
A successful design tells your brand's narrative through consistent aesthetics and messaging. Determine which product photographs, fonts, iconography, and color schemes your customers prefer. To accommodate new items, information, and navigation sequences, page layouts, and features may change. However, your color palette, menu, logo placement, patterns, and fonts should all be consistent.
Keep up with the latest trends
Previously, internet stores served as intermediaries between customers and sales teams. Today, e-commerce web designs are evolving in tandem with technological breakthroughs. Interactive design, dynamic pages, and data-driven product suggestions are among the emerging trends.
Customers expect a personalized digital user experience. They desire a streamlined experience that allows them to browse for products, purchase stuff, and track orders online. Social commerce is also growing in popularity and has become essential in marketing ecommerce companies and communicating with customers through numerous media.
Optimization for mobile devices
When buying online, it is usual for customers to switch between devices. Implementing an easy, uniform layout across mobile platforms such as PCs, smartphones, and tablets creates a memorable experience that encourages shoppers to return to your store.
Your mobile design and navigation should be consistent. For example, a store with a large inventory may profit from a product search with filtering tools and a hierarchical product menu.
Customer feedback
As social evidence, include positive testimonials and user-generated content. Customers have faith in their fellow customers. When other people have a positive purchasing experience, it validates brand value, lowers resistance, and new customers are more likely to acquire your product.
What are the most important web design trends in ecommerce?
Experimental navigation
When we talk about experimental navigation, we're referring to navigation patterns that deviate from the norm, which is all-caps navigation at the top of the screen. Instead, experimental patterns take a more creative approach, producing visual interest and directing users to traverse the site in a particular way.
Content-loading methodologies
Many websites today are overburdened with resource-intensive components and external connectors, resulting in sluggish loading times. However, there are various approaches for developing smarter websites that load only the content required by the visitor.
For years, large social networks have used techniques like slow loading and infinite scrolling, which are especially popular for long single-page websites. Adopting one or more of these technology options can provide a competitive advantage while also enhancing the overall user experience, resulting in higher conversion rates and search rankings.
Scrolling animations
One of the most popular trending web design components this year is scrolling effects, which are animations triggered by scroll action. Users can now move and scroll not just up and down, but also diagonally, left and right, and in other directions. These are increasingly being utilized on interactive websites to entice users to continue scrolling, to indicate a break in material, and to provide a three-dimensional experience.
When such an intuitive link occurs, a design becomes far more pleasant and visually beautiful. Because it addresses mobile-first design and interactive purchasing experiences, this e-commerce design trend is timely. It can assist businesses in increasing conversion rates by giving a more engaging and immersive shopping experience to customers.
Immersive web animations
These web animations will become more popular among e-commerce websites in 2023. E-commerce web designers may utilize them to improve the quality of their work, give a more immersive shopping experience for customers, zoom in on product details, deconstruct items, and make other spectacular transitions. Customers can also simply find what they're seeking and progress through the checkout process with this type of design.
Customers are also more likely to make spontaneous purchases when they are engaged in the product's pictures and descriptions. Immersive web design is critical for providing a positive user experience, which is critical for assuring consumer happiness and repeat purchases.
Attractive product visuals
Consumer expectations are rising as e-commerce brands become increasingly vital to customer brand experiences. Consumers respect brands that go above and beyond to deliver additional entertainment since they cherish any opportunity to create happy memories.
Before making a purchase, consumers would expect to be able to interact with things and investigate them from all perspectives. These animations focus the attention of users on critical product details or features. 3D animations, augmented reality, hover animation, and 360° product views are just a few examples of how you may make your product page unique and innovative.
Minimalistic design for products
Minimalist design not only makes it easier for users to find your products, but it can also make your site's pages load faster. It's a low-cost and simple trend for small business owners to adopt, especially if you're concerned about the overall cost of web design.
Consumers are more impatient than ever before.
When it comes to website loading speed, research reveals that it only takes one second for users to lose focus on a task and ten seconds for them to give up and leave the site. Because pages overloaded with elements take longer to load, eliminating clutter can eventually keep customers on your website for longer.
Artificial Intelligence
Using AI on your website provides users with a more comprehensive, personalized experience. This creates a link between producers and customers based on a customized experience that is unique to each user.
Artificial intelligence in e-commerce websites can take the shape of product recommendations based on past purchases, virtual assistants, or chatbots. Because users like the improved experience AI gives, it is a growing driver of online commerce. Work with an e-commerce web designer to include this in your website.
Page transition
Page transitions are sometimes known as animated transitions. By animating items as the page loads, they usually accentuate a page change or transition. You can add a layer of interaction to the page, making the user's experience more engaging and memorable. When applied correctly, it will liven up the website and make it easier to explore.
Elegant typography and beautiful colors
Colors and typography are two of the most convincing components in web design. On an e-commerce website, catchy and chunky typography includes strong, eye-catching fonts that are easy to read and contrasting colors that help the content stand out.
Additionally, the content should be properly spaced, with adequate line and letter spacing, to ensure readability. Using varying font sizes and weights can also aid in the creation of a hierarchy of information, highlighting the most important information. To provide a unified look, colors should be used in harmony with the overall design of the website.
Storytelling for product page
When it comes to product pages, storytelling may be an excellent technique to describe the product and its qualities in a way that customers will appreciate. It can also be used to show how the product can be used in real-world circumstances, emphasizing its benefits and applications. Because of its attractive colors, the website radiates a very clean, direct, and happy impression.
You may even employ visual graphics to tell a compelling brand story and bring your product to life. It promotes an emotional link between consumers and brands through narrative.
Page filters
Page filters are an inventive e-commerce design trend that offers a unique twist to the regular page filtering method. This trend offers clients a distinct user experience that is distinct from the typical page filtering method.
In addition to a simple drop-down menu, unorthodox page filters can incorporate sliders, toggle switches, and other unusual interaction elements. This trend also allows for the introduction of more visual features such as symbols, pictures, and color coding to assist users in rapidly identifying the products they want.
Optimize for maximum results!
If you're looking to get a glimpse of whether your web design efforts are making a real impact, it's mighty crucial to harness the power of a web analytics tool. With the aid of a tool like Capturly, you can easily gauge the effectiveness of your redesign process.
How exactly does it work?
Well, first off, you need to test the performance of the previous and new design and compare this two!
By utilizing the power of heatmaps, you will be able to see how appealing your previous design was and how effective your new one! Test the number of clicks on different elements on your site, such as buttons. Also, assess how far visitors are scrolling down and much more!
If you observe an increase in clicks and see that people are scrolling down on your website, you've done a great job! With heatmaps, you'll be able to identify areas that may not have performed well and make necessary changes.
The most important thing is to always track the performance of every change you have made and make the necessary adjustments!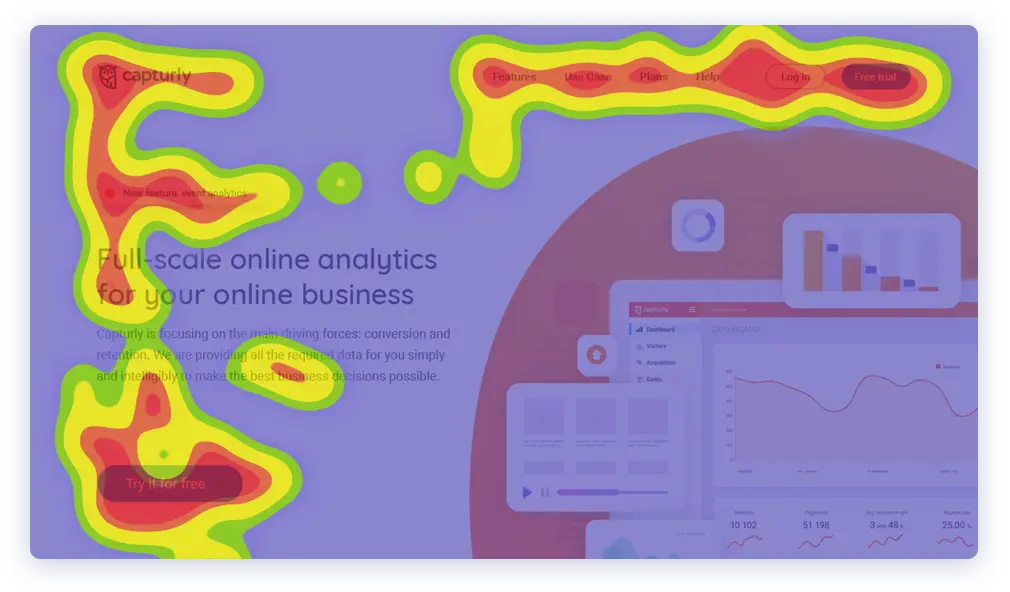 How to choose the best e-commerce design for your website in 2023?
Defining your goals is the first step to building your e-commerce website.
Choose an essential design to produce a design that is simple for visitors to explore and understand.
A responsive design ensures that your website appears amazing on any device, allowing clients to shop while they are on the go.
Ensure that your website works correctly on various devices and browsers before launching it.
Utilize e-commerce technologies to help you simplify the checkout experience, manage inventory, and more.
You won't need coding abilities to design custom pages in your store because you can drag and drop parts and blocks.
Conclusion
Businesses may expect to gain from an improved user experience, increased revenue, and increased client loyalty with the help of modern technology and new web design trends. Web design is always evolving, and web designers must anticipate user expectations to integrate particular elements into websites.
Building great websites requires adapting to change and anticipating user wants. Mobile devices will remain at the forefront of designers' ideas in the coming years, influencing new trends. To provide a more engaging user experience and to prioritize website accessibility and usability across several devices.
Finally, most of the top e-commerce web design trends in 2023 are good and trendy concepts that will make users trust you and direct them to your website.

Do you want to create a well-known website for your e-commerce web development agency? Skilled e-commerce designers and developers at the Way2SmileSolutions development agency can assist you in taking your implementation to the next level.