Dying to know the truth about how to prepare your online business to be a money-making machine? The only toolbox you'll need to boost your revenue for the BIG weekend this year is right in front of you. But I won't drag this out any longer.
Let's start the countdown to Black Friday.
Planning ahead is half the battle! And make no mistake this is all out WAR!
Black Friday is the Hunger Games for shoppers. People assault the shops, looking for discounted merchandise. For years now, Black Friday has held the title of the biggest shopping day of the year. According to official statistics, Black Friday online sales globally reached $65.3 billion in 2022. Of this, online sales in the USA reached $9.12 billion.
In this article, we'll tell you the basic ins and outs of the preparation for these two business holidays; furthermore, we give in-depth pointers about proper website optimization and the perfect design, as well as some hidden hints. So grab a pen and paper 'cause we'll aim for profit!
History of Black Friday
Have you ever wondered where Black Friday comes from? Well, it's a nice story. In the 1950's, the most popular day for people calling out sick from work was the day after Thanksgiving. Making claims of bad turkey, people would play hooky to get a head start on their holiday shopping. Aware of this, many businesses threw up their hands and gave employees that day as an additional paid day off. (Hey, maybe there's hope that our jobs will finally declare "Super Sick Monday" a paid holiday! But I digress…)
By 1966, traffic was so terrible from all of the holiday shoppers, that the Philadelphia Police Department referred to the mess by calling it, "Black Friday." That year, The American Philatelist, a stamp collectors' magazine, published an ad describing the PPD story, and so Black Friday was born.
Since then, countries across the world have jumped on board with this marketing gold mine, each giving the holiday a little cultural flair of their own.
Prepare Your Business
Preparation is now more important than ever. You can't go into battle without defensive equipment and a precise plan. Do you also see the clouds gathering? It's time to prepare for the Black Friday money rain!
1. Have a Black Friday strategy
First and foremost you need to think ahead and decide whom, what and how you want to sell. Know your target audience and where you can reach them. What social media platforms do they use? How can you get them to choose you?
Customers have so many choices, that's why we're here to help you use marketing psychology and website analytics to make sure that users choose your online store. Here is a short article about how to define your user persona >>>
If you have identified your target audience and know their shopping habits, it's time to get prepared for your discount strategy. Choose the best products to discount.
There are two options in your hand:
you either knock down the price of an already popular item,
or push the cart of a dwindling one.
The first option helps you ride the current trends even higher. The second one allows you to get rid of the old stock catching dust in the corner.
Maybe combine the two: release the old stuck on Black Friday while keeping the hot stuff for Cyber Monday.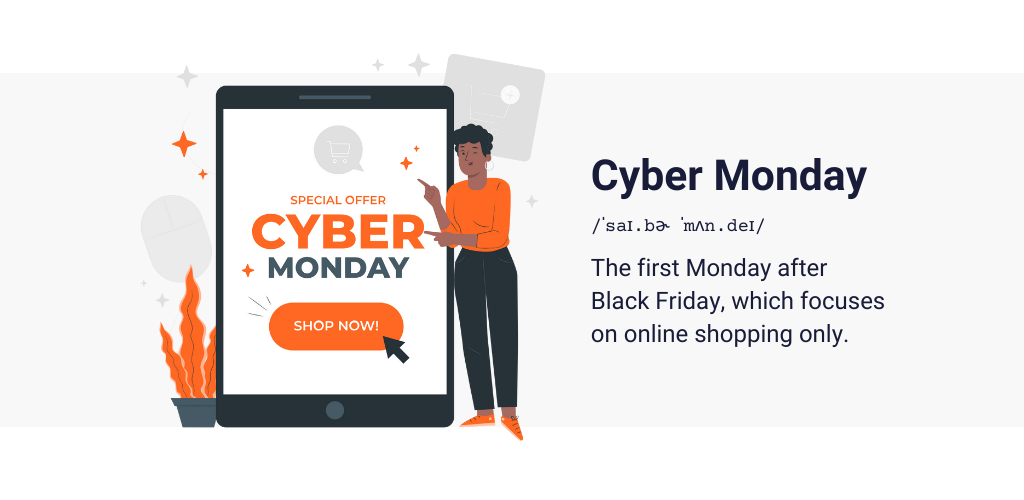 2. Plan your discounts
As we mentioned earlier it's essential to make a list of the items you wish to discount. This can be done on a simple Excel page if you feel so. Preparing your stock for Black Friday in an organized manner helps avoid confusion later on, and modifications can be easily added later on.
But to help you determine the discount rate, here are the last year in numbers: the average discount in 2022 for the entire holiday season was 21%. According to a 2022 survey, discounts by category were the following:
Toys: 34%
Electronics: 25%
Computers: 20%
Apparel: 19%
Television: 17%
Appliances: 15%
Sporting goods: 10%
Furniture: 8%
💡 Expert tip: Offer a bigger sale than your average discount but watch out for the profit margin. If you usually offer 15-20% off for a sale, try to go up for 25-30%. Customers will eat it up! But remember, as a seller, Black Friday will always be about profit, so never fall over the edge and drive your business to the brink of financial ruin by over-discounting. Try to cut back on the products that have higher profit margins by selling out.
3. Stock up on your best offers
There is nothing more embarrassing than hanging out the "Out of Stock" panel while the shopping craze is still running. This is closely followed by a crashing website, though.
Don't underestimate the shopping power of the holiday season: research shows that in 2022, Black Friday traffic was 3 times higher than an average day in October. Another study shows that 57% of consumers plan to shop before Thanksgiving, which means that customers are only waiting to shop at your store for the holiday season.
Be sure to stock up as many supplies as you can from the sale of products. Please note that there may be some disruptions with your suppliers because you aren't the only one who orders larger quantities for Black Friday.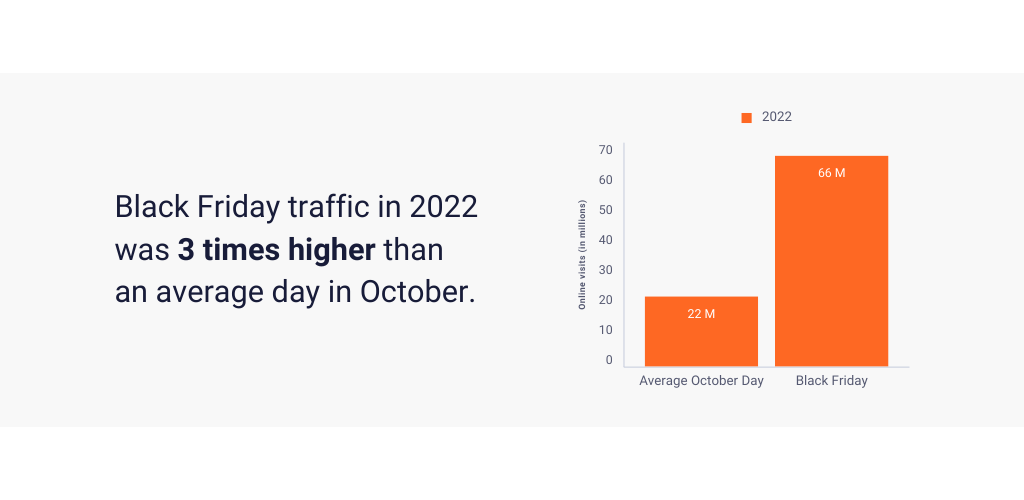 4. Black Friday starts on Monday!
The sooner you start the promotion campaign the better your sales will be. So why not start Black Friday almost a week earlier? Being unique and unconventional is the key to success.
Prepare some smaller sales for the days preceding Black Friday. You not only lure in customers who are more likely to return for the main event, but this gives you an opportunity to test your website's functionality.
Monitoring the visitor's behavior allows you to fine-tune the layout before the big rush begins. Starting the sales earlier also provides a chance to eliminate the less attractive stocks and distribute customer attention evenly.
💡 Did you know? 56% of US buyers said they bought early deals before Thanksgiving 2022, with 24% having done so before 16 November 2022. And 36% made a purchase the week before Thanksgiving 2022.
5. Don't promote yourself, promote the PRICES!
Promotion plays a vital part in your marketing campaign. We have already established the importance of starting early and determining the right products.
Remember that the promotions should not concentrate on your webshop itself, but rather on the items on sale and their crazy-low prices.
Come up with special bundle packs or offer free shipping. Posting huge discount figures, like "50% Off" which can catch the eyes as well; in other words, make sure that you communicate larger sales the most.
Here are some ideas that will definitely increase your conversion rate:
Offer a "Deal of the Hour"
Use Black Friday spin wheel
Try countdown timers for limited-time promos
Use minimum purchase promo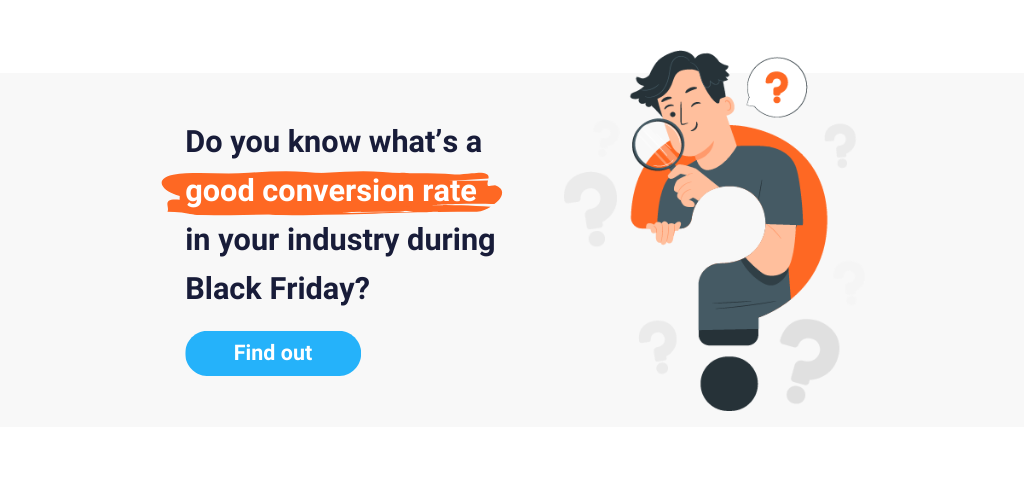 6. Hype it up!
The hype campaign around Black Friday sales should start after the discounts have been planned. Grab the attention of both new and returning visitors by placing a countdown timer on the website. Spread the word via email to all your subscribed members.
These messages should be themed and include photos of the hottest sale items. Sending out periodic emails featuring various discounts is also a smart move. Perhaps add a countdown there too.
If you need more ideas, here's a list of 15 ways to get the most out of your products this Black Friday:
Offer a gift with your purchases
Share a special discount code with your email subscribers
Create promotions that allow upselling
Offer free delivery
Add a countdown clock
Create limited-edition products
Host a virtual shopping event
Offer multiple payment options
Promote your deals on social media
Offer a VIP early-bird discount
Partner up with influencers
Offer a Buy-One, Get-One 50% Off
Boost up your loyalty program
Use a chatbot to help customers find your products faster
Create a gift guide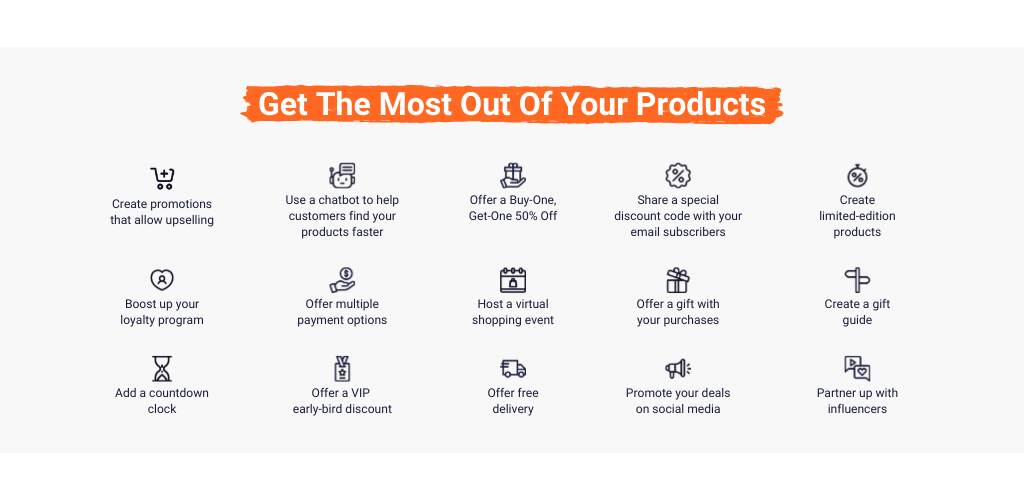 7. Study the competitors
Always keep an eye on the competition, don't let them be the winners of Black Friday! Study their marketing strategy, special coupons and their prices! It also pays off if you come up with a unique, one-of-a-kind offer. And take a look at what the industry veterans are doing. Borrow ideas from big-name retailers, because they know what they are doing.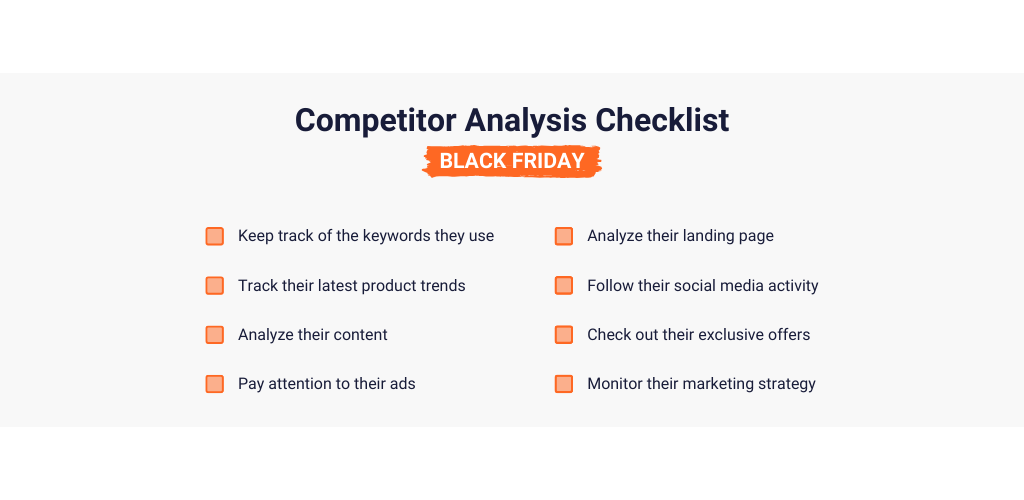 8. Personalize your offers
Do you remember the last ad you saw? Yes? No? Don't know? According to marketing research, we see between 4,000 and 10,000 ads a day. So if you want to run your next campaign half-heartedly, it's time to rethink what you're aiming for.
Think about it, if we all come face to face with that many ads every day, how crucial is it to personalize your communication and present the most relevant content to your target audience? If your ad isn't eye-catching enough, they'll swipe away in a second. Personalization is now more important than ever for sales success.
The No.1 Personalization Tip: Call Them by Name
Everyone likes to hear their own name. It's a simple psychological technique that you can easily use both with consumers and in business. A 2006 study showed that when you hear your own name, your brain reacts as if you're engaging in behavioral and thought processes that are central to your identity and personality.
So customize your emails and be informal with your consumers. Know what products they are interested in and give them a personalized offer. And most importantly: never forget to use their first name!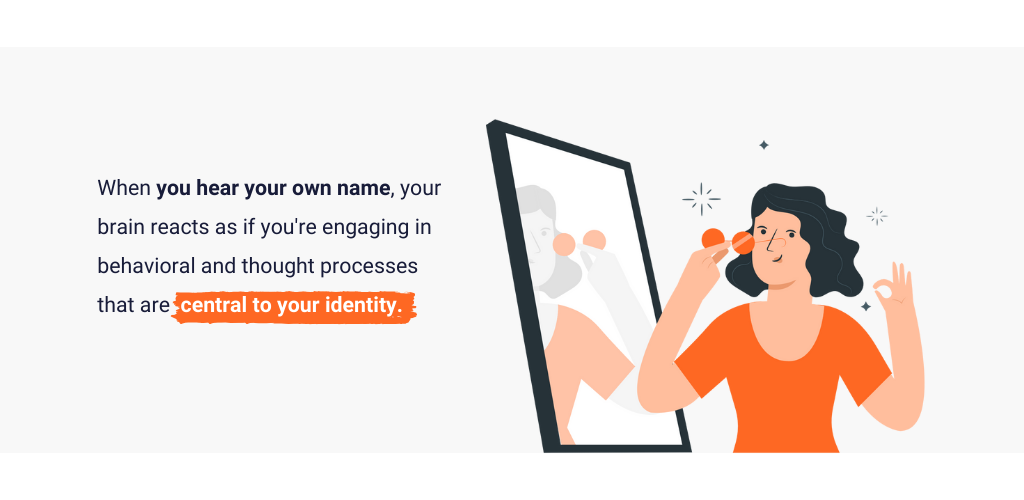 9. Don't leave your mobile behind
Some of the customers may switch to online shopping while standing in a long line during Black Friday. But a poorly optimized site would just add to their already high frustration, and they would leave even before reaching the checkout. Synchronize the shopping cart between different devices, and the webpage should share the same design even on smaller screens.
💡 Did you know? According to Adobe's research of all online holiday sales in the US in 2022, 47% came from mobile.
10. Upsell, downsell & cross-sell
Maximize your profit during Black Friday by concentrating on selling expensive merchandise. Offer free shipping for top-tier products, since customers recognize it as a discount. But if you want to be a pro seller, use the biggest shopping cart boosters: upsell, downsell and cross-sell.
Upsell: if a product ends up in the cart, that's good. But let's be honest… the higher the value, the better. When a user puts a product in the shopping cart, recommend a better one. It's important to show why the other product is a better deal (this is where personalization and the importance of understanding users comes in).
Cross-sell: Let's say you've convinced the user and the higher value product was added to the basket. Now it's time for the extra shopping cart boost. Offer a complementary product that is an unmissable offer for the customer. Be careful not to be too pushy. We will talk more about the specific design later.
Downsell: Okay, but what if you've gone wrong and can't even sell the more expensive product? Don't worry! A good seller always has a plan B. Your tactical plan B is Downsell: offer a cheaper product than the higher value product, but more expensive than the original one. Trust me, you won't regret it. But be careful with that too! Less is always more!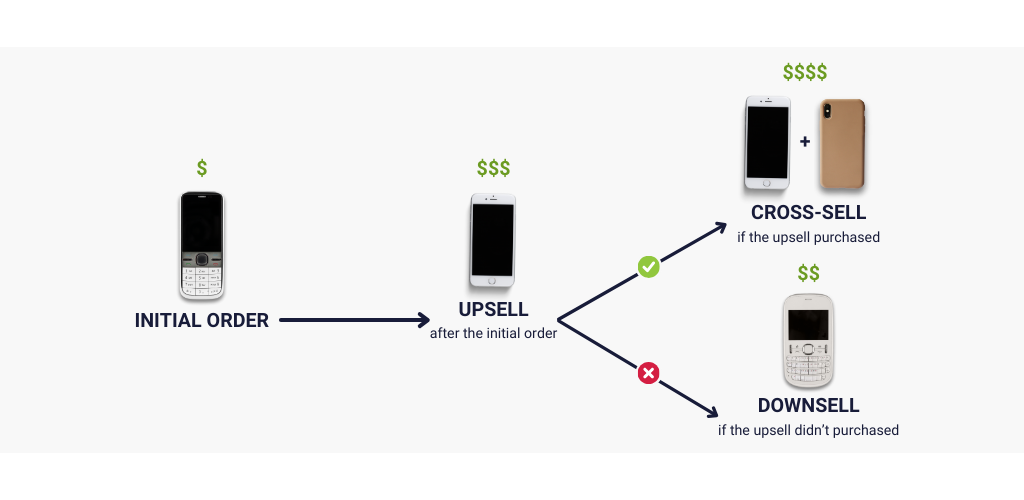 Optimize Your Website for Black Friday
1. Create a sense of urgency visually
Did you know that around 60% of Black Friday shoppers make impulse purchases? I hope you see where I'm going with this. One of the best marketing strategies to boost Black Friday sales is to target impulsive shoppers. As the illustration shows below, unlike normal decision-making, their process is much simpler and faster. It is therefore easier to influence.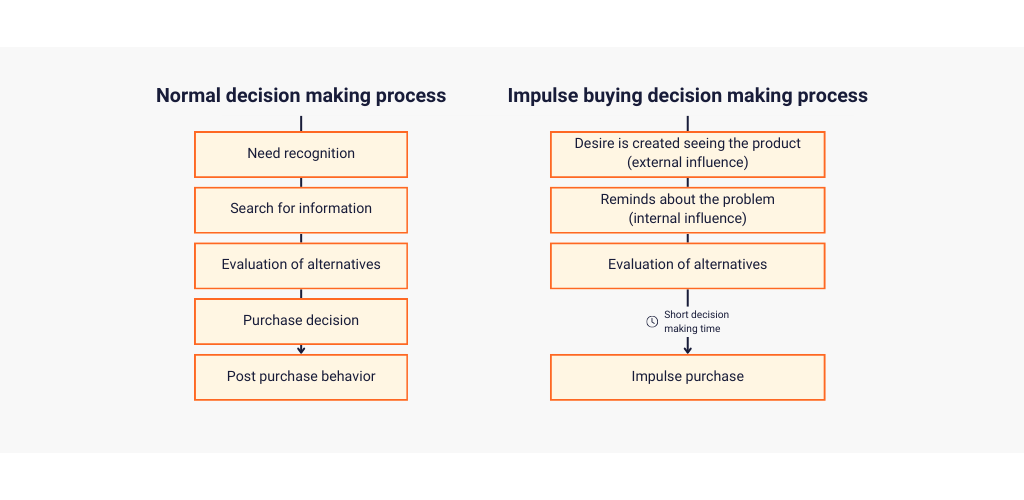 You can easily create a sense of urgency with nudges, like:
Countdown timer: Just like in a board game, you can make your users' shopping experience even more exciting and unique by allowing the discount to expire at any time. Also, the customer will have less time to hesitate. But beware, too tight a time frame can be frustrating for the user and you can get the opposite results.
Low stock indicators: Have you ever heard of FOMO and the herd effect? It's one of our favorite marketing psychology hacks. If a user feels they are missing out on something that everyone already has, they want it. If you indicate low stock, you can amplify his urge to own an item. However, avoid having too much stock. A product doesn't feel too limited if the customer sees that there are 1000+ items still in stock.
Live traffic data: Imagine standing in line at the ticket booth of your favorite artist's concert, when you hear that the first person in line has a chance to go on stage and spend the whole night there, out of thousands of people… Let's be honest, YOU want to be THE ONE. It's no different when it comes to buying products. If a shopper sees that there are only 7 of the products they want, but 15 people are looking at them, they'll do everything they can to be the one to buy it.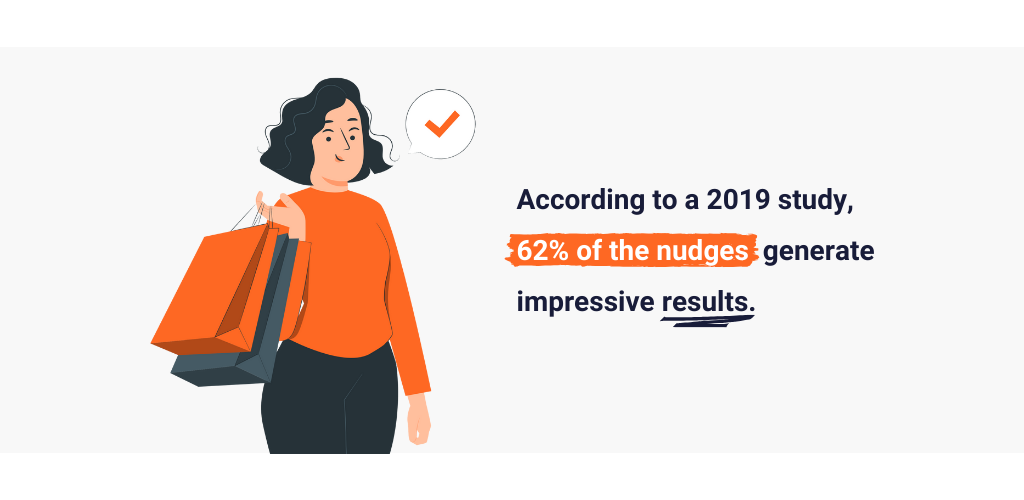 2. Custom landing page
At Christmas we decorate a tree, at Thanksgiving we eat turkey, at Black Friday we create a landing page. It's basically a limited-edition catalog of your hottest product offers and your biggest deals, packed with a lot of promotional nudges of course. But you may ask why you need to create a new page just for Black Friday.
Tailored User Experience: Imagine walking into a shop and finding a dedicated place just for you, with all the products you want. Would you feel special? Would you shop more quickly if you didn't have to search through all the junk for treasures, but were presented to you on a silver platter? This is how visitors feel when they visit your site. Offer them their favorite products on a silver platter spiced up with extra discounts!
Focused messaging: Trying to communicate too many messages to your customers is like saying absolutely nothing. The moment you start pushing your message too hard, you miss the point. Think about it: you want to buy a random product for 2 for 1, but if you use the Black Friday 20% coupon code, it's no longer valid, but if you buy the Black Friday sale product, you can get up to 40% off… How confusing is this? Highlight key points and separate them from your regular content.
Increased conversions: Your customers have only one goal: to get THAT product. Your mission is to give them a crystal-clear road map of what they need to do to get that product. That's why it's important to create an intuitive landing page because the simpler you make the buying process, the higher conversion rates you can expect. Btw, do you know if your conversion rate is below average or above average? In this article, you can get a detailed analysis of your industry benchmarks.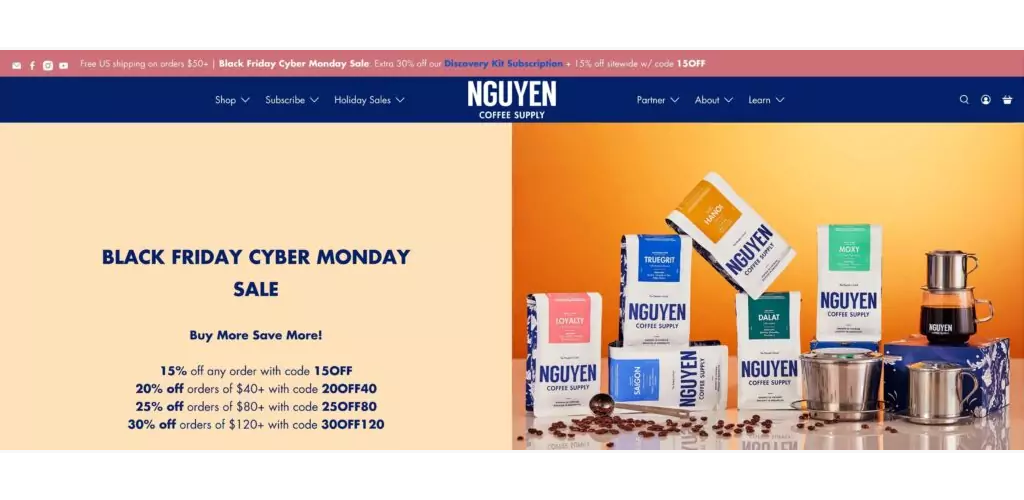 3. Have a headline
How do you recognize your favorite store when you walk down the street in a new location? By the logo and those unique attributes, we call branding. If you know your favorite store well, you can tell from a distance when there's a sale going on. Just like in physical stores, it's important to grab attention in the online space.
When you visit a website, the first thing you read, even if not consciously, is the headline. And you have an opinion about it. You know, just like on a first date. First impressions are always important, beauty attracts, but personality captivates. This is true for websites too.
Your Black Friday landing page headline should be bold, use an easy-to-read font, and be as eye-catching as your creativity allows. It is important to always include the main message of your landing page: 2 for 1? 70% discount? Everything half-price? Do you have a special coupon code? Keep your headline short but impactful!
💡 Did you know? Your website traffic can vary by up to 500% depending on the headline. In general, 8 out of 10 people read your headline, and only 2 out of 10 read the rest content. Which means that an attention-grabbing headline is crucial to get users to scroll down your page.
4. Create visually appealing videos
Almost everyone loves shopping online. From the comfort of your couch, you can get your selected products without having to lift a finger to have your order delivered to your front door. However, there is one big disadvantage of selling online, which is that your customers can't hold your product in their two hands, they can only see pictures of it. But not with pro sellers!
Nowadays, you can easily take 3D product photos that let customers see the product as if it were real. But if you don't want to bother with complicated software, product videos are made for you! Let's be honest… today even a small kid can professionally retouch images so fast, that it's no wonder we've lost trust in images. Video content is harder to manipulate, so it's slightly more believable to consumers. Here's an article on how to create an effective video marketing campaign, even for the upcoming Black Friday.
💡 Did you know? A recent study found that 91% of consumers want to see more online video content from brands.
5. Establish trust in first-time visitors
Let's say you're on a road trip with friends but it turns out you're lost. You're starving, but you haven't seen a shop in hours. Suddenly you notice a small restaurant on the side of the road. You decide to stop.
At first, you are suspicious because you have too much to lose: if the food is not good, you will stay hungry, you gave money for a bad meal, or you are afraid it will make you sick and you don't know when you will have the next opportunity to eat. This only becomes clear after the food is eaten.
When a customer visits your site for the first time, they will feel a similar way. If you don't reassure them that your product is of good quality, that you won't steal their personal information, and that they will receive their order, they will feel constant anxiety.
Here are some ways you can reduce the sense of risk on your website:
Use secure payment badges
Display customer testimonials
Add detailed product description
Make the return policy easily accessible
Even take a money-back guarantee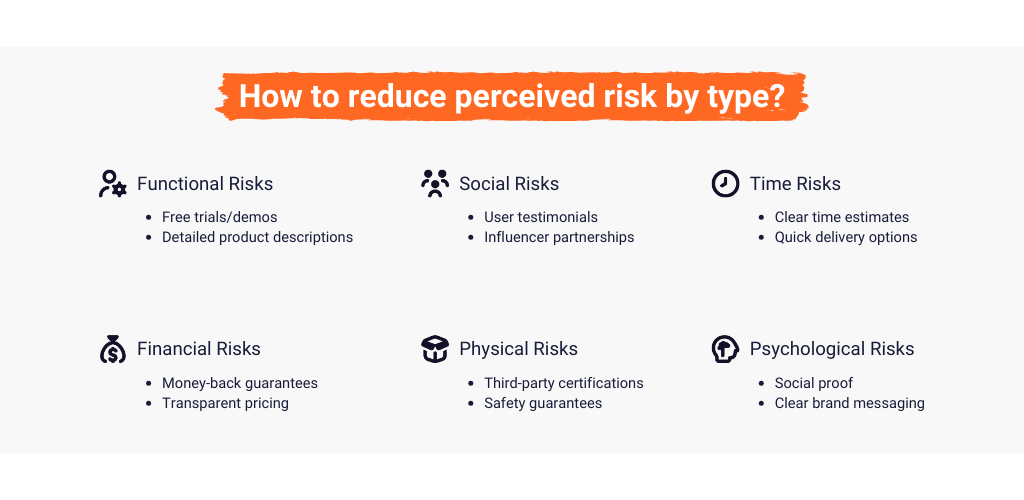 6. Don't let them get away! Use a popup!
Familiar with the situation when you want to buy something in the shop, but you can't find it, you almost give up, and then at the last minute you finally see what you're looking for? This may be even more true during Black Friday. Shoppers face so many impulses that if they can't buy a product in one shop, they'll buy it in another.
But with a well-timed exit intent popup, you can pull the user back to your website at the last minute. But it's important that your copy is engaging, your CTA is clear and your design is eye-catching. You can use images, illustrations, icons and even video.
💡 Did you know? The average conversion rate of popups is 11.09%. Cart abandonment pop-ups show a conversion rate of 17.12%. And guess what, the best performing popups achieve an average conversion rate of 42.35%.
7. Providing a smooth customer experience
We've talked previously about the importance of intuitive website design. Think about it, you're not looking for your socks in the fridge in the morning (at best). The same is true for websites. Make sure your processes are clear and your product categories are distinct.
Put a list of products participating in Black Friday promotions on a separate product listing page outside your landing page. This will further help your users to find products. Also, don't forget to include the upsell, downsell and cross-sell products mentioned above in your processes.
Here are some tips on how to build an intuitive website design:
Use consistent layout
Create descriptive labels
Take care of the hierarchical structure
Handle the errors
Utilize minimalistic design
Use enough whitespace
Pay attention to touch compatibility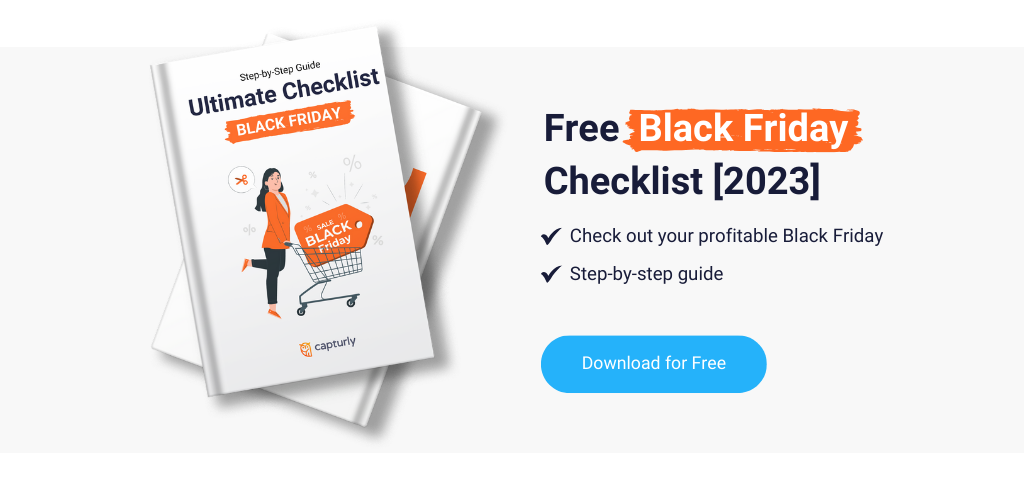 8. The outstanding importance of alt text
Ugh, it's so frustrating when a website doesn't load the image because of an error and just leaves a blob, or even worse when it says 1234asd.jpeg and you just "OK… what could be in the image?!".
Not only can it be an SEO killer if the image has no alt text, but it can also be a real pain for the user if the page doesn't load the image, and even more so if no one knows what was in the image.
And don't forget the original function of alt texts, which helps visually impaired users who rely on screen readers to interpret and describe the visual elements of a website.
9. Do A/B testings
Is your website nice? Easy to use? Intuitive? Still not selling? Umm… do you have any idea what your users are actually doing on your site? Let's face it, A/B testing is not a pretty thing. Nobody likes it. It's time-consuming and fiddly work… But oh my goodness, how many sales it can generate!
Take a look at some statistics, just to convince you:
And who would you learn from if not the biggest? With A/B testing, you can easily understand what your users are doing on your site and how they react to changes. Here is an article on how to A/B test your website using heatmaps.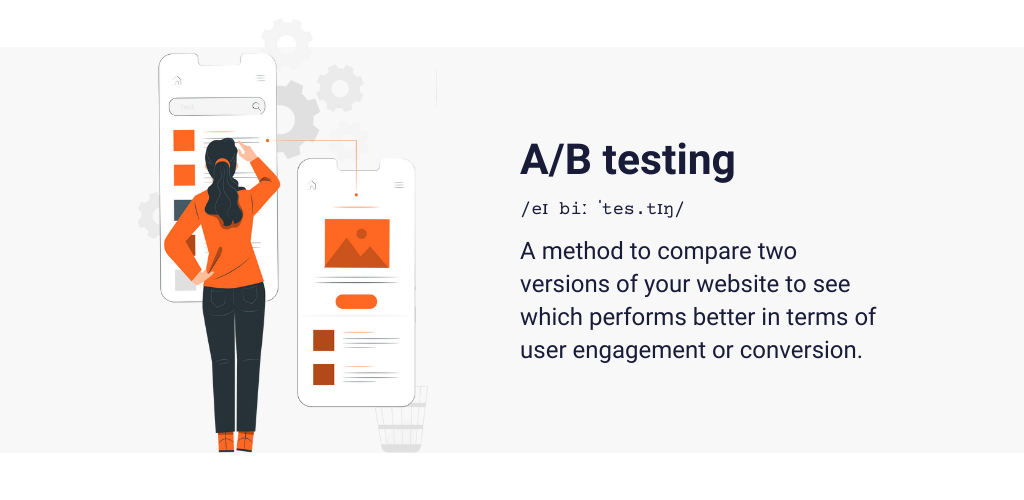 10. Mobile-first website
Mind-blowing: There are currently around 1.11 billion websites worldwide and 3 new websites are created every second. 86% of the world's population has a smartphone, and only 24% of websites are mobile-friendly. Fun fact, 53% of all Cyber Week traffic came from mobile in 2022.
Soo, what are you waiting for to build your website responsive? It's so bad when you have to zoom in and out and drag the screen just to read a non-optimized website on your phone. Please don't do this to your users, it will hurt your sales. Read more about mobile commerce trends, statistics and best practices in our latest article.
Extra Tips: Avoid these mistakes on your Black Friday sales
1. Not using analytics
"I have no sales…but I showed my website to my friends."
"Even my mother can use it."
"My grandmother ordered with her hands tied behind her back."
"I don't understand… everyone loved it."
It is very inspiring when our loved ones support our business, but unfortunately, often it is not enough. They often don't tell you the harsh truth, which is exactly what you need to grow.
To increase sales, you need to analyze the facts. With website analytics software, you can make data-based decisions, so you'll know exactly what and why users did on your site, based on the facts. Optimizing your website will only be successful if you track changes.
Sign up for Capturly's free plan and take a look at your website's heatmap, watch your users' session recordings or track the buyer's journey with your own personalized conversion funnel. With Capturly's newest feature, you can even send out an email survey to get first-hand information about your users.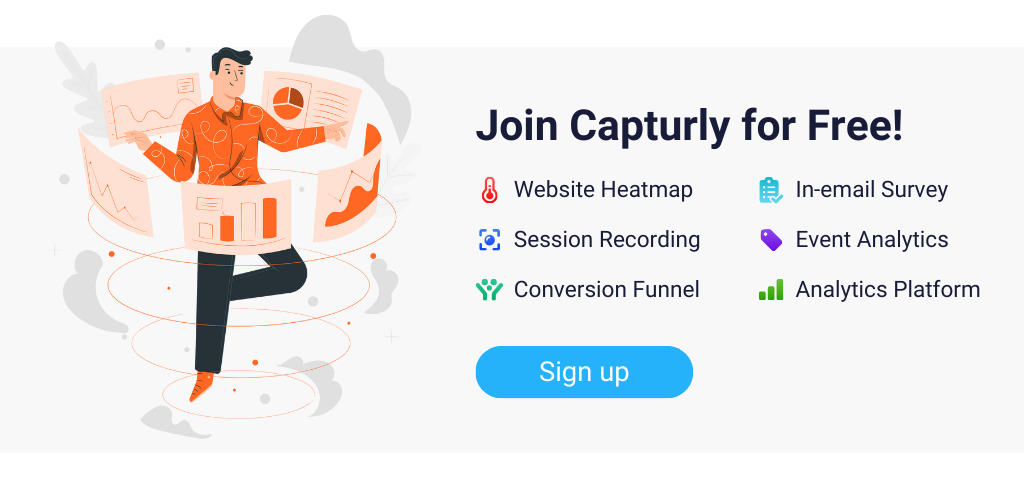 2. Ignoring retargeting
Do you remember when we talked about the fact that we meet about 4,000 to 10,000 advertisements a day? The more times a user sees your product, the more likely they are to buy it. Retargeting is a digital marketing strategy that targets users who have previously interacted with your brand or website with the goal of re-engaging with them and converting them. Never underestimate the power of retargeting, despite its simplicity.
💡 Did you know? According to a study, reaching retargeted users is 8x cheaper per click.
3. Vague offers or misleading information
There's nothing more disappointing than when you want to buy a product but the seller misinforms you about the price, the discount, the packaging or any other detail. Be honest and straightforward with your customers, as it's easier (and cheaper) to call back an already satisfied customer than to get a new one. Based on your industry, studies show that it can cost 5-25 times more to win a new customer than to keep an existing one. Think about this next time you're writing your marketing copy. Always be honest and clear.
4. Poor navigation
It's incredibly frustrating when you're looking for something because it once piqued your interest and the whole website is a labyrinth. But not the cute little sheep maze that they make for little babies, it's like a killer whirlpool with its all-consuming corridors.
Give your website a structure, and each page should be accessible from the main page in no more than 3-4 clicks. This is important from an SEO point of view, but mostly to make your site easily searchable. It can also be a good idea to add a search bar to your website. The infographic below shows an example of website navigation specifically for e-commerce stores.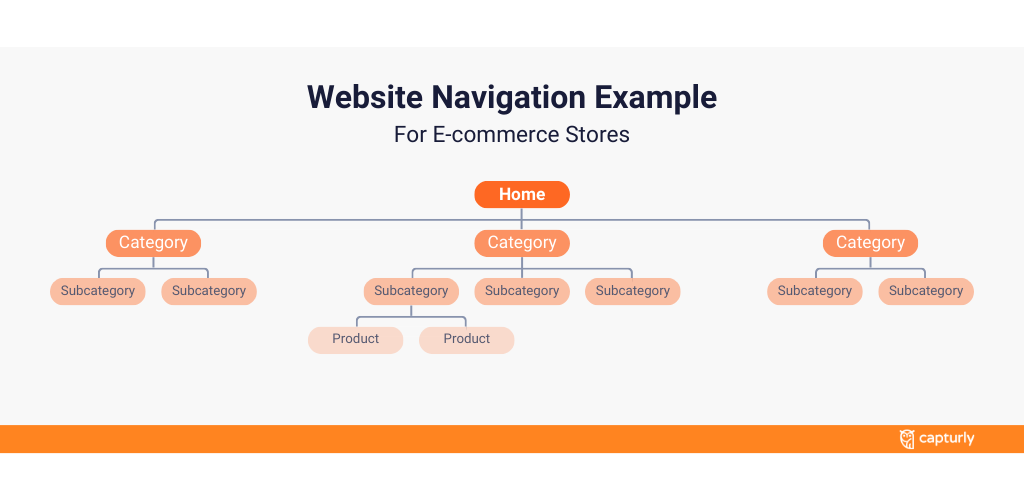 5. Complicated checkout process
Have you ever left an online store because the checkout process was too complicated? Many users choose to buy the product somewhere else, or it's not that important to them anymore. An overly complicated checkout process scares shoppers away. Keep it simple and clean.
💡 Pro tip: Use a Session Recording Tool to see how users behave during the checkout process. This will help you to optimize your site for users and create the best-converting interface.
And remember Cyber Monday!
Cyber Monday is the Monday after Black Friday when online sales skyrocket. Like Black Friday, prepare for a shopping dump: make a plan and supercharge your earnings. Last year, in 2022, the average expected spend on Cyber Monday was the highest at $218, compared to $205 on Black Friday. To maximize your shopping frenzy this holiday season, download Your Own Free Black Friday and Cyber Monday checklist by clicking on the image below.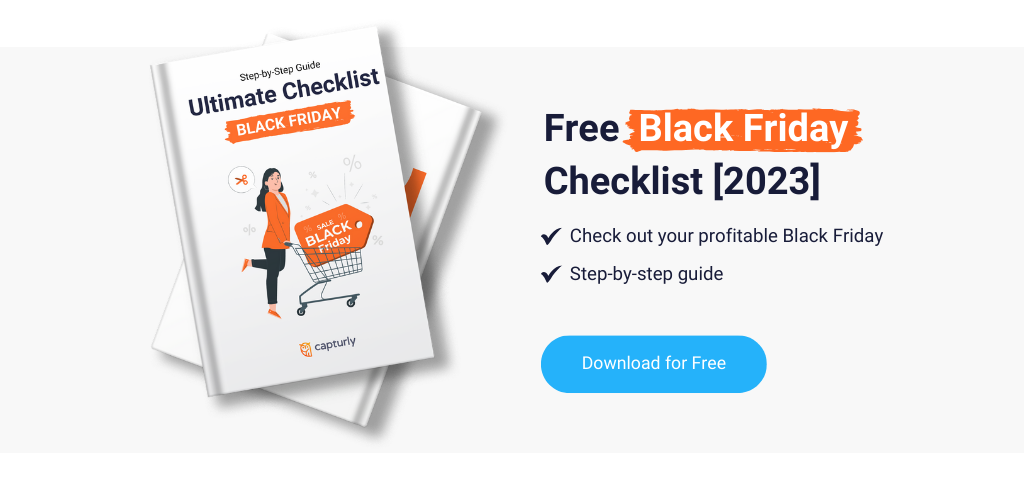 What is the significance of Black Friday for e-commerce businesses?
Black Friday is one of the biggest shopping days of the year. It signals the start of the holiday shopping season and offers e-commerce businesses a chance to boost sales, attract new customers, and clear out inventory.
Should I offer discounts on all products or select items only?
This depends on your business goals. Offering site-wide discounts can attract a larger audience, but offering discounts on select items can help move specific inventory or promote high-margin products.
How can I ensure my website handles the Black Friday traffic?
Consider investing in scalable hosting solutions, optimizing your website for speed, and conducting stress tests in the weeks leading up to Black Friday.
How do I make my Black Friday deals stand out from competitors?
Offering exclusive products, bundling items, providing exceptional customer service, and creating engaging marketing campaigns can set you apart.
How do I manage returns and exchanges during the high-sale period?
Clearly communicate your return and exchange policy ahead of time. Consider simplifying the process and extending the return window to instill confidence in your shoppers.
What if my Black Friday sales don't meet expectations?
It's essential to remain adaptable. Use the data gathered to adjust your strategy for upcoming sales events and consider other promotional opportunities throughout the holiday season.