The role of webdesign in increasing your sales on Black Friday and Cyber Monday
Today if a webshop works great and totally bug-free, well, that is great, but not enough at all. Customer expectations got a little out of hand and are forever changing nowadays. Being simply great won't be enough to persuade them to make a purchase. Given two webshops with the exact same or similar products to offer, both of them optimized, most commonly the one with the more attractive appearance will win in the fight for customers.
The most important question of all: Are YOU prepared?
We gathered you 8 tips that can help in increasing your sales on Black Friday and Cyber Monday.
1. CUSTOM LANDING PAGE
Sites who wish to look professional and those with an enormous traffic, usually set up a separate landing page for the webshop visitors during this time of the year.
But how would that increase your conversion rate?
Applying landing pages with counters and eyedroppers can immediately gain the attention of the customers who are seeking for limited offers and massive discounts. A promotion code landing page is also an awesome idea if you wish to increase the sales of a specific product. It is recommended to show a direct link for the visitors to click on and send them right ahead to the shopping cart or checkout area.
Let's not forget about the importance of call-to-action buttons either. They are essential to convert your visitors into buyers. Make these CTA buttons drive plenty of clicks by giving them enough contrast with the other elements of the page. Also try your best to get real fancy with button graphics and use large, legible, action-packed text for a higher click-through rate on the landing page.
2. CREATE A SENSE OF EMERGENCY VISUALLY!
This one is closely related to our previous point. With the help of an eye-catching timer on the landing page, your webshop can cut to the core of the offer and make sure every visitor is aware that the deal is limited. It creates a sense of emergency visually and a strong urge to buy the product. This way you can also make users come back to your site every now and then to check out the time left from that upcoming unmissable offer or event.
3. HAVE A HEADLINE
Just imagine the situation. You have a great landing page with an amazing design and a grandiose offer. Thanks to this, visitors proceed to your webshop, where there is no sign of any discount. Nothing could be more confusing and disappointing. Have a headline to confirm visitors they are on the right page, deals are real, show them how to continue their journey of purchase.
4. CREATE VISUALLY APPEALING VIDEOS
You can make your offer even more tempting by enhancing all the desirable attributes of your product in a short video. It is a superb way to inform your potential customers about the subject of the deal and improve the overall picture of your webshop. A label or a headline itself referring to the discount is definitely not enough to communicate the festive mood and make you visitors click on 'Buy'. But if these two get combined, your product will become irresistible.
5. ESTABLISH TRUST IN FIRST TIME VISITORS
During Black Friday and Cyber Monday there is a huge growth in the number of new customers. If you have read our previous article about improving your conversion funnel then you may know, that during these couple of days it is your number one priority to gain the trust of these new visitors and make them your customers. To this end, you need to create persuasive visuals that strengthen the trust of visitors in the quality you offer. You should communicate the values you represent with your products. Trust seals provided by third parties are perfectly suitable for this purpose. Make sure they are clearly visible on your images, or on the top or bottom of your webshop. Don't forget about money back guarantee banners and a customer support service, both of them are effective to increase buyer trust. Last time we have written about the benefits of setting up a live chat on your webpage. If you don't already have it installed, then it might be a good idea to do so before your big holiday sales start. This way customers can quickly and easily ask for more information about your offered products.
6. USE VISUALLY ENHANCED BANNERS INSTEAD OF INTERSTITIALS
The best way to drive all your potential customers away in less than 10 seconds is to place some interstitials, or also called pop-ups on your front page. The moment visitors see these, mostly irritating windows (as pop-ups distract them in looking around in your webshop) the first thing they want to do is exit and run. Rather use interstitials as a last move to gain the leaving ones back. Optimonk's exit intent technology allows you to detect the moment they try to exit your site and display a targeted offer to your visitor.
Rather place an eye-catching sale banner informing and forwarding viewers directly to the product page. Talking about visuals, remember that consumers love Black Friday and Cyber Monday. As they see your website design skinned with a festive theme, they will immediately associate it with savings.
7. DON'T OVERUSE IMAGES
Images play an extremely important part in creating engaging page content and nice appearance, especially during holidays. On the other hand, you have to be very careful not to take it to the extreme. Visitors can easily be obfuscated and get confused by the too many graphics on one single page. They might ask themselves: What am I searching for? What am I doing here? Avoid this by keeping your design simple and neat, so you will keep their attention focused on the deal. You can also map their journey on your webpage and understand what content made them either become leads or leave the site. There are several activity, mouse-movement and behavior tracker platforms you can use. Such are Mouseflow and Capturly.
8. DON'T LET THEM GET AWAY!

Exit intent popups are a great way to attract almost leaving customers back to purchase. These prove to be very effective, like one last chance to grab the attention of exiting customers with a special deal or huge discount. Their design should be outstanding and eye-catching in order to reach the expected results. In this case, you are allowed to experiment with more reckless and striking solutions, as you have nothing to lose.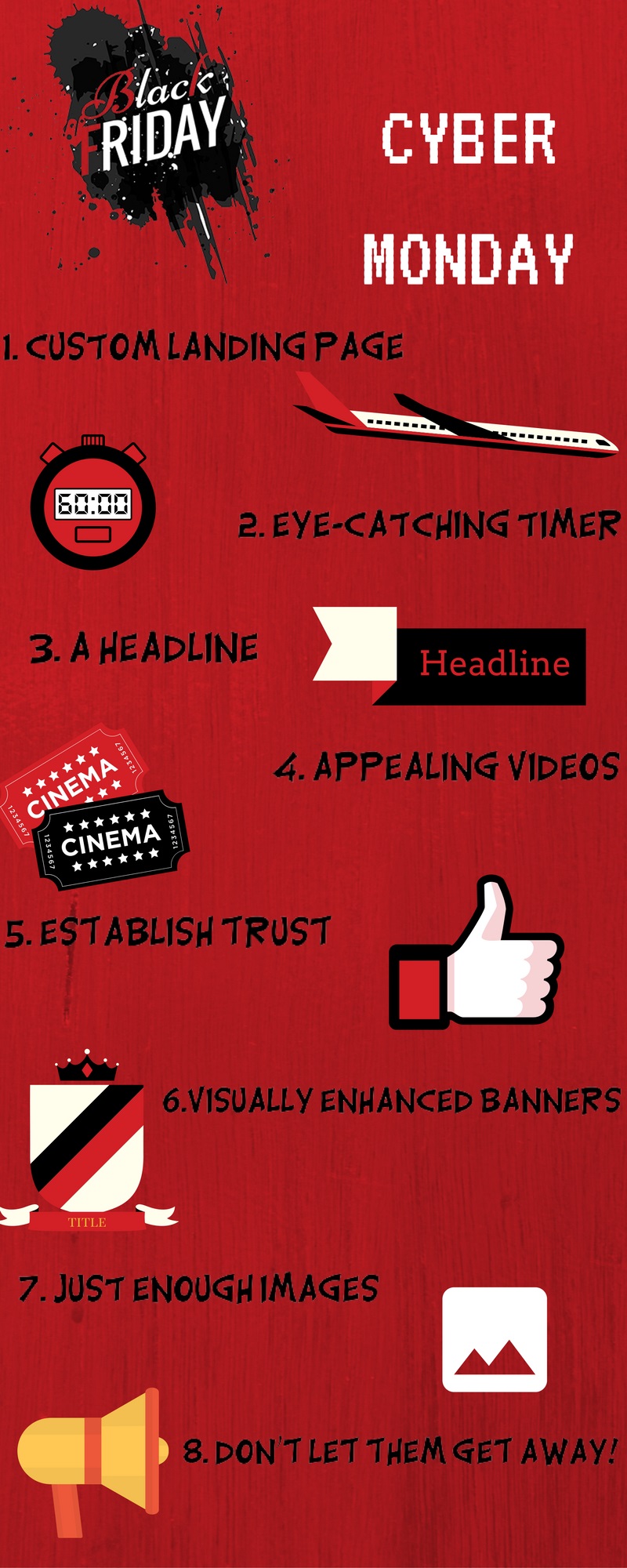 Want to get more tips like this and improve your site like a pro? Read our next article and subscribe to our newsletter, so you won't miss a thing!