Only 22% of businesses are satisfied with their conversion rates. It's not a particularly motivating statistic, but it does mean there's a lot of room for improvement. 
Increasing the conversion rate is the number one goal for the majority of businesses.
More conversions obviously mean more sales, more customers, and more revenue – what's not to like? 
But increasing conversions can be hard. According to research, 68% of small businesses don't have a documented conversion rate optimization strategy. This makes them amateurs and leaves them open to making mistakes that can cause conversions to plummet.
So how can you make sure you're not turning away customers and revenue? The key is to avoid making these mistakes:
1. Trying to Be Relevant to Everyone
There's a popular saying: if you try and appeal to everyone, you end up appealing to no one. This is particularly true in the world of online conversions. 
The endless choice available to consumers today means that if a brand doesn't give them what they want, they can easily go elsewhere. This often happens if they feel like they don't resonate with a brand or it's not a good fit for them.
There's a reason that marketers say segmentation is the most powerful method of improving conversion rate. It's because,
by segmenting your audience into groups based on their interests, behaviors, or demographics, you can create content and information that really resonates with them.  
Before your segment, you'll need to create buyer personas. These are 2-3 profiles of different potential customers, complete with their needs.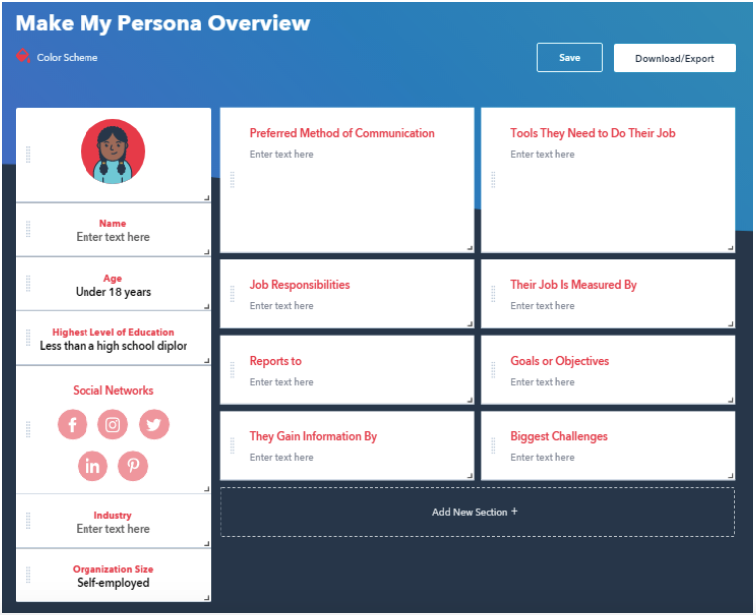 HubSpot has a great free persona generator tool you can use to get started. 
As well as figuring out their age, location, and job role, consider digging deeper to identify information like:
What their biggest challenges are

What their goals are in life or business

What they like to do in their spare time 

What magazines and media they read daily 
Once you have this level of detail on hand, you'll be able to tweak your messaging to align with their needs, optimize your landing pages for them, and know where and how to reach them. All of this leads to more conversions. 
2. Not Understanding The Stages of The Sales Funnel
Regardless of what you're selling and who you're targeting, your product will have a sales funnel and a Sales Cycle – that is, a series of steps your customers go through before they make a purchase.
Most buying cycles have three distinct stages: 
Awareness

– where consumers aren't aware or have just become aware that they have a problem that needs solving

Consideration

– where consumers weigh up the solutions they have available

Decision

– where consumers choose an option and make a purchase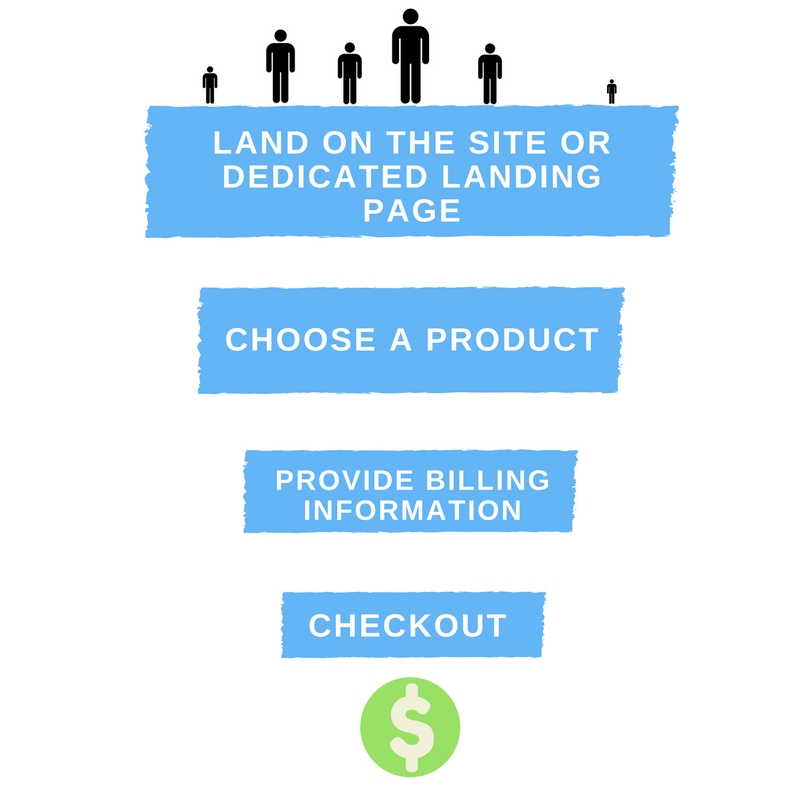 Consumers in different stages of the buying cycle need different information to move to the next stage. For example, someone who doesn't know they even have a problem that needs solving is going to need completely different content to someone who has their wallet out and is ready to buy.
Understanding the different stages of the cycle and identifying where potential customers are in the process can boost conversions.
There are several steps to this process: 
Analyze your current buyer's journey and determine where the weak spots are (these are the places where leads drop off or change their mind)

Identify the key problems prospects have in those weak spots and what kind of information they might need to solve those problems
3. Not Adhering to Web Best Practices
Once people land on your site, you want to make it as easy as possible for them to convert. This means creating a really simple conversion funnel that makes it incredibly clear where visitors need to go next.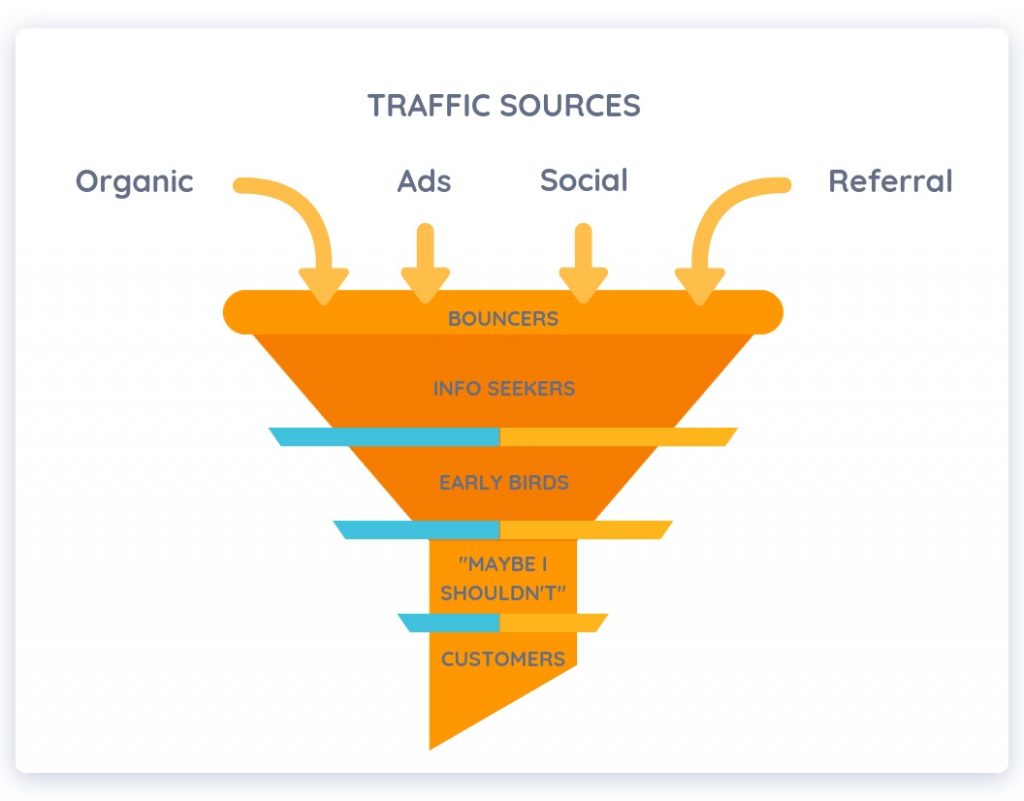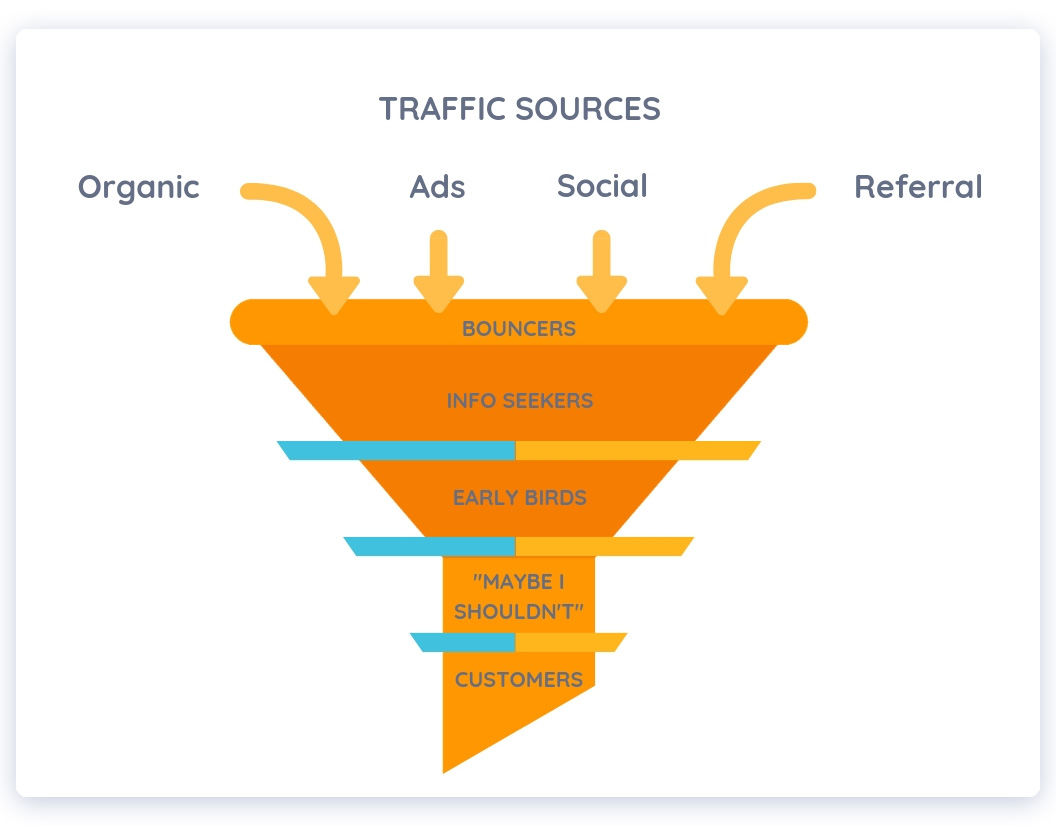 Example of a conversion funnel by traffic source
Reports show that
more than 20% of businesses don't have an effective strategy for landing page testing.
Those that aren't tweaking the design and copy on pages geared for conversion might be missing out on sales.
As well as tweaking the design of your pages to get the best results, you can also incorporate other techniques that are known to boost conversions, like incorporating video. Studies have revealed that using videos on a landing page can improve conversion rates by 86%. 
The best part is that your website videos don't have to be highly-polished Hollywood-style films; they can simply be a short Q&A shoot with a member of your team or a smartphone-shot video of your product in action.  
Also, make sure your calls-to-action (CTAs) are clear and concise. These are the last frontier before your visitors convert, so make them compelling and ensure that prospects know exactly what they'll get when they click.
4. Focusing on Features Over Benefits 
It's easy to hone in on the features of your product when you're promoting it to prospects. You're proud of what it can do and how it works, but this isn't always the best way to increase conversions.
Instead, prospects want to know how your product will help them. This means focusing on the benefits your product gives rather than the features it has.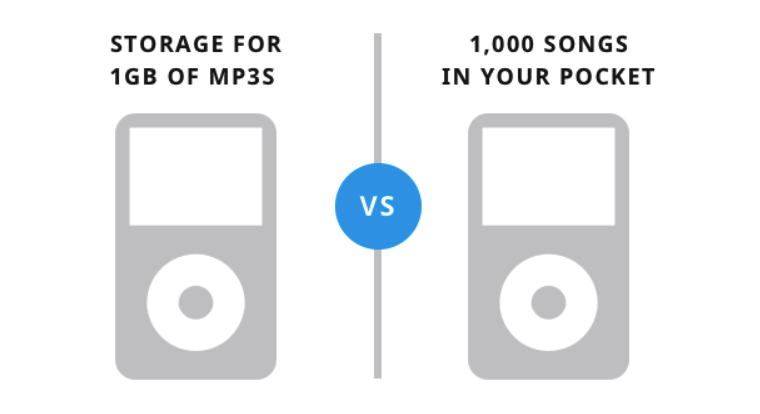 This simple example from iPod highlights the difference. 1GB of storage means nothing to most consumers. However, the ability to have 1,000 songs in their pocket is a huge benefit if they regularly listen to music while on the go. 
To figure out the benefits of your product, start by listing out how it helps prospects and branch out from there. Think about whether it saves them time, whether it saves them (or makes them) money, and other intangible benefits that might not be obvious at first. 
Increase Your Conversions This Year
Increasing your conversions should be a priority. Getting more customers and boosting sales means your business is constantly growing. 
Start by figuring out who you're targeting and then work out what they need at different stages of the buying cycle. From there, you can tweak your website and landing pages until they're performing at their best. 
Author Bio: Ryan Gould is the Vice President of Strategy and Marketing Services at Elevation Marketing. From legacy Fortune 100 institutions to inventive start-ups, Ryan brings extensive experience with a wide range of B2B clients. He skillfully architects and manages the delivery of integrated marketing programs, and believes strongly in strategy, not just tactics, that effectively aligns sales and marketing teams within organizations. Connect with him on LinkedIn.