E-commerce businesses can have an edge over competitors only if they follow a multi-channel marketing strategy. It helps them reach many prospective customers through various platforms such as online and mobile stores, social media channels, emails, and apps. 
On the report of Shopify, multi-channel marketing and selling accelerate profits by 38%, 120%, and 190% with increased channels.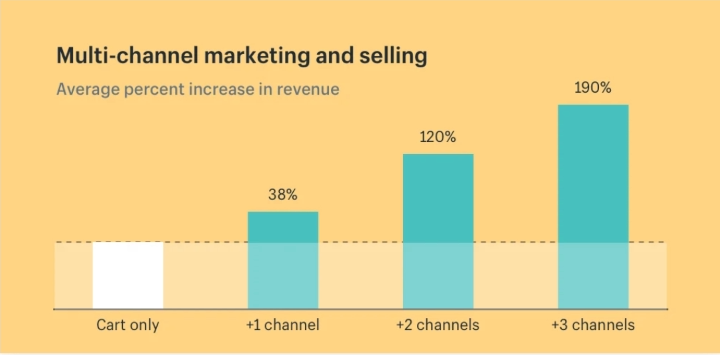 No wonder multi-channel online retailers generated more than 350 billion U.S. dollars in e-commerce sales in the United States. The figure will reach a whopping 575 billion by 2023.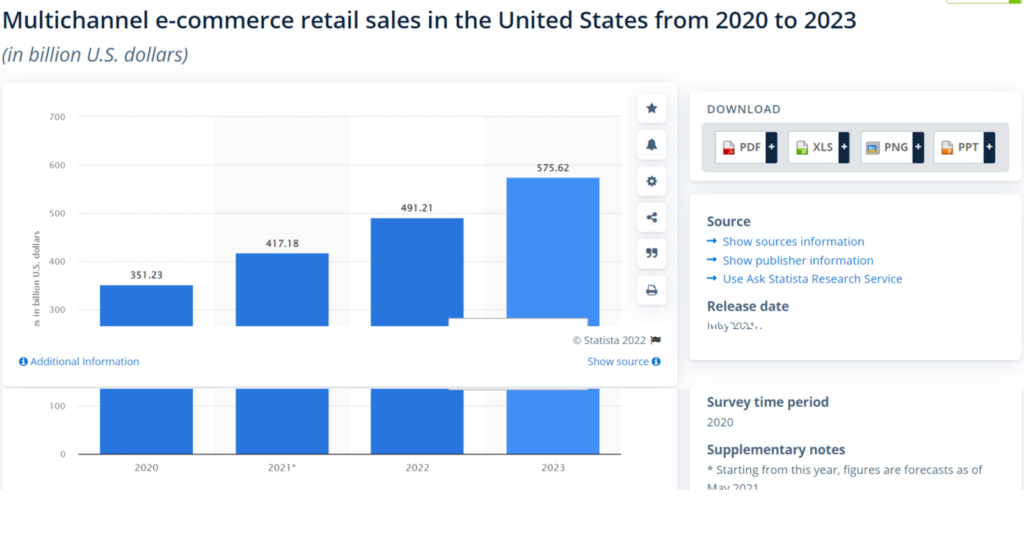 This blog post will share the nitty-gritty of a multi-channel e-commerce strategy for your business. 
We will also give you nine tips for creating a robust multi-channel marketing strategy. These tips will help you increase customer engagement, upscale your sales and purchase, and get access to a loyal customer base.
5 benefits of a multi-channel e-commerce strategy
Here are the benefits of a multi-channel e-commerce strategy.
Increased brand visibility
Multi-channel marketing gives you the ability to target a diverse set of audiences. It will also grow your business's visibility. Simply put, it will help you explore new markets and get new customers. This will successively increase your business's sales and revenue. 

24*7 support
With multichannel retailing, customers can shop anytime and anywhere. They are not bound to shop in a physical store with set opening hours. People can shop over their mobile through apps. Social media channels, and e-commerce websites round-the-clock. Thereby helping you scale your business beyond a store. 
Access to better data and analytics
A multi-channel e-commerce approach lets you analyze a vast amount of customer data. These data include purchase history, browsing behavior, demography, customer interests, time, location, and device usage. 
Analysis of such data provides a clear insight into consumer behavior, preferences, and likes. 
Improved customer targeting and personalization
You get access to essential customer data through multi-channel marketing. So, how can you leverage this data? 
By devising a better marketing strategy to target your customer base, the answer is. You can use this data for customer segmentation and personalization. 
If a customer is more active on Instagram, you can show them customized offers. You can also use short on-site videos to gain their attention. It will increase customer engagement and sales. Collect as much customer data as you can, to get a better understanding of their demands. This will increase your customers' loyalty to your brand.
Seamless customer onboarding
The easier the customers can access your brand, the more your business appeals to them. With a multi-channel marketing approach, customers can shop your products and services conveniently and quickly. 
Say they are browsing Facebook and your targeted product ad pops in. All they need to do is click on the ad, head to your website, browse your products, and voila! They can make a purchase. 
All in all, a smooth, integrated shopping experience leads to instant customer gratification.
How to create a multi-channel e-commerce strategy
Find the right sales channel
It isn't necessary to be anywhere and everywhere just for the sake of going multi-channel. You should put your foot in only those channels that are relevant to your business. Simply put, the channel you choose should be in sync with your business goals and target clients. 
For instance, if you work in a B2C sector, social media channels such as Facebook and Instagram can work wonders for your business. They have a higher commercial user base. However, if you work in a B2B niche, professional websites such as LinkedIn might work best for your business. 
Further, if you want to use text messaging or email marketing for your multi-channel strategy, find out if your customers want to be a part of it or not. 
Are they willing to receive text messages and emails from your brand?
The best way to find a channel that resonates with your customers is by asking them. You can share questionnaires conduct surveys and interviews with the following points to understand your customer's views:
Their age, education, demography
Career choice and income range
Pain points and product/service preferences
Further, you can also study the channels your competitors are using and include them in your strategy. Besides, you can find out the channels that consumers prefer while shopping.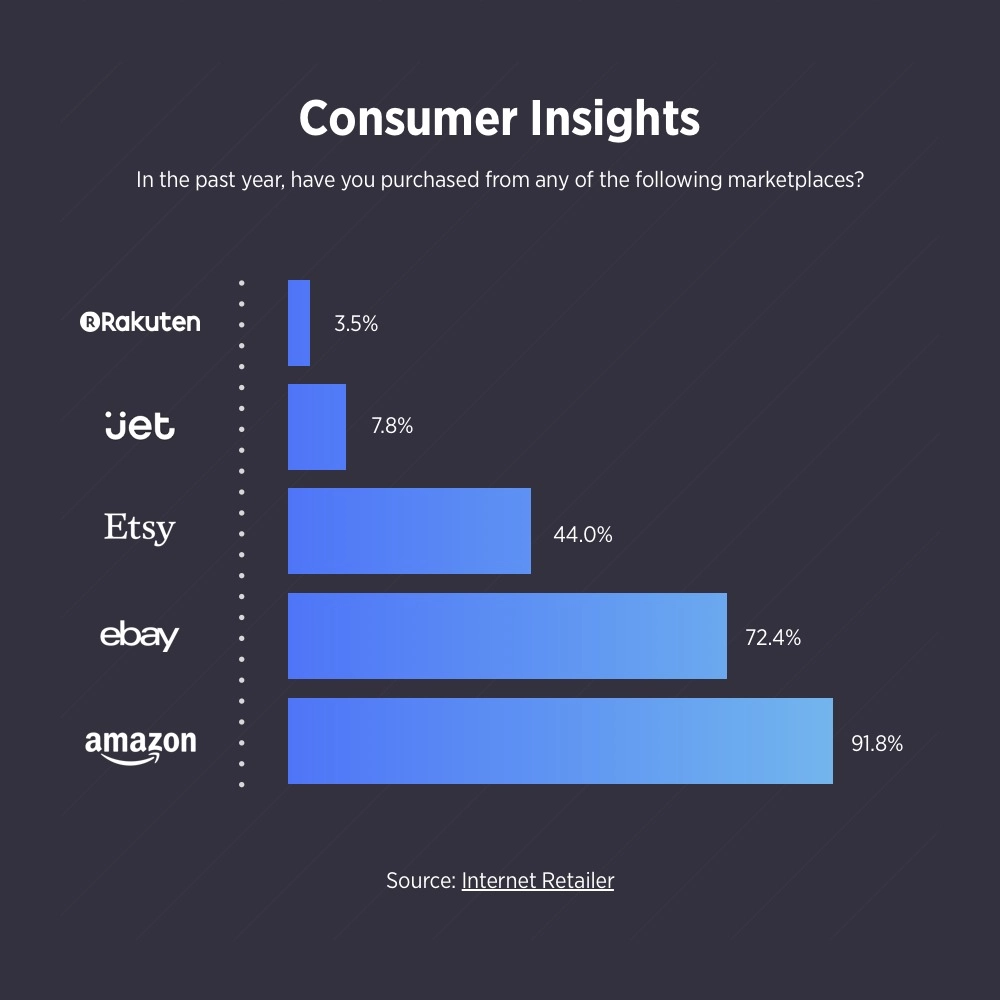 Provide smooth customer service
Online shopping gives people ample choices. If you want your customers to choose you over your competitors, make the customer experience your priority. Make your business as handy as possible. From instant customer support to giving customers what they expect. Seamless customer service can help you strike a chord with customers. 
You can take some inspiration from Disney. The brand offers a consistent experience throughout its website. See how the website provides all the company's product lines. Such as an online store, vacation planner, and Disney Plus streaming service.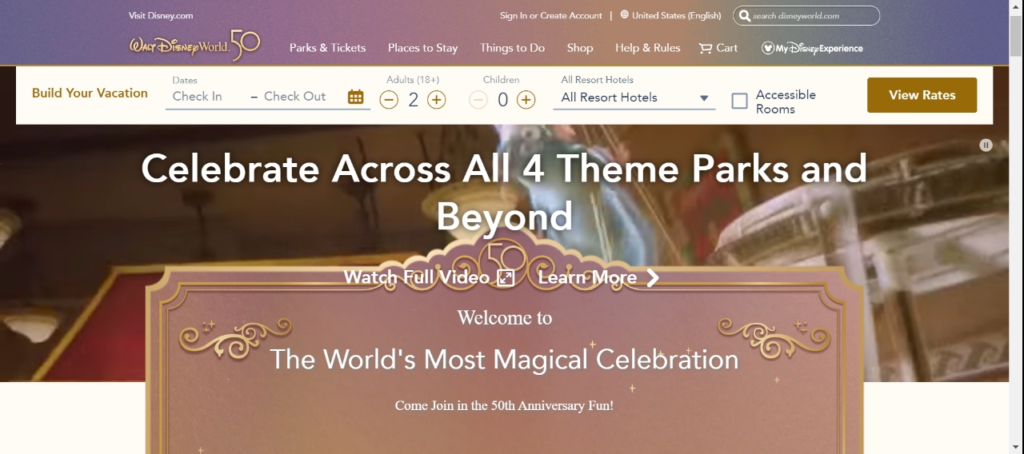 Also, the best part of these product lines is their optimization across all the devices. 
So, whether you want to shop Disney merchandise at an online store or want to plan a trip to any Disney park through its vacation planner, you can do it all with only one click. You can also access exclusive Disney content through the Disney Plus streaming service. 
Personalization always works
You can personalize your multi-channel e-commerce strategy by making good use of customer data. Take some cues from Bank of America, which offers its services through various marketing channels. 
Whether customers want to deposit money or make an appointment. They can do anything through their preferred channel, i.e., website, apps, or physical location.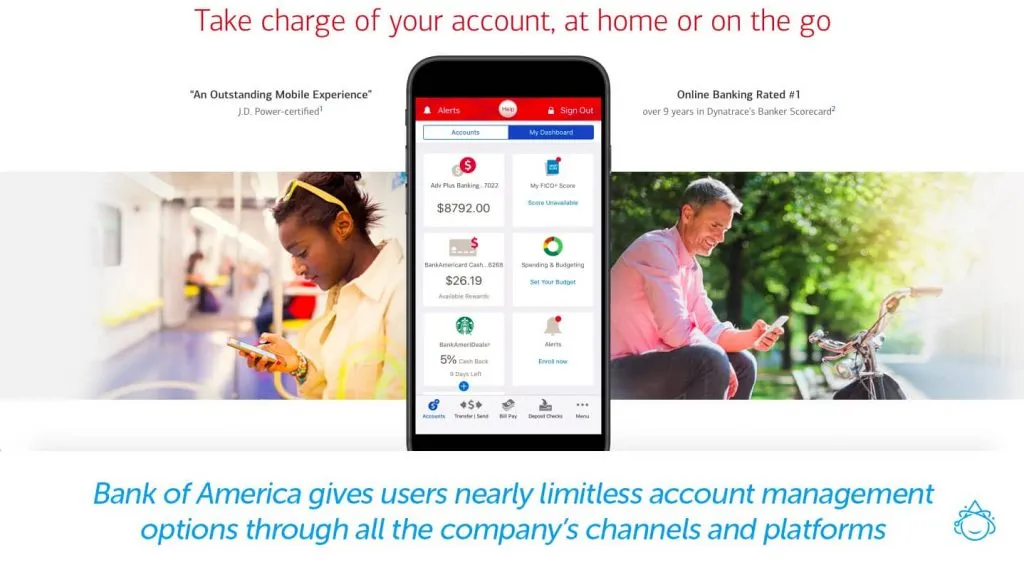 The bank further brings its unified customer experience a level above by leveraging customer data. Such as their current and past service plans. They derive an upselling strategy based on this data and offer customized services to the customers through their preferred channel of communication. 
Have a smooth inventory management
With additional channels comes proper inventory management too. A sorted and organized inventory is one of the keys to a successful multi-channel e-commerce strategy. 
Hence, it becomes imperative to update your product's availability and prices on all your channels. 
For instance, imagine you have an online retail fashion outlet spread across multiple channels such as Amazon, eBay, and more. You have 20 Gucci handbags in stock. Out of 20, you sell three on Amazon and four on eBay. So, it becomes imperative that you update your website inventory with 13 Gucci handbags throughout all the channels. 
It will help you avoid embarrassing situations where you end up selling more than what you have in stock. So later on cancel the order because of product unavailability. You can use inventory management software to help you streamline the whole process.
Content consistency is the key
You can position your brand smoothly if you take a consistent content approach. In simpler words, you need to create and post regular content consistently through all your channels to keep your customers hooked to your brand. 
Remember, your content should help your customers move ahead in their customer lifecycle. You can do it in the following ways:
Influencer outreach
Reach out to relevant influencers from your industry and ask them to promote your product/service on their handle. It can either be a paid campaign or a collaboration by promoting its short products/services. 
Influencer marketing is an organic way of doing promotions. Therefore, the trust factor in influencer marketing is more. No wonder 60% of consumers get influenced by social media posts or a blog review!
For instance, J Crew made its way through its target market by collaborating with famous fashion blogger Melanie Elturk. Being the CEO of an already established contemporary brand, "Haute Hijab," she quickly brought her share of loyal fashion lovers to J Crew's business. All she did was create a post featuring J Crew's products, and the rest is history.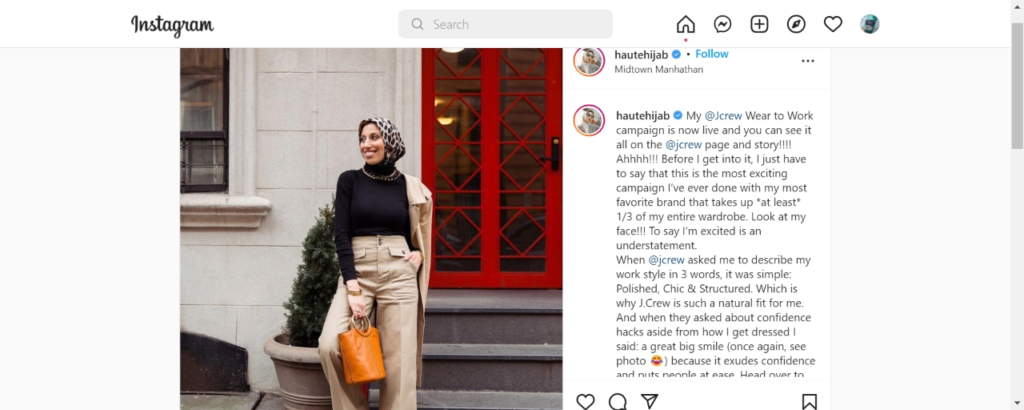 Leverage user-generated content (UGC)
It's a great way of providing your e-commerce brand with social proof. After all, UGC is all about your customers or followers posting pictures or content of the products they brought or services they consumed. As a result, it comes out as an open mouth of promotion and encourages other prospective customers to invest their time and money in your brand. 
GoPro does an excellent job with UGC. The brand encourages its customers to post images and videos of its products. The best one gets featured on the Instagram account of the business.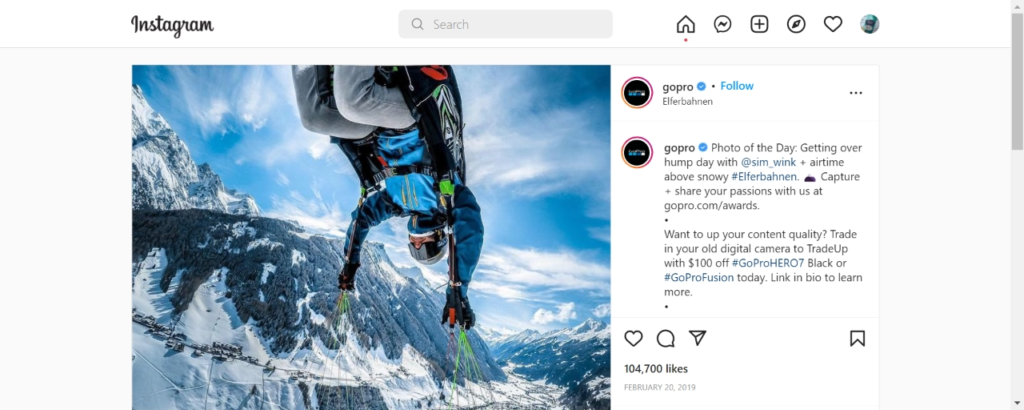 Results? While the customer gets exposure in front of millions of brand followers, the brand gets an opportunity to upscale its social proof. It's a win-win situation for both. 
Connect through direct messages
Social media channels such as Facebook, Instagram, Twitter, and more allow you to connect with your customers through direct messages. 
From sending GIFs and voice messages to sharing stories and posts, a direct message is an excellent way of having one-to-one communication with customers. Such personal touch will make the customers feel loved, thereby helping you maintain a long-term relationship with them. 
Display your products
Sure, you are selling your products through multiple channels. But, how do you show your customers exactly what they are buying? 
By clicking photos of your products from different angles, writing a small product description in the caption, and uploading it across multiple channels. This helps potential customers understand the nitty-gritty of the product before they buy it, thereby increasing their trust in your brand. You can do it the way Adidas Original does by promoting its shoes through spectacular photos.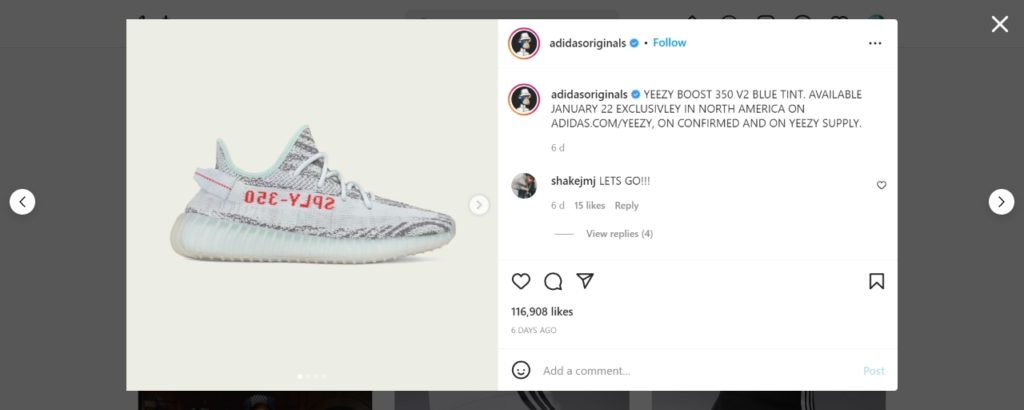 Create testimonials
Testimonials are another great way to establish your social proof. Include a customer review section in your e-commerce website or app and ask customers to share their feedback about your products or services. You can also give them discounts and coupons for sharing feedback. 
Once you collect enough testimonials, you can use them to promote your business. Include the testimonials in your email newsletters, post them as stories on your social media channels, boost them as paid ads and make the most out of your word of mouth promotion. 
Remember, when prospective customers browse through your products and find validation through an honest product review, their chances of purchasing will naturally increase.
Have an expansion strategy
It is good to start small but always strive towards growth and sustainability. That's why it is vital to have a robust and handy expansion strategy for your business. 
So, you might have invested in Amazon and Facebook for your multi-channel approach in your initial business days. But, as you go ahead and see how other channels are working and how competitors are leveraging it for their benefit, you can do the same. 
Say if your counterparts are making good use of Instagram stories for their product promotions, you can also try it. You can even go a step ahead and do something that even your competitors are not doing, such as making an Instagram product reel or a trending format. 
Keep a check on analytics
We have already described how a multi-channel strategy gives you access to vast amounts of customer data in the benefits above. Therefore, you must make the most out of this data and analyze it across all the channels. It will give you a clear idea about the strategies working for you and those not working for you. 
The analytics will give you an idea about the following few of the many aspects:
The preferred channel of customers
The products/services they are buying/using the most
The amount of expenditure they are doing
The products facing the highest number of cart abandonment
The products bringing the most elevated ROI
Once you know it all, you can take corrective measures to streamline your strategy and target your customers in a better way. 
Select the right tools
Using the right tool at the right time will help you create an impeccable multi-channel e-commerce strategy. Following are a few of the many tools that you can use to ace your multi-channel strategy:
Email marketing software
Softwares such as MailChimp, Pardot, and GetResponse can help you create a top-notch email marketing strategy by giving you options of email automation, personalization, list building, lead nurturing, email tracking, and more.
Social media marketing tools
Tools such as Buffer, BuzzSumo, and HootSuite help you streamline the simultaneous management of your various social media channels. From scheduling your posts to tracking analytics and updating multiple social media channels in one go, you can do it all through these tools.
Phone software
Talkdesk, Aircall, and Pipedrive help you develop your call management system. You can integrate your call management system within Salesforce using the software as a cloud-based phone system for placing and taking calls over the wifi or internet. You can also combine this software with your business CRM and help desks streamline communication and increase productivity. 
SEO tools
Google Analytics, Google Search Console, Screaming Frog, Mondovo helps you understand your SEO ranking by keeping track of your website audit backlinks and resolving SEO issues such as broken links, meta description optimization, and more. You can also research your competition through these tools and track their traffic and website visitors in real-time.
Chat software
Live chat software such as Freshchat, ZohoSalesIQ, and LeadBot can help you improve customer engagement by facilitating relevant live conversations with prospects. These chatbots can also schedule meetings and handle queries on your behalf.
Lead management tools
Tools like HubSpot CRM, Marketo, Oracle Eloqua facilitate proper management of lead pipelines through instant activity logging, scheduling appointments, segmentation, targeting, campaign management, lead management, and more. These tools also give you the option of creating email templates, placing calls, analyzing marketing workflows to convert hot leads into loyal customers. 
Conclusion
From customer engagement and access to a loyal target audience to increased brand visibility and credibility, multi-channel e-commerce marketing can be your go-to strategy to spruce up your sales and profit. 
So, make sure you cater to your customers across multiple relevant channels and provide them with a personalized experience. You should also be consistent in your approach and develop regular and engaging content for your consumers.
Further, impeccable customer service, regular analysis of analytics, and a handy expansion strategy will help you ace your multi-channel e-commerce strategy. 
So, go ahead, use the tips mentioned above and see how you pave new avenues of e-commerce success, one marketing channel at a time. 
–
Adela Belin is a content marketer and blogger at Writers Per Hour. She is passionate about sharing stories with the hope to make a difference in people's lives and contribute to their personal and professional growth. Find her on Twitter and LinkedIn.