Have you already thought that it would be amazing if you could get the most out of your website? If you could optimize it as much as possible to meet the needs of your visitors? Or are you already actively doing something to reach this goal? Either way, this article is for you!
If you're a beginner in the world of web analytics but you've been thinking about using heatmaps, keep scrolling because we've brought you the 5+1 best website heatmap tools that don't sell you a bargain when we say they also offer free options!
But if you've already taken advantage of the free options and are looking for something that can offer more, this article is also the perfect match for your needs! We've put together a comparison table of the most popular plans for each tool. So you can easily choose the website heatmap tool and the plan that best meets your goals and preferences.
Why is it essential to use a heatmap tool?
One thing is for sure, if you don't use a heatmap tool you will be at a disadvantage against those who do!
"Heatmaps are like X-rays for your website – they reveal what's happening beneath the surface and provide insights that are impossible to get through traditional analytics." – Neil Patel, Co-founder of Crazy Egg.
There are many forms of heatmaps and for some time now they have been a popular choice for a growing number of websites. But why?
As it was mentioned by Neil Patel, the main purpose of website heatmaps is to understand user behavior. And who doesn't want to better understand website visitors and users?
With the help of heatmaps on a website mainly you can measure the attractiveness of different places and components on your site. And by knowing which components are working well and which are not, you can take significant steps to improve your website.
Moreover, you can use your heatmap for a number of additional useful optimization purposes, including:
Visualizing complex data
Identifying trends
Enhancing user experience
Bug fixing
Improving conversion rates
Reducing cart abandonment
Supporting your customer service
How exactly? Find out from Capturly's guide!
These optimization processes will not only help you rise above your competitors but also generate more revenue, so it definitely worth finding the best website heatmap and giving it a try!
Choose the best website heatmap tool for your site!
There are many factors to consider when deciding which brand's heatmaps feature to use. In addition to the size of your business and budget, you should also consider the purpose for which you will be using heatmaps!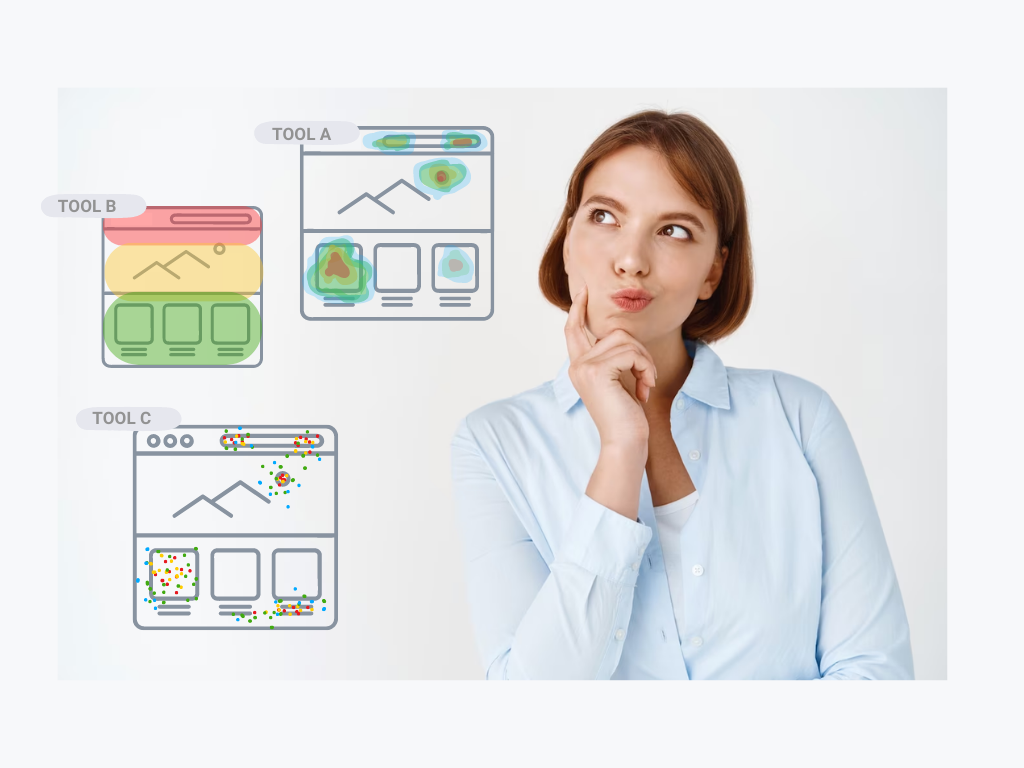 Also don't forget your own skills! The best website heatmap tool for your website depends on your level of experience in the field of behavioral analytics as well. After all, the more experienced you are the more advanced tools you need. But if you're new to heatmaps, it's more than likely that a free website heatmap option will meet your needs.
Later, when you are experienced enough and think you can handle more options and opportunities, feel free to switch to a paid option! This way your skills can improve and most importantly your website can get better and better.
Soooo let's see the 5+1 best heatmap tools available on the market!
Summary table of the 5+1 best heatmap tools available on the market
Prior to exploring the capabilities of each tool in depth, we have compiled a summary table that outlines the main features and benefits of each brand's heatmap tool.
However, we would like to point out that it is very difficult to be fully informed about the specific tools and services offered by each brand. Prices and features may change from time to time. Therefore, we recommend that you should always base your final choice on the information available on the official websites of the tools.
It also needs further explanation that for each tool we have observed the paid plan that we, and in many cases the brand itself, consider to be the most popular, in addition to the free plan.
But let's also look at the already mentioned summary table!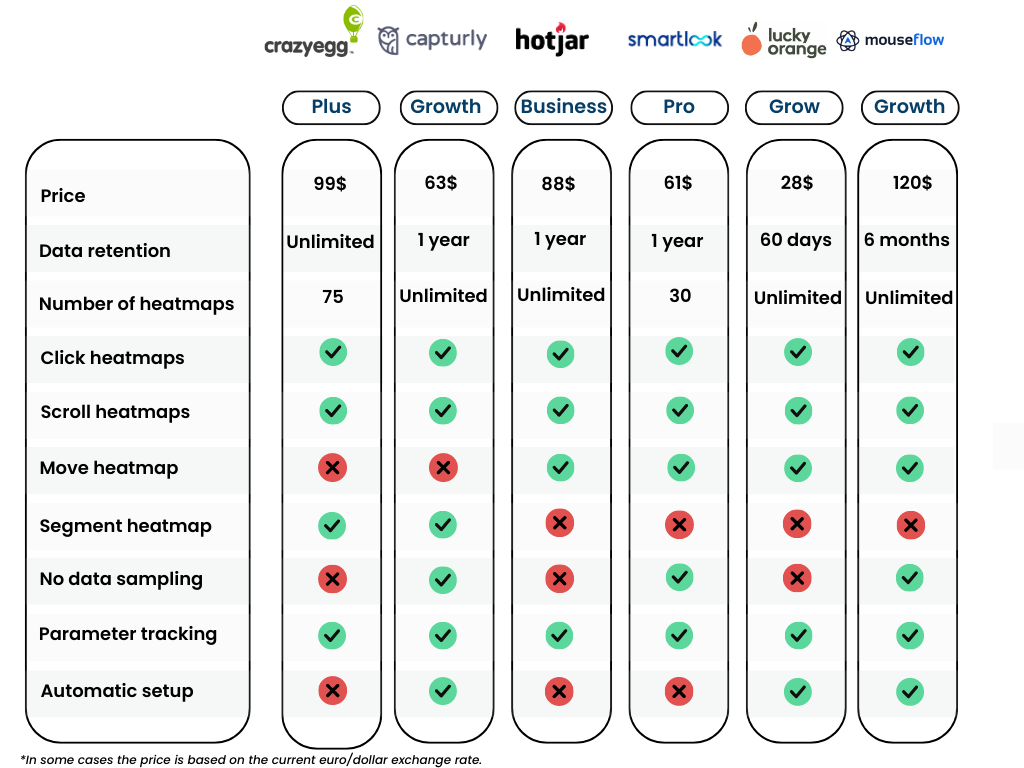 Not all concepts are clear in the summary table? Let us explain to you what we mean by them!
Click heatmaps
Click heatmaps represent the areas of a webpage or application where users are clicking or tapping the most.
Scroll heatmaps
Scroll heatmaps show how far down the webpage users are scrolling.
Move heatmaps
Move heatmaps show the mouse movement patterns of website visitors.
Segment heatmaps
With segment heatmaps, you can differentiate between user segments based on different criteria such as returning vs. new visitors, and visitors from different sources, devices, and operating systems.
Parameter tracking
The ability of parameter tracking is a very useful characteristic of heatmaps. You can add campaign parameters (like UTM parameters) to your destination URLs.
And what does this mean in practice? If you are running a paid campaign that drives visitors to your site, you can measure your traffic coming from there and your organic traffic separately.
Data sampling
It is the process of selecting a subset of data points from a larger dataset to use in the creation of the heatmap. This way, you only get a filtered view of your visitors and are not able to see the whole visitor pool. This also means that the data may be skewed to some extent.
Automatic heatmap setup
This means you don't have to type in each URL one by one or make a screenshot of your site to create a heatmap from them. Instead, the tool itself will do that for you.
Let's also have a quick look at what these tool's free options can provide you!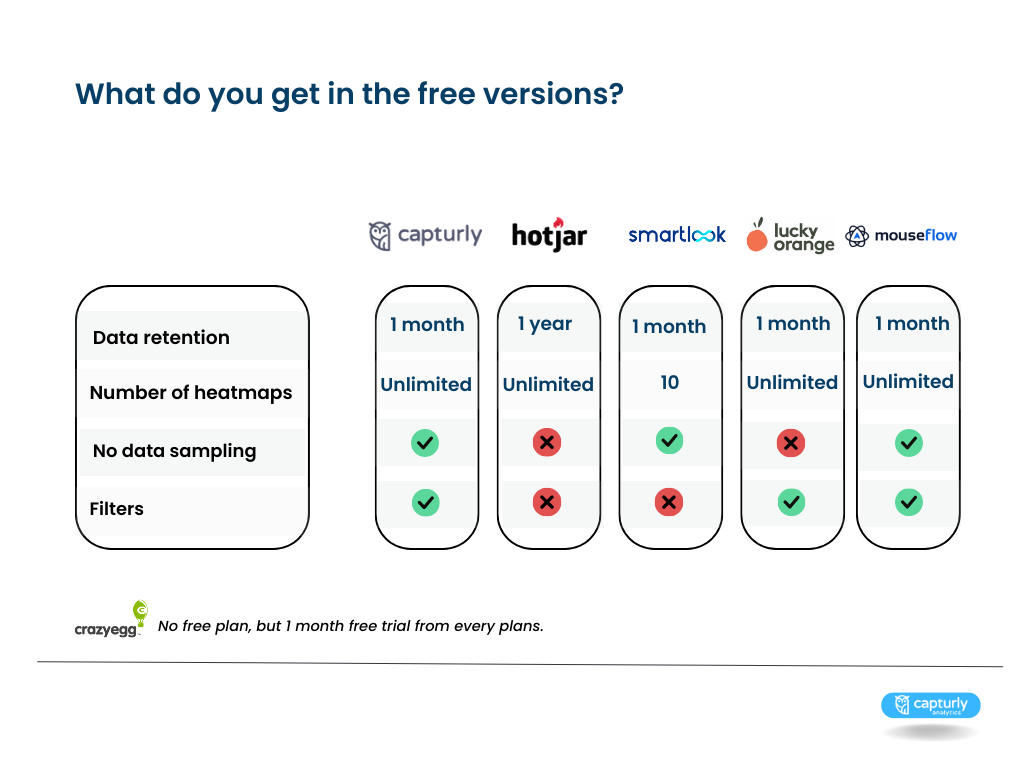 Now that you have a summary and basically a comparison of what each tool's most popular paid options and its free plans have to offer, let's dive deeper into the features, specialties, toolbox, and prices of each one of them.
Capturly
Capturly is a comprehensive web analytics tool as it includes a number of behavioral analytics features in addition to heatmaps. With Capturly you don't have to say goodbye to traditional analytics, but you can also use session recordings, conversion funnels, and event analytics functions within a single user interface.
The aim of Capturly is to provide users with a holistic view of your website's performance and to help you identify areas for improvement in terms of user experience and conversion optimization.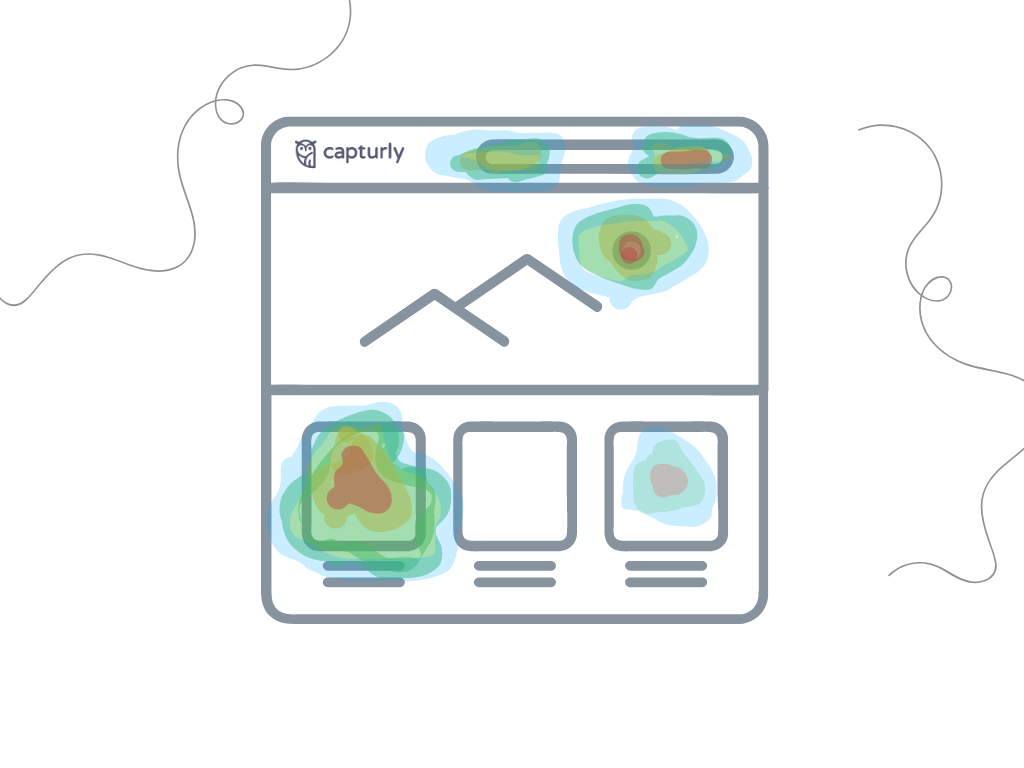 Types of heatmaps
Click heatmaps
Scroll heatmaps
Segment heatmaps
Capturly's specificity
In my view, the most specific attribute of Capturly is that the brand provides many other behavioral analytics tools next to heatmaps. All of these are available in one interface so you can easily draw conclusions from one occurrence to another.
Price
Capturly offers four different pricing plans, each with unique attributes and prices. If you opt for an annual payment, you can enjoy up to a 20% discount. Additionally, Capturly offers a customizable option that allows you to personalize the prices and attributes based on your specific needs.
Regarding the free plan, it's important to note that there are no limitations to it, so you can use it for as long as you want. In addition, many options that are only available in the paid version of other tools, such as data filtering, are already available in the free version.
CrazyEgg
CrazyEgg is a versatile tool, besides heatmaps, they offer recordings, A/B testing, traffic analysis, and surveys. And did you know that they were the first to bring heatmaps to the world of web analytics? Let's see what the oldest heatmap tool has to offer you!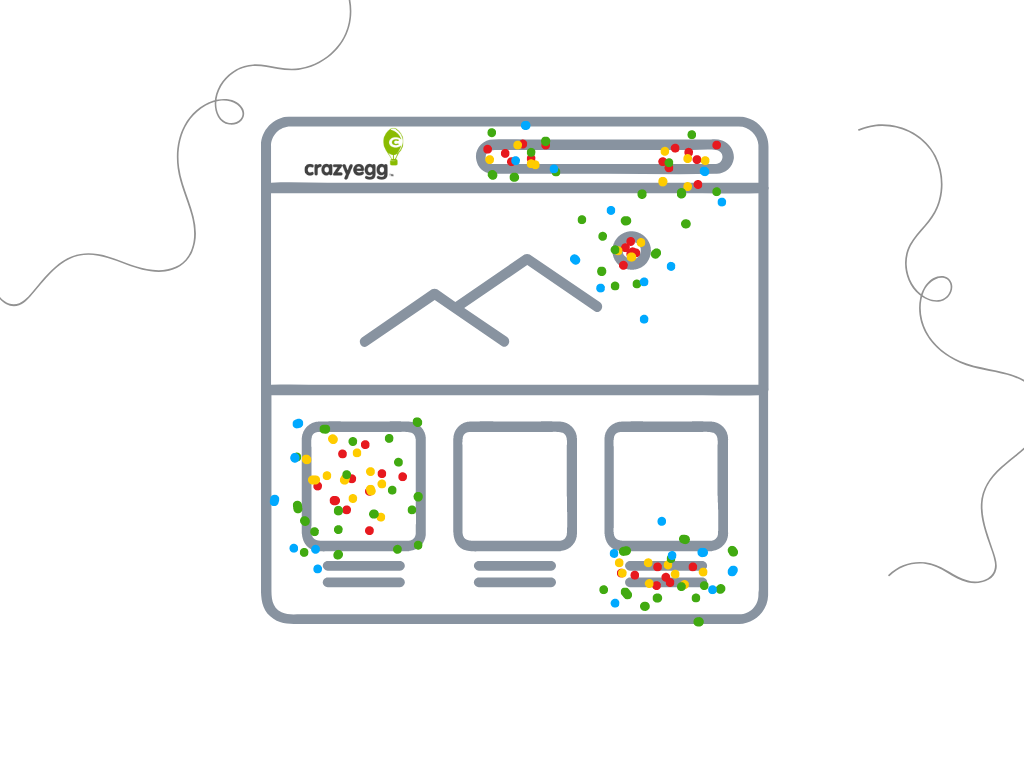 Types of heatmaps
Click maps
Scroll maps
Confetti maps
Besides, click and scroll maps CrazyEgg offers a confetti map feature. Confetti maps show you not just an aggregate picture on every click, beyond that this kind of heatmap gives you the ability to see the number of individual clicks.
These individual clicks are also color-coded based on a variety of metrics, like referral source or where the visitor arrived on your site from. Basically, their confetti heatmap can be considered as a segment heatmap feature as it provides the same attributes.
CrazyEgg's specificity
CrazyEgg offers many different report types each of which provides a different view of how visitors are engaging with your site. In their offer next to heatmap reports, scrollmap reports, and confetti reports we can meet with overlay reports and list reports.
Overlay reports show you a percentage breakdown of clicks on all your webpage elements. Although many tools can also perform this function (i.e.clicks per element). While the list reports are for users who like numeric reports next to visualized data.
Prices
CrazzyEgg has 4 plans. Important that they don't have an unlimited plan. You can only use their plans for a limited period of 30 days. The most expensive package costs $249 per month, while the cheapest option costs just $29 per month. Also important to note that all plans are billed annually, which means that you have to pay large sums of money in one go.
Hotjar
Hotjar is a powerful website optimization tool that offers a variety of features to help website owners improve their user experience and conversion rates. They offer a combination of heatmaps, surveys, and feedback tools to help you identify issues on your website and understand how users interact with it.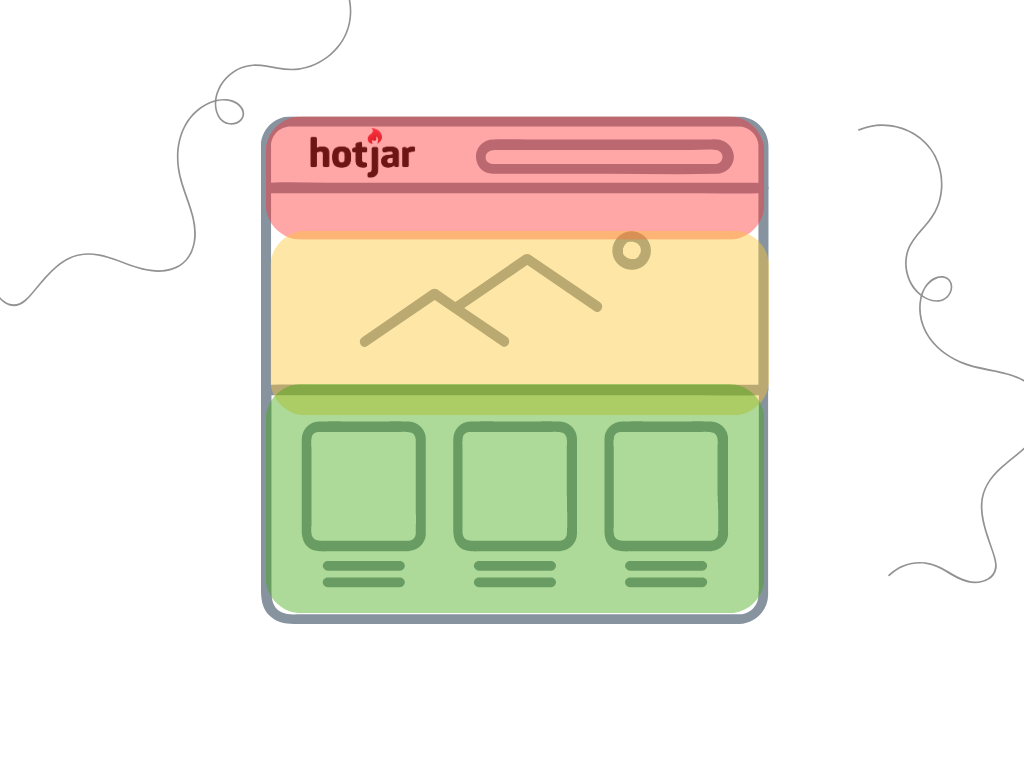 Types of heatmaps
Click and tap heatmaps
Scroll heatmaps
Move heatmaps
Hotjar's specificity
This heatmap tool is specific in a way that they are not just observing visitors, they also ask them about their views and opinions. By doing that, you can get a more punctual overview of your users.
With live feedback on your site, you can measure how visitors feel. With surveys, you can make decisions based on what visitors said and what visitors have said about the topic in question. They also give you the option to conduct interviews for better understanding.
Price
The tool offers four plans to choose from, of which the first basic plan is free of charge. Important to note that the engagement zones and filtering in their heatmaps are not available in the free-of-charge plan.
After the free, their cheapest option costs $32 a month and the most expensive costs $171. With it, it's also possible to get a 20% discount if you choose annual billing.
Smartlook
Smartlook is a web and mobile analytics platform, its main focus is on session recordings but they also have a heatmap feature.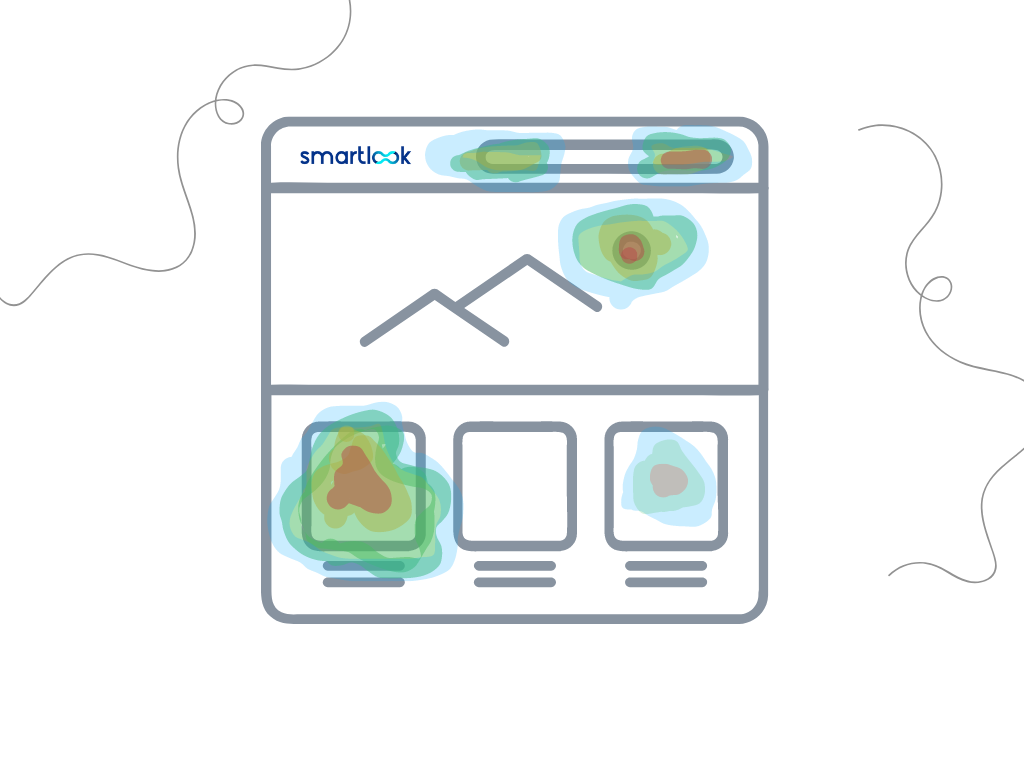 Types of heatmaps
Click heatmap
Scroll heatmap
Movement heatmap
Smartlook's specificity
A notable feature of Smartlook is the mobile app analytics. With this feature, you can not only measure the performance of your website, but if you have a mobile app, you can also measure how well it is working. Obviously, this is only relevant to you if you have one.
Price
Smartlook has 3 plans, out of which one is available for free. In the free option filtering for visitor types is not available and also you cannot reach the better heatmap precision option. Unfortunately, these features are only available in the paid options.
In addition to their free plan, one of their other two available plans can be purchased for $55, while the other plan has a negotiated price and features.
Mouseflow
Mouseflow offers a range of features such as heatmaps, session replays, conversion funnels, form analytics, and feedback campaigns to help businesses gain a deeper understanding of their website visitors and improve their online presence.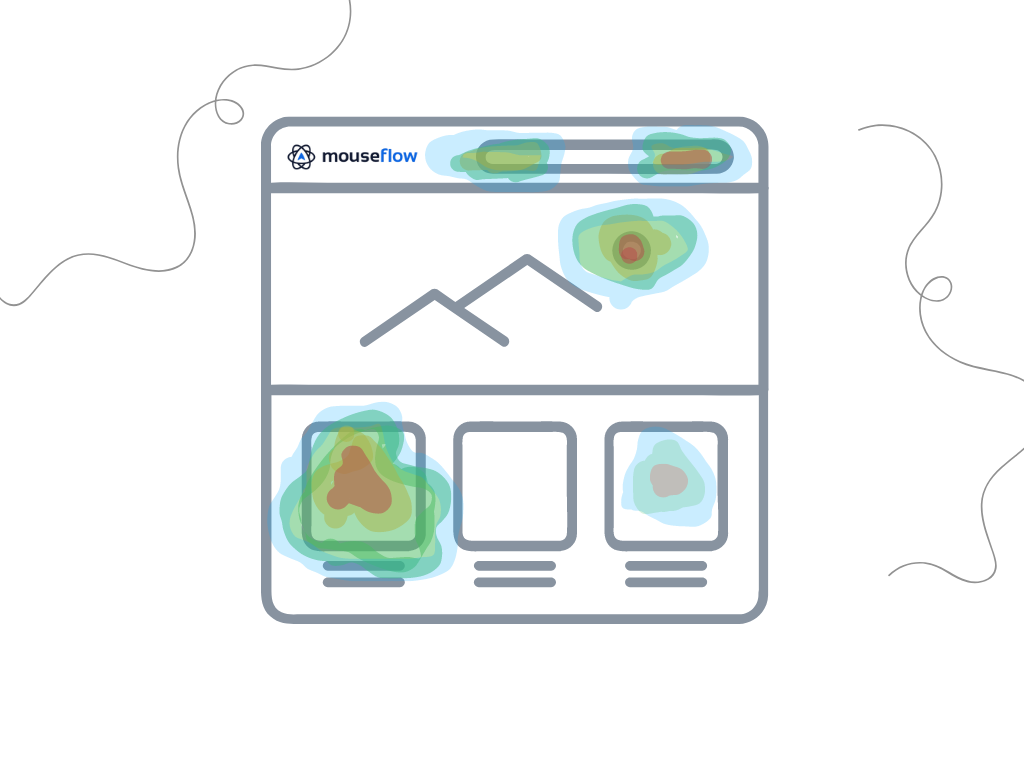 Types of heatmaps
Click heatmap
Scroll heatmap
Attention heatmap
Movement heatmap
Geo heatmap
Live heatmap
Moseflow's attention map combines click and scroll data to present high- and low-interaction sections of your site. Geo heatmaps are not about the website itself, instead, they are showing you anonymized data on locations and show you where your visitors live. Live heatmaps give you an interactive way to visualize heatmap data and help you to understand multi-layer click data.
Mouseflow's specificity
I think what makes Mouseflow special is the many heatmap types, as they are heatmap variants that are not found in the competitors' toolkits.
Price
Mouseflow has 6 plans. The cheapest of these costs €31, and the most expensive €399. They also have a package based on an arrangement, and like many of their competitors, you can get discounts if you pay annually.
In their free plan, you can store your data for 1 month and you can track the performance of 1 website.
LuckyOrange
Lucky Orange's mission is to help website owners better understand user behavior and optimize their websites for better results. The company's suite of tools offers a range of features to help website owners identify areas for improvement.
Types of heatmaps
Click heatmap
Scroll heatmap
Move heatmap
LuckyOrange's specificity
LuckyOrange provides element analytics, which means that you can measure each element's performance separately on your page.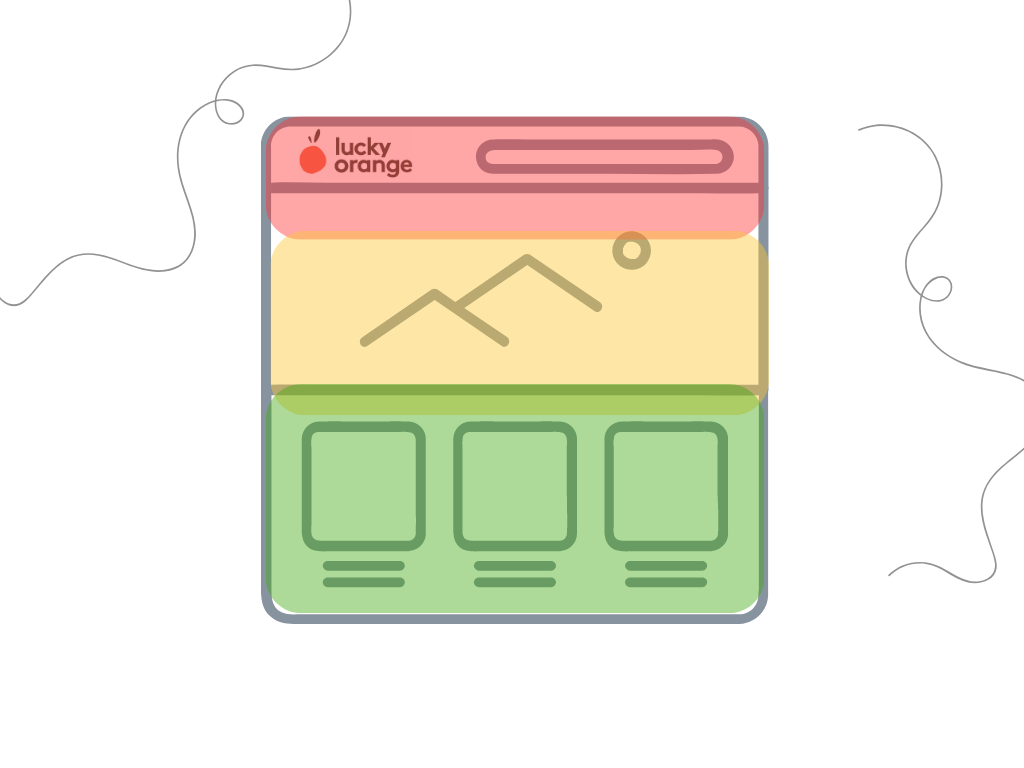 Price
LuckyOrange provides a free trial of every one of its plans. And they also – like most of their competitors – offer a 20% discount if you choose the annual billing. They have 6 pricing options, one of which is customizable and one of which is free.
The free plan offers the ability to add more sites to track. This is a great option for businesses just starting out or those who want to try out Lucky Orange's platform without committing to a paid plan. If you need to track more sites, they can do so for a fee of $5.
Some extra information
There are some features that all of the discussed tools can provide, not for nothing they were indicated as the best in our list. Each tool can show you the number of clicks on each of the elements on your website.
And also you can change between mobile, tablet, and desktop view. Both of these features can be seen in the interface of Capturly.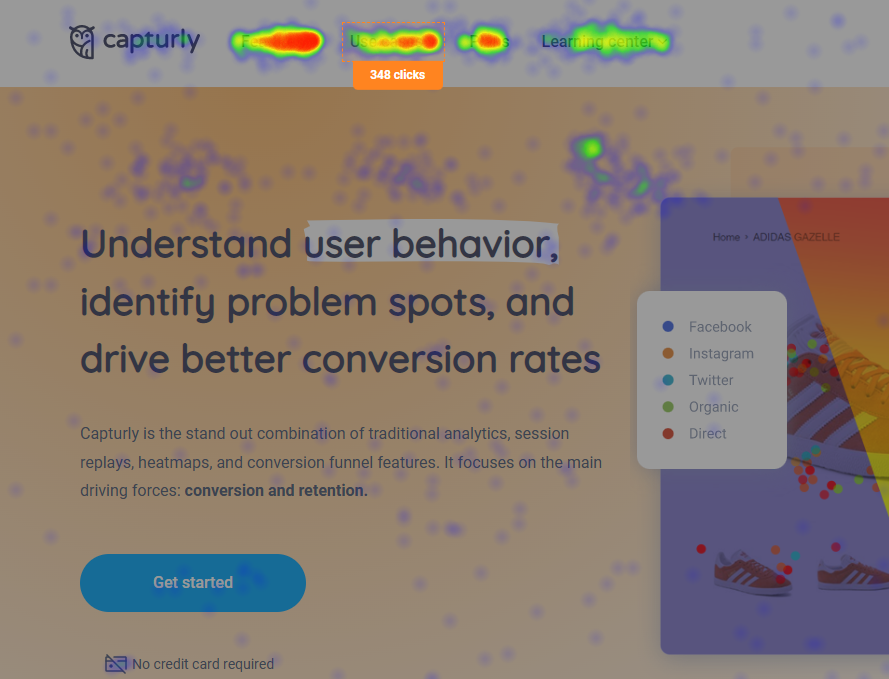 Moreover, it can be important to you that most of them are compatible with a variety of platforms like:
WordPress
Shopify
Magento
Opencart
WooCommerce
Squarespace
Wix
and many more…
Final thoughts
As you can see there are many tools available on the market and which one you use depends on your personal preferences and on your website's needs.
I would definitely recommend if you are new to the world of website analytics the best website heatmap tool for you is a free heatmap tool. Experiment, try the free versions of several brands, and find out which one works best for you and which one suits your needs best.
I hope I've given you some insight into what tools are available on the market, what they cost, and what they can offer you in return for that cost.