In the digital world, web page load time can make or break a website's user base, becoming pivotal for online success. Modern users' expectations for website speed are high, with little tolerance for delays. With numerous online options available, it's clear that a faster website attracts more user attention.
Furthermore, it is important to note that an adequate webpage load time positively impacts users. It not only diminishes the bounce rate but also increases overall user experience and conversion rate, eventually boosting online sales and ROI.
Simply put, an online business needs a well-optimized website with a lower page load time to improve the audience base, deliver a better user experience, and expand the overall online business with better outcomes.
From above, it is easy to perceive that the speed of a webpage is indirectly related to the conversion rate but directly impacts the user experience. And if the user experience for a webpage or website is not adequate, the website bounce rate increases, ultimately affecting the conversion rate for any website. So, all businesses need an optimum website speed to deliver a better user experience and achieve a higher conversion.
Let us dig deep into both webpage speed and conversion rate along with other related elements and have a deeper understanding of the subject matter.
Understanding Website Load Time & Conversion Rate
First let's check what load time and conversion rate exactly mean.
What is the website page load time?
Load time refers to the total duration it takes for a web page of a website to load when a user requests it. It is generally the time the website takes to load after the user requests for a specific page or to download the media content from the website hosting server.

When considering user experience and website performance, three significant aspects associated with page speed are:
Total time to take for delivering the content after the request.
The browser responds to load the request.
Finally, but most important, is the impact that is created on end-users once the requested web page appears on the browser.
It must be noted that website performance is also a vital search engine ranking factor, so it is of utmost importance to render the best when it comes to web page speed, user experience, and website responsiveness. And the essential fundamental principle that any online business needs to keep in mind while maximizing website performance is to focus on website speed optimization.
How important is the website loading time?
Let's understand this with the Portent survey insights for web page speed. According to the Portent report of 2019, a webpage must load in 0-4 seconds after the request to have a competitive edge. Anything more than this will tempt the consumer to leave that website and look elsewhere (primarily your competitor). Also, even loyal consumers of your online services or products may be tempted to switch and seek similar online services that offer better website load time.
To increase online sales and maintain a loyal customer base, it's recommended to maximize webpage speed. According to a 2019 survey by Unbounce, nearly 70 percent of buyers admitted that page speed determines their purchasing decision.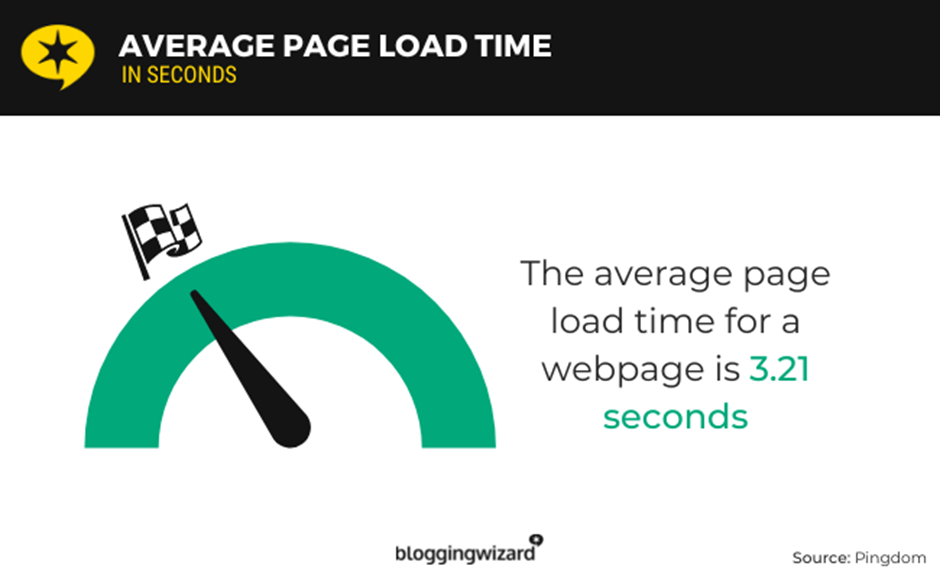 What is the conversion rate?
The conversion rate is a primary method to determine the success of any online marketing campaign or strategy. It lets you determine the percentage of actions taken on any digital campaign, which commonly includes clicks on a webpage/blog/ad clicks/download of any asset/signing up for any offer.
Let us understand the conversion rate with an example.
Suppose a website sells sports goods and has a page advertising baseball. If 100 users visit that page and two users click on the buy link, then the conversion rate is 2%. It is evident that it is implausible to attain a conversion rate of 100 percent, so here the conversion rate optimization (CRO) comes into play.
Simply put, CRO is a technique used to continuously push the conversion rate higher and higher in order to achieve a page's 100% conversion rate.
In the mathematical form, the conversion rate can be represented as: no of conversions/ no of leads. = Conversion rate.
How important conversion rate is?
To enlighten the readers, time and again, organizations imply several forms of online marketing strategies, like inbound marketing, email campaigns, outbound marketing, and many others, to engage current and potential users with different targets (website visits/ad clicks/sale of products or services). In all these marketing strategies, the conversion rate is vital in evaluating the overall effectiveness of these digital marketing campaigns and determining the final ROI.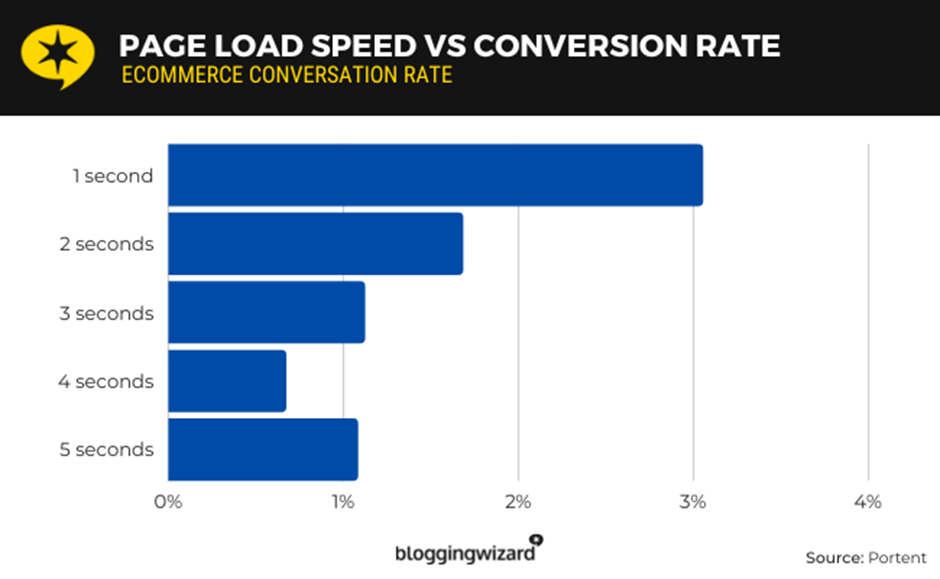 The evaluation of the conversion rate helps in determining the overall success of an online campaign and also helps in refining the marketing strategies. In short, the conversion rate determines the effectiveness of content marketing or advertising campaigns.
Check your conversion funnel to find out where an issue occurs!
Thoroughly examine every stage of your conversion funnel to pinpoint where customer drop-off is occurring. If you notice an unusually high abandonment rate at any specific stage, this could potentially signal an issue—perhaps even something as simple as slow load times or a non-functioning site element.
Harness the robust capabilities of tools such as Capturly to delve deeper into your conversion funnel. Once you've identified the root of the problem, it's crucial to first assess the speed of that particular page on your site!
How Is Conversion Rate Related to Website Page Load Time?
It is well-established that the webpage load time directly influences the user actions, eventually affecting the overall conversion rate. A web page or landing page that loads quicker is more likely to get the targeted action done by the web visitors. According to Hubspot, 47 percent of online users anticipate loading a page in less than 2 seconds.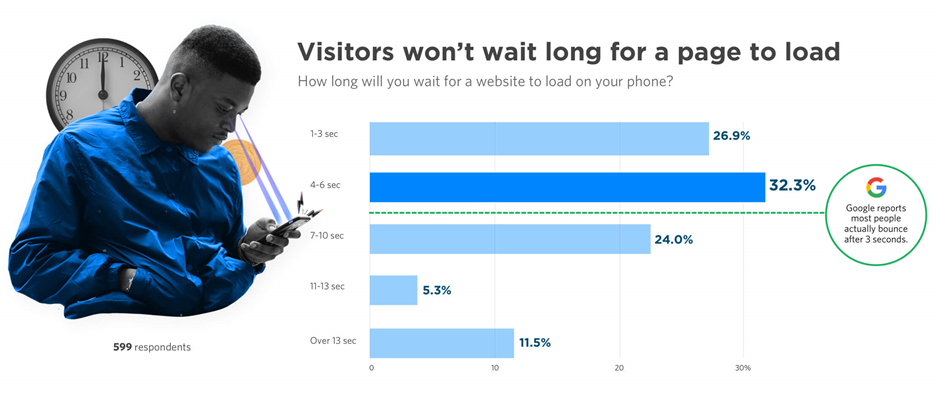 A study by Rigor on conversion rate against load time was done for Walmart, and it found a sudden drop in buyers' numbers if a page took more than four seconds to load. The below graph from the study depicts that well.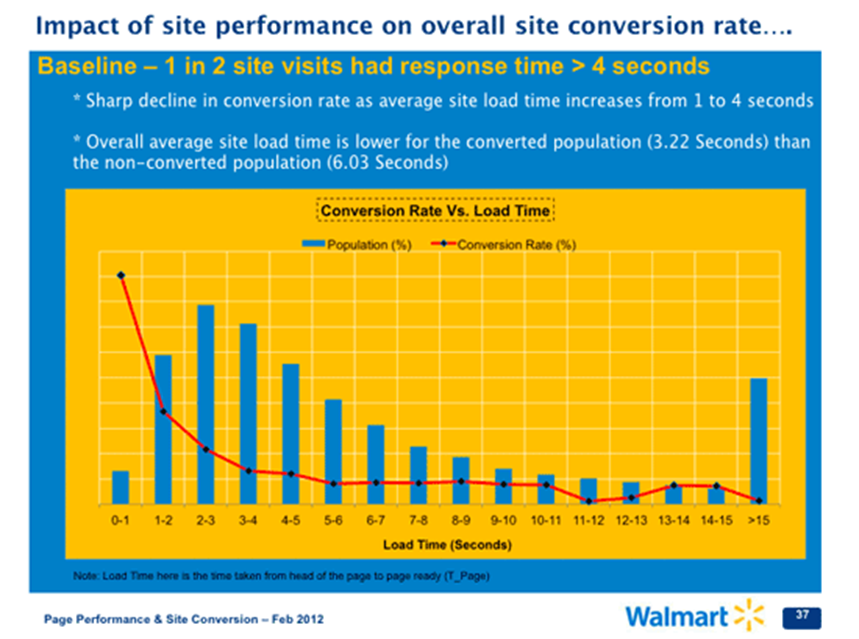 The same study also shows that the bounce rate for slow-loading landing pages was very high. The graph for the same is below.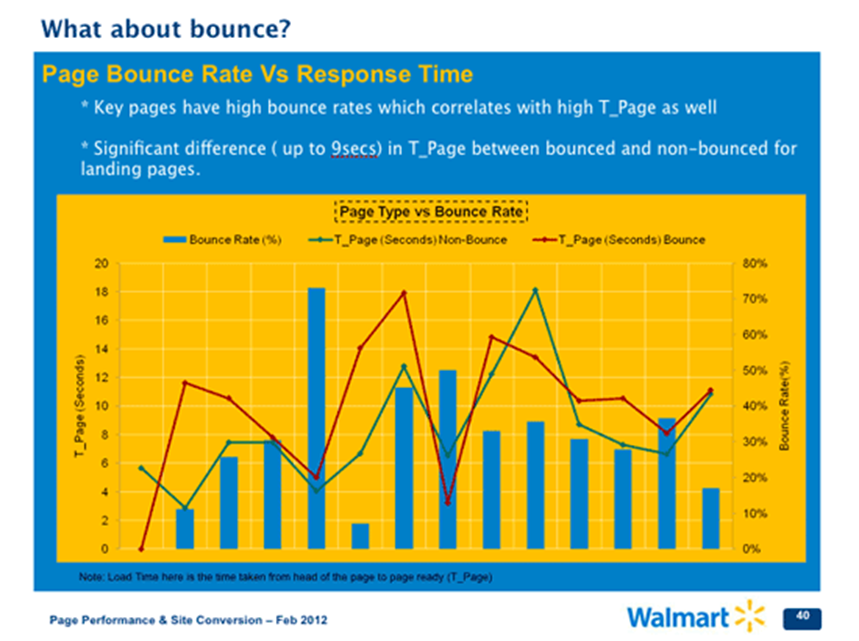 Some Interesting Page Load Statistics & Facts to Understand the Correlation Between Load Time & Conversion Rate
According to Portent Study (2022)
General page load statistics applicable to both B2B and B2C:
The 0-5 seconds of page load make the highest impact on the conversion rate.
With additional load time, on average conversion rate drops by 4.42%.
The ideal time for the top conversion rate is 0-2 seconds of page load time.
Stats specific to B2C businesses:
For e-commerce, the highest conversion rate occurs on pages with a load time of 0-2 seconds.
Between 0-9 seconds, the conversion rate drops by an average of 2.11% with each passing second (taken to load the webpage).
Three times higher conversion rates for e-commerce website loading within 1 second.
For a 100ms improvement in page load time, Amazon increased its revenue by 1 percent.
For a 400ms improvement in page load time, Yahoo added its traffic by 9 percent.
Mozilla, a well-known web browser, added 60 million more downloads per year than Firefox by improving its page load time by 2.2 seconds.
According to Globaldots Findings
Findings on page load statistics associated with both B2B & B2C:
Forty-seven percent of users want an online page to load within 2 seconds.
When it takes 3 seconds or more to load a webpage, the study shows that forty percent of users abandon it.
Page load statistics associated with brand loyalty:
Fifty-two percent of online buyers say that page loading time is essential for brand loyalty.
Sixty-four percent of dissatisfied buyers (because of website load time) stated they would prefer to shop on another website next time.
According to Google Research
Page load statistics specific to the mobile web pages:
A mobile page takes an average time of 15.3 seconds to load.
By compressing images and text on a webpage, 25 % of pages can save 250KB, and 10% can save 1MB, ultimately boosting the webpage load time on smartphones.
Page load statistics associated with mobile and desktop users:
According to ThinkWithGoogle, the bounce rate increases with each passing second for both mobile and desktop users. Forty percent of desktop users leave the page taking to load more than 3 seconds. For the same period, 53 percent of mobile users leave the website. (ThinkWithGoogle)
For retail websites, the conversion rate drops by 20 percent for smartphone users if there is a delay of 1 second in the load time. (ThinkWithGoogle)
It is of great importance to have a company's mobile site with a nominal page load speed because, according to ThinkWithGoogle, 50 percent of smartphone users like to make purchases through the brand's mobile site rather than download apps for buying purposes. (ThinkWithGoogle)
According to Unbounce Survey
In a survey by Unbounce, 70 percent of online buyers admitted that web page speed is a significant factor while shopping online.
About 51 percent of people blamed the Internet connection for failed page load or prolonged page load time.
2-3 seconds of load time is enough for a web page to load on mobile.
In the same survey, 50 percent of people said that they could give up on videos and animation on a webpage for faster load time.
According to a study by Rigor
Page load statistics from SEO Perspective:
SEO is a vital component for landing pages and reducing bounce rates.
When improving the webpage load speed by 1 second, the conversion rate increases up to 2 percent
For 100ms of load time improvement, revenue grows up to 1 percent.
Some Other Facts and Page Load Statistics Associated with Conversion Rates:
The average page speed required to rank on the search results of Google's first page is 1.65 seconds (Backlinko).
The average page speed for a better conversion rate should be at most 3.21 seconds (Pingdom).
Webpages that can launch in 1 second or less have only a 7 percent of bounce rate. (Pingdom).
There is an increased speed of 25 percent on Facebook for the pre-fetched websites (Statista).
B2B businesses get a five times higher conversion rate for a website load time of 1 second (Prerender.io).
Webpage on mobile takes 70-80 percent more time to load as compared to the desktop (Prerender.io).
How to Improve Website Page Loading Speed?
Until now, the above facts and statistics have established that web page speed is crucial for conversion rates in all kinds of online businesses, especially B2B, where user actions are essential.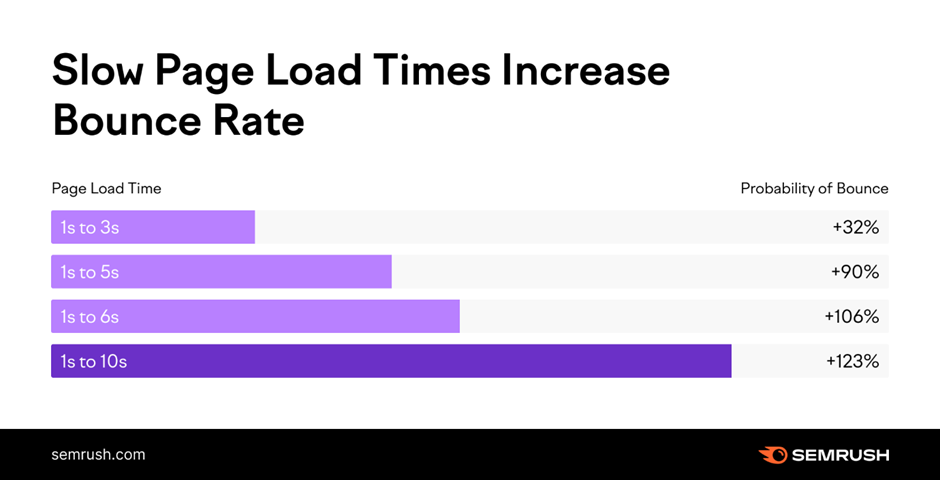 It is in businesses' best interest to look for measures to prevent the slowness of website loading and avoid bounce rates by implementing some techniques to improve the overall webpage speed and garner much higher user actions. Following the steps mentioned below, one can substantially increase the page load speed:
Evaluate current website speed
The first and foremost step requires examining the website speed and comparing that with the competitor's website. By following this step, a broad picture of the website lag time can be determined, along with the reasons causing the delayed response from the website. The evaluation can be carried out by using the website audit.
Make improvements based on evaluation
Once the evaluation is done, all the reasons that are causing the delay in website load time will be determined. Now, inspect all the identified errors and make corrections to meet the expected website load time. It is advised to follow the instructions received after the website audit for the best optimization of the website.
Optimize website images and videos
It is a must to optimize the images and videos of the website while fixing the speed, as these two are among the prominent reasons for causing delayed load time. To improve the speed issue caused due to images and videos, optimize both by compressing the files. The optimization of images and videos can make significant changes in the load time.
Web page optimization for faster mobile loading
Today, mobile or smartphones are an integral part of our life, and a significant chunk of all internet traffic is from mobile. Seeing this, Google also has started promoting mobile-first indexing for the past few years.
This means keeping the web pages optimized for desktop and mobile users is essential. But unfortunately, many websites still do not optimize for mobile users and are losing a significant portion of users.
According to Google, in 2018, on average mobile page load time was 15.3 seconds, much higher than the nominal 0-2 second time frame for mobiles. 
Minimize the number of components on a webpage
It is essential to keep the webpage design as simple as possible to reduce the HTTP requests to download the images, video, JavaScript, & graphics files from the website.
Timely evaluation
It is in the best interest of companies to test the website load time once in a while. Following this process regularly will help fix the problem beforehand and minimize the overall impact on the business.
Some Major Outcomes of Website Speed Optimization
There are three significant impacts that page speed makes on a website – visibility, usability, and conversion and all three are interrelated. Above, conversion is discussed in great detail, and it will be unfair on the part of the reader to skip the other two. Let's have a brief discussion about these as well.
Visibility

Google ranking is determined by the load time of websites, and a website gets demoted in the ranking chart if it does not optimize the load time. Such websites impart poor user experience, and Google refrains from ranking such websites in the organic search results. In such cases, it becomes tough for users to find websites organically.
Usability
A great online user experience is imperative for user loyalty, which can be garnered through the website's responsiveness. A responsive webpage gives the best user experience on both desktop and mobile; for that, the speed and load time must be optimized. Delivering top-notch user experience helps businesses create a loyal customer base as well as a strong brand.
Wrapping Up
It is imperative to have optimal webpage loading time to garner the most of the digital marketing campaigns and to maximize conversion rates that ultimately will result in better ROI. The slow speed will hamper the overall business process, and the above article establishes this well with relevant facts and stats. Also, one must note that page speed has been a vital search engine ranking factor since 2010, and overlooking it is not advisable if looking to thrive in the current digital world.