As we progress through the Fourth Industrial Revolution, the demand for some jobs increases while others are falling. Due to this trend, many entrepreneurs and economists are concerned about future employment stability. While some occupations will be lost, experts across the board, from finance to supply chain, anticipate that the newly created jobs will surpass those lost. As a response, there is a growing demand for professionals in various sectors, and the top 10 fastest-growing industries will experience exponential growth by 2022.
Despite the economy-depressing pandemic, some industries are doing well, thanks to the continual technology developer. Based on their current trend, these sectors seem to be the fastest expanding ones:
IT and Software
As 2022 rolls out, encouraging signals point higher and ahead, with cautious optimism coming back into the tech sector. The shift in attitude is occurring among IT professionals as well as those in the technology business — channel firms, vendors, distributors, and the like. Budgets for technology are likely to rise in 2022, with some reaching pre-pandemic levels.  That opens up opportunities to recruit and bridge the skills gaps that have kept companies from pursuing a variety of ambitious plans.

What will change in 2022?
Probably the most critical shift in the IT trends is the rise of the Metaverse. The Metaverse may appear to be something currently from a far-off sci-fi future, but it's coming our way sooner than we think. As the Metaverse takes shape, more marketers will notice the synergies between AI and AR but will have to prioritize investments in these technologies early on. New trends in entertainment, like eSports, will see further expansion, which will influence connected services like employer branding. You don't want to be the brand caught in the mud, figuring out your different touchpoints when other brands have already been connected with their consumer in the Metaverse. In this new environment, new possibilities for the IT and software sector will be countless.
Artificial Intelligence 
AI marketing blends intelligent technology with human creativity to learn, comprehend and engage with customers on an individual level through hyper-personalized, relevant, and timely communications that force them to stay involved. AI has already changed the way brands communicate with customers and how marketing plans are implemented. It's tough to forecast what the future brings in such a quickly changing world, but there are some hints about what we can expect this year.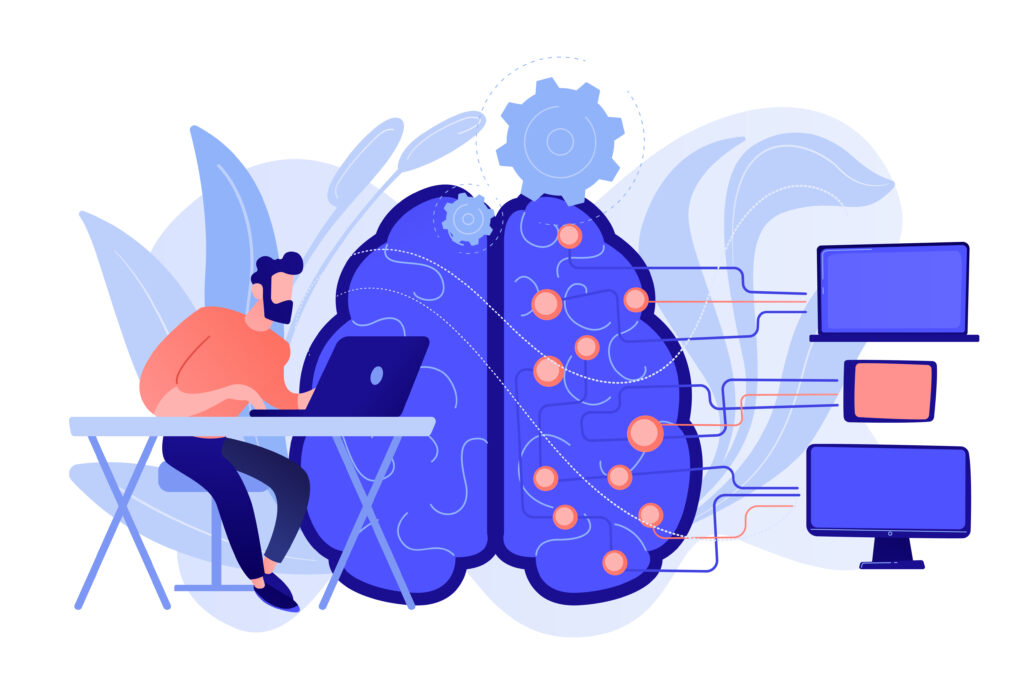 What will change in 2022?
Brain with digital circuit and programmer with laptop. Machine learning, artificial intelligence, digital brain and artificial thinking process concept. Vector isolated illustration.
AI is most certainly the 2022 game-changer in marketing. It will move brands away from marketing automation and towards individualized experiences. However, there's considerable irony here: artificial intelligence is required to humanize marketing. Consumers are constantly connected through mobile, social, and real-time technology. Consumers are becoming more demanding and (unintentionally) narcissistic due to the abundance of on-demand services and apps and the impact of social media on how users engage, share and communicate. They expect things right now. They're becoming increasingly irritable. They want an interaction that is tailored to them. They also desire new and unique experiences. Through constant learning and evolving, AI will provide companies and brands with faster and more efficient ways to cater to these needs.

Digital Marketing 
Digital marketing, often known as online marketing, can be defined as the promotion and sale of products and services using online strategies like search engine optimization (SEO), content marketing, etc. These are activities that are constantly evolving, following the habits of Internet users. Digital marketing is defined as any marketing campaign that uses digital communication. Each tool in digital marketing is evaluated for its ability to convert prospects. A company's digital marketing strategy could include numerous channels or focus solely on one.

What will change in 2022?
In 2022, the main focus in digital marketing will be all about building a solid brand, coming up with captivating stories and using metrics to access the success of those stories. Simply creating a brand and expecting it to sell is no longer enough. Businesses who are prepared to take risks, engage in their branding, and listen more closely than ever before when dealing with customers online will succeed in 2022, as competitiveness continues to expand at record rates. Excellent marketing involves both long-term planning and quick wins, hence why efficient storytelling will be more critical than ever before to a company's success. Being closely connected to search engines, digital marketing strategies have to keep up with new algorithm updates whose goal is the best possible user experience.

Data Science and Analytics
The phrase "data science" refers to a variety of disciplines that are used to analyze massive databases. Data analytics software is a far more focused form of this, and it can even be thought of as part of the overall process. Data analysis is more effective when it is targeted, with specific types of questions that need to be answered using existing data. Big data analytics focuses on finding answers to questions that have already been asked, whereas data science generates broader insights that focus on which questions should be asked.

What will change in 2022?
The three interconnected trends of more data, better machine learning algorithms, and more computing resources will continue to reshape the data science industry in new and exciting ways. According to marketing analytics trends, the pandemic, data privacy rules, and the elimination of third-party cookies significantly affected user engagements, customer expectations, and identity resolution in 2021. These exact causes and new developments will have a significant impact on consumer behavior and expectations in 2022. They'll also change how and what types of marketing analytics tools marketers utilize.

Healthcare
Enterprises that provide medical services, develop medical equipment or medications, provide health coverage, or otherwise enable the delivery of healthcare services to patients to have a few essential economic elements that characterize healthcare marketplaces. Because of specific economic variables, government engagement in health care systems and activities is widespread. Consumers and producers both face inherent uncertainties about their demands, outcomes, and service costs.

What will change in 2022?
Doctors, patients, institutions, and the healthcare industry as a whole will also benefit from artificial intelligence (AI). The adoption of internet-of-things-based software will aid in improving operational efficiency, making better judgments, increasing employee happiness, and improving overall patient safety. Wearable technologies like smartwatches, wristbands, footwear, and chest straps can collect data through various mobile apps that can help patients better their health, and doctors and clinicians enhance their care delivery and healthcare marketing initiatives. The promotion of healthy living has never been easier.

Mental healthcare
In recent years, especially during the COVID-19 outbreak, mental health's crucial role in achieving global development goals has become evident, as indicated by the inclusion of mental health in the Sustainable Development Goals. Depression is one of the leading causes of disability. Suicide is recognized as the second leading cause of death among people between the ages of 15 and 29. People suffering from major mental diseases die much earlier than they should – up to two decades early.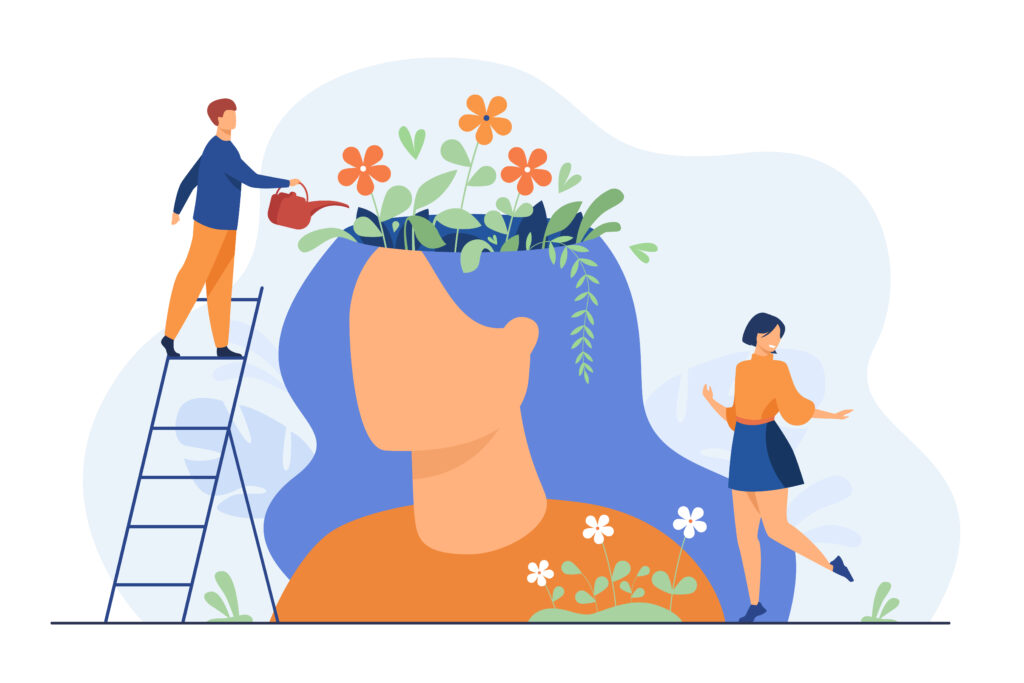 What will change in 2022?
In the Covid-19 era, the entire planet is rushing to learn more about this virus that has completely turned our lives upside down. However, only a tiny percentage of the population has the time or the patience to study medical periodicals. People increasingly use social media to obtain information from professional sources they trust in "micro-moments" that our overworked brains can digest. Information is the first line of defense against every illness, Covid-19 or otherwise, to keep people healthy. Because it is the most straightforward and successful means of reaching vast numbers of people fast, health professionals and healthcare institutions embrace social networks to educate their audiences and battle misinformation. Mobile apps are another successful implementation of technology to promote mental health and reach more people in need of help or counseling. Apps can be used to manage mental health problems like anxiety and depression on their own (by allowing individuals to understand about and self-manage their mental health) or in combination with more traditional counseling (by providing a channel to access support from a psychotherapist via live chat, video, and telephone).

Biotechnology
Biotechnology is a branch of science that develops or creates goods using biological systems, living creatures, or their components. Biotechnology now encompasses a wide range of fields (e.g. molecular biology, genetics, biochemistry, etc.). Every year, new technologies and products are developed in fields such as medicine (the development of new medicines and treatments), agriculture (the development of genetically engineered crops, biofuels, and biological treatment), and industrial biotechnology (production of chemicals, paper, textiles, and food). Since the outbreak of the COVID-19 virus, biotechnology has been marked as a prime culprit. Indeed, biotechnology has the potential to be harmful, either as a result of unforeseen effects of beneficial research or as a result of deliberate modification of biology to inflict harm. For this reason, it is in dire need of a good marketing approach in 2022.

What will change in 2022?
There is a lot of study going on right now to see how we might reduce the environmental impact of our meat-eating habits. As a result, lab-grown and artificial meat is increasingly being offered as a possible answer! Lab-grown meat entails growing tissue from muscles and fat cells in a lab and has the potential to radically reduce its carbon footprint, land, and water used by the cattle sector – as well as methane production, which is widely acknowledged as a significant contributor to climate change. The promotion of such a solution to a more humane approach to meat consumption can prove to be the most powerful marketing tool for the Biotech industry yet.

Manufacturing 
One of the most popular misconceptions about manufacturing is that it is an out-of-date, old-fashioned industry. Many people believe that the tasks are primarily physical, that the working spaces are filthy, and that the work is monotonous. Modern manufacturing jobs, on the other hand, are the polar opposite. Many individuals are unaware of the current manufacturing business of the twenty-first century and all of the jobs it provides for creative, aspiring professionals. Modern manufacturing settings are loaded with new technology, computer-aided machinery, and progressive software applications – this has removed a lot of the tedious work out of production, allowing manufacturing workers to focus on what matters most: innovation, precision, and quality.

What will change in 2022?
Recognizing the shift in power from seller to buyer, creating value to earn your target group's attention and trust, turning the expertise of your specialists into assets, capturing market pressure where it already exists, creating demand among the rest of your audience, communicating regularly with your sales team, and measuring results are some of the major points in manufacturing marketing strategy for 2022. Automation can be a powerful marketing tool by itself through futuristic task realizations and cost-effectiveness. For example, there are three major automation opportunities in the building sector. On-site automation of what would be considered traditional physical tasks, such as bricklaying robots and road paving equipment, is the first. The second potential arises from modular building automation systems, which include 3-D printing of components such as facades. The third section focuses on digitization and the associated automation of design, planning, and management processes, as well as the significant cost reduction that may be realized on-site as a result.

Finance
Despite the uncertainty created by the global epidemic, clear trends are forming for the coming year as the world adjusts to a new normal. The global economic rebound, which the EIU expects to last until 2022, will benefit financial firms. Banks, payment processors, insurers, and fund managers will benefit from solid GDP growth. Increasing interest rates will help many financial institutions improve their chances next year, as long as problematic loans remain manageable. The financial profession's adaptability, resourcefulness, and resilience were once again proven.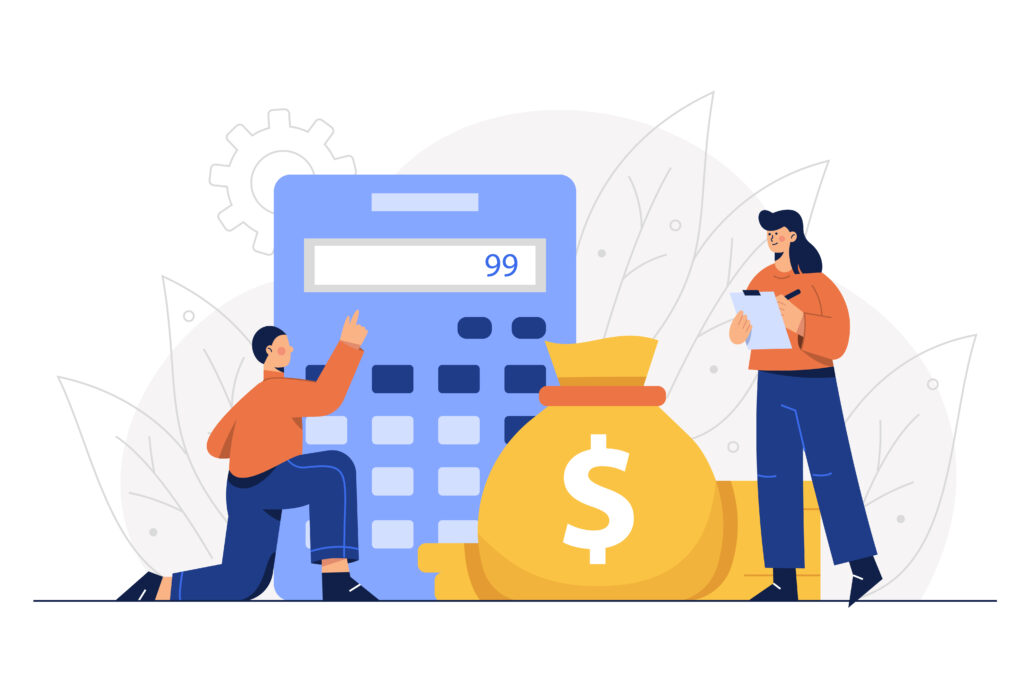 What will change in 2022?
In 2022, increasing access to online channels and in-person customer care will be critical for your finance-related brand. Implement a first-party data method to identify what your customers want and continue developing and improving the infrastructure to deliver a perfect hybrid customer experience. Through your marketing methods, your financial brand should be able to engage with a broad spectrum of customers. With the world's continued value for diversity, your finance brand must reflect this genuinely to foster brand loyalty and long-term client connections. Being more open about your business procedures and the habits of your customers might help you build genuine relationships with them. With more individuals investigating brands before making a decision, keeping information hidden might build a barrier between your company and your buyer. The utilization of online platforms and services like Trade Finance will provide you with new ways of accessing businesses and making a profit. 

Tourism
As a result of the persistent COVID-19 outbreak, the climate for tourism remains exceptional. The issue has brought about substantial changes for everyone, but especially for tourism, which has been one of the hardest hit by the virus. The global tourism industry came to a near-complete halt in 2020, leaving domestic and local tourism as the only viable options. Improvements have been made in 2021, but only in a minor sense since limitations remain in place and several nations retain their borders closed entirely or partially. It's tough to predict for 2022 because no one knows how the pandemic will develop.

What will change in 2022?
The answer to the most optimal utilization of marketing efforts or tourism lies in social media. TikTok is the newest social media site marketers should be aware of, with over 2 billion downloads and over 1 billion monthly active users. Travel marketing has a unique chance to stand out on TikTok by creating travel-related videos, which many people are longing for right now because they may not be able to travel personally. The second successful practice for this year is remarketing. Remarketing is an option that enables you to personalize your display ad campaign for people who have already visited your site and target your adverts to these visitors as they browse the web and utilize apps (using dynamic remarketing). Through the power of remarketing, you must continuously be reminding your customers of your brand throughout their evaluation process before they book a flight, a hotel stay, or any other service. The third option to concentrate your efforts on is user-created content. Videos created by customers, photographs shared to social networking sites, and comments on blog articles are examples of user-generated content. User-generated content can be used to increase brand loyalty and uniqueness in your promotion and marketing strategy. A restaurant can encourage guests to contribute photos to their website, while hotels and attractions can set up a digital photo booth on-site that automatically adds the company's logo or a relevant hashtag to each shot. Brands can also run social media contests to generate user-generated content. Influencer marketing entails celebrities advocating a product or service to their current social media followings, such as Instagram and YouTube. Basically, because the public trusts them, the content marketing influencers share is more likely to be trusted.