The most successful brands have always craved a deep understanding of their customers.
Why?
When brands know their customers, they have the wisdom needed to build long-term customer relationships, solve customer pain points, and enhance the customer experience. 
But understanding customers is not always easy. With multiple customer datasets to sift through and no unified real-time customer database, getting to know your customer is a job in and of itself.
Enter: Chatbots.
Chatbots are the next generation of customer relationship management. Chatbots can collect and effectively use the information to move your customers through the sales funnel and create laser-focused brand experiences. But that is not all they do.
In this article, we take a look at what chatbots are and why companies should use them. Then we'll explore five ways chatbots are revolutionizing customer relationships. Finally, we present the three biggest challenges of using chatbots so that you are aware of how to deal with them.
By the end of this piece, you'll become a chatbot pro. Are you ready? Then let's get started.
What Are Chatbots?
A chatbot is a computer program that can maintain a conversation with a user. Also known as a smart bot, talk bot, chatterbot, bot, IM bot, interactive agent, or artificial conversational entity.
A well-designed chatbot will take into account the various nuances of English grammar and still serve customers for whom English is not their first language. It will also be able to converse with users in a natural spoken or written language. 
Such programs are frequently created to convincingly mimic how people would behave as a conversational partner, through passing the Turing test. Chatbots are typically used in dialog systems for several practical purposes including customer service or information acquisition.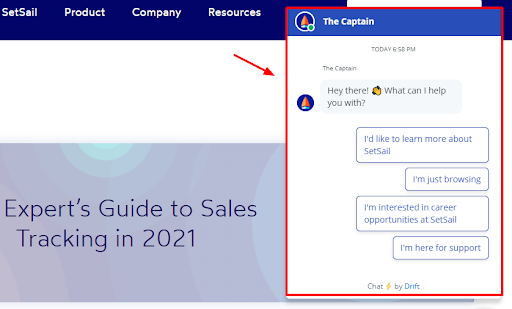 (Source)
Chatbots can also understand a user's main intent and send a response. For instance, you can design a chatbot to dig through your website's knowledge base to find an answer for a customer who's on one of your pages. 
Some well-known examples of chatbots are Apple's Siri and Amazon's Alexa, but many chatbots are embedded in landing pages and websites to help customers with the following:
Navigating through a website

Understanding how something works

Relaying contact details 

Asking questions

Setting appointments 

Claiming offers
Why Should Businesses Use Chatbots? 
"Chatbots are not just software in the modern era. Chatbots are like our personal assistants who understand us and can be microconfigured. They remember our likes and dislikes and never tend to disappoint us by forgetting what we taught them already, and this is the reason why everyone loves chatbot." – Sumit Raj
The traditional adage of "people buying from people" holds a lot of truth. While the digital age has allowed for SaaS businesses to develop with the entire sales channel being made online and with the growth of chatbots allowing communication to be efficiently streamlined on websites, nonetheless many businesses still rely on person-to-person engagements for sales.
Since chatbots are programmed to dig through data and provide answers in nanoseconds, they help businesses save countless hours and money on repetitive tasks. 
Chatbots never tire. 
They never ask for a raise or complain about work. They are never late, sick, or take a vacation. Instead, they eliminate countless redundancies and mundane jobs — and they have the rare ability to be in a continuous phase of work.
Chatbots can also:
Reduce operational costs 

Automate online purchases

Develop customer service

Improve response rates

Provide better communication 

Encourage seamless customer interactions 

Launch more effective business practices 
In this new age of customer experience, businesses can use chatbots to solve customer pain points and ultimately deliver more efficient processes. 
We have all heard about artificial intelligence (a.k.a. AI), which is a buzzword these days as Elon Musk, Mark Zuckerburg and even Jeff Bezos also consider that it is the next thing. 
An aspect of AI and bots are chatbots, which we cover in this article, so you can use them in your digital marketing to open a different communicational way to engage more prospects. 
5 Ways Chatbots Are Revolutionizing Customer Relationships
Here are five ways chatbots are revolutionizing customer relationships.
1. CRM Chatbots Improve Conversational Customer Relationship Management 
The future of customer relationship management (CRM) is conversation. 
The conversation is how customers find brands relatable, receive personalized experiences, and feel seen. It is how brands humanize themselves and build lasting relationships with ideal customers. 
Brands can fill in the gaps where crucial customer data is often missing and start fruitful conversations with users using CRM chatbots. 
Not only do CRM chatbots help keep data updated, but they can also be set up to create hyper-personalized conversational experiences and avoid sending messages to irrelevant customers.
To design an effective CRM chatbot system, make sure your system can:
Use machine learning to enable fruitful conversation 

Build a conversational user experience throughout the entire customer journey

Build personal relationships with your customers at scale 
You'll also need to choose whether you want a:
Front-end AI-powered bot:

A bot that interacts directly with customers without human intervention
AI-assisted human agent:

A human customer service rep who is supported by AI technology

Human-assisted AI bot:

The chatbot is the primary decision-maker, but a human customer service rep supports it in case human interaction is needed
"AI and chatbots have become commonplace ways of interacting with a company's website to get customer support. Sometimes, chatbots are so good you do not know if you are dealing with a human or a computer." – S. Hyken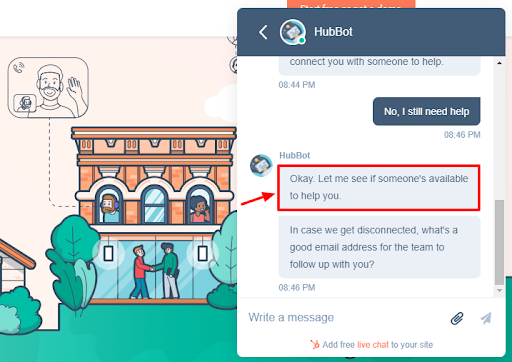 (Source)
How to Use a CRM Chatbot to Reach Customers 
"Call centers, websites, and mobile apps are no longer the only means of interaction with brands. Chatbots are fast becoming a business imperative for businesses that want to engage with their customers. Online chat through chatbots has grown faster than any prior channel." – Eileen Brown
If you are curious about how to use a CRM chatbot to reach current and new customers, here are some ideas.
Your Ads
Set up automation that integrates with campaigns to start conversations with anyone who engages with your ads.
Your Website and Landing Pages
Use your chatbot to collect information about who visits your web pages and how they interact with your offers.
Your Social Media Channels
Use your chatbot to capture insights about your customers when they are on social media. Then have the chatbot use the information it collected to present relevant offers.

Your Apps
Use your chatbot to establish a presence on messaging apps like Telegram Messenger or WhatsApp. Add a chatbot to establish a presence on your company apps, too (if you have any). 
2. Chatbots Can Help Teams Track Sales 
Chatbots can support a team's sales tracking strategy.
By using chatbots to track each step of the sales process, teams gain valuable insights that help them see how effective their sales processes are. 
This way, teams can identify bottlenecks, streamline workflows, and improve sales activities. 
For instance, if a chatbot presents three different campaigns to three-segmented audiences, it will be able to track which campaigns worked and which did not. 
To track sales using a chatbot, make sure to design a chatbot that can:
Track sales messages, emails, and phone calls

Track every customer interaction

Maintain customer records

Collect and analyze data points 

Analyze sales process effectiveness
3. Chatbots Can Help Teams Improve Sales Processes 
Chatbots have become an essential part of the sales process. 
With chatbots, you can qualify your leads and start conversations with people at scale. A CRM chatbot can recognize what specific piece of content a lead needs next. With this insight, it can move the lead to the next stage in the sales funnel.
Ideally, a well-designed chatbot can gather insight from multiple data sources and use it to create unified target profiles. This can be especially helpful for business models where leads require a lot of information at the top of the funnel. For example, trust-based businesses, like credit repair companies, usually require several interactions with leads before they commit. This is where a chatbot is handy for the initial interactions.
By collecting and strategically using information, chatbots can guide customers through the sales funnel and weed out unqualified leads. 
From presenting relevant offers to thanking customers at checkout, chatbots can help teams:
Generate quality leads

Target the right customers

Collect customer and lead information 

Manage social selling on social media

Track sales engagement 

Suggest tailored outreach sequences  

Improve sales processes

Carry customers through the sales funnel
4. Chatbots Transform Customer Experience 
Chatbots transform customer experience and reduce customer care costs. 
It is no surprise that poor customer service is a common pain point many customers have. In fact, 48% of customers say that they have stopped doing business with a brand due to a poor customer service experience.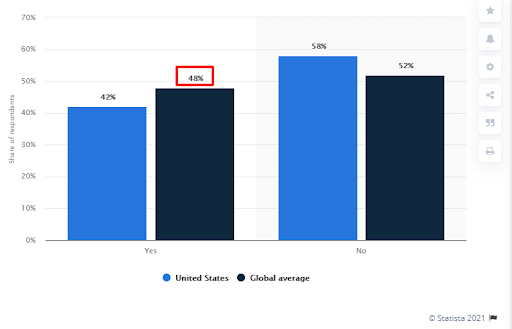 (Source)
But with chatbots, brands can: 
Provide Consistent Customer Service 
When customers speak with different customer service reps on varying platforms and on different occasions, they do not always receive consistent quality service. With chatbots, you can design a consistent tone, voice, and language so that all of your bots have a unified voice. 
Offer Customer Care 24/7 
Customers want high-quality service on their time — not the company's time. They want to be able to reach some form of customer support 24/7. Chatbots can provide customers with swift replies any time of the day. 
Assist Customers on Common Messaging Platforms 
From Facebook Messenger to WhatsApp and LinkedIn, more people are communicating with messaging applications than ever before. Adding a chatbot to your social channels helps your customers receive support when they are on the messaging platforms they use most.
Provide Quick Access to Common Support Questions 
Chatbots help you automate tedious customer service tasks, like answering the same frequently asked support questions. Customers can change and manage passwords multiple times, ask for a tutorial, etc., and the chatbot will cordially respond quickly every time. 
Ensure a Personalized Customer Experience 
Chatbots can access an entire history of customer interactions and pool data together to create personalized customer experiences — like personalized solutions, responses, and recommendations based on user behavior patterns. Using this data you can develop a content strategy for offering different types of material to assist your customer. For example, creating podcasts and support articles based on user behavior patterns and FAQs. 
5. Chatbots Get Rid Of Language Barriers 
"Chatbots are important because you will not feel stupid asking important questions. Sometimes talking to someone can be a bit intimidating. Talking to a chatbot makes that a lot easier!"- Petter Bae Brandtzaeg
In a global economy, businesses have to be prepared to serve customers who may not speak their language. This is especially true for remote businesses that may have a more international customer base. 
Friction in communication is a major problem when you are trying to deliver a personalized experience. But with chatbots, you do not have to hire multilingual staff. Chatbots naturally run on natural language processing (NLP) standards which enable them to understand different languages with ease. 
When having conversations with guests, customer service chatbots store different words and phrases related to customer problems. This makes it easy to develop and enhance a business's existing knowledge base. 
Chatbots can tap into this knowledge base at any time to deliver selfless and customer-centric experiences. And since they run on machine learning and artificial intelligence, they can also answer questions that they have not had any training on.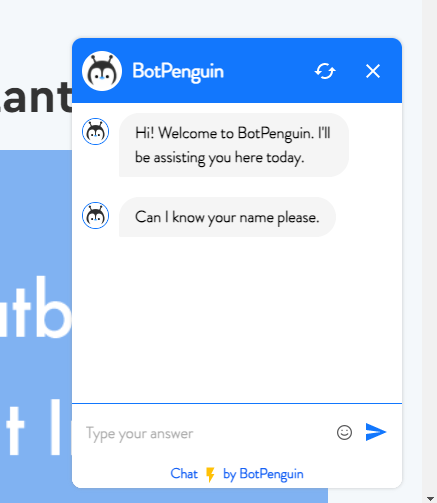 (Source)
3 Challenges Of Using Chatbots to Boost Customer Experience (and How to Handle Them) 
Chatbots are incredible tools to use to save time and enhance the customer experience. But like anything else, chatbots have their own challenges.
Here are three challenges of using chatbots to boost customer experience and how to handle them: 
Challenge #1: Security 
What makes chatbots effective is also what makes them susceptible to data breaches. Chatbots retrieve and store information from users so they can continuously improve customer service. 
A way to keep this data safe is by storing it in a secured state for a set amount of time and discarding the data on a specific date. Ensuring that the colocation data centers where your servers are based use compliant network security infrastructure are also essential. 
Challenge #2: Vernacular Chatbots 
Vernacular chatbots are multilingual chatbots that can pick up on vernacular language (everyday language spoken by people in a specific country). The challenge is being able to program the chatbot so it can understand exactly what is being asked. 
To do this, make sure the chatbot can understand exactly what the user wants and can respond naturally. The first step is making sure the chatbot can recognize multiple language dialects. Use Named Entity Recognition (NER) so the bot can accurately identify entities — such as names, location, and time — any time a customer asks a question.
Challenge #3: Likability +16
Chatbots may not be people but customers still expect them to have personalities like human agents do. 
To ensure chatbots are likable, make sure they can chat in a personalized and engaging manner. Have them address customers by name and use conversational language when speaking with customers — bonus points for having a sense of humor, too. 
Summing up
Chatbots are the most reasonable solution, a way for companies to keep in touch with their clients without the need of hiring multiple community managers.
They help the user to do such things as check the weather information, order a pizza, make a doctor appointment, register for an event, buy a new Christmas dress, ask how they can arrive at some location, answer their FAQs or just talk for fun. 
By deeply understanding customers and elevating the customer experience, chatbots are revolutionizing customer relationships. 
The key to designing the right chatbots is starting with a list of customer service, sales, and SaaS marketing goals your brand is aiming for. 
Test a variety of chatbots to see which ones would help you achieve those goals the best — front-end AI-powered bots, AI-assisted human agent bots, or human-assisted AI bots.
Love them or hate them, chatbots are here to stay. Chatbots have grown to be remarkably popular in recent years due to exciting progressions in machine learning, artificial intelligence, and other underlying technologies such as natural language processing. Today's chatbots are more intelligent, more responsive, and more helpful – and we are expected to see even more of them in the coming times.
Now, get out there and create the chatbot of your dreams.