Your Site your Rules
With Rule Settings, you have the opportunity to choose the way Capturly manages your recordings.
To access this feature, all you have to do is follow the steps below:
STEP 1 Log into your Capturly account
STEP 2 Go to My Account and choose Rule settings from the dropdown menu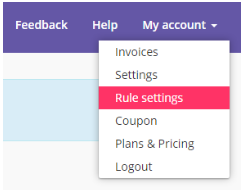 Note: In the middle, you can see your remaining recordings available. Your websites are being listed, as well as the current Rule setting for each. By Default, Capturly will distribute your Recordings evenly between your websites.
In case you wish to record everything on a specific website:
STEP 3 Click on the purple Edit button on the right
STEP 4 Under Preferred rule menu select Record everything option


Note: At this point, you have the option to set a Recording limit by typing a number of your desire. Once this value has been reached, the rule will automatically set itself back to Default. When this happens, you will be notified via email.
After you click on the purple Save button, Capturly is recording every action on that website.

If you don't want to have recordings enabled for one or more websites, you can simply choose the Don't record option from the dropdown menu under Preferred rule.