Whether you're selling products, offering a service, or a little bit of both, it's likely that you're always looking for ways to make more sales through your website. The good news is that content marketing can help you improve your SEO, boost your conversion rate, and attract more traffic to your website. 
In this article, I'm going to outline how to ensure that your content is optimized to increase sales. Let's look at powerful calls-to-action, showing your brand's expertise, addressing customer questions, and helping clients make the purchase that is right for them.

Always include a powerful CTA
Sometimes, people just need to be told what to do — this is what makes calls-to-action, or CTAs, so effective.
"Sign up,"

"Subscribe,"

"Try for Free,"

"Learn More"

are all examples of simple CTAs. 
Effective CTAs are clear, straightforward, and to-the-point, which is why they can help to increase your conversion rate. It could be worth running a test of different CTAs to see which performs better.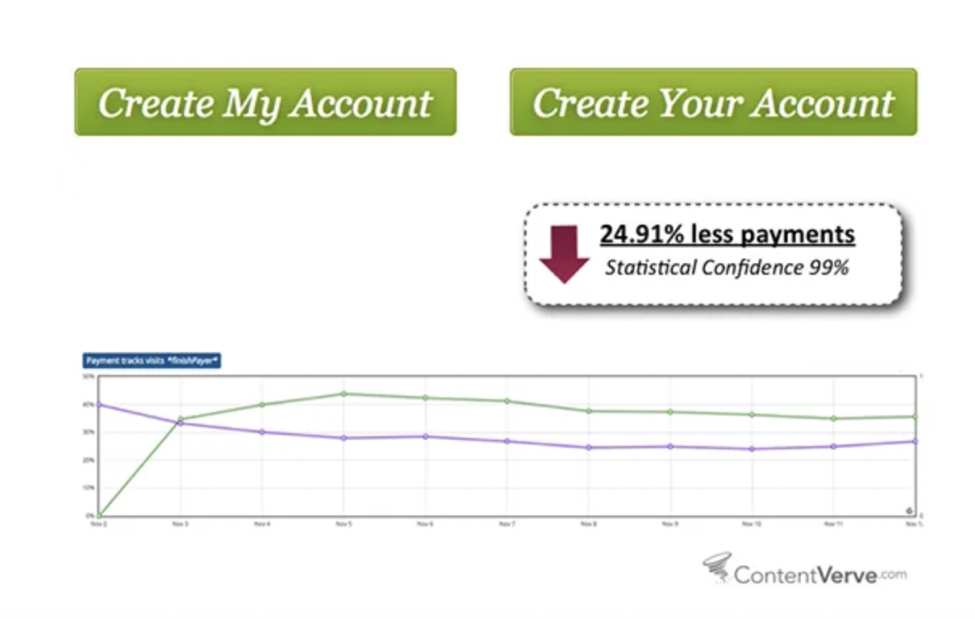 Capturly, for instance, outlines how ContentVerve changed its CTA from "Create My Account" to "Create Your Account." They saw conversions decrease by 25%, just by changing a single word! This goes to show that using a first-person approach helps the customer envision themselves using your product and get more clicks.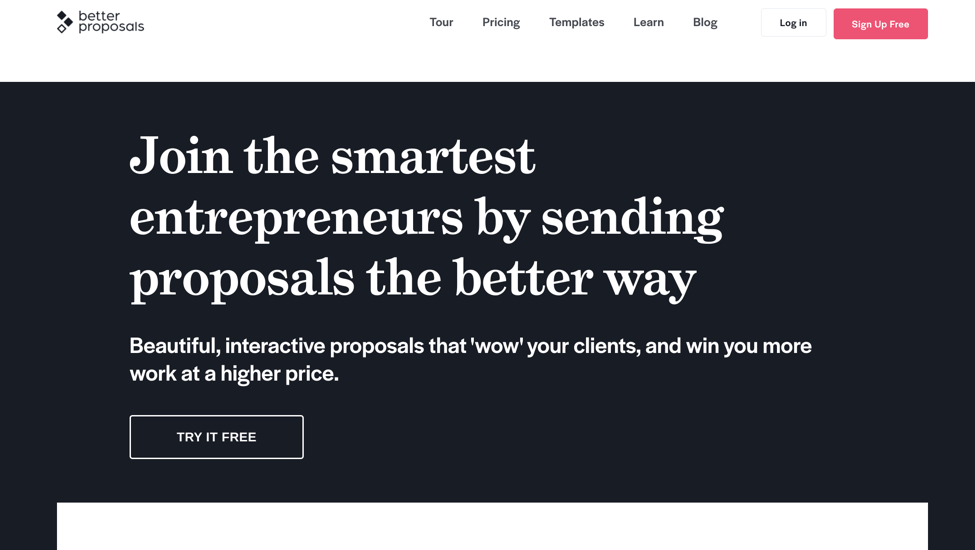 Take a look at how Better Proposals was able to utilize CTAs at the end of their listicle of expert business proposal ideas. The CTA here is simple: "TRY IT FREE." Above it, the supporting copy helps convince the customer that they need the company to help them write their business proposals. "Join the smartest entrepreneurs" is a convincing lead-in to this CTA; people scrolling through this website are looking to improve their business, and they won't want to feel like they're missing out on a trick a lot of people are already using.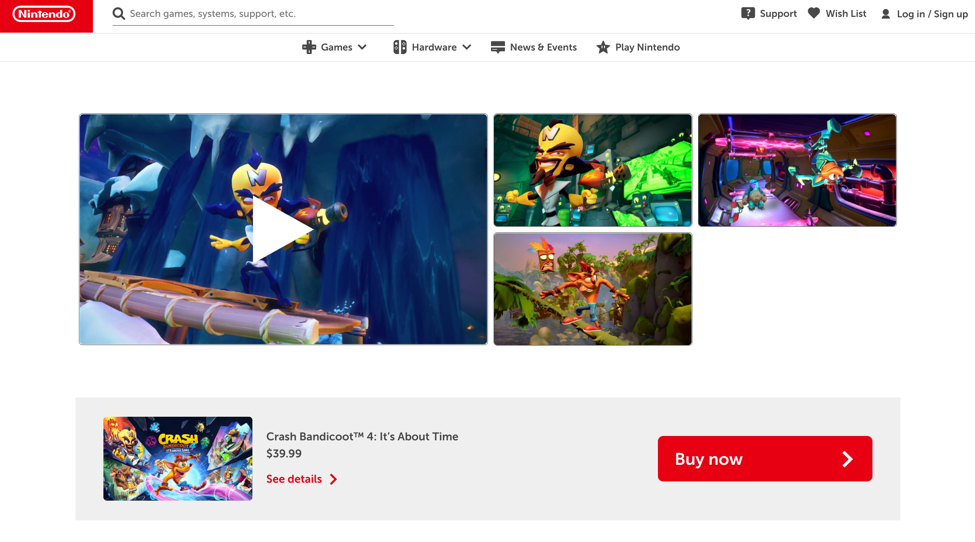 Nintendo has a variety of news articles and blog content on their website; they announce new games, showcase DLC, promote events, and more. Take a look at their article on the release of Crash Bandicoot 4 for the Nintendo Switch. They outline the story behind the new game as well as some of the new features; at the bottom of the page, there's a CTA that tells readers to "Buy now." People who click on the article link are likely interested in buying the game — the combination of the article, the price tag, and the CTA are likely to be effective in encouraging the reader to click.

Show you're an expert in your field to build trust
In order to secure sales, you need to convince your target audience that you are a trusted expert in your field. Think about what kinds of content you could create that will position you in this way. Choose topics relevant to your niche and think about what content you could create. In-depth guides, listicles, and informative videos are great places to start!
Not only will showcase your expertise lead to more sales, but it will also boost your organic web traffic. Google focuses on Expertise, Authority, and Trustworthiness (E-A-T) when directing searchers to websites; in short, they want their viewers to have access to the most accurate and reliable information when making a search. When your E-A-T is high, Google places you higher up on the search engine results pages, boosting your SEO.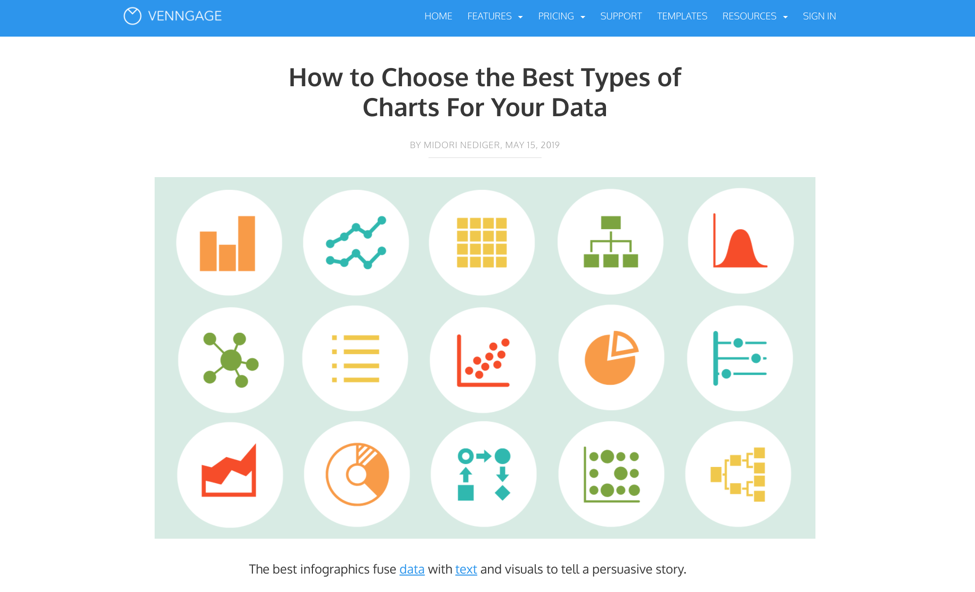 Venngage, an online infographic maker, showcases their expertise well in their blog post on choosing the best charts for your data. Charts are often used in infographics to express statistic- or data-heavy information, strengthen persuasiveness, and make information more memorable. In their article, they discuss how to determine your visualization goal, how to choose the right chart, and more. Because Venngage is an infographics expert, this is a great how-to article that proves their expertise on the matter using videos, infographics, and examples.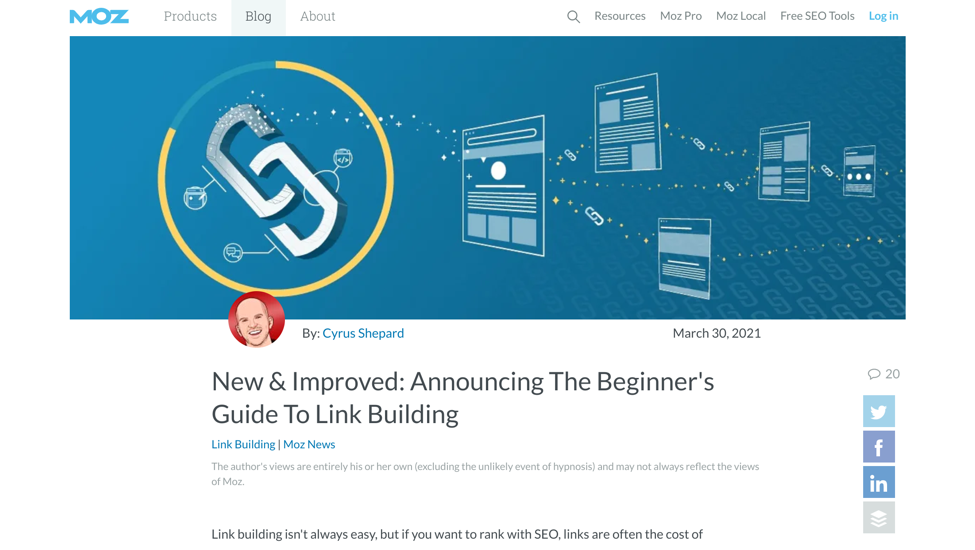 Similarly, Moz, an expert in content marketing and SEO, showcases their expertise well in their beginner's guide to link building. The piece was originally published in 2014 and, in March 2021, it was updated to include the most accurate and helpful information possible. You can also update your website content to show Google that you're always making an effort to ensure it's trustworthy and accurate. In this guide, they outline the types of different links, how to structure a backlink campaign, finding your audience, and more. This is a great, comprehensive article that shows they are a trusted source of information on the matter.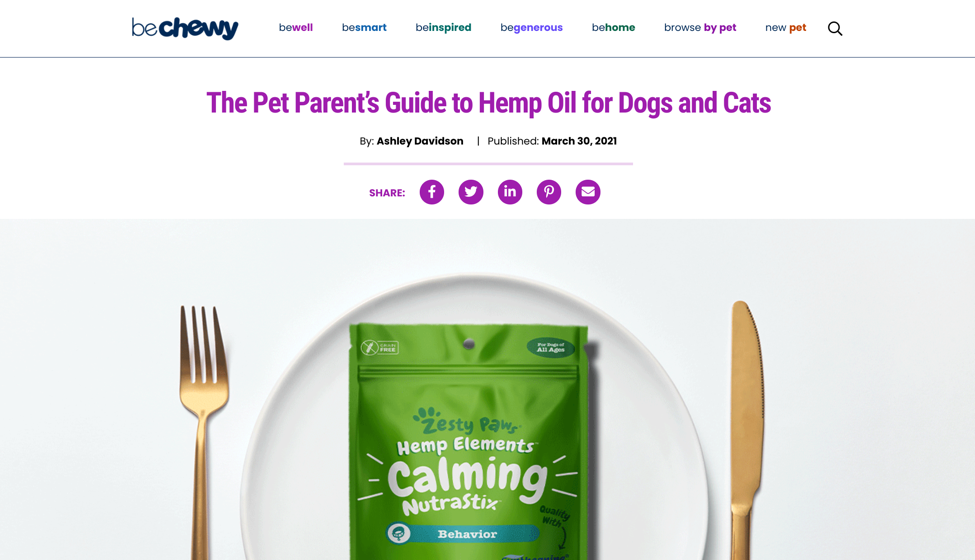 Chewy, an online pet retail store, also has a blog. They showcase their expertise in a variety of articles, including their piece on hemp oil for dogs and cats. With hemp and CBD being infused into nearly everything today, there are likely pet parents wondering if hemp treats and oils are safe for their cats or dogs. The article outlines potential benefits, safety concerns, and what some of the best products are. This shows that they care about their customers and are experts in their field; additionally, many of the products they discuss are sold on their website. This particular tactic can lead to more of them being sold. 

Address your customers' pain points to show you understand them
People thinking about spending money with you want to feel like you understand them and their concerns. You can show this by addressing their pain points in your content with how-to guides, free tools that solve their problems, or informative guides that help develop their knowledge in your niche. This will help build a relationship with your customers that will lead to more sales.
To start, you can check in with your customer service team to see if there are questions they frequently get. Consider writing an article, filming a video, or making a how-to guide to answer these types of questions. Furthermore, you can check in with your customer reviews to see if there are any common concerns or complaints.
You can also find questions using keyword research. Answer the Public is a great tool that shows what questions people are typing into search engines. Plugging in the phrase "dog food", for instance, results in questions like "what dog food is best for sensitive stomachs" and "can dog food cause itching". If you owned a pet store, these are questions you could consider answering with your content.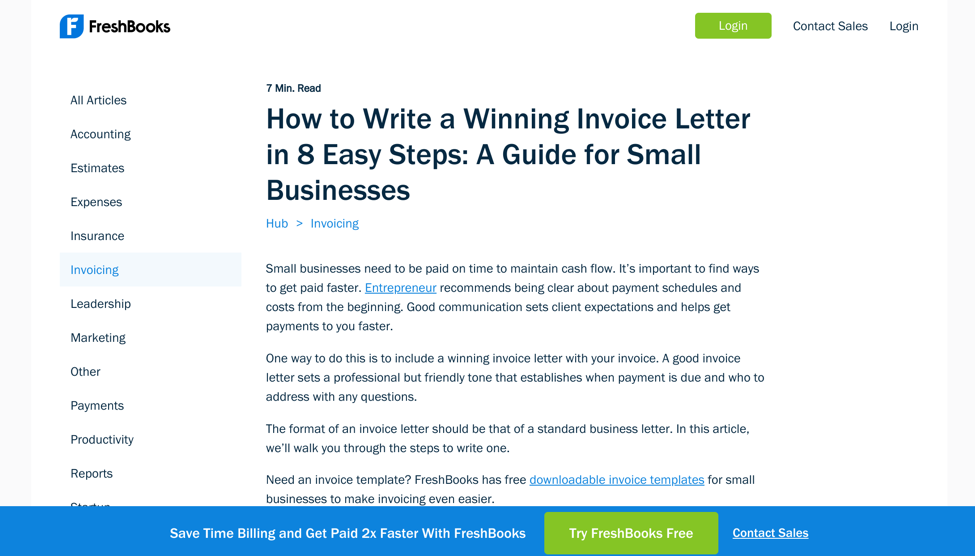 FreshBooks, an online accounting software provider, helps address customers' pain points by offering them a how-to guide on writing an invoice letter. Their ideal audience consists of freelancers and small business owners who are likely to need to know how to compose invoice letters. This step-by-step guide effectively addresses this pain point! They cover formatting, letter content, and more. This type of article shows that FreshBooks understands its' audiences' needs and is a trustworthy source of information. If someone uses this guide and required accountancy software in the future, they'd be far more likely to come back and buy it from FreshBooks.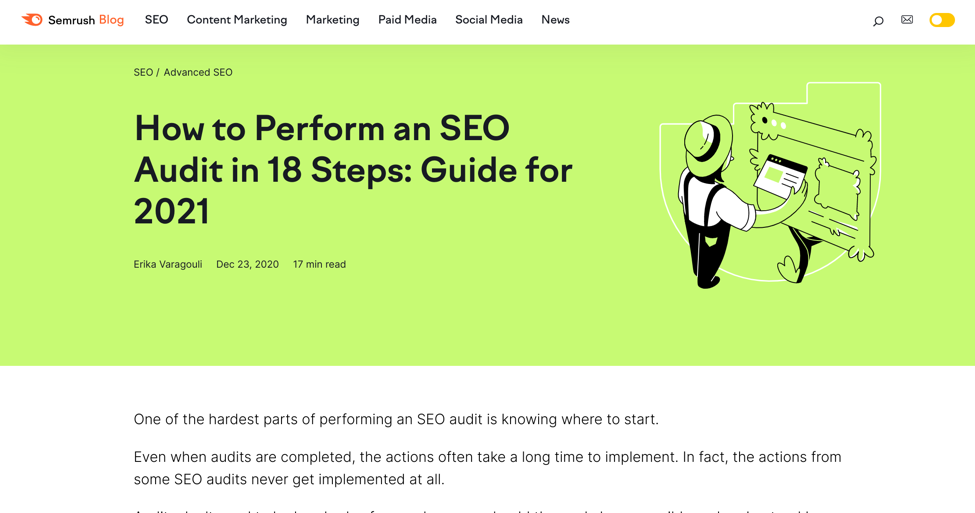 The SEMRush blog does a good job of addressing customer pain points, too. Take a look at their guide to performing an SEO audit. They start the article by noting that it's a difficult process, and it's tough to know where to start. Fortunately, this guide outlines each and every step. They cover why you need to conduct an audit, what tools you need, how to utilize them, and more. SEMRush knows that audits can be intimidating and time-consuming. By providing their target audience with a step-by-step guide, they are able to build trust and draw people in to use their other SEO services in the future.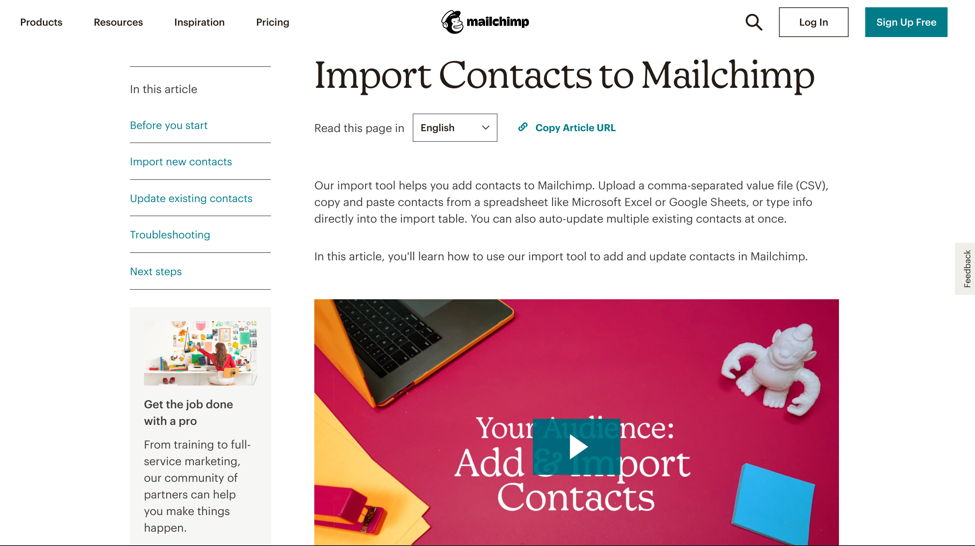 Finally, Mailchimp, a newsletter automation platform, has a blog where they explain how to get the most out of their tools. Take a look at their article on importing contacts to Mailchimp, for instance. For newbies, these types of programs can be confusing, but by creating this helpful guide that answers common questions and concerns, Mailchimp makes their customers' lives easier. For people who don't want to read an entire article, they have a video version on the page, as well. Tutorials like this help ensure their customers are happy and willing to renew their subscriptions!

Answer the questions your audience is asking
Anticipating and answering your customers' questions will help them feel understood. And, if they feel like your business understands what they're looking for in products and services, they'll be more likely to spend money with your business. 
Answering audience questions can help boost your SEO, too, as you'll be creating content that addresses what your customers are typing into Google. 
There are a number of ways you can look for questions that your customers are asking. As discussed earlier, you can start by combing through reviews and asking your customer service team what common inquiries they tend to get. Again, Answer the Public is also a great tool to get started with question keyword research.
Google also has several built-in features that can help you pinpoint what questions your customers are asking. For instance, when you begin typing something into the Google search bar, autofill shows what common phrases people are looking for. For instance, take a look at what comes up when you begin typing in, "how to use SEO to…"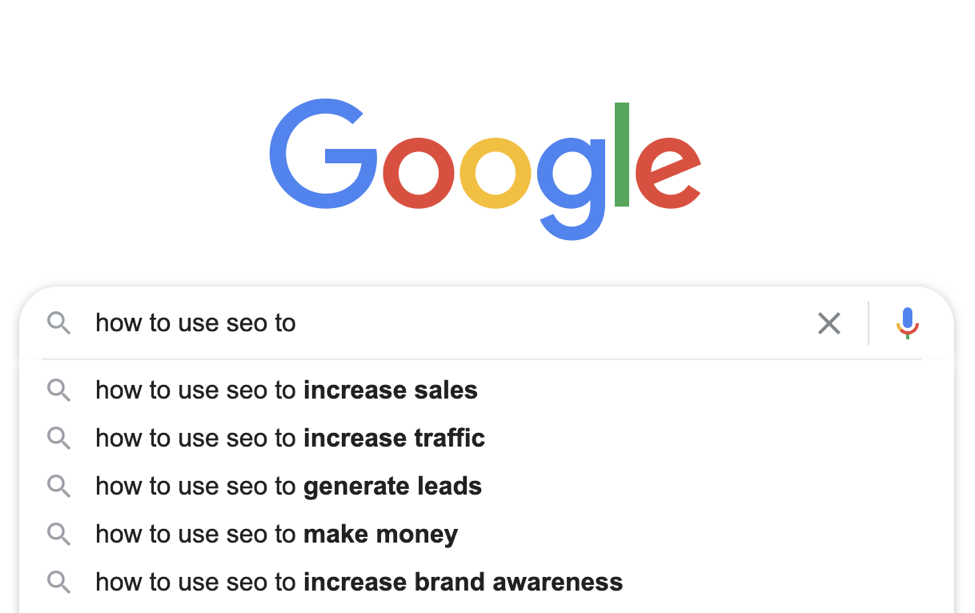 Right off the bat, you have five different potential questions to base new content on. Plus, once you reach the search engine results pages (SERPs), there is a section called "People also ask" that shows other questions related to your query. When you type in "how to use SEO," this shows up:

Again, you can use this section to help you understand what your customers are searching for, and create content accordingly. Start by brainstorming topics that are related to your business or niche; typing them into Google will provide you with a list of questions.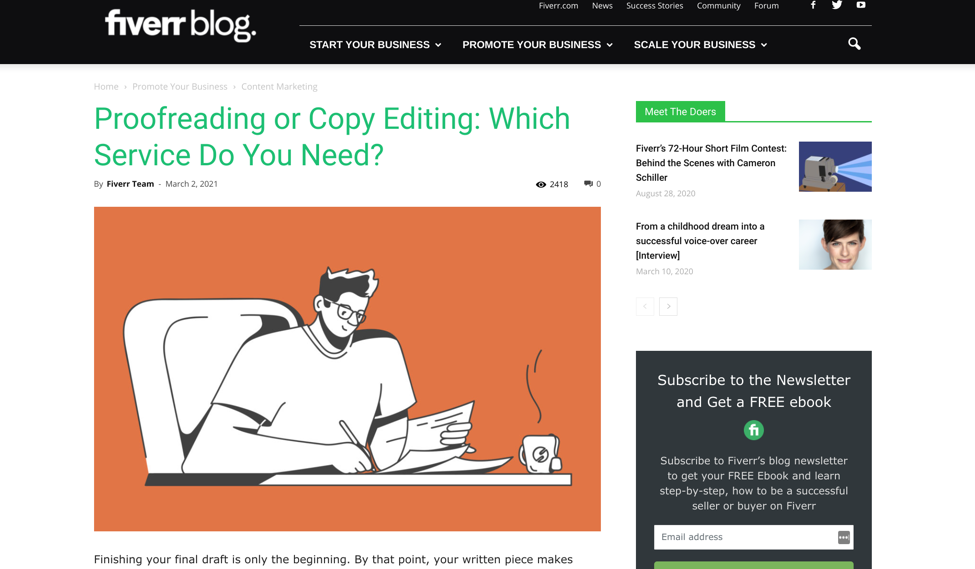 Take a look at how Fiverr, an online freelancing service, answers customer questions on their blog. This particular article helps readers decide if they need a proofreading service or a copy-editing service. The services are similar, and are often used interchangeably, but have important differences outlined in this piece. People searching for information on this topic are likely going to be looking for editing services; this article not only answers a customer question but also leads them to a solution that will earn Fiverr more sales.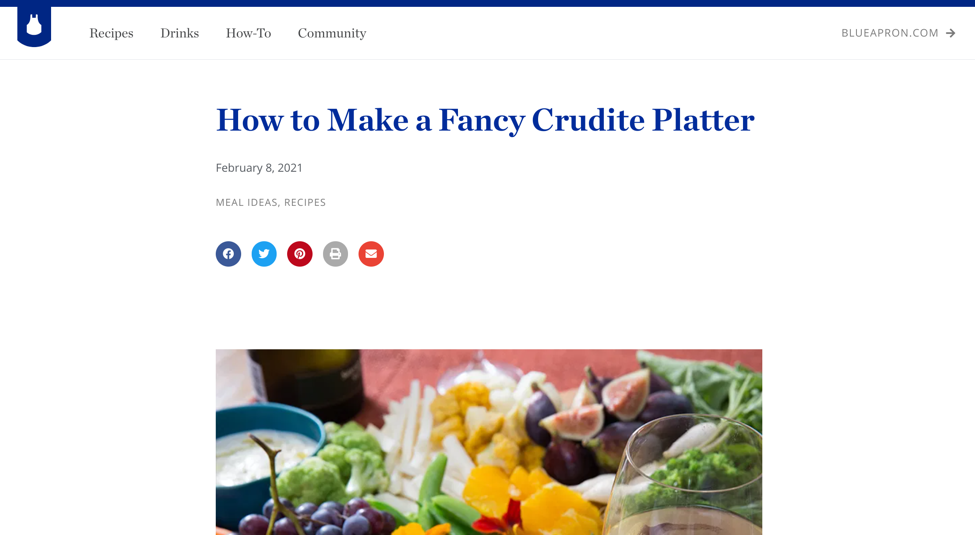 Finally, Blue Apron, a meal kit subscription service, answers relevant audience questions very with their blog content! They offer a variety of recipes, cooking tips, drink ideas, and more. Take a look at their article on how to make a crudité platter for a holiday party. Articles like this target their ideal audience well; the people who are willing to subscribe to Blue Apron are likely to be searching for help with cooking, and their blog posts assist them well. This can help get Blue Apron more subscribers!

Create content that will help your customers make the best purchase
People like to feel like they're making informed purchasing decisions; by making this easier for your customers, you can increase your sales. 
Buying guides are great for this! They compare similar products and outline their most important features as well as their pros and cons. If you sell several of the same types of products — say, for instance, you sell several different kinds of laptops — they can also help save your customer service team time and lead to better reviews. This is because buying guides help customers determine which of the products you sell will best suit their needs.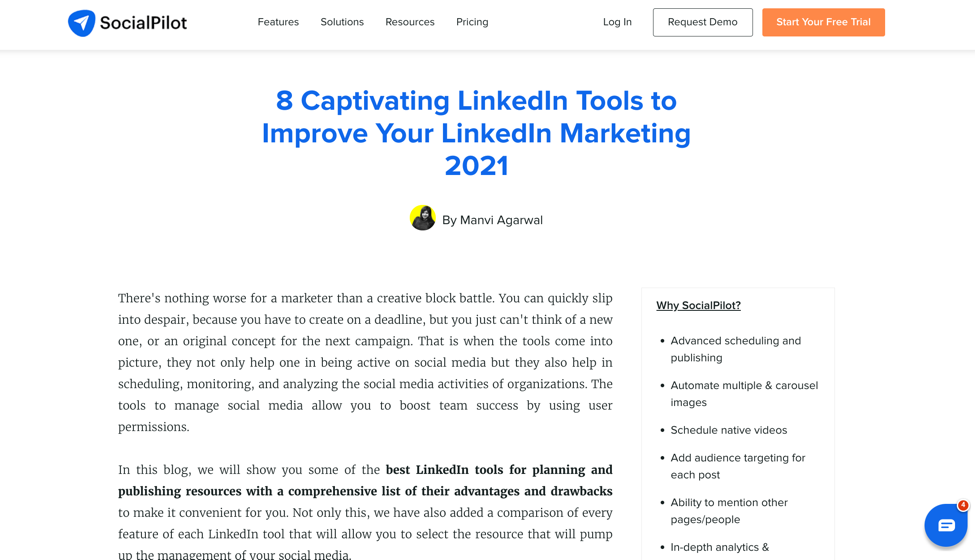 For example, SocialPilot, a social media management tool, has a guide comparing some of the best LinkedIn tools for marketing. In this article, they provide just about all of the necessary information one could think of when looking to make a purchase. They outline the price and main features of each and every tool, what types of free trials they have, and reviews for each. They compare the pros and cons of each tool, too, which is especially useful because different types of products will have different features that may or may not be beneficial to different customers. This guide helps encourage sales because it is straightforward and thorough.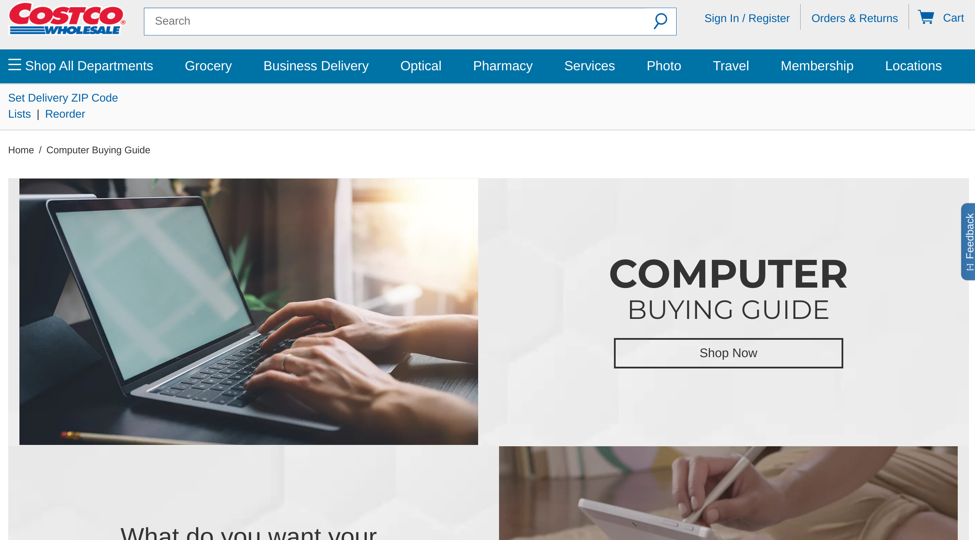 Costco also assists its audience with a computer buying guide. This article outlines all sorts of different considerations people need to keep in mind when buying a computer, including the operating system, the type of processors, graphics cards, memory, and more. This type of content is helpful to their customers who might not be very tech-savvy. After finding this guide, a reader will typically be much more likely to make a purchase from Costco as opposed to another retailer.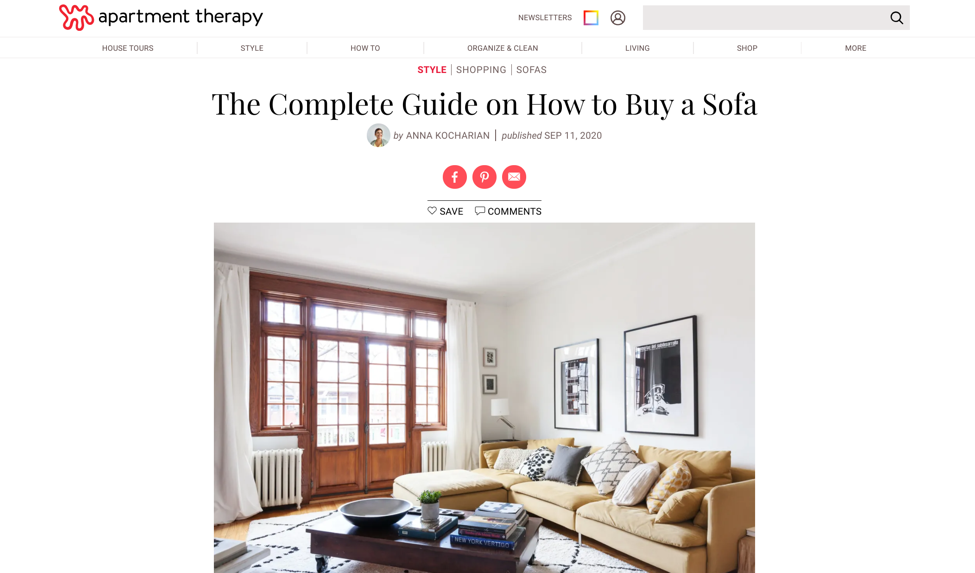 Apartment Therapy also has a great guide on how to buy a sofa. Sofas are expensive, large, and usually long-term purchases. The piece discusses all sorts of factors to consider, like choosing a style, selecting a fabric, finding the right size, checking the construction, and the best places to shop. Apartment Therapy targets people (particularly those who live in smaller spaces like apartments) looking to improve their home or living space; by offering their customers a sofa buying guide, in addition to links for purchasing, they draw in their ideal audience and encourage more sales.

Summary
No matter what kind of e-commerce business you have, content is huge for driving sales. In this article, I outlined five different ways you can ensure that your website content leads to more sales and more money in your pocket! Use powerful CTAs, showcase your expertise, answer customer questions, address their pain points, and create buying guides to start. See what works with your customers, and go from there!