Online sales saw explosive growth during the pandemic, where businesses experienced a 76% Year-over-Year increase in sales. Whereas online operations enable much more in brick and mortar stores, it is only possible to collect limited data, such as customers' email or phone numbers. 
The rapid growth of e-commerce has also created more visibility to customer data, and the shift to online shopping has unlocked access to the end-to-end customer journey.
Happy customers increase loyalty, thus having a positive effect on sales, higher NPS scores, and organic sales growth – predictive analytics can offer tools to improve the customer journey.
What is predictive analytics?
Predictive analytics is the use of big data, statistics, and modeling techniques to make predictions about the future. It looks at the current as well as historical data and identifies patterns in this data to determine the likelihood of that same pattern happening again in the future. Predictive analytics is a proactive, rather than a reactive, approach.
It can help to forecast purchasing trends, identify the most suitable marketing channels, for example, using SMS loyalty programs, or schedule social media posts, predicting the behavior of certain customer segments to personalize and offer the right products on the right channels. 
What is more, predictive analytics can also be leveraged for improving operational efficiency and reducing risk. For example, used in chatbot analytics, which is the process of analyzing historical conversations on e-commerce chatbots to gain some insight into customer experience, the overall performance of the chatbot itself, and future performance.   
Big Data, Predictive Analytics and customer experience (CX)
Brands can now collect a vast amount of data and use it for valuable insights to significantly improve the overall customer experience. From click and conversion rates to purchase and payments history to social media comments and conversations, first-party data is still widely available and accessible to use for product and service improvements. 
And the same goes for customer service, and data may be collected across multiple touchpoints for key contact center metrics like average handling time, first contact resolution, customer churn, contact channel, or social media comments to provide knowledge of how satisfied they are with the service. 
With the rise of Big Data, Machine Learning (ML), and Predictive Analytics, insights are becoming the status quo for improving processes and customer experience. It applies to every industry, especially e-commerce and retail, where businesses rely on purchases by repeat customers. Investing in a great customer experience is part of a good growth strategy and leads to an increase in sales.

Companies are now consolidating data across all platforms to get a bigger picture on how to offer exceptional customer experience. For example, Big Data allows businesses to use predictive analytics to target customers through personalized content. 
Brands can then use this information to enrich and improve their customer experience. Below, we'll bring out five ways to leverage big data to improve and help take a proactive, rather than a reactive, approach. 
But first, let's explain how to define essential customer experience that can improve and determine how Big Data ties into the complete end-to-end customer experience.
Customer experience metrics and predictive analytics
How and why do use big data and predictive analytics now, in 2022, to improve customer experience? Predictive analysis can improve two main customer success metrics by taking a proactive approach: customer retention and customer satisfaction. 
Customer retention is the ability of a business to keep its customers over some time. High customer retention rates, e.g., when customers keep buying from the same brand over a more extended period, mean that customers tend to return and continue to buy from them. 
Customer satisfaction refers to an overall customer experience and how happy customers are with it. All behavioral patterns of a customer journey are cared for, where customers are happy and satisfied with the overall customer experience, including pre-purchase, purchase, and post-purchase phases. 
It is where big data and predictive analytics have the power to make or break the customer experience. Keep reading to find ways to leverage analytics to improve your customer experience. 
Before diving in, let's briefly look at how e-commerce customer service has gained more importance over the past couple of years and why it is significant for online businesses. 
Importance of a good customer experience in e-commerce 
Personalization in customer experience is now more critical than ever. Businesses increasingly pay attention to it to stand out from the competition and leverage it as their competitive advantage. Personalizing can generate a 20% increase in customer satisfaction rates, roughly equivalent to a 10% boost in sales and conversion rates, found a survey by McKinsey.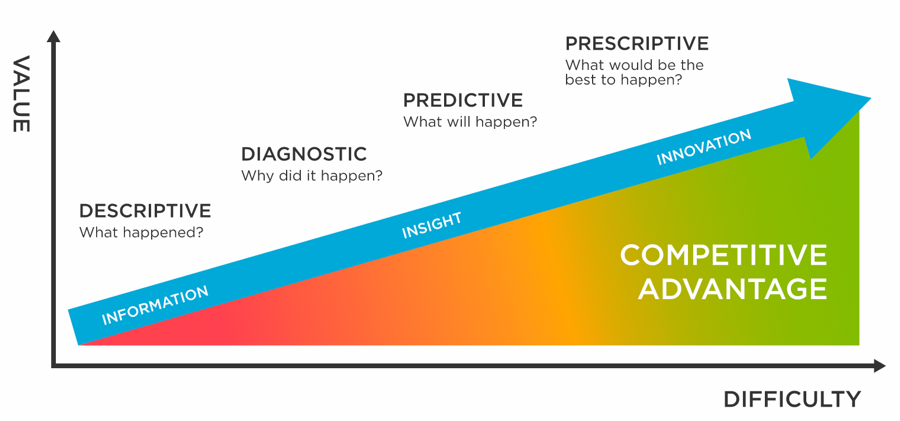 For example, Amazon and Zappos both aim to offer top customer service and customer experience to beat the competition. Customers turn to these online retailers as they know they can get guaranteed support and secure and reliable service. 
Even though no company has gone bust solely due to bad customer experience, it can play a considerable part and has become an essential parameter for businesses. It can be a make or break point in gaining new business and retaining loyal customers.
Main reasons to improve customer experience
If you are unsure whether it makes sense to invest time and money in big data technology, then look at the below metrics. There are several reasons to increase customer satisfaction rates. Here are some of the most important benefits.
By ensuring these key metrics are taken into consideration and continuously improved, sales will grow simultaneously. 
Increase sales
As the main purpose of most e-commerce companies is to generate more sales and profits, it is much harder if the full customer experience isn't paid attention to. 
Customer experience has proven to lead to an increase in sales. Brands that have created an emotional connection with visitors have proven to outperform sales by an impressive 85%, whereas a 2% increase in customer retention rates has proven to lead to improved profits. 
Boost customer loyalty
Nowadays, with the increased online competition, it is getting harder to stand out from the crowd. Using excellent customer experience to your advantage can, in turn, increase customer loyalty, thus increasing sales. There are several reasons to boost customer loyalty for online brands and retailers.
Raise brand authority 
Satisfied and loyal customers promote your brand through word-of-mouth marketing, which comes at no cost to your business. Measuring customer satisfaction scores (CSAT) and net promoter scores (NPS) can show how satisfied your customers are with your company's services and products. 
Satisfied customers will spread the word and come across as natural and authentic, and customers trust other customers over any promotional marketing campaign. 
5 ways to improve customer service using predictive analytics  
Predictive customer analytics aims to analyze large datasets to detect patterns and trends to improve customer satisfaction. 
Predictive analytics allows customer experience to transform into a proactive rather than reactive approach, making it much more personalized to increase customer loyalty, sales, and customer satisfaction. 
Big Data and predictive analytics aren't magic; however, they can elevate the customer experience and take it to the next level. For your e-commerce marketing strategy, for example, a predictive analysis could help forecast the best sales channels to market on and when to promote. 
Big Data and predictive analytics help build and implement tools that can offer exceptional customer experience. An estimated 80% of consumers are more likely to commit to a purchase if the retailer provides a personalized experience, as found by Epsilon research. 
It means consumers expect personalization to an extent when interacting with their favorite brands. Below we list five ways predictive analytics can help to improve and enhance customer experience: 
Predict what your customers want to keep them returning
It is a known fact that retailers and other customer-facing businesses rely heavily on acquiring new customers and retaining existing ones. Each interaction to attract or retain them is essential to get to know them better, whether in person or online. 
Therefore, feeding all data and comments across all social media channels about customer interactions, conversations, and reviews can help predict customer behavior and use it ultimately in customer service interactions. For example, as this data is already in the system about the customers, support agents can use them to personalize their calls or interactions without spending time asking.
Accurate customer satisfaction rates
Compared to methods, predictive analytics uses multiple variables to predict and calculate customer satisfaction rates. A neural network model considers a broader array of indicators to have an accurate insight into how happy customers are and retain them. 
Predict customer churn to retain them
Predictive analytics allows identifying those customers who are most likely or are at risk of leaving. This modeling tool identifies high-churn customers, which makes it easier to proactively rather than reactively retain them, either through sending promotions, through loyalty programs or by sending them discount offers. The customer churn model can be used regularly to identify customers at risk of leaving. 
Segmentation to predict patterns in customers' behavior
Customer segmentation groups together consumer profiles with similar characteristics and purchase preferences. The purpose is to predict their behavior. After that, retailers can approach these groups, for example, with a customized product offer or a loyalty program to attract new and existing customers. 
Manually segmenting them can take a lot of time and effort. Not many businesses have the time for it. Predictive analytics and machine learning will allow this to be done automatically and much more efficiently by creating segments based on various characteristics based on how they reacted historically to specific conditions. 
Customer segmentation can improve several other repetitive processes and marketing to create more personalized experiences and campaigns. Through machine learning, businesses can understand how each customer segment might react to different stimuli, and which criteria would lead them to make a purchase decision or lead to a conversion. What is more, it would show the most effective ways to promote each of these segments to increase sales. 
Predict customer needs to personalize content
Having customers who keep buying from you is what all companies aim for. After all, 80% of sales usually come from 20% of the loyal customers. Businesses focus on acquiring new customers but should also focus on retaining existing ones. 
What if we could predict the most important events in each customers' life, to then offer them the most suitable selection of products? By knowing what your customers need and what excites them, brands and retailers can recommend the exact products or services to their needs at the right time, thus increasing sales. 
Predictive analytics can identify buying patterns of a specific customer segment to promote relevant products and trigger sales. For each customer in each segment, the decision tree model predictive analysis simulates the customers' journey of a specific product, which helps identify which product or channel marketers should reach out to them.
Conclusion
Predictive customer analytics can help e-commerce brands and retailers retain loyal customers and personalize their offers and marketing campaigns, thus increasing sales. Proactiveness and personalization are the keywords here: predictive analytics helps businesses become proactive rather than reactive when it comes to customer experience and engagement. 
Predicting customers' needs and shopping behavior, and identifying certain patterns, can determine customer groups at risk of leaving, help win them back, and ultimately personalize to upsell to create more value.