Adding an eCommerce functionality to your website or just starting a whole new webshop is a great, affordable way to start making money online. There are plenty of webshop platforms to choose from, based on the level of complexity, support and so on.
Why Shopify?
Shopify is one of the most common ecommerce platforms out there. The community built around it is simply amazing.
When it comes to the back-end, you'll get a handy-dandy system. It's a 100% beginner friendly and you don't need that cold, savage hacking knowledge that you've seen in the 80's movies.
|Shopify is the cool kid of webshop engines.
It's a very aesthetic and popular platform with huge background support. You have the option to sell through your Facebook page and with the aid of Shopify Buy Button even your webpage or blog can be turned into a sales machine. Do you need more fun? Well then, Paypal and Mailchimp integration is another option for you that doesn't require any voodoo magic. The cherry on top, however, means, that it can be used as a point of sale tool. This means, that if you take a step towards retail, and want to make your and the customers' life easier, you can just throw a tablet on the table and Shopify functions as a cash register.
The Design:
When it comes to building eCommerce websites, you will need a great design. A well-designed, responsive, and eye-catching template will put your products or services on a whole new level. It also helps you a lot with SEO, improves your conversion rates due to the pleasant User Experience since your visitors won't have to struggle to navigate through your site.
|A great design is your first selling point.
The Shopify engine might not be the king of templates however, it gives you one of the cleanest, minimalistic design. On top of that, many free templates look really really good and professional.
A general rule of thumb is when you're looking for an eCommerce template — regardless of the preferred platform—, you should keep an eye out for some key features to make sure you are delivering the best possible user experience to your visitors.
Must-Have Features
Here are the most important features you should consider when picking out the template of your dreams:
responsive and mobile friendly design — this is pretty much self-explanatory. Go mobile or go home.
flexible customization — it looks great, it feels great, but until you don't bring in your ideas it's still just a template
automatic shopping cart update feature
product variation features — especially handy when it comes to jewelry or clothing. It can save you a lot of back and forth emailing with the potential customer if they can see what size or color is available.
additional customer support — it might sound unnecessary at first, but after a bit of tweaking here and there in the design, things can go wrong. It's simply good to know, that some of the templates offer up to multiple months of support.
Here are 5 awesome templates to get you started, that meet the requirements mentioned above:
Supports a wide range of colors. Tons of header/footer section layouts and shortcodes. It also comes with Magento and WordPress versions.
Has a cool feature called 'Mega Menu Module', and it does exactly what the name says. It expands the default Shopify menu, so it is optimal where you have to work with a lot of categories.
This theme works great where you have to implement a lot of product description. It also has a "Megamenu" feature that allows you to have detailed dropdowns with multiple columns.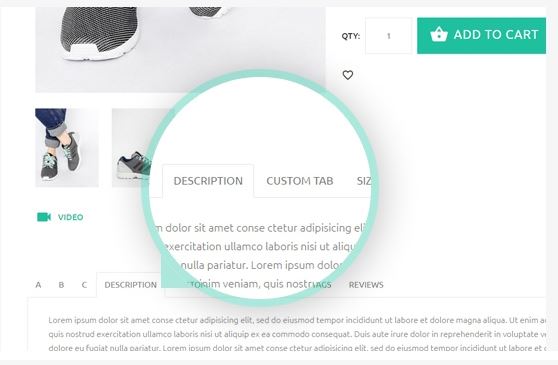 Header option, Megamenu support simple and clean design.
Also has 'Megamenu' support, and provides one of the most pleasant minimalistic experience.
Conclusion:
Launching a successful ecommerce site is not rocket science. However, it requires more effort, than just picking out the first theme, that comes in your way and throwing it on the internet. Shopify is one of the most user-friendly webshop platforms with lots of features and cool templates. A good webshop template must fulfill the must-have features list since the theme you pick represents you and your business online and must look and feel professional.