Have you ever wondered how much you can get for your website? Like when you want to estimate the value of a business or real estate, you have to take a lot of things into consideration. For example: what makes it valuable for the buyers, how you can evaluate i or whether you will need an expert or not. Needless to say, having a properly evaluated website can be a complex task (almost like eating a cookie when your dog is around). However, it will give you a strong basis when it comes to negotiating.
The goal of this article is to give an idea about what needs to be done before even thinking of selling your website.
You will get answers to questions like:
What is website valuation? 
What are the traditional methods?
How does risk and ROI affect the buyer's perspective?
What makes a website valuable?
Who ate the last cookie?
Whether you want to sell your website or you are just willing to know how much you have potentially earned so far, you might be curious to know how much your website is currently worth. Like with selling a business, trying to determine your website price is really hard: so many factors might come into play:
What is website valuation?
Website valuation can be imagined as a multi-stage process that takes multiple factors into consideration and produces a single value as a result.
Before I even get into this I want to point out something:
There's no general formula that works for all purposes and tells how much your website's worth!
However, there are multiple factors that affect it:
time and resources invested in (including labor)
the target group and industry (you might have a strong presence in the industry but if the market does not show growth, it can lower your site's value)
key conversion metrics in which visitors are converted into customers (such as traffic sources, unique and returning visitors, bounce rate, cost per conversion and so on)
premium domain
brand name
penalty against the website
the strength of SEO
What are the traditional methods?
1. Cost/user valuation: simply take the number of the annual unique visitors of your site and multiply it by the amount 1 person is worth from the site's perspective.
2. Sales benchmarking: what some buyers do is simply look for data of sites similar to yours and have been sold in the past. You can do this also – it won't be accurate but at least you'll have a general idea about what you can expect.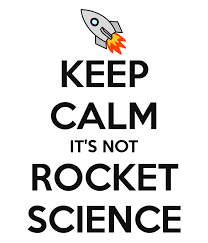 3. Multiple of earnings: a traditional "old-school" way is to take the annual net profit — total earnings minus expenses — and multiply it by 10.
Selling price=Annual net profit x10
There are other approaches that multiply the revenue instead of the net profit. These can be based on last year's revenue or an average. Generally speaking, the multiple is usually between 1–3.
It's worth noting that every website is unique in some way. So, the problem with focusing on profit or income comes when we consider the complexity of the valuation process itself.
In other words, you have to take the real assets into consideration.
If you look at the list above, those assets can be critical since buyers buy because they want a return on investment (ROI). The value of assets gives the buyer an idea about the expected level of return.
Let's look at the following example:
There are 2 domains that both belong to companies that are selling e-books. Domain A can make up to $8000 profit in a month, while domain B can only perform half as good, which is $4000. Applying the x10 multiplicator, would be an easy choice since A would be worth $80.000 and B would be worth only $40.000.
Now let's give them names:
Domain A: megacheapebooks-now.net
Domain B: neatbooks.com
The story continues:
Domain A is 8 years old while Domain B is only 2. Both are ranked on the first page of Google; however, it seems that Domain A has been penalized a few years ago.
Which site would you pick?
Potential growth and risk are always key players in the game. Potential growth is important because this determines how fast the recovery will be. Let's say a buyer acquires a site for $100.000. At that time the annual earnings are $30.000/year. If the acquisition was not at its peak and there is enough headroom to double the earnings, then there's a chance to get back the initial investment way faster.
How risk and ROI affect the buyer's perspective?
Risk and ROI (return on investment) walk-in hands. Risk is the inverse of multiplication. This means if the risk factor is lower,  the multiple is higher. In other words, the higher the ROI and lower the risks are, the better the position you are in and vice versa. But the risk is very subjective so every person has a different perception. Some people – the cool kids on the block – actually like risky investments.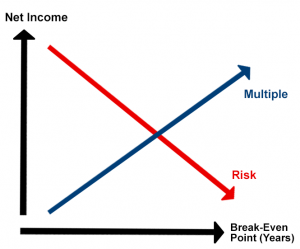 Source: blog.flippa.com
"A ship is always safe at the shore – but that is NOT what it is built for." ― Albert Einstein
How to increase website value?
You can do more than you think in order to have a valuable website. Even if you are on a budget there are plenty of ways to fine-tune your site.
Aiming for high-quality design is a good idea. You don't have to spend thousands on templates. You can find decent ones under $50.
If you are having a blog, try to find a topic that really "clicks" and always aim for quality content instead of quantity.
Organic search is King! Having strong backlinks means that you don't have to run as many paid ads; in addition, it also increases the value of your site.
Multiple proven traffic sources that are both responsible for a significant percentage of annual revenue and have long-term staying power.
Be consistent everywhere. Every part of your website should fit together giving the impression of a "whole".
A business name that is trademarked and consistent from the domain name to all social media handles.
Provide a pleasant user experience. Time is money and if the potential customer needs a guide to perform the desired action on your website you should really consider optimizing your website. If you ignore this, then your conversion funnel will leak traffic. There are tools like session heatmaps designed to reveal certain pain-points in the user flow.
Experimenting with automated valuation
If you already own a website, you might have googled "how much is my website worth". By doing so, you can pick from a lot of tools claimed to be realistic. They simply lack human logic and critical data, since they don't have real insights other than just basic traffic information.
I've chosen medium.com as my test subject. Here are a couple of examples.

So as you can see, the result is confusing. It's like the group of your friends, where Worthofweb is the new member who always compliments you, while Siteprice is the embodiment of your "best friend". If you really wish to sell your site and have no experience at all, make sure to hire an expert and don't trust the first number that comes up from the search engine. That would lead to a bad position in negotiating.
Selling your site
The basic process looks something like this:
Step 1. Gather data (consider everything related to revenue and expenses), calculate net profit
Step 2. Conduct website valuation
Step 3. Search in the market, look for potential buyers
Step 4. Negotiate
At this point, you can decide if you want to sell it on your own or leave it to a professional broker. Both options have benefits and drawbacks. If you decide to sell it by yourself then you will have a complete overview from start to finish and can save money. You can visit exchange sites like Shopify Exchange or Escrow.com. These offer secure transactions. Just be careful and don't overvalue your website since you are responsible for the entire valuation process. Now if you decide to hire a professional, you won't have to struggle, plus brokers have huge databases of high-quality buyers. This will eliminate the chance of getting "outsmarted" by experienced buyers. Keep in mind that sometimes brokers have certain requirements you might have to fulfill and, of course, they can be very expensive.
Regardless of the path you choose, keep in mind that in the end your site will be worth no more than someone is actually willing to pay for it.
Conclusion:
There is no such thing as the one and only formula that tells you how much your website is worth. Valuating a website can be a really complex task. There are traditional ways to calculate it but you have to keep in mind that risk and return on investment have a high influence. There are multiple ways to increase the value of a website and in case you decide to sell yours, you can do it by yourself or hire a professional.
What's your opinion on the topic? What would you like to read next? Please leave your thoughts and ideas in the comment section below. Also, make sure to subscribe to our newsletter for fresh content!