In today's fast-paced digital landscape, establishing a strong online presence is essential for businesses of all sizes. Whether you're a startup entrepreneur or a seasoned company, having a well-crafted website can be a game-changer.
In this article, we'll dive deep into the world of website building, comparing three of the most popular platforms: WordPress vs. Webflow vs. Squarespace. We'll explore the critical importance of having a website that not only attracts visitors but also ensures a seamless user experience and ranks well on search engines.
The Importance of the Website to the Company
A website for your business is a requirement in the modern era. It serves as your virtual storefront, working tirelessly to:
Increase the visibility of your business and attract potential customers.
Build the trust and credibility among your audience.
Keep your customers up to date with the latest information about the industry and your offers.
Drives sales and contributes to the growth of your business.
Secure a competitive advantage in a crowded market.
Elevate your search engine ranking through optimization.
There are many other reasons why you should have a website, and having a website is no longer an option; it's a necessity. However, it's not enough to merely have a website; you must also keep it updated and optimized to stay ahead of the competition in the ever-changing world of online search.
"The secret of a high-ranking website is not its colors but its content." – Amit Kalantri
So, whether you're starting from scratch or considering a website overhaul, read on to discover the best strategies and platforms to achieve your online success.
Popular Website Builder Options
When it comes to creating a website for your business, selecting the right website builder is a critical decision. Each option comes with its unique set of features and capabilities. In this section, we'll introduce three popular choices: WordPress vs. Webflow vs. Squarespace, providing a snapshot of what each one offers to help you make an informed choice.
WordPress Builder
With the WordPress builder, you can create a website that meets your individual requirements, from a simple blog to an e-commerce shop, regardless of the type and area of your business or the size of your company. This well-known website builder is used for a considerable number of websites all over the world. Since its first release as a blogging platform in 2003, this builder has developed into a complete content management system (CMS) and website builder.
In the following, we will refer WordPress.org when we mention WordPress. If you don't know the differences between WordPress.com and WordPress.org, read our guide on it.
WordPress offers various plugins and themes as it is a content management system (CMS). Payment gateways, social media sharing buttons, and contact forms can all be added with plugins. By using plugins like Rank Math to write your title tags and meta descriptions following the best SEO principles, you can optimize your website for search engines with WordPress.
The advantages of choosing WordPress as a website builder
Some of the reasons why you should choose WordPress to create your website include:
Suitable for businesses of all sizes; easy to install, configure, and create a website.
Offers a wide range of customization options that allow you to create a website that is informative, with easy navigation and calls to action that encourage users to continue the process. WordPress has more than 54,000 plugins.
Can be obtained for free, though additional plugins may come with costs.
Built-in features for SEO optimization and user-friendliness.
Mobile-friendly website creation without coding expertise.
Highly flexible and customizable.
No need for HTML or coding skills, although knowledge of the HTML language is an advantage.
Allows complete website organization.
You can take the benefits of this website builder to create a website that will increase sales and expansion of your business. You can work with experts in this field who will help you with their professionalism if you feel that you are not ready to start this process on your own.
The disadvantages of choosing WordPress as a website builder:
Requires some technical knowledge for setup and maintenance.
Managing plugins and updates can be time-consuming.
You're not a tech guru? No worries! Working with digital marketing and professional WordPress development companies is crucial because they know what content to place on the website depending on the nature of your business, where to place calls to action, and which plugins to use. You can work with NYC WordPress development companies as well as companies in San Francisco, Chicago, Boston, and other places.
Popular websites built with WordPress Builder
This platform builder is used by people and companies to create their websites as well as to manage and update them with the most recent news, deals, and other interesting stuff. WordPress has produced some well-known websites, including:
Time Inc
Sony Music
Walt Disney Company
The Rolling Stones
The New Yorker
BBC America
Webflow Builder
Webflow, introduced in 2013, is a visually-driven website builder known for its powerful design capabilities and user-friendly interface.
You can create a flexible website without using code with Webflow. This website builder offers a user-friendly visual interface and a variety of themes and components to help you create a distinctive website that will impact both the user experience and search engine optimization.
The Webflow builder has a variety of features, including e-commerce, SEO, and integration with external tools like Google Analytics. It also has the great benefit of automatically generating responsive designs, which makes it simple for your business to create a website that looks great on desktops, tablets, and mobile devices.
The advantages of choosing WordPress as a website builder
There are numerous features that are also reasons why you should use this website builder, some of which are listed below:
Ideal for designers, business owners, and those seeking a visually appealing website.
No coding skills required.
Offers various integrations and plugins to improve the functionality of the website.
Allows complete design and layout customization.
Provides templates or the option to start from scratch.
Supports dynamic content management.
Offers SEO functions for improved search engine rankings.
Allows the reuse of CSS classes.
The disadvantages of choosing Webflow as a website builder:
Pricing is subscription-based.
Learning curve for complex designs.
Some websites are built with Webflow Builder
Some popular websites that have been built using Webflow include:
Hootsuite
Teachable
The Grid
Latte
Framer
Squarespace Builder
Squarespace is a user-friendly website builder known for its simplicity and elegant templates. You can use this website builder to make a professional-looking website, and one feature you'll appreciate is the ability to use a drag-and-drop interface to create a website without any coding—moreover, Squarespace acts as a hosting platform. Since its launch in 2004, Squarespace has been a popular platform for building websites.
The advantages of choosing Squarespace as a website builder
The Squarespace builder is quite simple to use and has some incredible features, some of which we've included below:
Features a drag-and-drop interface for easy design.
Allows easy addition of text, images, videos, and more.
Offers an integrated e-commerce option for online stores that allows you to create an online store, add products, and accept payments directly through the website.
Provides a variety of marketing tools.
Supports blog management.
Includes SEO tools for optimization.
Offers analytics and reporting options for performance monitoring.
The disadvantages of choosing Webflow as a website builder:
Limited design customization compared to Webflow.
Subscription-based pricing.
Some websites are built with Squarespace Builder
The following is a list of well-known websites created with Squarespace:
Blue Bottle Coffee
Keanu Reeves
Exo Protein
The Black Tux
Squarespace Blog
"A business must have a website because office hours apply to a workplace, not to a website." – Amit Kalantri

Now that you've been introduced to these website builders, you'll have a clearer understanding of their strengths and weaknesses, helping you choose the one that aligns with your specific needs and goals.
Differences between the top 3 website builders – WordPress vs. Webflow vs. Squarespace
In this article, we have given you information on three website builders that are very efficient and professional to use to create your company website, but if you are still not sure which one to choose for your needs, we have highlighted some key features.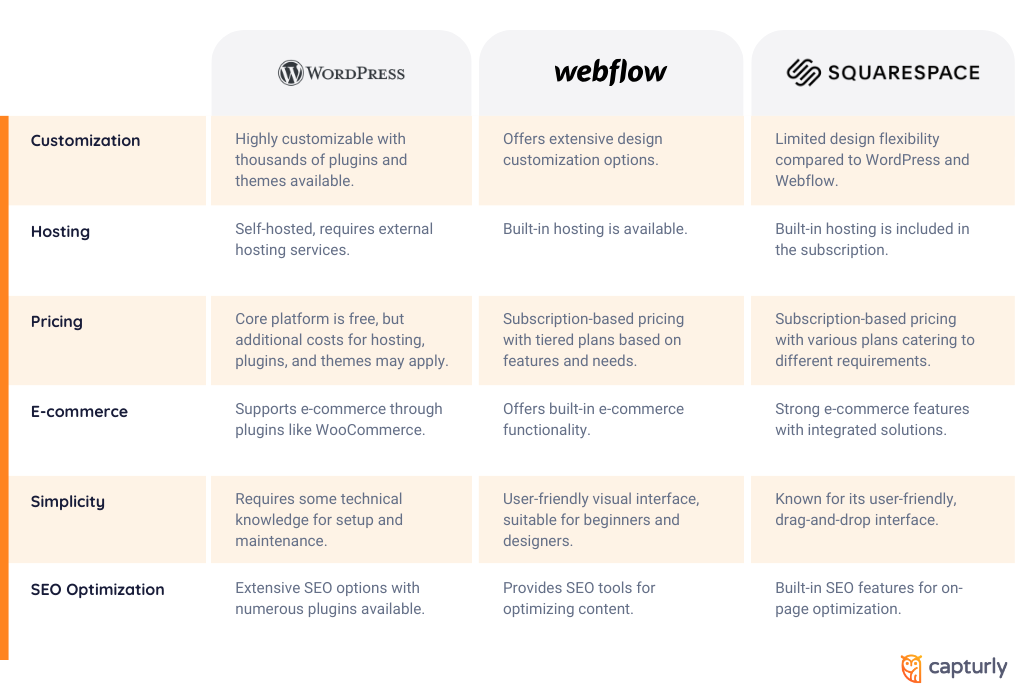 Customization
WordPress: WordPress is a versatile platform known for its extensive plugin library and third-party themes. It provides ample opportunities for customizing your website. You can choose from a vast collection of third-party themes and plugins, allowing for extensive design and functionality customization.
Webflow: Webflow stands out when it comes to customization. Its platform offers an array of design customization options surpassing the other two builders. Here, you can create intricate animations and layouts with ease, offering a high degree of creative freedom.
Squarespace: Compared to WordPress and Webflow, Squarespace offers a more limited selection of design templates and themes. While it provides customization options, they may not be as extensive as the other two builders.
Hosting
WordPress: WordPress.org does not offer hosting, which means you need to seek hosting independently. WordPress.com, however, provides hosting solutions.
Webflow: Webflow Builder has built-in hosting available when it comes to the hosting part. The benefit of this function is that it eliminates additional hosting costs for you.
Squarespace: Similar to Webflow, this builder has built-in hosting, so you won't need to manage your server or set up a separate hosting account.
Pricing Plans
WordPress: WordPress may be installed for free, which gives the platform an edge. But, other components, such as hosting and plugins, require additional fees. You could expect to pay a variety of prices depending on the type of plugin and what it offers.
Webflow: This builder is a subscription-based service with pricing plans based on website features and hosting requirements.
Squarespace: Similar to Webflow in terms of pricing, Squarespace is a subscription-based service that is based on user needs and web features.
E-commerce Feature
WordPress: WordPress plugins can be used to manage your online store's operations. Also, you can use a variety of testimonial plugins on your website. It's critical to include client testimonials because what other customers have to say about your goods can influence a buyer's decision.
Webflow: You can build online stores, administer them, and sell your products directly from your website using Webflow's E-commerce features.
Squarespace: Squarespace's website builder includes an e-commerce function that you may use to professionally manage your online store and strengthen your company.
Simplicity
WordPress: WordPress requires more technical knowledge, it is perfect for your needs if you're willing to confront technological challenges, pick up new abilities, and pay more to customize your website in a special way.
Webflow: Webflow offers a user-friendly interface that's perfect for beginners, designers, and business owners. Its simplicity stems from intuitive design tools, built-in functionalities, and accessible instructional resources.
Squarespace: Squarespace is a user-friendly platform, similar to Webflow, featuring a drag-and-drop interface that simplifies website design. It excels in handling technical aspects like hosting, security, and software updates, allowing you to focus on content creation and website administration.
Search Engine Optimization Feature
WordPress: There are numerous plugins available for WordPress that can assist you in improving your website's search engine ranking. You may edit the HTML of your website and optimize your meta tags and titles.
WordPress has more functionality accessible compared to Webflow and Squarespace, helping your website rank higher on Google and other search engines.
Webflow: Webflow also has built-in tools to optimize the content of your website, such as meta tags and alt tags for images.
Squarespace: This builder has built-in search engine optimization tools, such as meta tags, URL customization, and mobile optimization.
Your choice among these website builders should align with your specific needs, technical expertise, and budget considerations. Evaluate which features are most critical for your business and choose the builder that best suits your objectives.
Conclusion
Websites are indispensable tools for businesses, serving various purposes from informing customers about products and services to increasing visibility, sales, and search engine rankings.
Your choice of website builder should be based on your unique needs, technical proficiency, and budget. If you value robust customization and have technical expertise, WordPress is a strong contender. For simplicity and creative freedom, Webflow is an excellent choice, while Squarespace excels in user-friendliness and handling technical aspects seamlessly.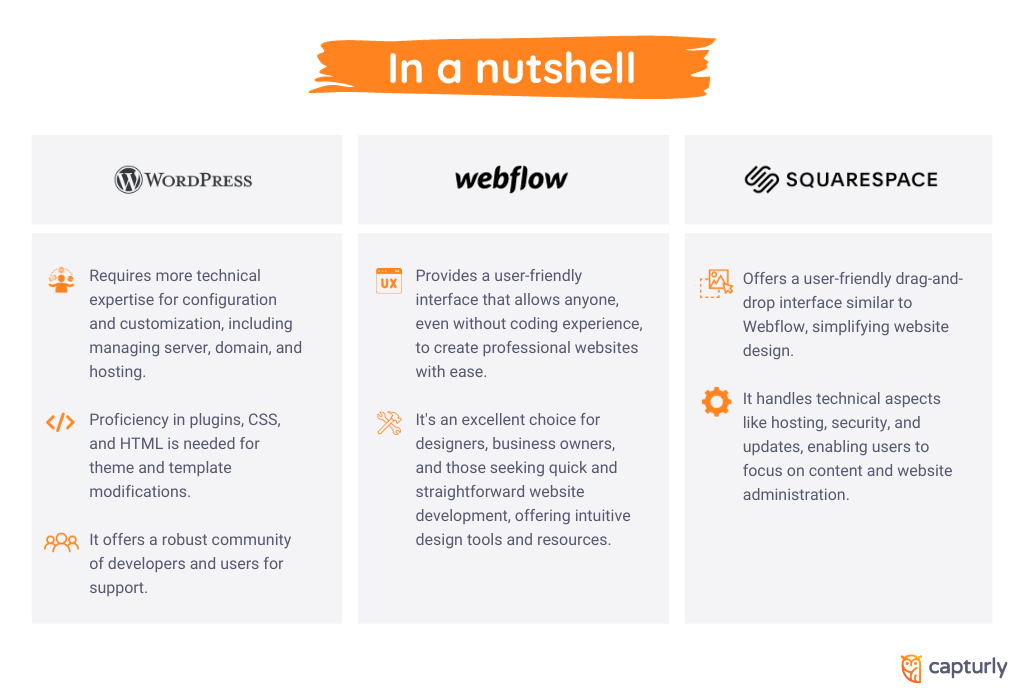 By understanding your needs and the capabilities of each builder, you can make the process smoother with the assistance of experts who can recommend the ideal builder, plugins, and features for your specific goals.