Bringing automation to the way you do business can help your brand reach new heights in a short span of time. Learn how these easy-to-use tools can manage, create, and run campaigns for you.
The amount of time your business page stays online, on social media, can affect the amount of revenue it generates. Because your audience is now on social media, you need to be there too constantly.
To maintain this consistency, you'd need more than just two hands. Find the media limb that performs, assesses, and shares for your business by choosing the most relevant social media automation tool.
A haphazardly sorted bookshelf repels the reader instead of attracting it so how can not a mismanaged social media campaign pull the authority graph down instead of creating leads?
The Need for Social Media Automation Tools
In 2022, if there is anything that the social media world needs more than peace is management because the media paradigm is expanding every day. With new probes for the betterment of the platforms, users are finding it hard to keep up with many applications.
Although task-specific, these applications can be confusing for people with a lot on their hands. Because of these confusions, departmental wars happen and ultimately the brand suffers.
To eliminate redundancy from the work process, one can use automation tools. Automation can alleviate the time needed for posting, and you can focus more on quality posts and on driving more traffic to your website.
#1 Hootsuite
For someone who's always on the go and has a business catering international market, Hootsuite has a lot to offer.
With publishing features that relate to global time zones, generalized content customization, and the power to share 350 posts simultaneously, Hootsuite can help your business maintain a business presence and increase engagement exponentially.
Manage and allocate budget easily with Hootsuite's Social advertising and keep an eye on the results with timely reports pre and post campaign run. Schedule campaigns, posts, and emails on your preference to get the most out of your investment.
Labeled as one of the best social media automation tools for 2022 on many websites, Hootsuite can be a perfect partner for businesses that need real-time insights.
Worth-it features:
Hot-zone-specific publishing features
Global markets catering
Burst push mails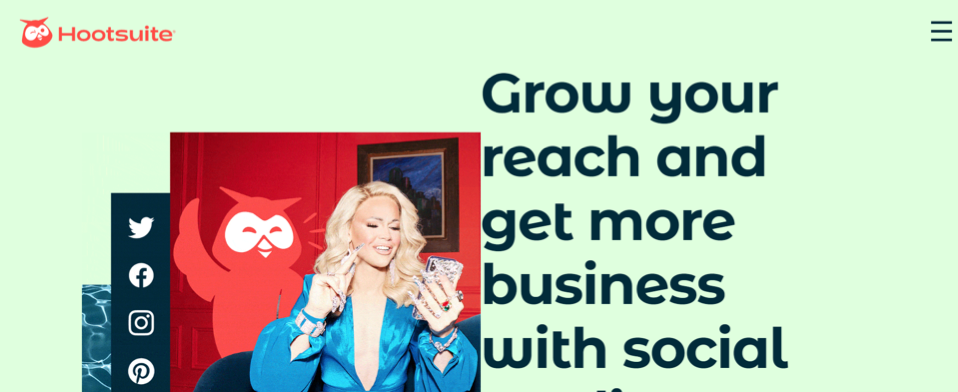 #2 Buffer
A social media dashboard that has itself grown over the years, Buffer offers more than just social media sharing. You can be consistent with your posts and keep a place in your follower's timelines with Buffers' cutting-edge post scheduling feature.
You might ask how to compose invoice letters when drafting business strategies, but you don't need to ask how to send them online. With Buffer as your go-to online manager for social media, your letters, campaigns, and posts are all synced and on schedule.
Capable of keeping an eye on your statistics and allocation of budget, Buffer comes with an analytics report generation mechanism. For example, you can see what content was posted at which frequency and what was the level of engagement? Knowing the answer can help you schedule the campaigns in a better manner.
Worth-it features:
Monitor vital campaign numbers
Create personalized campaigns
Schedule posts for where and when
#3 SocialPilot
SocialPilot, though, comes from the family of automation software but it isn't like the typical ones. This dashboard allows for content migration in addition to the distinct create-and-share processes.
Not only is inter-team collaboration supported, but intra-team communication is also doable, helping to create an effective network of campaign alignment and post scheduling. A bulk upload of posts also allows the user to sit back and relax.
Additionally, you can find out where your money is at with the engagements and conversions through the SocialPilot social media analytics.
Worth-it features:
Awesome content migration
Feedback collaboration
Analytics for overview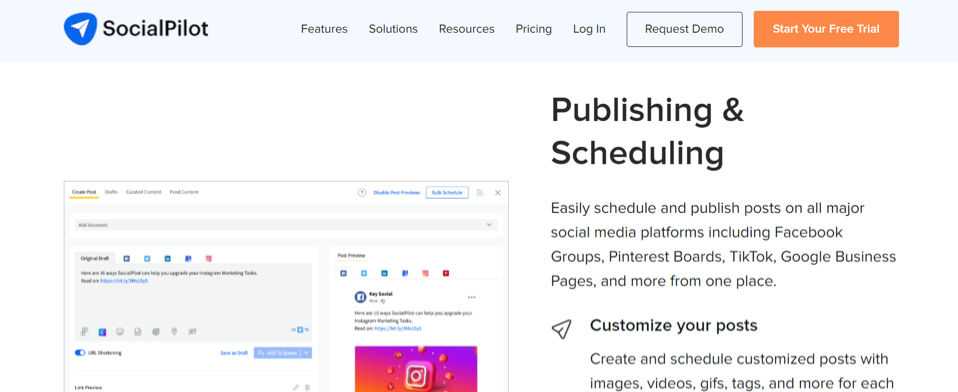 #4 Social Champ
The ever-changing social media landscape witnessed a lot of growth and changes with time. In the chaotic world of social media, Social Champ is an all-rounder and intuitive social media management tool that handles all your social media platforms. You can automate all social media processes with support for eight major platforms, including Facebook, YouTube, LinkedIn, Pinterest, Instagram, Twitter, Google Business Profile, and TikTok.
The tool lets you schedule your posts at the right time, positively impacting your social media engagement and keeping your community interested and in the loop. Later, the tool analyzes all the posts on your profile and brings forward presentation-ready reports for you.
Social Champ also engages with the audience on your behalf by bringing together all reviews, messages, mentions, and comments under one tab.
All this with an easy workflow and a bright UI.
Worth it Features
Schedule YouTube Shorts, Twitter Threads & Instagram Reels
The free plan offers limitless scheduling & premium features
Unlimited workspaces & unmatched customer service
All of these features still need to be in line with your business requirements so that productivity is increased rather than just objectivity lacking money spending.
Conclusion
Social media automation tools are the inevitable future of social media. That's why leading digital marketing agencies such as Convex Interactive have already hopped on the bandwagon.