Indeed, the cover is the first characteristic that one judges. The expressive and impressive traits of the cover make one go through it. Similarly, a unique UX design gathers a large amount of traction. Therefore, if that does not convince your visitors to check out more about your website, you need to boost your conversion rate. Nevertheless, let me get to the crux of this point. 
Learn how to improve user experience on a website. For higher revenue, better brand image, and more sales, here are the key principles of UX.
7 UX Principles to Boost Your Conversion Rate
1. Simplicity Brings Traction
Artistic web design and pleasant UX play a key role in the conversion rate optimization process. Visitors always prefer a creative and organized website where the content is designed to look great and to be "edible".
Hick's Law says 'time taken by an individual to make a decision is directly proportional to the choices the individual has'. Hence, to improve the looks of your website so that the visitors indulge more and check it out, you can display an optimum amount of choices for them. Cut down the number of choices on the navigation bar, and make it simple and sophisticated. Because too many links make the user lose interest in your website altogether.
2. Make It Responsive
Smartphones and other advanced devices, allow the user to view the website more conveniently. Mobile web browsing overtook the desktop environment for the first time in 2016. BCG's research found that more than
60% report that mobile played a notable role in a purchase. Moreover, 50% of B2B inquiries are made on mobile in 2020.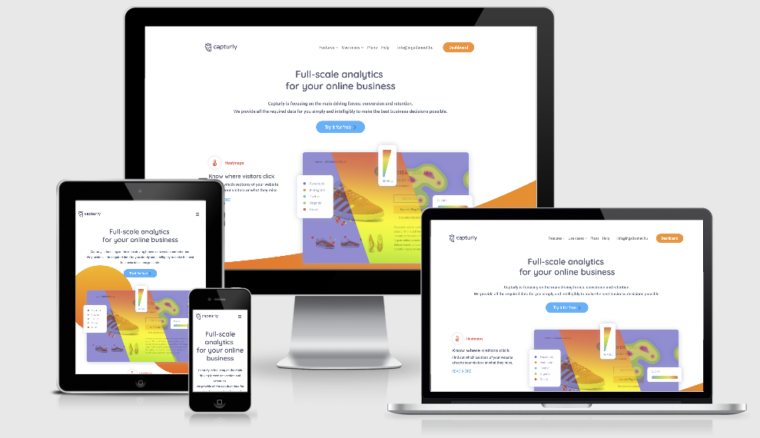 On this account, the responsiveness of the websites could either make or break a huge amount of audience. If your website is not custom-designed to operate over the smaller screens or make "thumb navigation" pleasant, the experience could be extremely sluggish. For that reason, designing a responsive website and adjustable layouts deliver a satisfactory user experience.
3. Is It User-Friendly?
On a similar course, 'The Rule of Thirds' is a popular photography principle used in web designing. Another principle is called the 'Divide and conquer' method borrowed from computer science by designers. It includes visually dividing the page of the website, both vertically and horizontally, and inculcating strategic pieces of interest. This creates the most impactful design for any and every website. Placing most of the important elements on the intersection of those dividers becomes the center of attraction and exponentially increases conversion rates.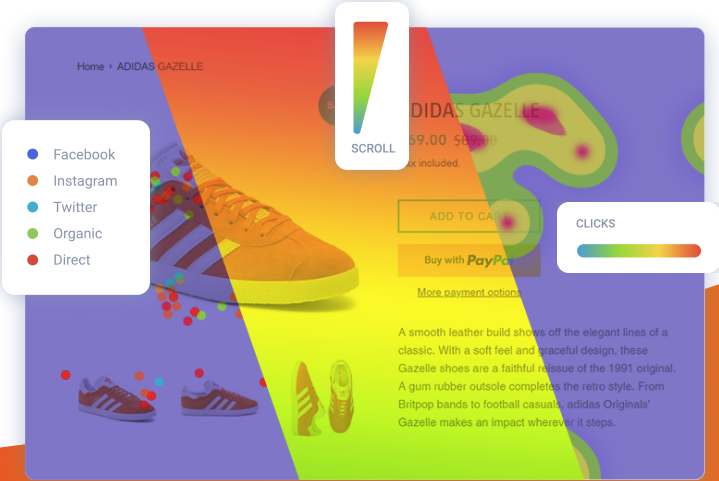 If you'd like to make sure that your design is engaging enough, try website heatmaps. Scroll heatmaps show you how far your visitors scroll down on a given website. This type of heatmap reveals the need for further improvements in web design. If your visitors stay above the fold, you need to place your most important message and CTA there.
Click heatmaps summarize the users' decision-making process for you. They show the exact link positions on your website in an aggregated way so that you can get a clear picture of what should be clickable and what shouldn't.
Lastly, segment heatmaps show you how different segments behave on your website. It is always interesting to see how a specific operating system, device, browser, or webpage can affect user experience.
4. Motivate through Emotional Design
Inform the user, what your business has to offer. Moreover, make it easy for the user to grasp it. Motivate the users and guide them in that direction. The content you provide, the style you portray, and the functionality are all essential "particles" of your web design. But don't forget that in 2020
94% of first impressions related to your site's web design.
Content marketing is a great tool to influence visitors. Therefore, the unique selling point of your businesses will help your website to become outstanding. One-of-a-kind information and design can separate you from the crowd.
One must take care of the professional language, but the secret ingredient is the interactive and fun use of words that interest the user and motivates him/her to read further. So keep it simple and attractive. Speaking of attractiveness; people are highly emotional beings, we always look for a way to connect with others.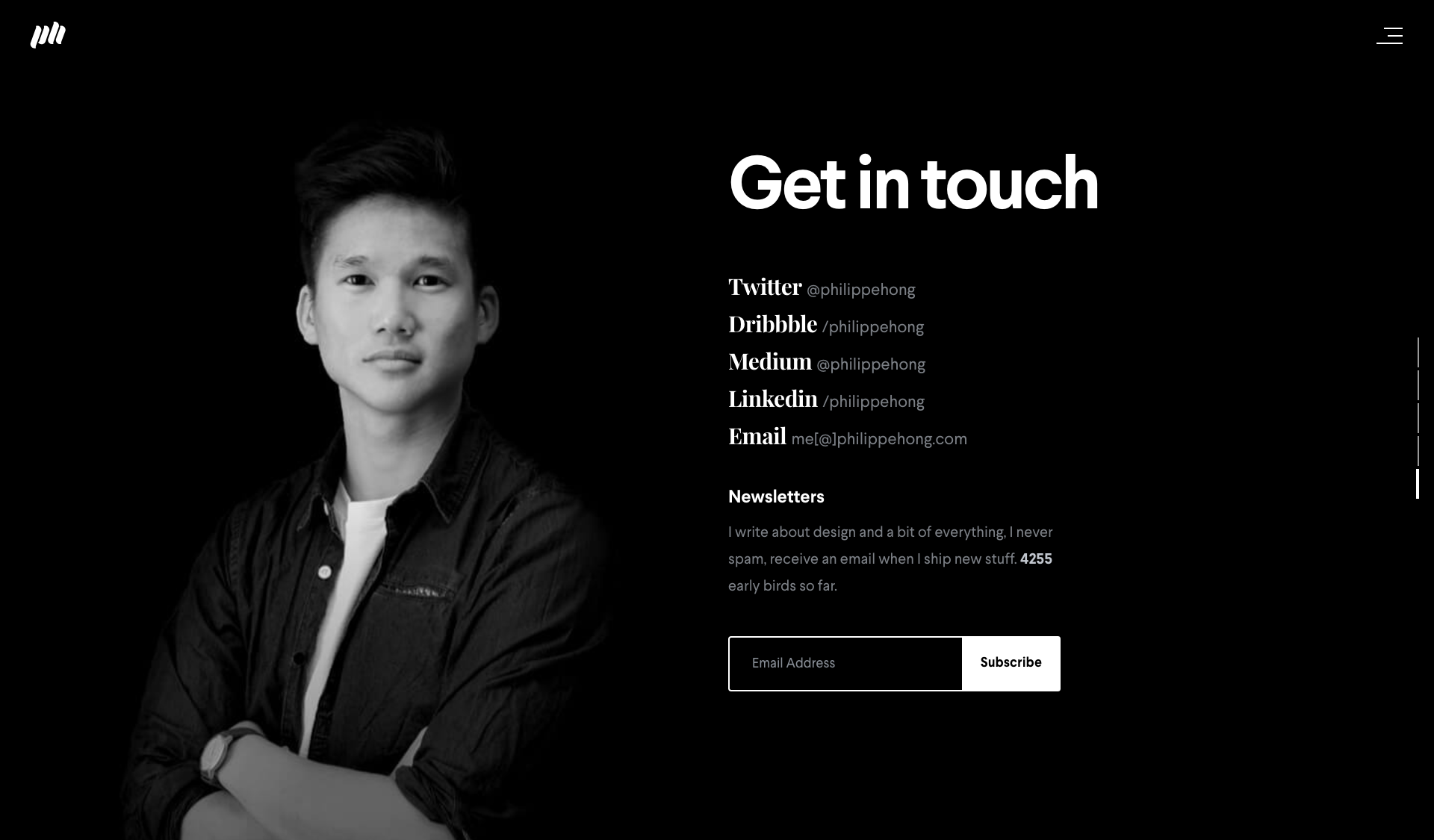 Source: Philippe Hong
A great way to grab attention is to inspect your user's behavior and place emotionally boosted elements – such as faces of real people – on the landing page. Just make sure to avoid generic stock photos that can be ridiculous. Forget about looking for perfectly staged models with boring impressions 2020 is all about real people. Mirroring the feelings of the visitor, using emotional design creates a stronger bond between the person and your website.
5. Make Every Space Comfortable
Optimize the use of the space, do not over-stuff it, and do not make it spacious either. The white space often regarded as an informative space that has an impact on the user. The negative space is moreover the vacant space between the sidebars, headers, text, and paragraphs. Maintain the balance because, optimized space helps the website to look neat, readable, and comfortable. In simple words, it provides a better user experience and conveys your idea, efficiently.
6. Use Analytics Tools
To measure the success of your emotional web design you don't have to analyze brain activity, pupil dilation, heart rate, or skin conductance. Actually, you can if you want to, but there is a faster, cheaper, and just as effective way to do that. It is the use of a qualitative web analytics tool.

Marketers and web design companies believe that an interactive UX design reveals a significant role to grab the attention of visitors. They also believe that the secret ingredient to increase conversion rate includes SEO, Social media dispersion, and a good response rate. A properly designed website not only drives attention but also, converts visitors into customers. However, in order to find out that your design is working as it should, you need data! Use the analytics tools available online and improve it piece by piece, and let the magic begin.
7. Blend In With A Suitable Colour Scheme
The color scheme is often underestimated, but it plays a crucial role in usability and the average mood of the website. Colors induce emotions; hence matching your web design and the looks with a proper combination of colors evoke the emotion you want to reflect in your vision.
Do not just make it uniform; add bright colors to the action buttons and headlines. Choose a high contrast background with modest and primary colors in the main elements such as texts, pictures, and buttons.
If you can make this happen, through accurate spacing, suitable layout, appropriate content, the results will speak for themselves!
Wrapping Up
In this article, you can find essentially everything you need to know about the key UX principles.
People, hence your users and their preferences are constantly changing, just like technology. You need to keep up with it to provide the best user experience possible. Don't guess or try uncertain user experience testing methods when you can get information straight from your users. Use qualitative web analytics to boost your conversion rate and sales.