1 year away from home. I had to move. Often in a relationship, you have to make sacrifices. I was lucky and unlucky at the same time. I was lucky because as a content creator I could find another job sooner elsewhere. I was unlucky because I loved my job and had to start everything all over again. New town, new life, new work environment, new colleagues, new boss.
|But then luck struck again!
When I told my boss about my situation he made a brave offer.
If you could work from your new home, would you still work here at the company?
I took the opportunity with mixed feelings.
For days after I made my decision, I was excited and afraid at the same time. I was always skeptical when someone talked about working from home, and to be honest, I never thought I would go down that path.
|Ironic isn't it?
With that being said, here are the pros and cons I've experienced during my little journey as a remote employee.
The Benefits
– I was independent
If you are good at what you do then split your time as comfortable as you can. Since I had enough experience to be able to do my job independently, I was so positive about this. This is where my job itself was a huge help because it does not need to be in a certain place for content creation.
– I had more time left to myself
As I finished my work for the day, I was practically at home. There were no more crowded subways, traffic jams, rush to work and back home. The cost of going to work was completely eliminated at the same time, so I could save the money I would've spent otherwise. I took my time to eat healthy meals regularly and I started training as well. Needless to say, I started to look and feel better. My confidence and concentration ability grew. I became sick less and less so I did not have to waste my days off to lay in bed at home.
– I was working more efficiently
Since I was practically declaring my own schedule, I dictated the work time as I liked it. Saying my job has become like a fairly tailored garment. I started using apps I've considered unnecessary. For this reason, I have seen an improvement in time management, which had a beneficial effect on my social life as well.
|I was late no more!
"Working remotely motivates and increases efficiency at the same time."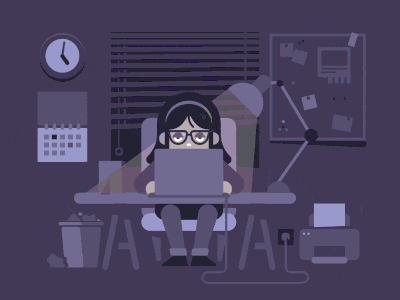 The Disadvantages
However, not everything is coated in sugar. Of course, the remote work lifestyle is not for everyone. This is especially felt by those who already have previous work experience. It's easy to believe that you just sit down in your favorite chair and everything remains the same, just the place is different.
– I felt guilty
I was working just as I would normally do in a regular work environment, but somehow it felt like I was on an endless vacation. I felt similar guilt like when I was skipping important classes – that I really shouldn't have – in college.  The first week is the worst, especially if you've been part of an active and busy community before. Your friends and family members will also contribute to this feeling. It is difficult to make them understand what you are actually doing and how this is actual work.
You can expect comments such as:
"And when are you going to work properly?"
"You are at home now, are not you? Can you help with something? "
"How good for you, they pay you to be home."
|But wait there's more!
I was in a fortunate position because my boss was completely open to the thing and provided all the support I needed. Especially during the first weeks and months, when I felt a sense of compulsion as I had ever felt in my life.
– I lost personal contact with my colleagues
This is especially true if you are not working as a freelancer. In this case, you can easily feel the drawback of distant connection between you and others. It's often hard to explain yourself through chat applications – like Slack for example – properly and there's a significantly higher chance to misinform each other. For this reason, it is very important that whenever you can try to participate in team building activities. Show them that you are an active member of the company. After half a year, I felt that I was getting away from the company even when further by communicating on a daily basis.
– When I fell out of the rhythm
Sometimes I felt that today's work can be done tomorrow. But this is one of the worst things I could have possibly done to myself. The deadlines became tighter, so I often ended up working overtime at night. This has had an impact on my social life because I had to give up many opportunities to meet with my friends, which I felt more and more absent. My family and friends have seen less and less of me on these occasions, although I was close to them.
"They were so close, yet so far away."
Before I discourage you from the whole thing if you decide to go down this path, here are some tips you can follow: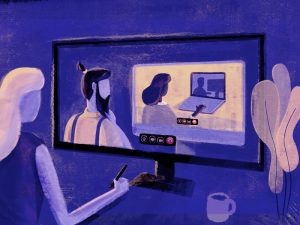 1. Do not start working remotely without previous work experience:
To be able to work efficiently, you need to become familiar with the corporate culture – even as a freelancer – and the colleagues who are collaborating with you on a virtual basis. If you don't have this routine and connectivity system, you'll make your life harder. You will be uncertain, you won't know who to turn to. So it's worth starting as an office worker and moving towards this flexible work style later on.
|Check if it fits you at all.
If personal communication is important to you, the common cafes and group dynamics, then full-time work is not your genre. This is often revealed in the workplace. It's a good idea to try the whole thing in baby steps, for example, on a Saturday working day due to a holiday gathering. At times like this, administrative tasks are more likely to be put on the table, not the business. It's a perfect opportunity for some self-benchmarking.
2. Separate work and private space
If you live in a one-room condo environment, chances are you're going to get a hard time. You should avoid working from the same room where you sleep at night. However, it's almost impossible to fully separate work from private life.I was lucky enough because I was able to create a neat little home office in one of the smaller rooms. But If I had no other choice, I'd rather go down to the local coffee shop every once in a while.
3. Be always available during working hours
As a remote worker, it is even more important to pay attention to proper communication. Keep in mind that you have to always be available during working hours by email or phone or the preferred chat service. While in the office it is easier to cut some slack, my personal experience is that the employer looks more on your nails when you are not there physically. It is possible to measure the time spent on the machine, document the tasks you have done on a daily basis. You can save yourself a headache by creating a table showing what project you are working on and how much time you decide to spend on it.
4. Develop your skills constantly
One of the dangers of remote jobs is the fact that human beings are in the daily work routine. Few impulses come from outside. Find opportunities for development, including attending online courses. You can also make suggestions if you have an appropriate forum on the intranet network. This will increase your value significantly.
A rule of thumb is that if you are gone from the office and no one notices it for weeks, then you're most likely not needed.
The more skills you have the more value you represent for your employer.
5. Use time management apps
As they say, less is often more, and for me, the first idea was a single calendar. Apps like TimeTune or Todoist made my life so much easier and organized. The design itself is very easy to get used to since both of them share a lot of similarities to Gmail. I wrote about time management apps in detail in one of my older articles.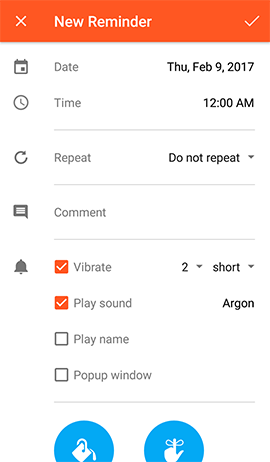 source: TimeTune app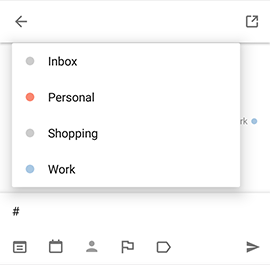 source: Todoist app
Conclusion:
The coin has two sides. Some claim that it was the best day of their life when they started working from home, while others can't imagine this happening ever. I sit somewhere between the two opinions, there were difficulties at the beginning but overall it stays as a pleasant life experience for me. A large number of companies are uninformed and distrustful when it comes to atypical employment, while workers struggling to balance work and private life would be grateful for the opportunity, which is also a profitable return to the employer in a way.